Company history
KES Lighting has been a OneStepCheckout customer since 2014. In 2021 they migrated to Magento 2, using Hyvä Themes and they keep improving their look and feel with a brand new facelift launched this week.
Kendall Electrical Supplies was founded in 1985 as the founder started a small B2B business based on a well-located space for rent in Coventry. A few years later, his business expanded with the acquisition of a showroom next door and it was the right moment to also sell directly to consumers. Kendall's business idea was to specialize in luxury lighting and bring international brands to the UK market.
Jumping on the Internet and eCommerce bandwagon, the company now stocks more than 5000 products in lighting alone and appeals to both individual homeowners as well as international interior designers.
In 2019 the company made the strategic move to expand its offering to luxury homeware and continued to experience strong growth.
Home Decor and Lighting Market boosted by the global pandemic
The Global Decorative Lighting Market is forecast to reach USD 6.91 billion during 2021-2025, progressing at a CAGR of over 4% according to Research and Markets reports.
With the global COVID-19 pandemic forcing people to stay at home, KES Lighting and Home benefited from strong tailwinds as eCommerce saw a massive boost due to lockdown in the UK. People improved their homes as they had nowhere to go and nothing else to do. As an example, in the US alone, the home improvement market grew by 13% between 2019 and 2020 and again between 2020 and 2021.
Business strategy and positioning toward premiumization
Nothing is more valuable and hard to replicate than advice from employees who have been in the industry for decades. The more premium you go, the more customers demand knowledge and expertise, both in terms of looks, mood but also fixtures, cabling and all the technical aspects.
Showroom and assortment depth and breadth
The same way customers appreciate talking to a real person, they like to see and feel products. It takes a lot of effort to offer a luxury sensory experience when you are a home design pure player. When you started as a physical shop, you maximize the value of your location, you optimize your space, squeeze as much revenue as possible per square foot and that naturally drives your business to go more premium.
Custom pieces
The further away you move from low value high volume items, the closer you get to one-of-a kind pieces. This is another powerful barrier to entry for competitors and Kendall can draw on the company's history and customers relationships to know how to handle custom orders.
Website redesign using Hyvä Themes
Hyvä Themes launched in early 2021 and got a lot of traction among eCommerce agencies as it allows them to build Magento 2 stores that offer a much faster and better browsing experience combined with a reduced time to market. Development teams are quite happy to work with this technology as it is less complex than default Magento 2 and the community around it is very responsive, knowledgeable and vibrant.
The whole brand positioning for KES Lighting and Home is conveyed through high-resolution quality pictures on their homepage. It's all about creating the wow factor and triggering emotions through the senses. This is becoming the norm when selling luxury lifestyle brands online and it makes a whole difference in terms of branding, trust and " add to cart" conversion.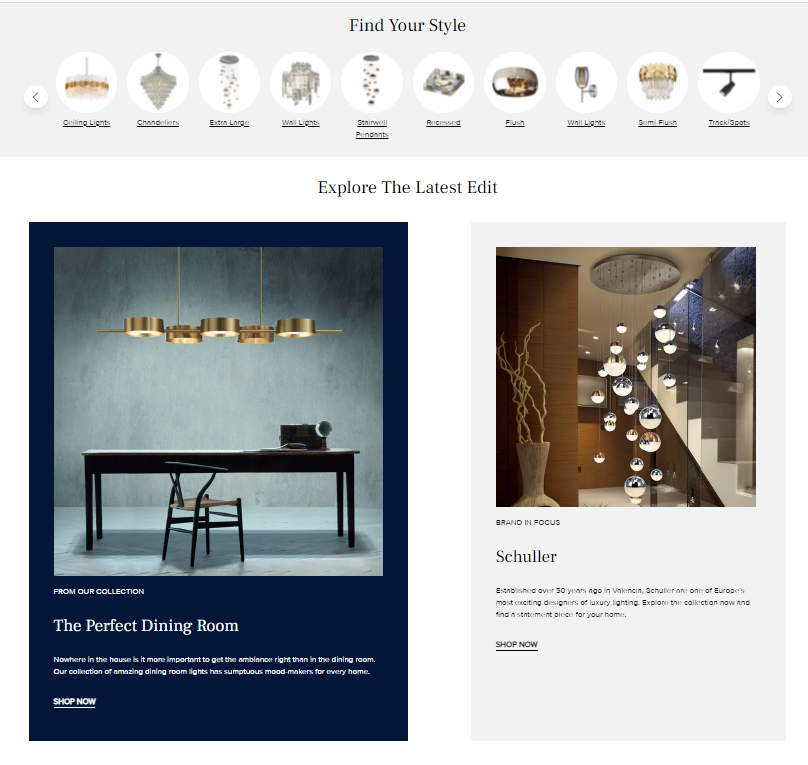 As you scroll down, you get to shop by style and the thumbnails are much more helpful than a list of style names in a menu. The editorial boxes provide inspiration and guidance just like a Home Decoration Magazine would. It drives engagement and repeat visits.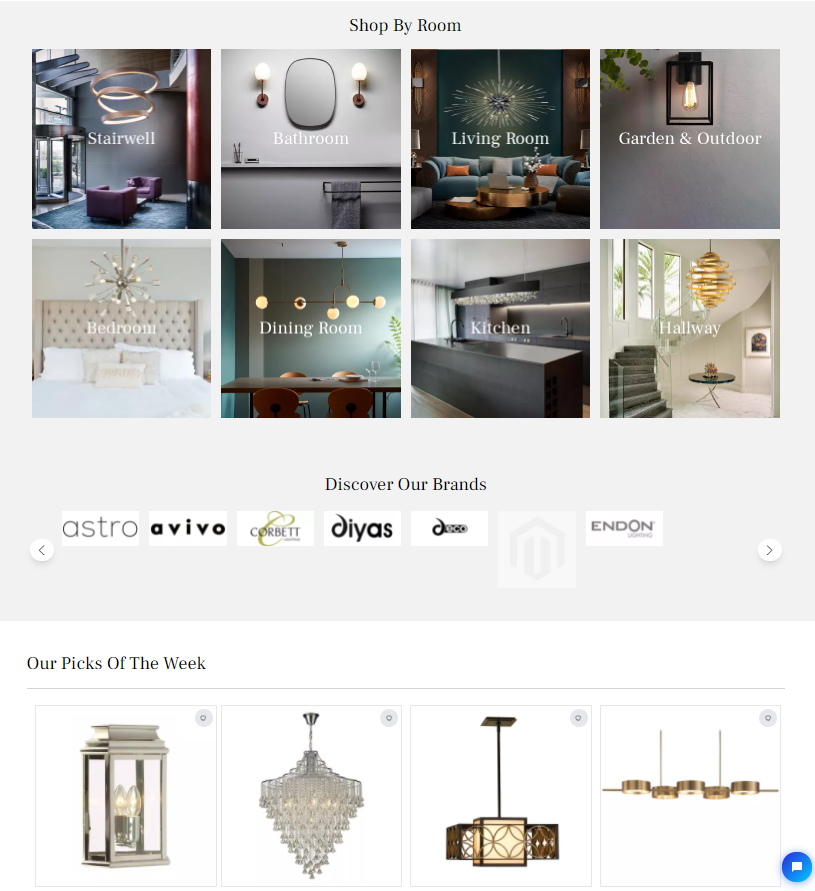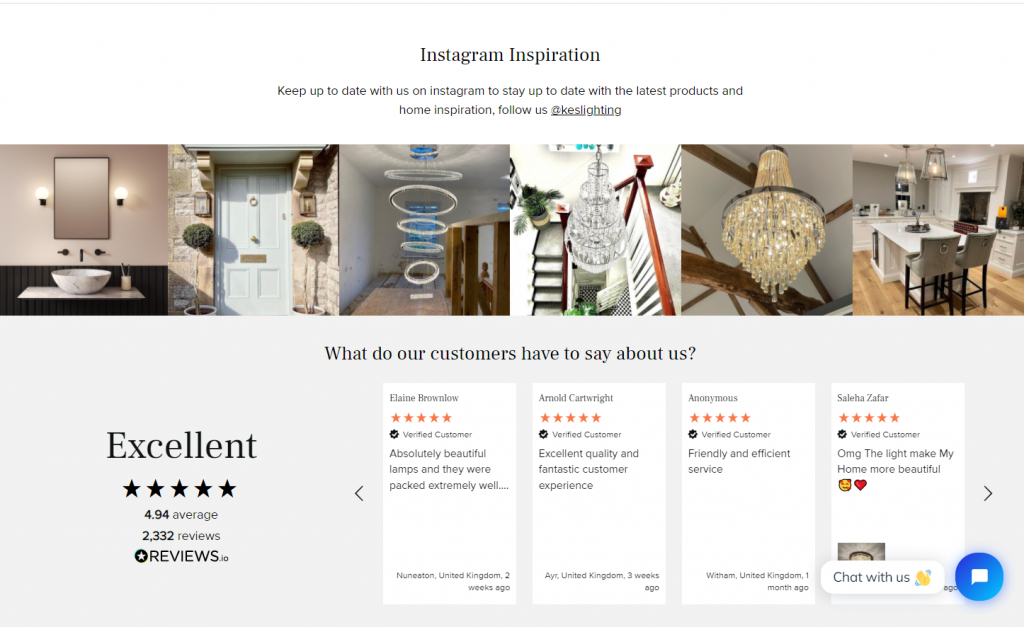 And then, you can shop by room, and get inspiration and recommendations from the store itself. One innovation is to include a bespoke integration with KES Instagram feed, that works hand in hand with customer reviews to strengthen the sense of authenticity and trust that thousands of customers buy from KES Lighting and Home.
Key results
KES worked on this redesign with Foundation Commerce, a young eCommerce agency based in Surrey. The agency built the new Magento 2 store using a bespoke design made easy through the use of Hyvä Themes.
As Ryan Copeland, founder at Foundation Commerce, celebrates: "We're super excited to launch our first Hyvä Themes project for our client KES Lighting & Home, and we couldn't be happier with the performance of this site. Proud of our custom Instagram feed integration and loved how OneStepCheckout was easy to configure"
Indeed, with a clever combination of UX design, graphic design and backend architecture, the team was able to nail the three major requirements set by their client:
Convey a sense of luxury with a high-end look and feel to the website
Expand the store's product offering from lighting to a wider catalog of homeware items
Improve the front-end speed and experience for SEO purposes
The new website launched in June 2021 and resulted in a 12% uplift in transactions. Read more details here.
Checkout best practices
Since 2014, KES knew how to remove friction away from the 6 step checkout of their Magento 1 store and benefit from additional features that we built into our OneStepCheckout extension along the way.
Top reasons for cart abandonment that can be fixed easily
a long and complicated form filling process with too many clicks and fields required
forcing customers to create an account
not calculating and displaying the order total upfront
Read more about the top reasons for cart abandonment.
As such it was a no-brainer to keep that superior checkout user experience when migrating to Magento 2. But they didn't stop there. With their head start, they were able to go one step further and implement more strategies to boost checkout conversion.
Additional Checkout conversion boosters
Free shipping and 90 day hassle-free returns
According to Sendcloud 2022 UK eCommerce trends, 69% of online shoppers say that excessively high shipping costs are the biggest reason for cart abandonment.
Free shipping is becoming standard customer expectation and when purchasing high-value items online without the ability to see and feel the product in real life, the only way to mitigate the risk and give confidence is to offer easy return options.
Offer consumers' preferred payment options
According to the Baymard Institute, 17% of shoppers who leave at checkout do so because they don't trust the store with their credit card details and 6% because there were not enough payment methods offered.
As such KES uses Braintree to offer the most popular payment options in the UK such as PayPal, Google Pay and Apple Pay on top of Visa, Mastercard and Amex.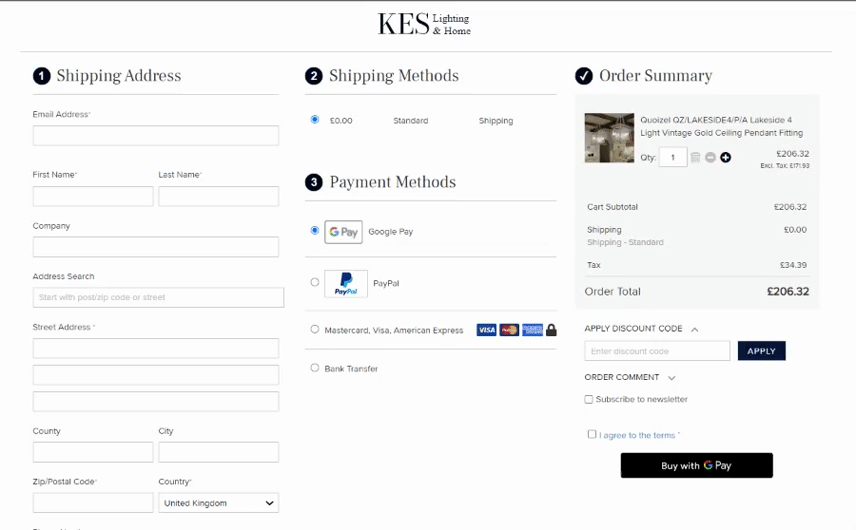 What's more, when users chose a payment method, the order button updates to reflect their choice and avoid confusion. If they pick Credit Card, they can enter their details right there without leaving the checkout page. If they pick Bank Transfer, all the details are displayed to make it easy for them.
Accepts 3 currencies: GBP, EUR and USD
Although KES Lighting and Home only ships within the United Kingdom, they know that a lot of friends and family in Europe and US can participate in wish lists and gift registreries. That's why they offer to convert all prices between the three currencies.
Buy Now Pay Later with Klarna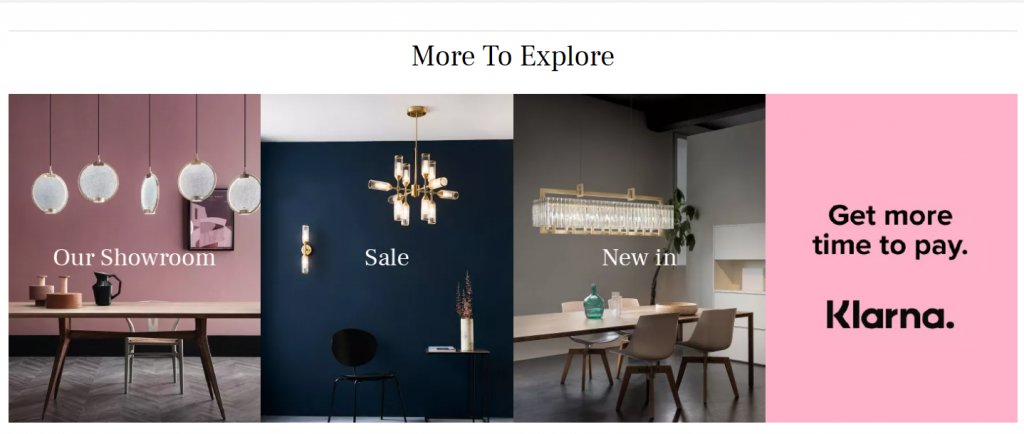 According to studies carried out by the top Buy Now Pay Later payment providers, the upside of offering BNPL is huge and benefits for merchants include:
New customers acquisition (more traffic, more visitors)
Checkout conversion improvement: +20% to 30% on average
Increased the average order value or basket size +40% up to +85%
Increased repurchase rate, up to 80%
It's even more true for high impulse purchase categories such as homeware. As such, KES features Klarna prominently on their homepage and you bet it is soon going to be integrated into their product pages and payment options at checkout very soon.
Human support: local phone number, livechat
When you sell luxury products you don't just offer live chat and phone support. You offer a whole personal shopper experience. We've seen that with Foeger, a European omnichannel designer clothing retailer as well as Groms, a pure player selling luxury furniture in the US who both offer advice from experienced professionals with knowledge in fashion and interior design.