The numbers came in! These are the results of one of the earliest USA Hyvä stores that went live…
About the Company
Affordable Group is a family business based in the Dallas, Fort Worth area of Texas.
Founded in 2010, they manufacture and sell custom windows, replacement window screens, window panels and table pads to quickly become a leader in their industry, both in B2C and B2B.
They run a brick-and-mortar shop in Lewisville and added over the years three different online storefronts, each focused on a specific product category:
Business challenges
The Home Improvement market post-COVID
+4.5% Growth in the Home Improvement Market according to Global Market Insights Report from May 2021
Widening gap between supply and demand
Major shift from offline retail to digital channels and eCommerce driving most of the growth
Challenges linked to the merchant's specific industry and business model
Buying a window takes a lot of effort and handholding. There are so many criteria to make into account including:
Accurate sizing
Material
Type of mounting hardware
Style
Fitting and Spline
How can we help customers buy and customize their screens to perfectly match their windows without seeing our products in real life?

Matt Dunford, Managing Partner at Affordable Screen Co
Approach and Solution
Affordable Company asked Bemeir, a Magento Agency based in NY to help. The agency had already been successful in streamlining their three separate websites and consolidating them to gain efficiency and lower the Total Cost of Ownership (TCO).
Now it was time to help improve the front-end and user journey so as to maximize the eCommerce site's conversion rate.
Rich content
One action they decided upon was to increase the amount of quality information that a shopper has access to. This includes: blogs and videos in the sales funnel as well as varied customer service options such as text chat and phone calls with an actual product expert.
Not only do user guides help with SEO and bring traffic to the website, but it also shows expertise and strengthens the company's brand and authority in the specific industry.
Speed
Once you've attracted potential customers to your website, you don't want to lose them because your website is too slow. That's why Bemeir advised using Hyvä Themes, the popular innovation coming from Europe that helps remove the top pain point of the Magento 2 platform: page loading speed.
This new solution launched in 2021 and today over 1,000 Magento merchants and 350+ agencies have been adopting it as it has consistently proven to make all of the eCommerce stakeholders happy:
Shoppers are happy about the browsing experience
Merchants are happy about the reduction of drop-offs along the user journey, as well as the time to market for migrating or re-platforming their online stores to Hyvä while keeping all the power, scalability and flexibility of Magento 2
Developers are happy as the software is super easy to work with, and the Hyvä community is vibrant and keen to share best practices and help each other out
Find out more at hyva.io
Checkout conversion optimization
Once you optimize the top of your online sales funnel, the secret sauce lies in making sure potential customers don't abandon their carts. With an average of 70% cart abandonment rate globally and across industries, if you prevent one more customer from leaving for every 10 who place their items in their carts, you increase your sales and bottom line by 30%.
Turns out, simplifying checkout on Magento 2 stores is not that hard and works very well on Hyvä websites too. Since 2010, OneStepCheckout has dedicated 100% of its resources to checkout for Magento and gained invaluable knowledge from servicing over 25,000 merchants.
The top drivers for cart abandonment we are addressing are:
form filling complexity
registration mode, and forcing customers to create an account
not showing order totals upfront
not offering enough payment options
Bemeir has successfully improved checkout conversion for many clients over the years and implemented the solid solution on Affordable Windows' three storefronts with minimal hassle.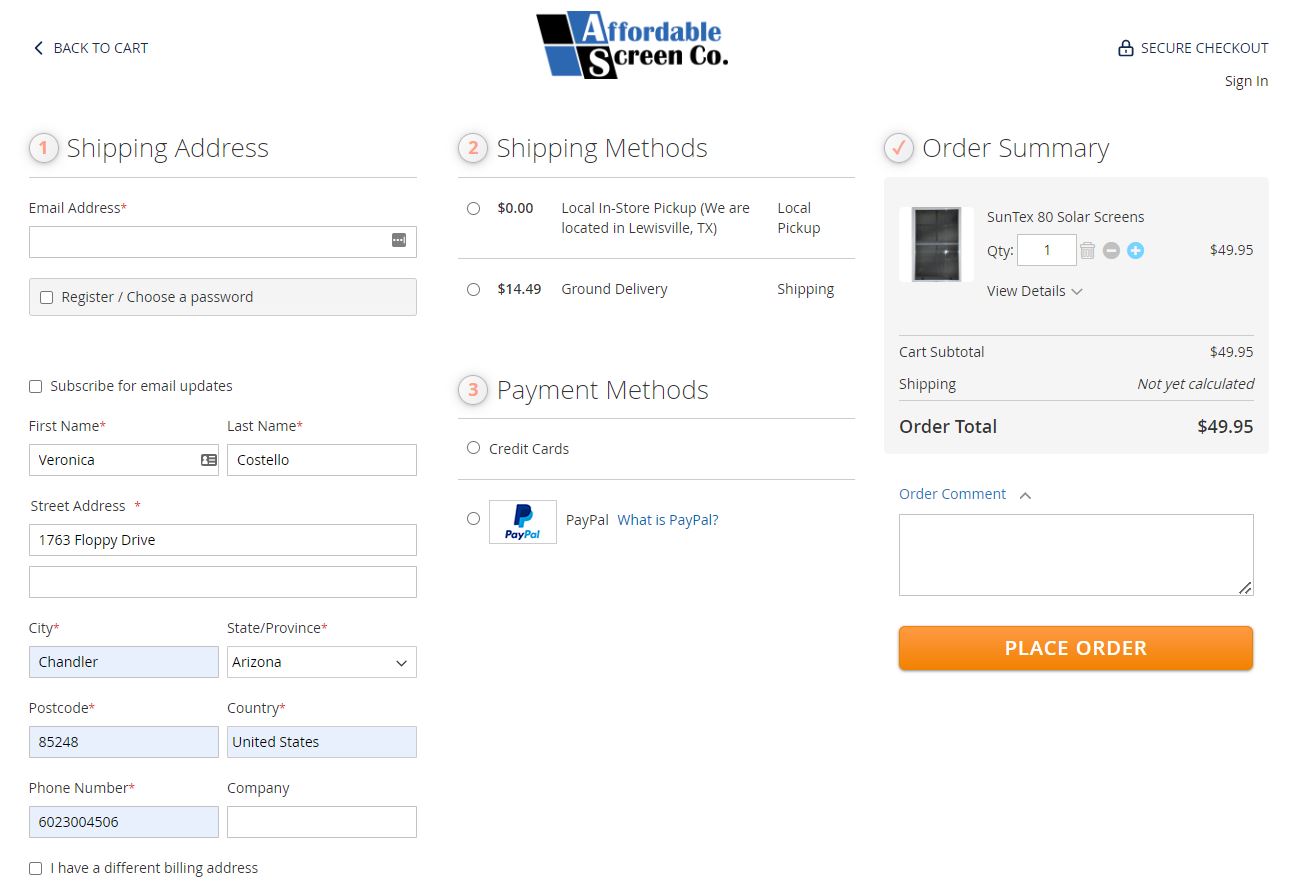 The Results
Core Web Vitals
These metrics measure your website's user experience, and Google is looking for three main factors: page loading speed, interactivity or responsiveness, and visual stability. Good scores help rank better in Google Search Engine Result Pages and ensure a great user experience in terms of browsing speed and security.
With the implementation of Hyvä Themes, Core Web Vitals are the number one improvement that merchants notice. It's no different with Affordable Windows Co who passed 100% of the criteria.
If we focus on Performance for Desktop, where 90% of shoppers experience takes place when buying highly customized products like window screens or table pads, the merchant here reached a score of 94/ 100 which is impressive given the complexity implied by this type of vertical.

Site and page loading Speed
The whole point of using Hyvä worked brilliantly as the website recorded a 30 to 50% increase in page speed vs the previous year, before the re-platforming.
If we go into more granular details, all Category and Product Pages loaded in less than 2 seconds, which is the benchmark for what acceptable performance looks like.
Website Conversion
The merchant and their agency measured a conversion improvement of 12%. This means that out of 100 visitors, 12 more completed a desired action like contacting the merchant or placing an order.
This is huge if you consider that the business did not spend more in advertising to drive additional traffic and yet gets more sales and profit. The icing on the cake, with better Web Core Vitals and rich content, chances are that overall traffic increases and adds to the additional conversion.
Operational Excellence
Much harder to measure but no less important is how you streamline your operations and ultimately save on extra cost and your IT team's sanity 🙂
The best result comes from the merchant itself and how he enjoyed working with his Magento agency.
Once we found Bemeir and had our initial meeting they were able to help us resolve issues left by another company quickly in our Magento store. Since then the Bemeir team has worked closely with us to take our Magento sites to the next level. Some of the projects they have tackled are consolidating all our stores into a single manageable environment on the backend that has help us streamline several of processes, keep our Magento environment up-to-date with the latest releases, make modifications to make the user experience for customers easier which in turn means more sales.

They are also always willing to listen to our requests no matter how outside the box they may be than come back a solution that can be implemented without minimal disruption of our environment.

Matt Dunford, Managing Partner at Affordable Screen Co.
Contacts and Resources
Agency
Bemeir is a New York-based Magento Agency who's been very much involved in the vibrant and talented Magento Community for over a decade. Their founder and CEO, Maier Bianchi has been instrumental in growing and nurturing the ecosystem in the Big Apple.
The agency is particularly good at rescue projects, turning around difficult situations for merchants into successful projects boosted with further innovation. Here's an example with Groms, online retailer of luxury furniture.
Tech Stack
Showcases
Bemeir showcases and clients' testimonials
Examples of eCommerce websites using OneStepCheckout and Hyvä
US-based merchants using OneStepCheckout
Top US websites using OneStepCheckout:

Propper.com (Adobe Commerce)
Nestlenutrition.com (Adobe Commerce)
Ruroc.com (Adobe Commerce)
Shop.lomography.com (Hyvä x Magento Open Source)