Last week, the finalists to the Magento Imagine 2016 Excellence Awards were announced. These awards are recognizing individuals, companies and brands for their exceptional achievements across all facets of the highly competitive commerce arena. They represent great examples of innovation, outstanding customer experiences, beautiful design, and superior business acumen.
We are extremely proud to congratulate not one but two OneStepCheckout customers and their agencies for both being finalists in the "Best Commerce Launch" category:
1. The Discovery Store and their agency Pinpoint Designs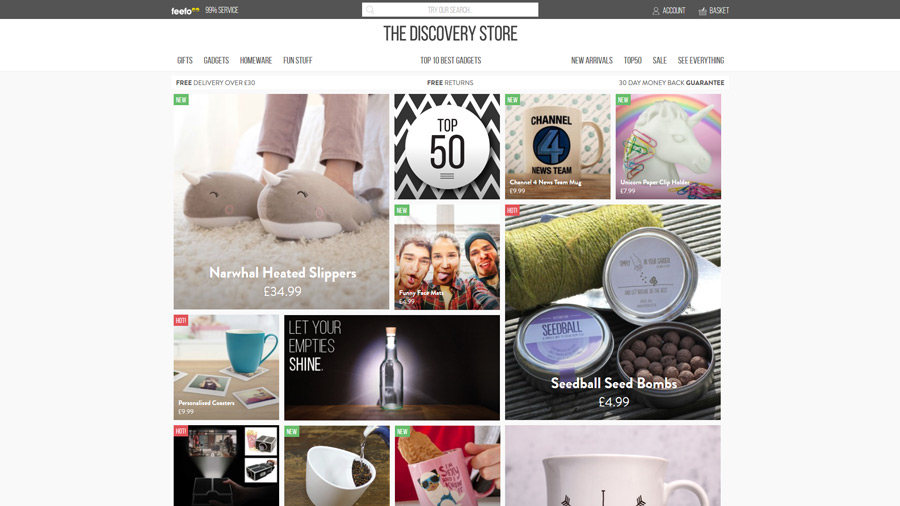 The Discovery store is a UK based online shop where you can find quirky and unique gifts. Not just novelty items and gadgets but also trendy and stylish pieces. If you're a shopaholic like some of our team members, beware! You might be tempted to buy the whole store!
After Pinpoint Designs rebuilt the whole site ground up, the site's simpler layout resulted in an instant uplift in the number of page views per visit, and an 18% increase in average time on page, which translated into a substantial increase in overall sales. Organic sessions also increased by 53.17% after launch thanks to the implementation of effective technical SEO techniques, a complete overhaul of the site's category structure and the execution of a pre-launch marketing campaign.
We are absolutely thrilled to enable the Discovery Store to turn those additional more engaged visits into more sales by reducing shopping cart abandonment and increasing conversion of this extra traffic.
2. Prolighting and their agency Krish TechnoLabs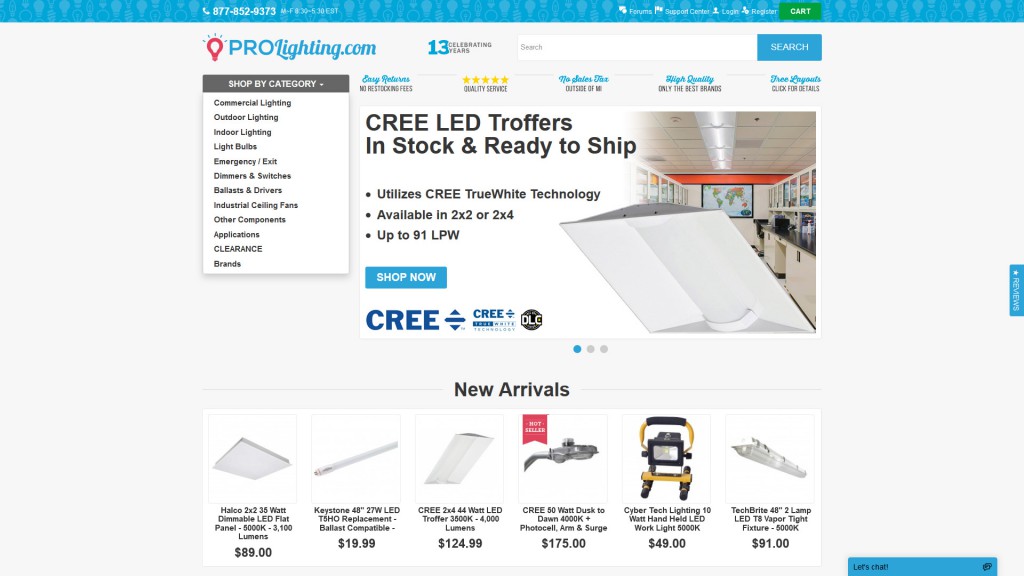 Prolighting is a half-century-old business based in Brighton, Michigan, USA who started going online in 2003. They are providing solutions to replace or retrofit outdated and inefficient lighting such as HID. Their online selection is one of the largest – containing over 15,000 products from high quality manufacturers.
KrishTechnolabs' challenge was to give a facelift to Prolighting and migrate it to Magento Enterprise platform so as to improve consumer experience along with stable back office operations. As a result, viewers are now staying longer on the site, viewing more pages per visit, converting at much higher rates leading to increased order values:
48% Boost in conversion rate
12% rise in average in order value
28% rise in site visits
20% bounce rate decrease
We are very glad we could help achieve such a great impact, reducing shopping cart abandonment to provide a better consumer experience and boost conversion to such extent. We are proud this lead the Magento Community to identify this project as one of the biggest launches of the year.
Both case studies are a strong testimonials of the outstanding quality of the OneStepCheckout extension that delivers on its promises. That's why we are trusted by over 19,000 merchants of all sizes and shapes, as well as over 200 Magento consultancy companies worldwide, who confidently recommend us to their clients.
As such we want to congratulate again our two partner agencies and give them a little shout out:
Pinpoint Design is an award winning digital agency based in Yorkshire, in the center of the UK. They won the 2014 Best Agency for effectiveness at the prestigious RAR Digital awards, and they take great pride in their ability to deliver consistently excellent sites, solutions and strategies for clients from all over the world.
www.pinpointdesigns.co.uk
Krish Technolabs is a full service eCommerce agency based in Ahmedabad, India, that goes to great lengths to provide the recipe that is necessary for success in the eCommerce world. With over 35 certified Magento developers and 250 Magento projects under their belt, Krish Technolabs is one of the biggest Magento consultancy company on the market, servicing a growing number of clients all over the world.
www.krishtechnolabs.com
The winners of the Imagine 2016 Excellence Awards will be announced on stage during the conference taking place 11-14 April in Las Vegas.
Follow us on Twitter to see the results live!
With us, not all that happens in Vegas stays in Vegas. We want you to able to join the fun too!