Words: 853  – Reading time: 3.1 min
To help smooth out seasonality and in particular the massive Christmas peak, retailers are making the most of all the retails occasions they can: Valentine's Day, Mother's Day, all the public holidays in the US, mid season sales, Resort collections for high end fashion etc… The Australians have cleverly come up with the End of Financial Year Sales (EOFY). Their fiscal year ends 30th June (Aussies always have to be a bit different right?) and it's a great excuse to have massive sales and report as much revenue as you can on this side of the year.
For other countries like US, UK, France or the Netherlands, Father's Day can give a little boost before the big summer sales. It is celebrated on the third Sunday of June. 19th June this year. It all started with ties and socks, boring stuff. Then in 2009, when I was working at eBay Australia we did our first Father's Day sales featuring great deals from our sellers. To accommodate our supply of lingerie and novelty items, we added a new section at the very bottom of the page called "something cheeky". It turned out to be the biggest click driver and one of the top sales drivers although users had to scroll down way past the fold!
Now Dads have a lot more in their lives. Think David Beckham: they play sport, they care more about their appearances, they play video games, any games, they cook… there is so many more possibilities today to find a gift for them.
So here are 7 great Father's Day campaign ideas from Magento stores to get you inspired. I picked them among OneStepCheckout's deep pool of customers so I know for sure they are built on the Magento platform. I also tried to cover various categories and feature some well known brands.
7 great Magento stores Father's day campaigns
1. Lamborghini
25% off a junior polo shirt when you buy one for Dad!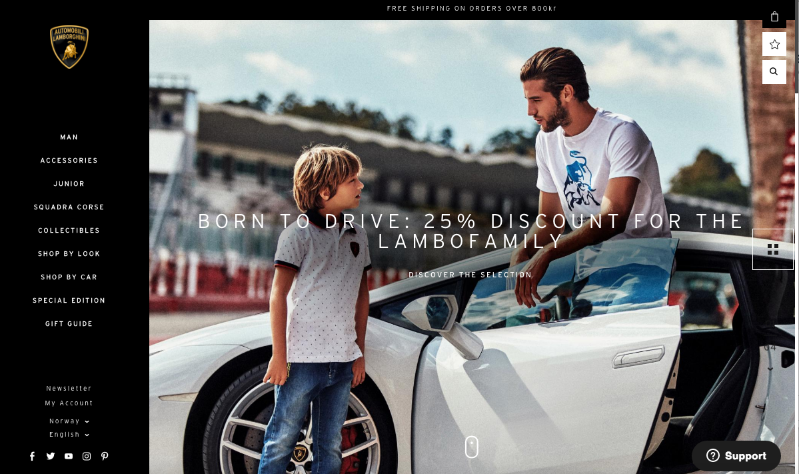 This is my favorite, that's why I used their homepage as the main visual for this post . I'm the perfect target audience. Not that I own a Lambo but I like and follow the codes of luxury and both my children happen to be boys! I love dressing my kids with polo shirts and I totally melt when they match their Dad's outfit. Aren't you always more inspired to shop for your kids than for your husband anyway? I am.
2. The Unusual Gifts Company
Tools made of chocolate!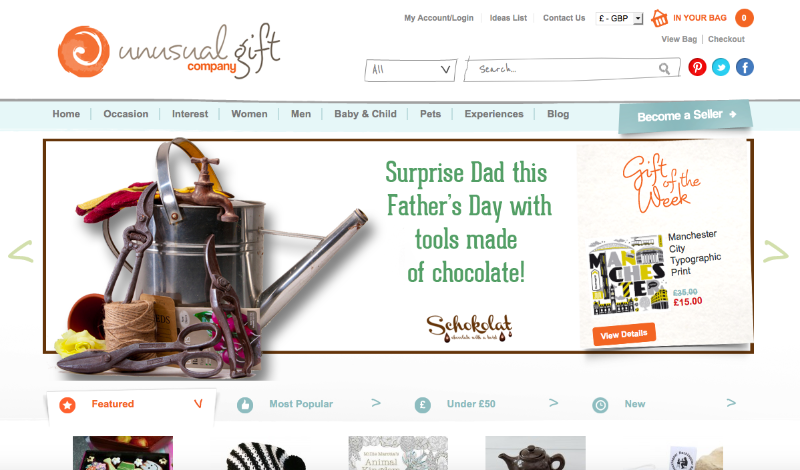 When you have unusual gifts, you don't need to use discounts to tie in with various retail occasions. All you need is to merchandise the right products and inventory with appealing visuals and great copy. How cute is that tap made of chocolate?
3. Ferrari
20% off for a limited time only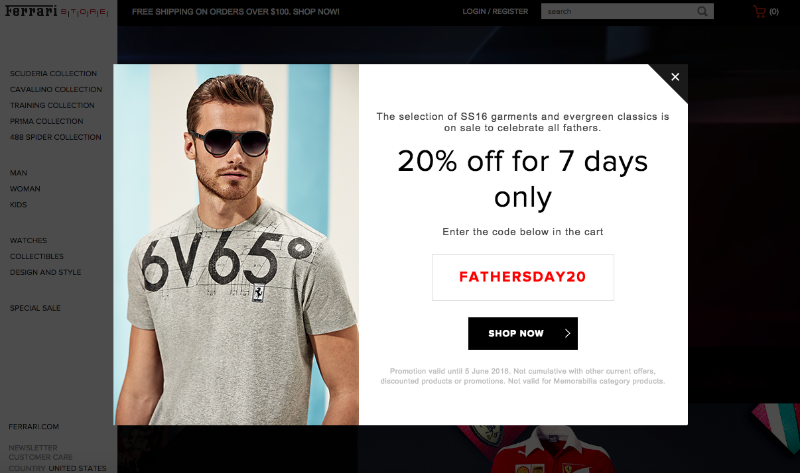 Geolocated homepage take-over pop-up with a limited time offer to give that sense of urgency. US offer only.
http://store.ferrari.com/us_en/
4. Lindt
Double whammy: Seasonal chocolate AND a discount!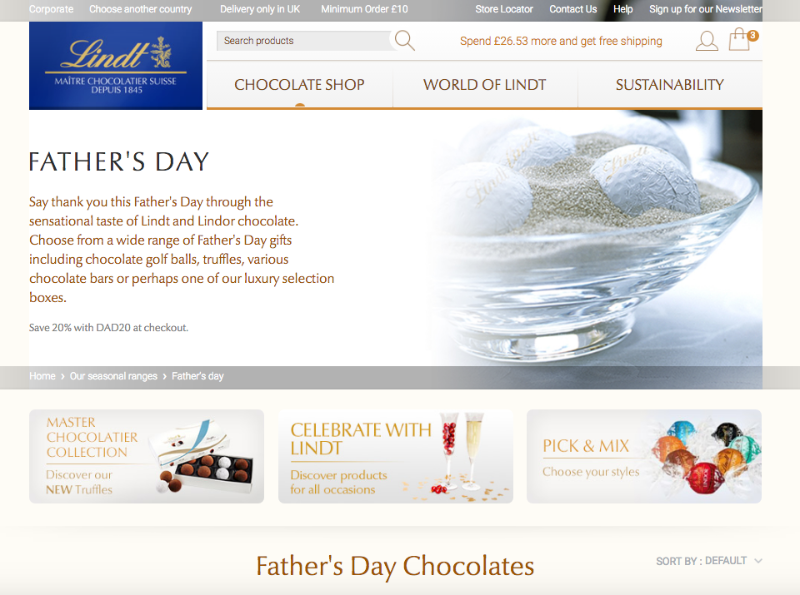 What if you combine the last two ideas? That's what Lindt came up with for this year's Father's Day promotion: not only have they created golf ball shaped chocolates packaged in a luxurious golden box but they also offer 20% off at checkout with promo code DAD20. How can you resist?
5. Murdock London
Thoughtful copy, gifts packs and gifts vouchers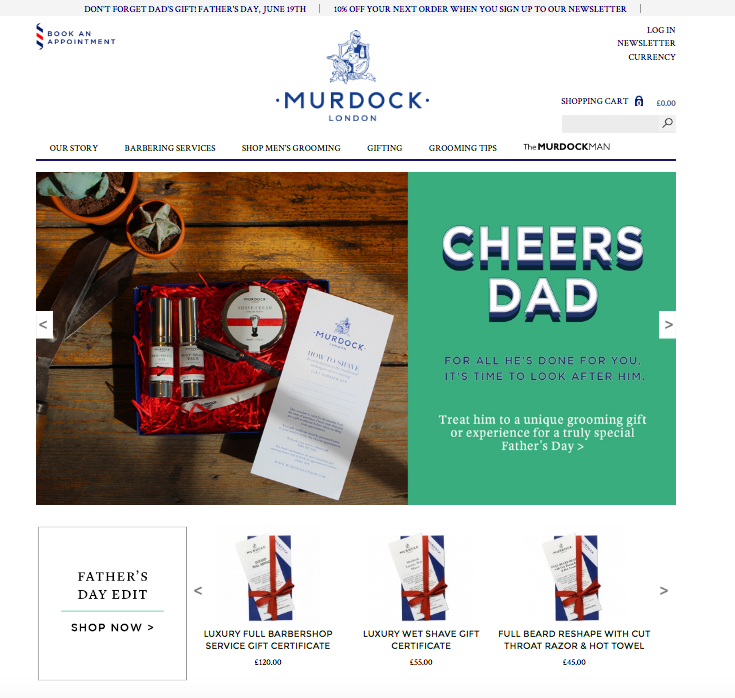 When your brand relies on its edgy personality to cut through (no pun intended), copy and images play a big role. Murdock London is adding that extra line about Dad that triggers emotions and makes you feel that nothing is too good or too expensive for Dad.
And because Murdock offers experiences, not just physical products, it makes sense so create beautifully packaged gift certificates that you can buy online.
6. Dartington Crystal
Free hand engraving for Father's Day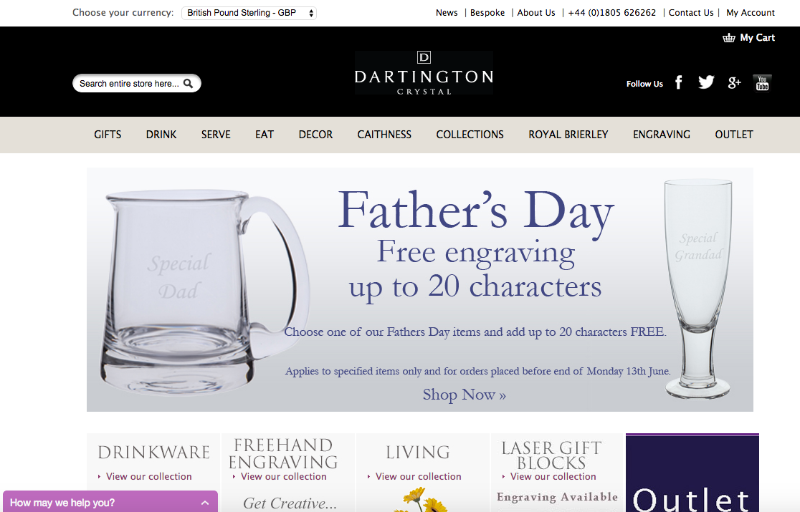 With personalisation and monogramming becoming mainstream, free engraving makes sure your gift is unique and thoughtful. It's made by hand to add that craftsmanship touch to your present. You can even see a video of Dartington Crystal's Master Engraver at work. What's more, the online store also offers price matching and free delivery in the UK for all orders over 50 GBP.
7. House of watches
Purchase high price point items with confidence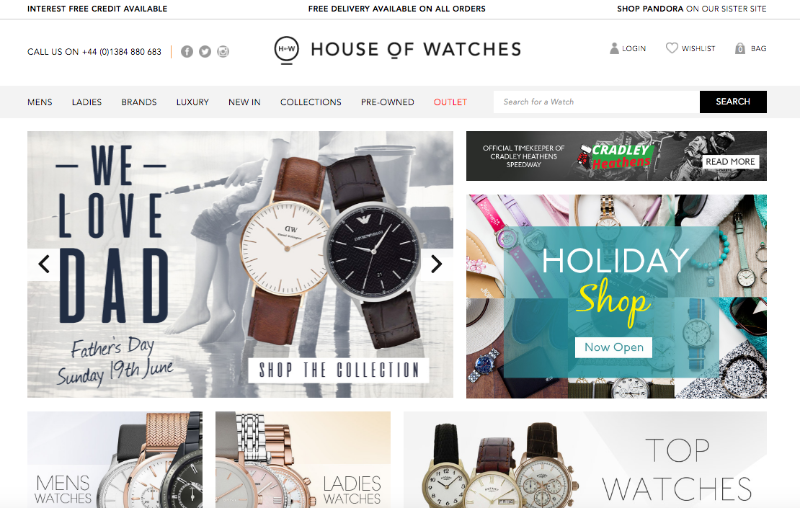 Although this is not specifically Father's Day related, I wanted to point out a couple of interesting features that House of Watch added to their Magento store. This is best practice when you sell high price points items.
Interest free credit available: link on the top left of the navigation bar. Credit powered by V12 Finance
5 star Gold Trusted Merchant Feefo badge on the footer. Feefo is a global feedback engine helping online stores gain trust.
No need to say that all seven Magento stores are maximising their demand generation campaigns by helping shoppers whizz through checkout. Providing a good experience will not only increase conversion but will also make customers come back.
How about you, have you spotted any Magento store doing something interesting this Father's Day?