The silly season for online retailers and their staff
The countdown is ON! Q4 is gearing up to the Holiday Season peak, also called the Christmas Sales outside of the US.
When I worked at eBay, we would start our Holiday campaigns no later than the first week of November.
Every year those 6- 8 weeks deserved that "Silly season" nickname. Everyone is super busy and keeps running like a mad chicken to organize parties, arrange travel, find thoughtful gifts for family and friends and that's only in the personal life side of things!
At work, it is as crazy and silly as:
Office Christmas parties are on, including Secret Santa also called Kris Kringle (Chris who?), the company's Christmas party but also vendors and suppliers' parties (that's the fun bit when you are "the client")
The retail sector is reliant on the last three months of the year to make or break their annual sales targets. In some industries Holidays Sales account for more than half of annual sales: think about Toys, Jewelry, Party supplies, Evening wear and Tuxedo, Chocolate, Alcoholic Beverages,  Pampering Kits, Gifts vouchers and many more!
Growth targets are harder and harder to achieve. Each year you need to sell more than last year, often with the same budget or less, rarely with more resources
It's Cyber Monday or Click Frenzy tomorrow!
How to get more sales year on year?
When you defined your budget 18 months ago, you've detailed how you would grow 5, 10, 20% YoY or more (lucky you) . The levers included a combination of driving more traffic and driving up the Average Order Value (AOV) of your customers. Perhaps selling more items to the same customers, perhaps you're increasing the price of other items… the brainstorming session might have looked like this: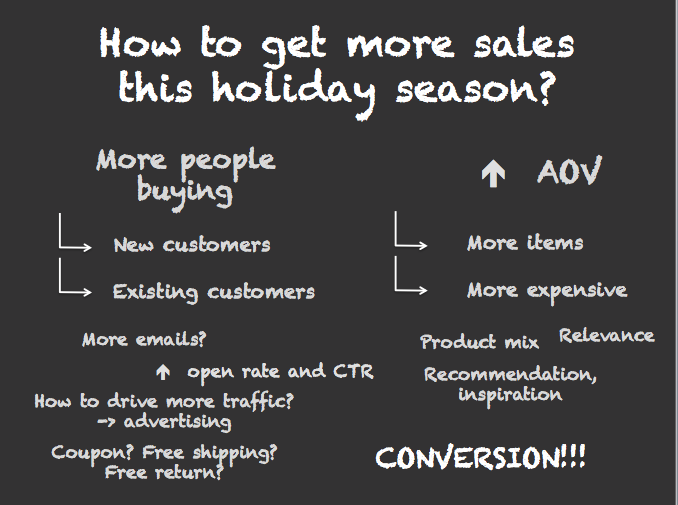 GOOD NEWS: the percentage of retail spent online keeps growing so you'll benefit from that trend. Bad news: competition is getting fiercer and fiercer so it's getting more challenging to fight for customers.
BUT WHAT IF you were getting more sales out of the traffic you already generate. Not increasing people's spend, but by capturing their sales before they leave the site? What if for every two people who place an order or your site, you've got an extra customer placing an order? That's what would happen if you increased your sales conversion rate let's say from 2% to 3%
Conversion Rate Optimization (CRO) is the new black
"I'm somewhat pessimistic about the future of SEO, as it gets increasingly replaced with paid placements" observes Gab Goldenberg who specialised in SEO for over 6 years before becoming a Conversion Rate Optimization expert. "SEO takes a long time to show an ROI whereas if you have traffic then CRO can get you positive ROI very quickly!".
Well if you want to see how quickly you can make that happen, you can jump straight to the end of the this article. But first I encourage you to read on so you see the big picture and understand what can be fixed now and reaped for your November peak vs. what you can do leave to the New Year.
The Checkout Conversion Index (CCI)
One sign that conversion is gaining momentum and that checkout is a massive driver for its improvement lies in the setup of the Checkout Conversion Index™ (CCI) by PYMNTS.com. It measures the payments conversion problems that arise when consumers encounter friction in their digital shopper experience.
The CCI is based on a team of "shoppers" shopping at over 650 U.S.based eCommerce sites across 14 merchant categories.
In Q3 2016, all eCommerce websites improved vs Q1:
16 companies received an A, +300 % vs Q1 2016
Average checkout times were 21 seconds faster for all merchants than the previous quarter
Among industries doing notably well in regard to eCommerce platform checkout conversion, Apparel and Accessories merchants climbed to No. 1 overall, beating mass merchants, which dropped to third position this quarter.
What do the best 30 merchants do to maximise their checkout conversion?
We've downloaded the Q3 2016 report for you and the key takeaway lies in this chart. You can see what the top 30 merchants do better than the average when it comes to checkout: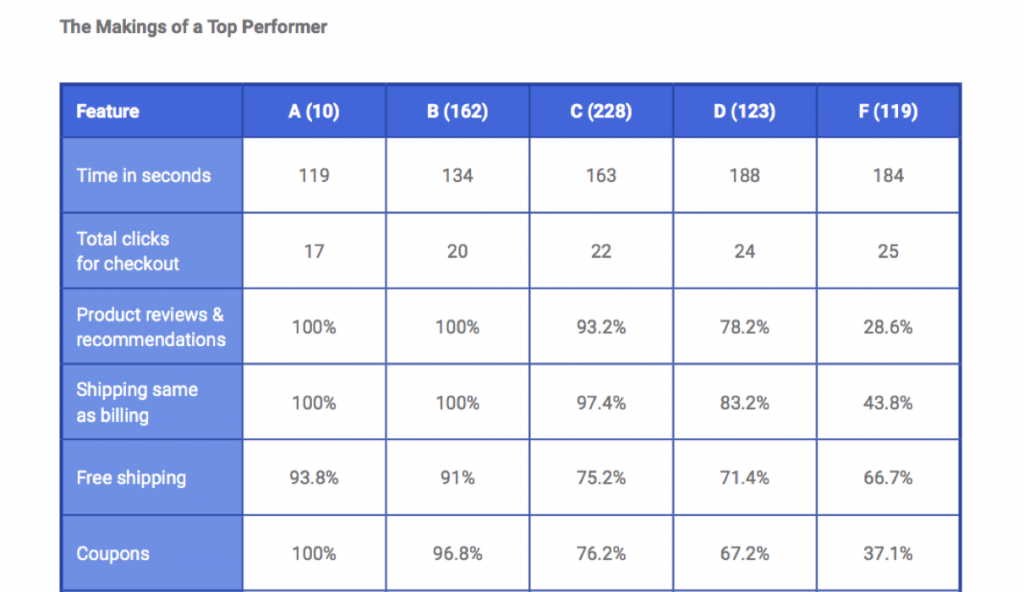 The top 4 things you can quickly fix today are the following:
Faster checkout
less clicks to checkout
Offer to have the same shipping address to the billing address
Nor requiring the customer profile (Guest Checkout)
The Reasons for Cart Abandonment
For the analytical minds who like to know why they are doing things and not just copy best practices, here are the key reasons for Cart Abandonment based on extensive research from Baymard Institute. This new usability study is the result of 7 years worth of e-commerce checkout research – testing live production sites of major brands with real end-users using both a qualitative and quantitative approach.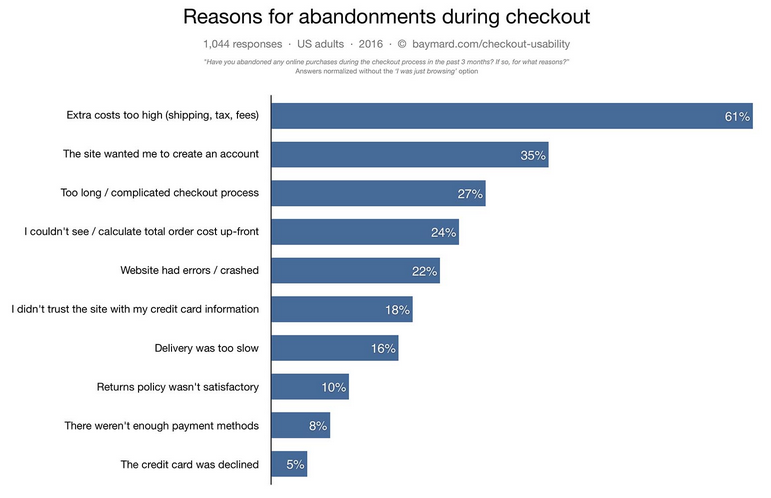 If you exclude the top box, which requires longer term strategy and involvement from a lot more people within your organization to address, the next 4 boxes can be fixed with simple UX improvement.
Guest checkout: remove friction, make it simple. You'll have plenty of other opportunities to get an actual customer to create an account.
Complex checkout process: 1 out of 4 shoppers have abandoned a cart in the last quarter due to a "too long / complicated checkout process", yet for most checkouts it's possible to make a 20-60% reduction in the default number of form elements shown to users during checkout.
Show all the costs upfront: with a simple design change, you can allow total costs to update dynamically every time your customer changes a parameter like quantity, shipping option or payment option. We use the Ajax for that.
Errors and crashes: implement a rock solid tool which is well coded and light to load to avoid this issue
"35% Average Conversion Rate Increase From Better Checkout Design"
How to fix my Magento checkout design within days (not weeks or months)?
Christmas has come early, especially if you chose to build your eCommerce website on Magento. Simplifying checkout has been our core business since 2010. Our team has been helping over 20,000 Magento stores with their checkout. We are relevant to merchants from all verticals including healthy food or jewelry, from over 40 countries meeting all their local requirements.
So we've compiled and packaged up for you all the best practices for you, ensuring compatibility with the most popular payment, shipping methods and other extensions like managing store credits, loyalty points, gifts etc…
If you haven't customized your Magento store too much yet, it will take a couple of hours to implement and you can reap the benefits on time for your Christmas peak starting… this week! If you need a bit more help, our legendary support team is here for you.
Want to go beyond checkout design to improve your conversion? You can dig into customers feedback to understand the drivers and barriers to placing an order on your website. That could be an activity to plan for the new year?