As mentioned in our previous post about the Magento Imagine 2017 conference, we were super excited that our customer and fashion brand Show Me Your Mumu got nominated for an Imagine Excellence Award this year. Their main achievement is their outstanding growth over the last 12 months on Magento channels.
Although they didn't win the award, they recently got featured on Magento's blog. 700% growth between 2014 and 2016 can't go unnoticed and Magento shared what key strategies they put in place to make that happen.
We thought we'd take the opportunity to bring our expertise to shed more light on those key drivers that led to an almost 85 percent increase in conversion rate over two year.
To make it easy to follow, we will break down Conversion Rate into two key steps of the sales funnel.
Add to cart: of all the visitors landing on your stores, how many add a product to their cart or basket?
Cart to Sales: of all the visitors who have added one or more products to their cart, how many complete checkout and placed a successful order?
Increase your Add to Cart ratio
Hosting re-configuration and enhanced infrastructure.
Page loading time is a key factor for cart abandonment… for abandoning any part of your website site really. You know how our expectation has increased regarding how quickly things should appear. Fashionista and even more so younger ones want it NOW (still wondering how they can bear queuing for hours to get a drink or go to the toilet at music festivals though). With a faster user experience, even during heavy traffic flash sales time, you don't give a single chance to your visitor to give up and fully feed on their FOMO.
In fact, site speed is super powerful as it also improves your cart to sales conversion. In our previous post about how to increase conversion rate, we found that according the Pymnts.com's Checkout Conversion Index, what separates A grade merchants from low performing ones is the time in seconds it takes to complete checkout.
Site Search
Shoppers can't add products to their baskets if they can't find what they are looking for. We already drove attention to this first and first touch point with your site visitor, that same visitor that already required you lots of efforts to get to your website! In our case study, one of our customers found that conversion is 3.2x higher for search visitors vs non-search (i.e. browsing) visitors. BOOM.
Increased your Cart to Sale ratio (= reduce cart abandonment rate)
Payment method
At Magento Imagine 2017 session about payment, a panel of online store and experts provided thos key takeaways:
too much choice creates confusion
offer the payment methods that your demographics prefers
remove friction at checkout by making it easy for your shopper to place their order
If you look at Show Me Your Mumu's cart, they have the PayPal Express checkout shortcut. PayPal is indeed the prefer payment method for US Millenials. The shortcut also allows to speed through checkout and not retype personal details.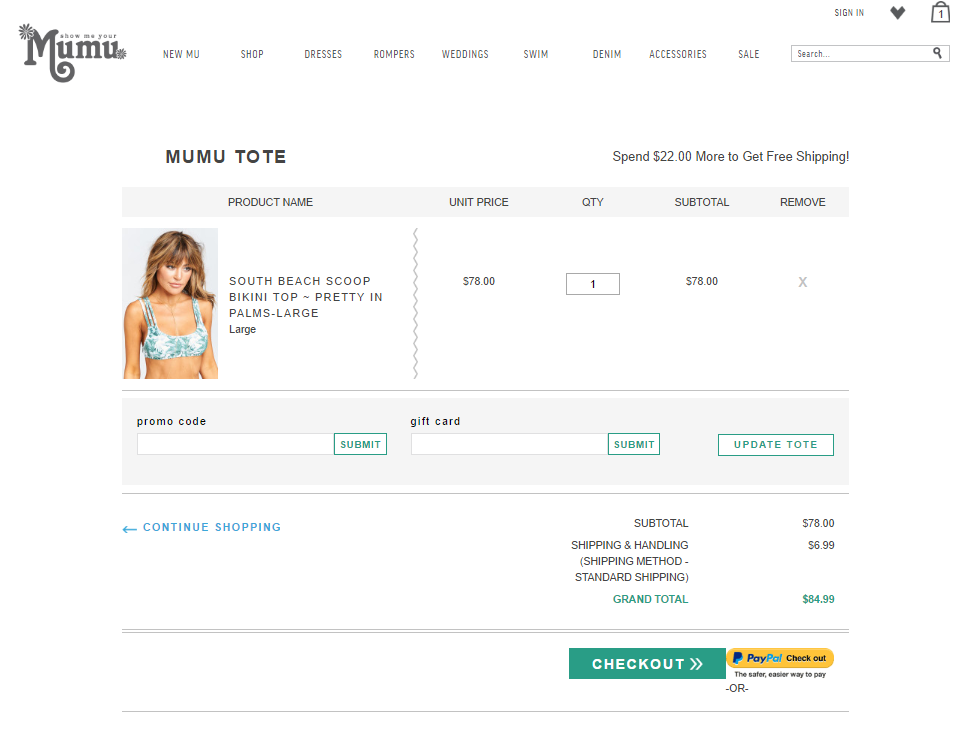 Registration
For those who would rather go to the classic checkout, Show Me Your Mumu built a pretty registration section at the top of their OneStepCheckout page. Forcing registration is never a good idea so providing options in a visually appealing way would also reduces cart abandonment.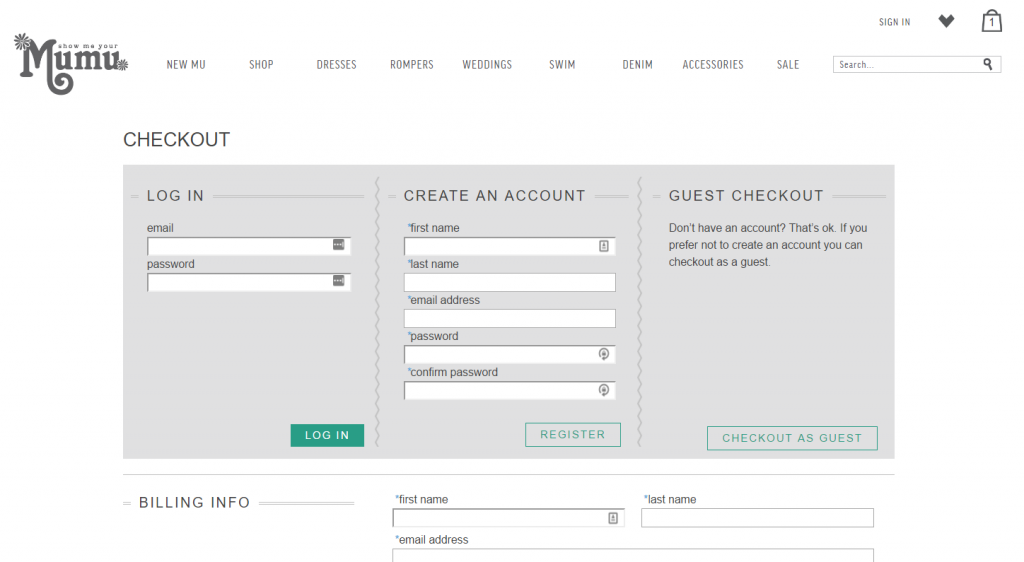 And customers who prefer to checkout as guests, Show Me Your Mumu chose to display their OneStepCheckout with a one column layout instead of our classic 3 columns that allows to show everything at a glance above the fold. This is a great testimonial that every store is different and one page layout that works for one might work differently for others. As long as you can test it and choose the right configuration for you that meets your business objectives.
Notice below that this merchant only offers two payment options to make it simple and straight forward. Setting expectations by warning about the PayPal experience is also a great way to reduce the confusion that often leads to cart abandonment or unsuccessful order placement.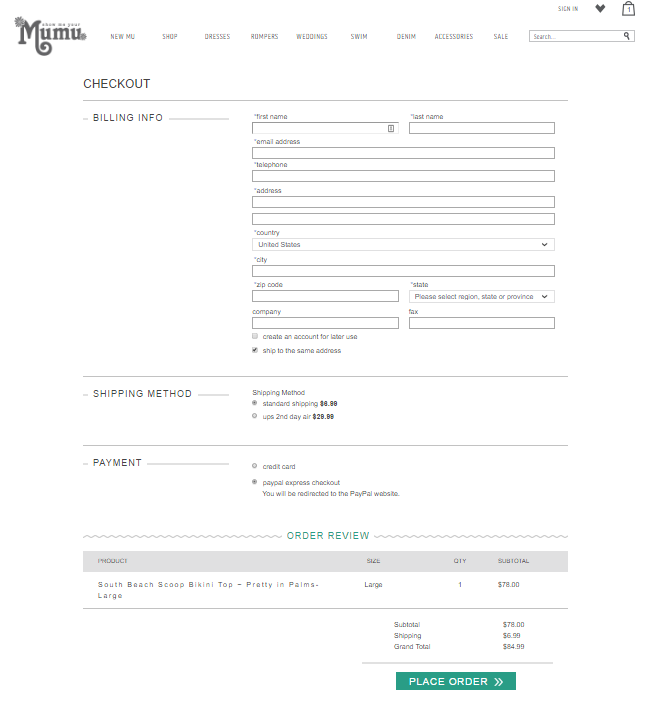 I'll leave you with my favorite headlines from the store's homepage rotating banner (#Ilovepuns). Kudo's to the copywriter!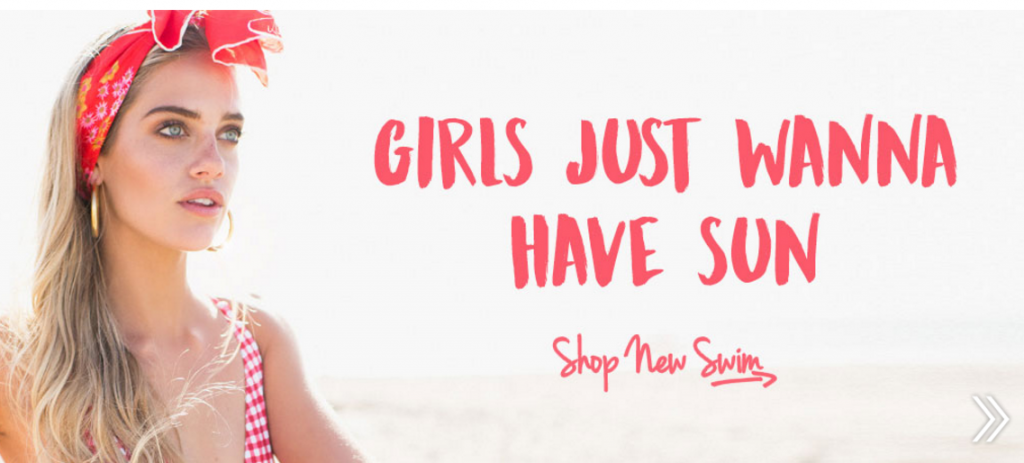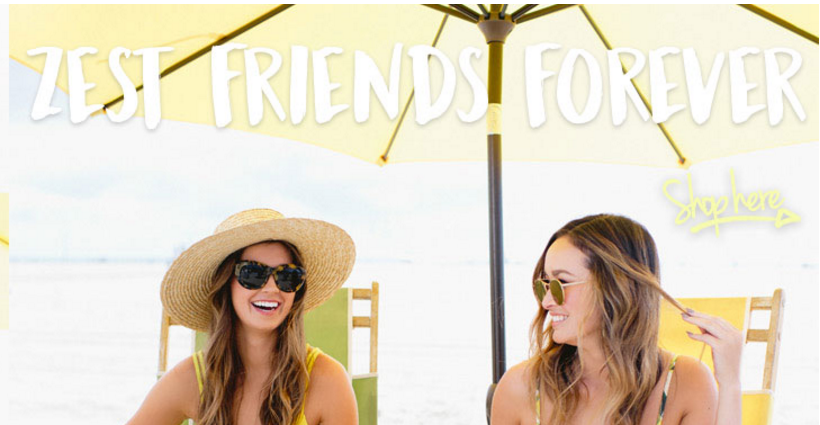 Have a feel of the whole experience at Show Me Your Mumu
and let us know what other best practices you notice on their Magento store!
Leave a Comment on our Facebook page