Updated 30 May 2018
Last year, we sent a third of our team to Meet Magento Netherlands in Utrecht. It wasn't an easy decision to make as we were sprinting to release our OneStepCheckout for Magento 2 extension.
There are always so many Magento Community events out there, all in great locations, organised by great teams! But the Netherlands are very special to us as it is a very important market for Magento, ranking number #1 on many criteria.
1. The Netherlands has been a pioneer in many areas
If you don't know much about the Netherlands, I find this introduction by eCommerce News just perfect:
The Netherlands is a small country, but it always tries to play a significant role, whether it be economically, political or in sports. The Netherlands participated in the introduction of the euro and was also a founding member of NATO and what's now called the European Union. It's also famous for its highly open economy which is leaning strongly towards international trade.
Recently it stood out by being the first country to troll Donald Trump with their " America First, Netherlands second" campaign, which inspired many other countries to follow suit.
2. Netherlands has one of the highest Internet penetration in Europe
According to Export.gov, the Netherlands ranks among the countries with the largest number of broadband connections and the highest Internet penetration in the European Union. Internet has 94 percent coverage and almost 84 percent of Dutch households use a broadband connection. With 15.5 million Internet users, the Netherlands has 92.9 percent penetration.
Having also been developing commerce in Europe for centuries, no wonder the Netherlands is also a pioneer in eCommerce with a €20Bn market, growing at the a fast pace of 23% YoY.
3. Netherlands has the highest number of Certified Magento Developers per capita
The Dutch have been very early adopters of the Magento eCommerce platform.
According to an article compiled by Inchoo, a leading Magento agency in Croatia, there are over 5,800 Certified Magento developers in the world and Netherlands ranks #1 among countries with over 10 Million inhabitants, with over 200 Certified Magento Developers (i.e. 12 per 1M inhabitant), ahead of Ukraine (where Magento itself has their engineering group).
4. Netherlands has the highest number of Magento Stores per capita
According to Willem de Groot, Founder of Benelux e-commerce market leader Hypernode, Netherlands tops the chart by far with approx 1,400 Magento stores for 1 Million inhabitants, that makes over 23,500 Magento stores for their 16.8 Million inhabitants i.e. over 10% of the Magento stores globally. To put it in perspective, US has 20 times more inhabitants but only 5 times more Magento stores.
Inspired by @aronstanic, I crunched Magento stores per 1M people. #allthiscompetition /cc @kalenjordan @benmarks @magento @guido @PeterJaap pic.twitter.com/zUYvF0KMxU

— Willem de Groot (@gwillem) December 30, 2016

5. Longest standing Meet Magento Event
Based on the statistics above, this could be the chicken or the egg. Last week, the 9th edition of Meet Magento Netherlands took place in lovely Utrecht. This the longest standing Magento Community event. Who could ever catch up? And think about it, where were you in 2008?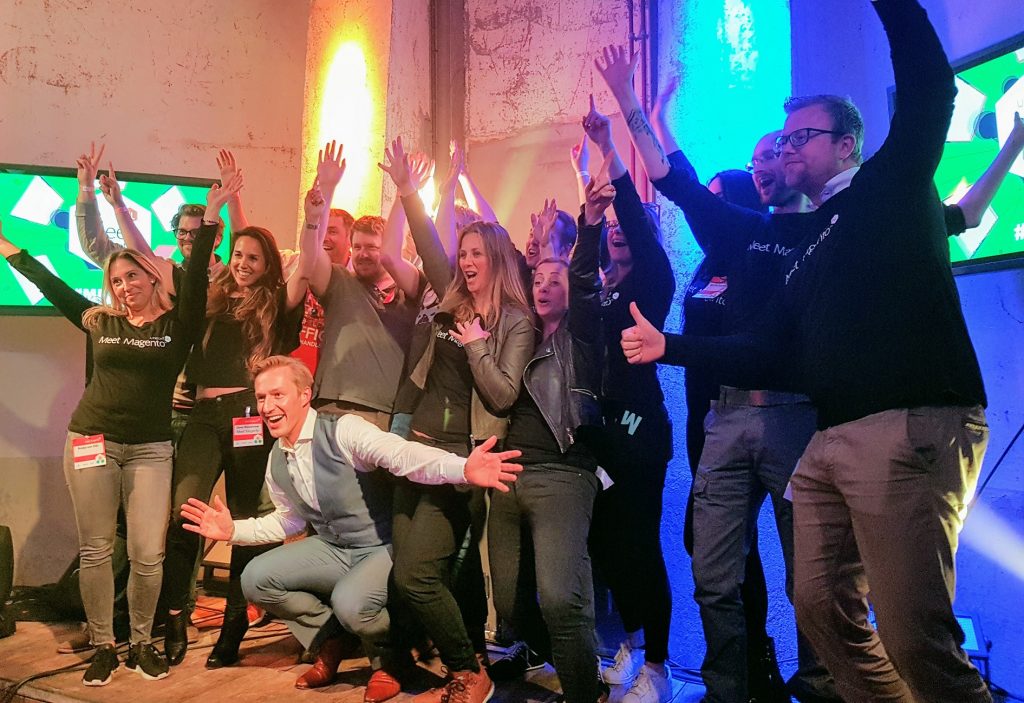 The event was smoothly organized and ran by volunteers. All are highly involved professionals of the Magento Community grouped under the Dutchento banner. They are the most caring, nice and efficient people.
The set up was quite unique and very well thought through to cater for the various type of attendees:
Business track
Technical track
Discovery track for merchants who are considering Magento as a eCommerce platform
In that context I was very honored to be invited to give a talk, sharing my 15 year experience with big global organisations who are leaders in their fields like Accenture, Clarins, eBay or PayPal.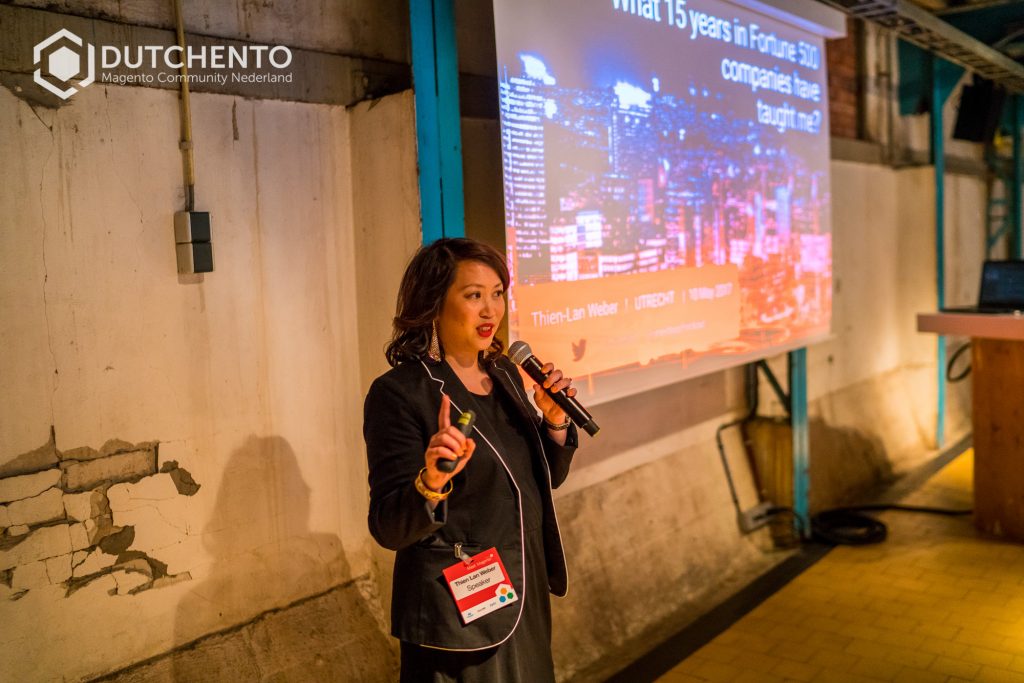 6. Netherlands is the #1 Market for OneStepCheckout
At OneStepCheckout, we have clients from over 40 countries. 25% of our revenues come from the Netherlands, which makes it our biggest market by far, ahead of the US and the UK.
We are proud to be chosen by thousands of Dutch brands, including Patta who shared their story and captivated the whole audience at the general session of the event this year.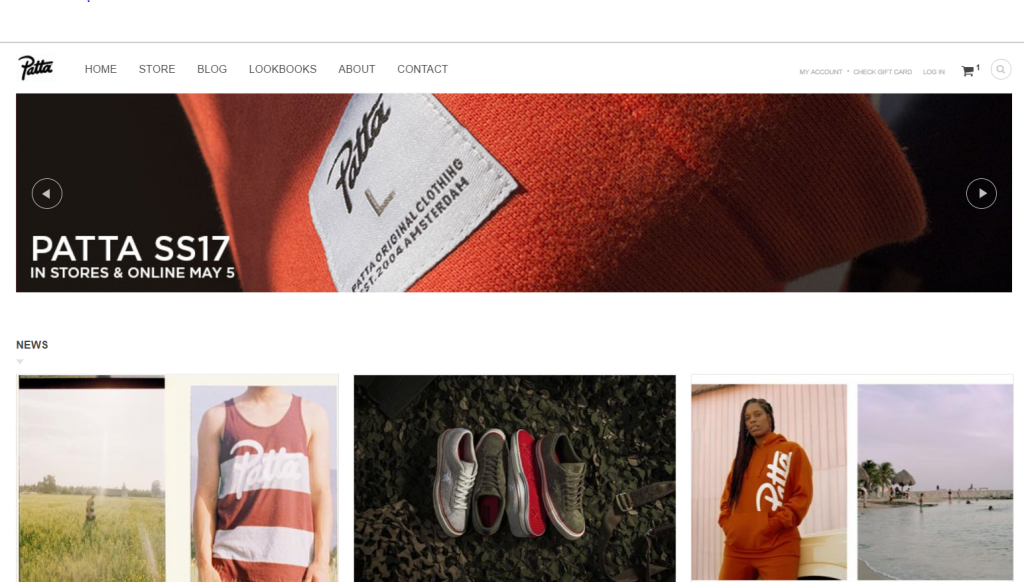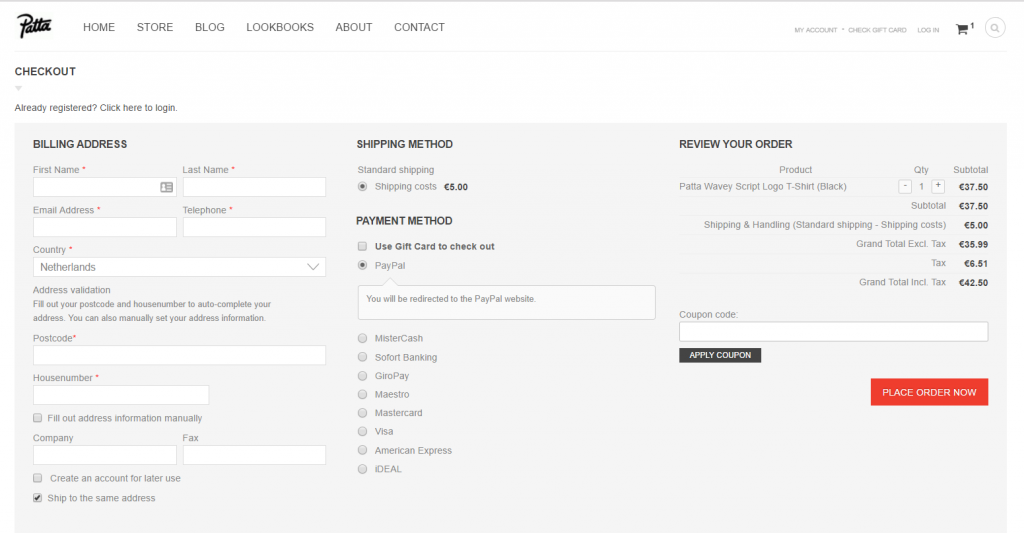 The event allowed us to connect further with many Dutch agency partners including the big sponsors and organisers including Guapa, We Provide, Cream, Experius but also other more recent partners such as Lab51 and other great boutique agencies like Taurus Media. From day one, they have seen the value of our solution and have been recommending it to all their clients without looking back. We are now working hand in hand with those solution integrators (SIs) to harness the power of the Magento 2 platform. Meeting face to face, understanding their clients need and collecting live feedback is the best way to ensure our product stays relevant i.e. matches with demand, solves the right problems and continues to add maximum value to Magento merchants.
During my talk, I did a show of hand on who still had the Magento native checkout. To my surprise, there were still a handful (pun not intended). Which is good because it means we haven't saturated the market yet and it gives us a reason to come back and meet many more Magento Agencies  next year.
Learning from Meet Magento Netherlands 2017: the Dutch are a tough crowd!
Where I wouldn't give it a top mark is on the Dutch audience participation. Just before my talk I had the pleasure of meeting Jon Woodall, founder or Space 48 Magento Agency and Mage Titans events. He is a Tedx speaker. He likes to share bananas, and his knowledge. He knows how to engage an audience, in fact we both had many similar ingredients that would spice up any presentation and make them even more enjoyable:
a video
something about our family lives
something about the Dutch culture
a couple of puns
Well, Jon and I agreed we didn't get the reactions we were expecting. Same for Paul Boisvert, VP of Product Management at Magento. He is my favorite Magento Executive speaker because he is super funny, entertaining and engaging. Well, last Wednesday in Utrecht it wasn't just the same expressed enthusiasm as at Imagine in Las Vegas. Perhaps we need a DJ and Drums to warm up our rooms? On the bright side, the speaker were really well looked after by Dewi from Jmango 360 from and Simone from Bold Commerce.
On the other hand, Ben Marks, the Magento Evangelist, totally nailed it. I'd put it on his experience with the country and its people, his reference to Stroopwafel but above all.., on his orange tie! Don't you think?
Let us know what you think about the Dutch market, whether you have an insider or a outsider view!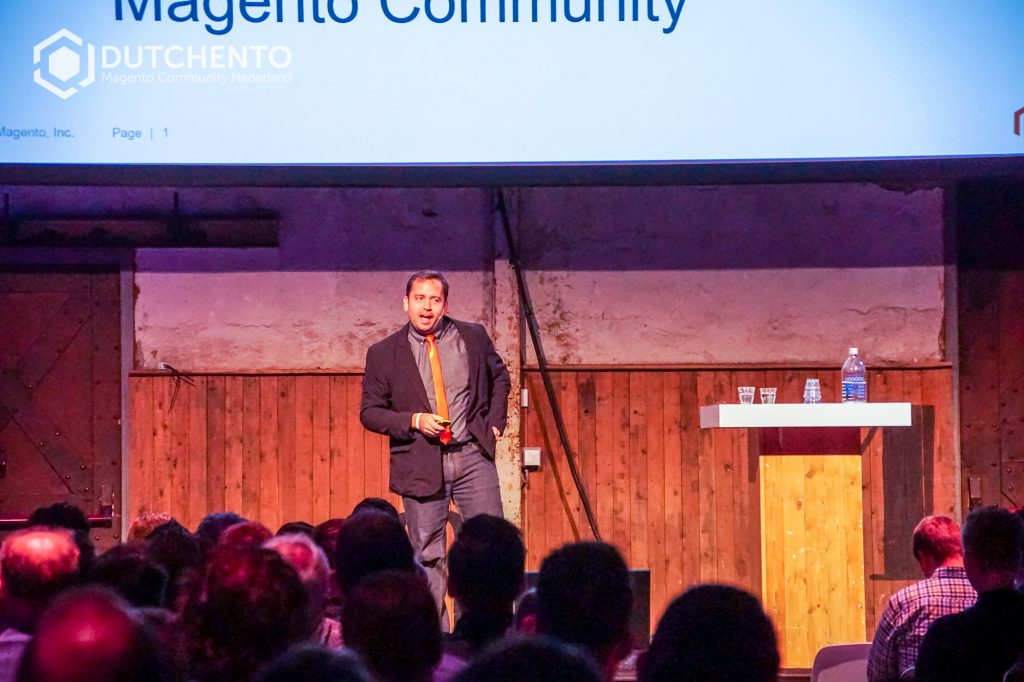 2018 Edition Update: 1st June 2018 in Utrecht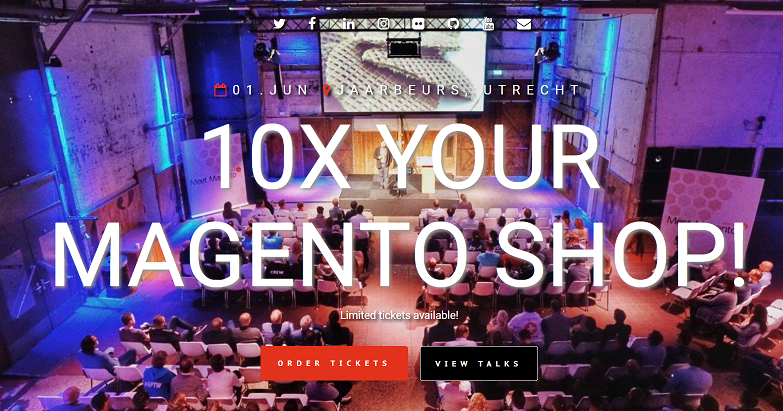 85% of talks will be in English!
I have to admit I felt a bit left out last year but this year, the agenda is a lot more international and diverse.
The hosts of the general sessions are web artists (apparently it's the new name for "Youtuber"). It will be a fun and interesting duo with Rebecca Brocton, a millennial lady from the UK and TJ Gamble a Magento Veteran leaving his sweet home in Alabama to inspire us here, in the heart of Europe!
There will also be talks by three Magento employees: home grown (Dutch) Ray Bogman, as well as two people flying all the way from Austin: UX expert Danielle Mundle and Front-end Architect Andrew Levine.
PWA: the next big thing
PWA (Progressive Web Apps) was the hot topic in Vegas last month ???
At Meet Magento Netherlands 2018, out of four tracks, two will be dedicated to Business, one to Technical talks and one full track dedicated to PWA!
ExtDN Efforts
ExtDN (Extension Developers Network), which we are part of and actively supporting, has performed a successful reboot at Magento Imagine 2018, gathering lots of interest and engagement around two major initiatives:
ExtDn will have a booth at MM18NL where you can come for a chat, share your stories about Extension conflicts, and of course get stickers 😉
It's all happening at Meet Magento Netherlands in Utrecht on 1st June 2018!
We even got an exclusive discount code for you (merchants only):
Discount_25PERCENT_EXTDN 
No more excuses!
Update to the Udpate: Adobe acquisition
Since we last updated this article, the biggest event in Magento in recent history happened: the acquisition by Adobe for $1.68 Billion.
As such Mark Lenhardt, SVP Strategy and Growth at Magento will run a Q&A session at Meet Magento Netherlands.