Edited on 14th May 2020 with results.
The Nutrition market: size and segments
Nutrition is at the confluence of health /well being and food & beverage.
Nutrition is a huge market with Dietary Supplements alone expected to reach US$ 252.1 Billion by 2025, with a healthy (pun intended) CAGR of 7.4% between 2015 and 2025. (1)
You can segment this market it in different ways:
By customer demographics: infants, men, women, senior, animals
By application or health concerns: diseases, ageing, food intolerance, beauty, sports
By distribution channels: supermarkets, specialty stores, pharmacies, direct
also by form (i.e. pills, gels), ingredients (i.e. vitamins, amino acids…) and geographies
The biggest segments in Nutrition are:
Women
General well being and weight loss
The highest growth in Nutrition segments are:
The pharmacies/drugstores channel, expected to register a healthy CAGR of 7.6% in value
Sports and nutrition segment with a forecast CAGR of 8.9% vs general well being with a forecast CAGR of 6.9%
Nestlé Healthcare Nutrition
In 2011, Nestlé founded an Institute of Health Sciences which mission is to develop scientific methods to improve health through nutrition. They run a lot of research from genetics to diet and lifestyle.
Like many of us, they believe that what we eat every day has the most impact on our health.
The commercial arm, the Healthcare Nutrition division of Nestlé generated CHF 16Bn in sales in 2018 (2). The key applications they cover are:
gastro instestinal
age care
pediatrics
obesity
critical care/ surgery
brain health
cancer/ oncology
food allergy
metabolic diseases
Nestlé Nutrition online store on Magento 2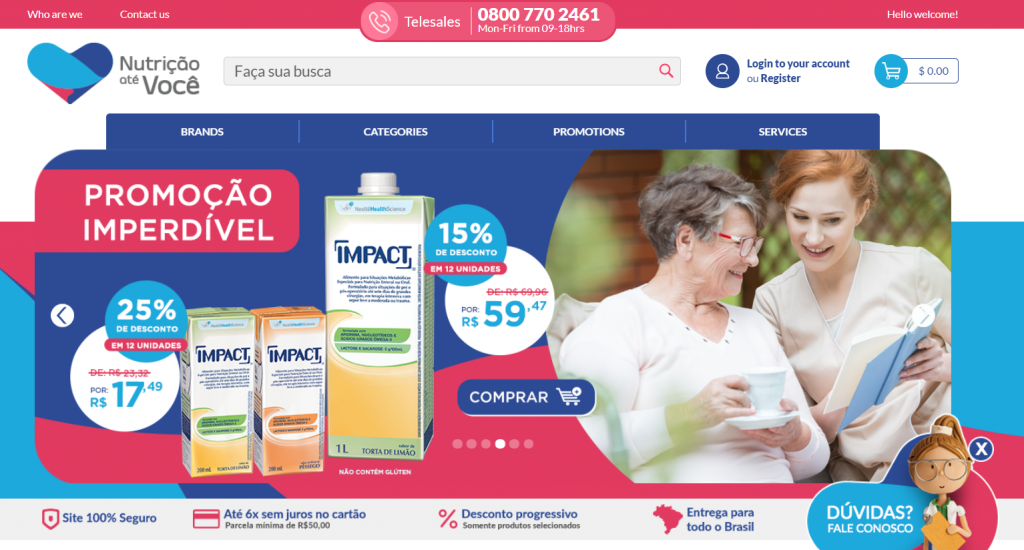 Nestlé launched a B2C webshop: nutricaoatevoce.com.br in Brazil. This Magento 2 store is a new and fully owned distribution channel for Nestlé in the Latin America region.
Key advantages for local consumers:
access to the wide range of Nestlé Healthcare nutrition products
discounts and promotions
multi-channel way to contact the store including telesales, online chat, email and Whatsapp
cart sharing to health professional can recommend the exact product to their patients
easy payment options including installments and recurring billing
shipping all over Brazil
The back end innovations they implemented in their Magento 2 store:
Fulfillment: possibility for products to be delivered by different distributors
Design: scalable and extensible
Payment: subscription/ recurring payment customization
Conversion Optimization:

possibility to close sales via telesales
One Page Checkout which we are proudly powering.
Read more about those features developed by Magento Agency Webjump
Results
The nutricaoatevoce.com.br store relaunched in 2019, and a year later, massive improvement are reported across all metrics:

Page load
Conversion
Double digit growth for online sales and the number of transactions processed
Victor Vendramini, Marketing Digital and eCommerce head at Nestlé Latin America comments:
"nutricaoatevoce.com.br store is a worldwide pilot of Nestlé Health Science (NHS) launched in Brazil.
The ambition of the eCommerce strategy, coupled with the implementation of new features to improve consumers experience has led Nestlé to strategically switch to the Magento platform that aligns with all NHS's strategic needs.
The project is considered a great success due to the strong growth of the online sales channel as well as the smooth roll-out of the platform to other markets and business units of Nestlé"
Focus on the Checkout experience
If you're not familiar with this checkout experience, what you need to know is that a simpler checkout improves conversion. Ideally you will display less fields and make them all appear on one page above the fold, along with an order total section, that updates each time consumers change their desired shipping or payment methods.
Indeed, it addresses the key reasons for cart abandonment such as:
speed
form filling complexity
surprises due to shipping and other additional costs.
Cart abandonment is the biggest challenge in eCommerce with over a trillion USD lost due to 70% of online shoppers who place an item to cart not finalizing their purchase. Read more about Cart Abandonment and 3 things you can do about it here.
Because this challenge can be tackled simply by adding technology, our plug-in got popular with over 20,000 Magento stores trusting us since 2010.
We've seen our software working across 40+ countries and all the industry verticals you can think of. Here is a recent selection of 25 examples of Magento 2 stores with our checkout.
Play with our demo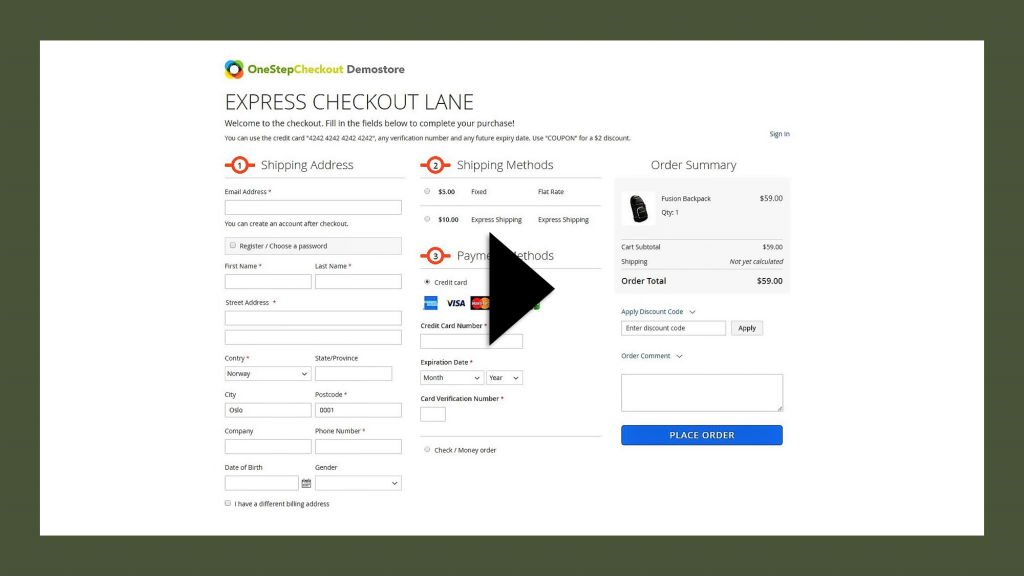 References:
Related Case Studies: