It's been a good month or more, that the whole world has been impacted by an unprecedented crisis, a sanitary crisis, which is having a huge impact on lives and long term impact on the economy.

The International Monetary Funds headlines: " The Great Lockdown: Worst Economic Downturn Since the Great Depression" and forecasts global growth in 2020 to plunge at -3%, vs +3.8% projected in Jan 2020.

Whether it is COVID-19, the subprime financial crisis, bushfires, flooding or any other event affecting your business, there are a couple things you can do to mitigate or make the most of the situation.

Not all businesses are hit the same way. In times like today, some might see a massive boost in traffic such as pharmacies, groceries online, streaming, gaming, but for others, things can get really quiet such as non essential retail, events, and hospitality.

What most companies did was to hold crisis management meetings, to stop, think and reprioritise projects: what are the most important, what are the most urgent things to do?:
Keep employees safe and organise work for home
Optimize my eCommerce business as much as possible to generate necessary cash
Get online with the Offline2On initiative
Here's an initiative that came up specifically with this sanitary crisis to help you develop and optimize your online sales channel: Offline 2 On

It's picking the brains of thousands of eCommerce experts. They are joining forces in their free time to develop solutions to help businesses go online faster or perform better. First you can choose between three categories: restaurant, retailer, wholesales.

Then you can choose between starting your website or optimizing your website.The site offers free marketing and advertising advice and will match you to the right eCommerce agency.

Here's a short and sweet video showing their purpose and how they came about:

The eCommerce initiative
Why you need to optimize your online store
Businesses are fighting for online traffic. In the US for example, eCommerce sites doubled their ad spend between February and March 2020 according to MediaRadar. The surge is not just for essential products but also non-essentials such as alcohol, lounge wear or electronics.

In that context, can you compete with brick and mortar giants such as Walmart, Best Buy or Target who have to make up for loss sales offline by investing their marketing dollars online?

If not, how can you survive without pumping all that unplanned cash into advertising?

How can you make the most of your existing traffic, get more orders out of it, turn more visitors into customers and make them loyal?

In this article we will cover how to make the most of your existing traffic by optimizing every part of your eCommerce sales funnel:

How do you help visitors find what they are looking for?
How do you make a product page that converts?
How do you increase your average order value (AOV)?
How do you prevent cart abandonment?
How do you get more sales while reducing shipping costs?
1. Help visitors find what they are looking for
How many times, as a consumer, you came to a website and couldn't find what you like? Or spent too much time trialing keywords in the search bar or browsing categories?

What if, by starting typing, shoppers are presented with the most relevant products with pictures and price points straight away?
What if, as a business you could predict what your visitors looking for and feature it in a user friendly way?
Solutions like Instant Search by Fast Simon allows you to do exactly that.
It's packed with clever algorithms, predictive intelligence and natural language understanding.
Here is an example of how a Magento merchant boosts their online sales conversion by 3X by using a fast and efficient search combined with optimal checkout.
2. Make product pages that convert
It's only human, shoppers are attracted by high resolution pictures with vibrant colors and details that will allow them to see themselves with or using the product. Collections are a great way to do that.
Spend time on your imagery, add as much details as possible including size, color, material, and dimensions. Talk about customers benefits, material, and how you are addressing environmental concerns.
Price is also a key factor, especially for non branded goods. As you know, with the current situation, the price of masks increased up to 35X so if the markets is favorable to a price increase or if you want to convert more with a discount, you can play on price.
Frequently changing product attributes including categories, collections and price can be time consuming. Time that you don't have. That's why some clever and efficient Germans came up with a brilliant yet cost effective tool to allow you to manage all the products from your Magento store simply with Excel.
Check out Cobby.io, a well coded, user friendly and affordable Product Information Management (PIM) software for Magento.
3. Increase your average order value (AOV) and customer engagement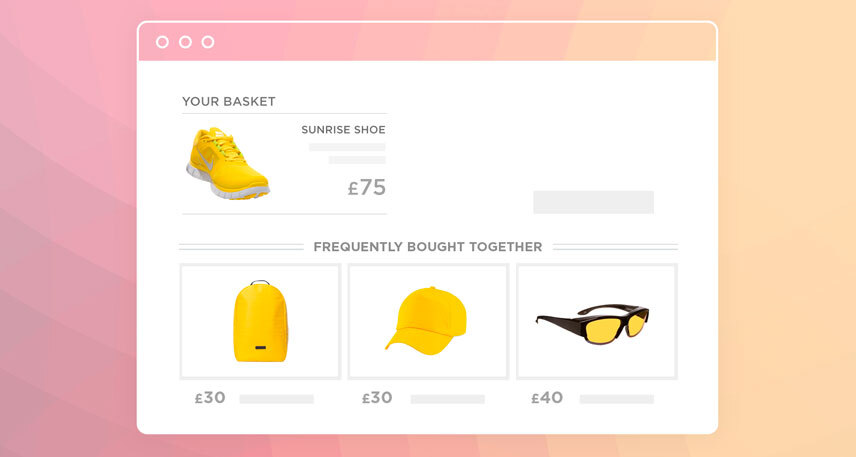 As far as eCommerce personalization goes, product recommendations are one of the most powerful tools online marketers can use today as they can deliver five to eight times the ROI on marketing spending.

Product recommendations offer a 1-to-1 shopping experience that is tailored to the customer's interests, eliminating their frustrations at being inundated with irrelevant content and products. This approach boosts customer satisfaction, which builds loyalty. As a result, customers tend to spend more, which increases the average order value.

To succeed with this method of eCommerce personalization, your business must utilize a strong foundation of data. Segmentify is the most intelligent personalization solution to increase AOV, boost customer engagement and provide better insights into your customers. They create a personalized shopping experience across every customer touch point in real-time, giving you the best advantage over your competition. Powered by machine-learning technology, Segmentify tracks and targets individual website visitors according to their unique online buying habits better than any personalization platform on the market.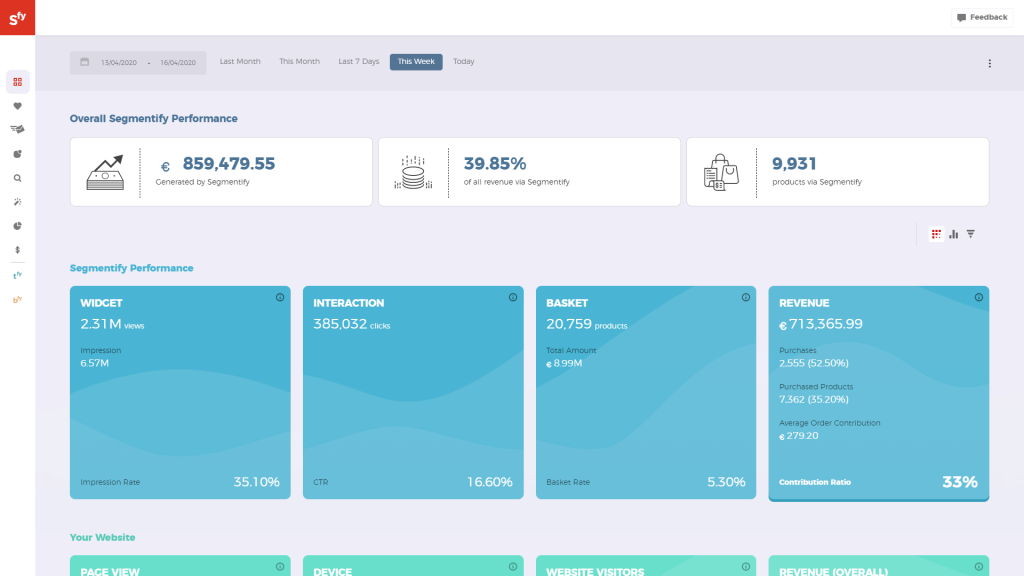 See what Segmentify can do for you today.
4. Prevent shoppers from abandoning their carts
After you've invested time and money to get visitors to fill out their shopping baskets, don't let it all go to waste as they leave your site without checking out!

Indeed cart abandonment is around 70% globally so chances are that 7 times out of 10, visitors leave and are not converted into customers. The good news is that a good part of it can be fixed, simply by implementing technology.

According to Baymard Institute who have studied over 49,000 hours of online stores UX, the top reasons for cart abandonment during checkout are:
Extra costs too high (shipping, tax etc…) (50%)
Forced to create an account (28%)
Too long complicated checkout process (21%)
Can't see order totals upfront (18%)
Just by streamlining your checkout process, you can address over 1/5th of the issue and by offering guest checkout you could address almost 30% of cart abandonment.
Read more about the Checkout Conversion Index and best practices.
Simple ways to streamline your checkout process
Best practice is to make your checkout process user friendly i.e. short, simple and easy to understand. Remove unnecessary fields and minimize the steps. The more pages users have the go through, the more they are to leave.

Nowadays, many shoppers will be new to online so you need to make it even easier for them to checkout as guests and speed through your checkout form.

Here is what Timberland presents to their customers, using the technology of OneStepCheckout for Magento 2.

All on one page
Allowing to create account easily in flow or at a later stage
Order totals updating dynamically
Only one button to click to place the order
Offers all the preferred payments methods for shoppers in that region
More examples of Magento 2 stores with OneStepCheckout

The beauty of improving your checkout conversion is that not only will you get more orders straight away but customers will appreciate the user experience and will become loyal.
Once you acquire new customers, you can apply 8 effective techniques to boost their engagement. Your acquisition metrics will increase without diluting your CLV (Customer Lifetime Value) so the impact on the business' bottom line is huge.
5. Reduce your shipping costs and sell globally
As per the study above, the #1 driver for cart abandonment is " extra costs too high".
Among those costs, the key one is shipping. Did you know you could reduce them and even better, ship to more countries in a cost effective way?

With the current situation, a lot more time is spent on screen, especially in countries where confinement is declared and people are not allowed to step out of their houses. It's your chance to target those countries and offer to ship there.

As an example of software that helps you both decrease costs and boost sales, Easyship allows you to:

offer your customers options right at checkout between fast, cheap or best value shipping
provides your customers with status updates on their deliveries
automate your labelling tasks
get access to 250+ pre-negotiated shipping solutions so you can save up to 70% on rates
Read more about Easyship integration with Magento.

To help the industry with Coronavirus disruption relief, Easyship is offering a 90 day trial for Easyship Plus.
Use promo code MNMKH before 1 May 2020.
Start Easyship FREE TRIAL here
Trend
The trends that we see at OneStepCheckout, is a surge in orders, coming from businesses who are both booming or refocusing.

With 7 out of 10 visitors abandoning their cart at checkout, improving checkout conversion can save your business as you make the same or more sales even if your traffic is dropping. That's why Magento stores see it as a quick win: minimum investment and maximum long term return.

Join the conversation on LinkedIn. What trends have you noticed and what action did you take?
Useful links around COVD-19 impact on the economy: