The US has always been a top market for Magento. According to BuiltWith, as of April 2020, the US account for over a third of all the Magento 2 installations with a penetration of approx 13,000 out of 32,000.
By popular demand, here is a showcase of some of OneStepCheckout's most popular US customers. Most of these retailers are Omnichannel i.e. with physical stores or showrooms and an eCommerce website.
Our selection covers American stores that operate both Direct to Consumers (B2C) and Business to Business (B2B), in verticals such as apparel, home and gardens, toys and hobbies, food and beverage, health and beauty, video games, electronics and accessories and more…
Vertical: Apparel| Clothing | Fashion
1. Everlast
Agency: Plumtree Group based in Chicago
Everlast is a worldwide leader in boxing equipment since 1920, and more widely fitness equipment today. The company is headquartered in New York City and its products are sold in over 75 countries.
The Sports Apparel market is a high growth segment of the Fashion and Clothing vertical with a predicted CAGR of 5.1% between 2018 and 2026 to reach almost USD 250 Billion then. (source: Allied Market Research)
Everlast homepage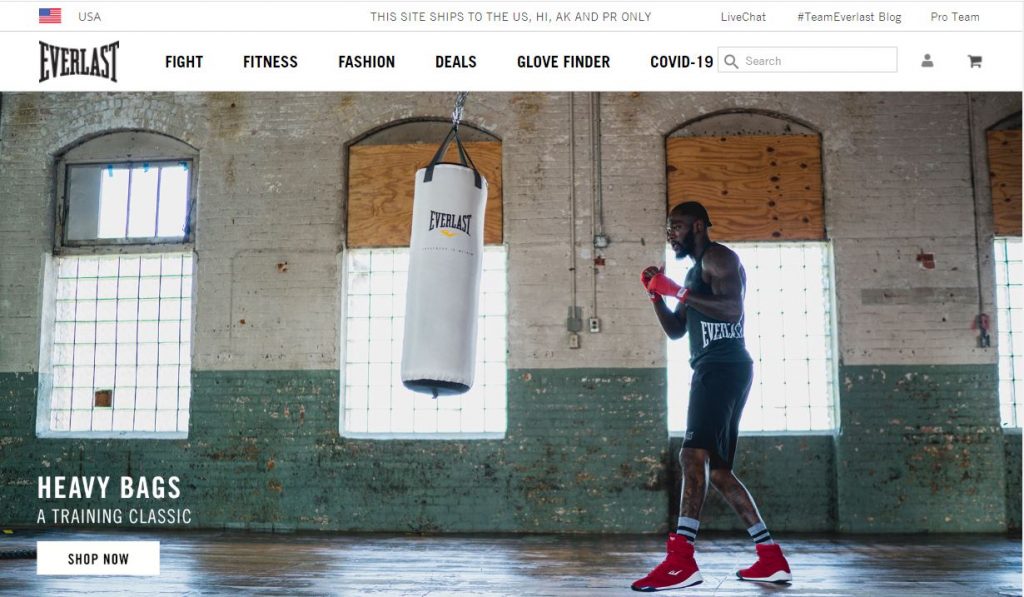 Strong branding, vibrant high res visual, and an interesting Glove Finder functionality: it asks you a series of questions about your level, type of practice, and style preference so as to narrow down the right selection of boxing gloves for you. Simple yet effective.
Everlast Checkout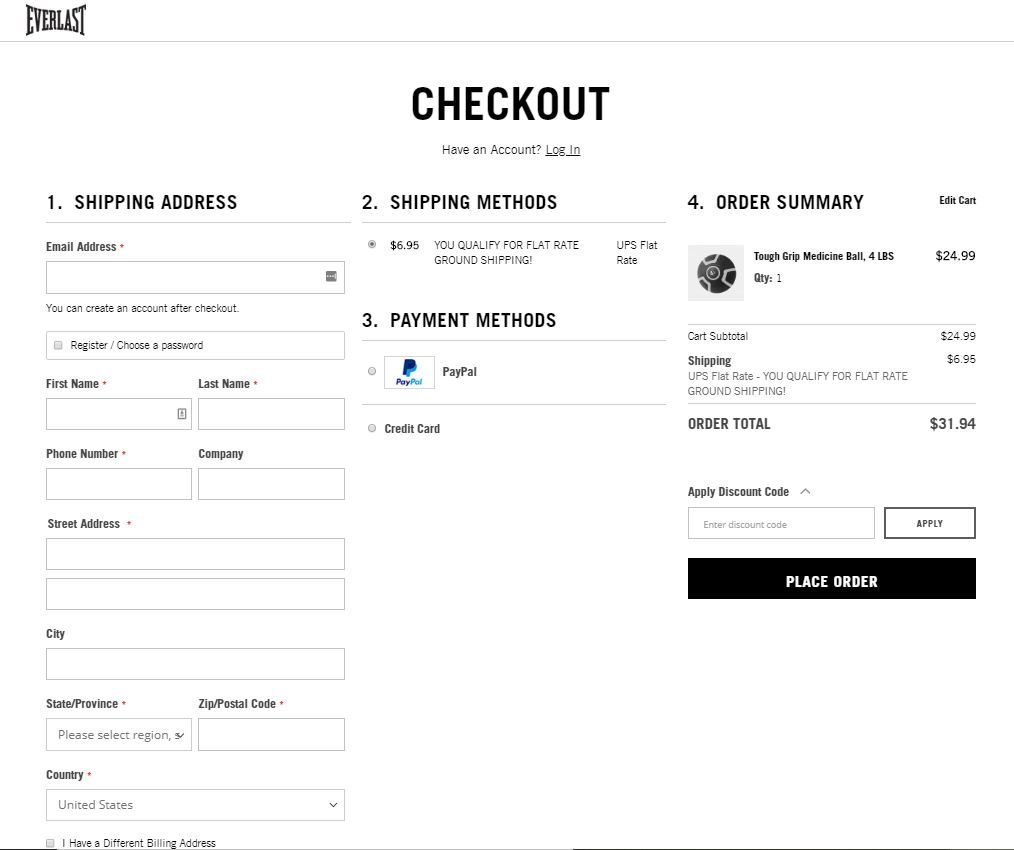 Everlast's Checkout is minimalist with no distraction and offers a minimal number of options to choose from so as to not overwhelm their customers.
Watch below why Everlast chose OneStepCheckout for their Magento 2 store.

2. Babycottons
Babycottons was born in 1999 from a strong desire to maintain a natural bond between babies and their surroundings. In that spirit, the brand offers clothing for babies and toddlers with a classic design made of the best cotton in the world: Pima cotton from Northern Peru. Today they have over 15 physical stores across the US, Peru and Argentina.
Babycottons homepage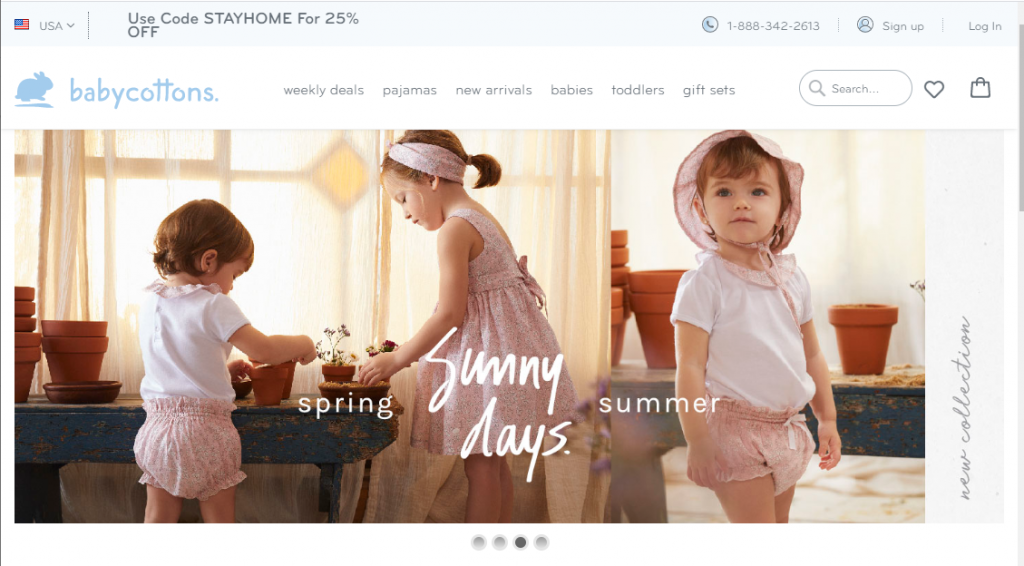 Babycottons checkout
In this checkout, you can apply a discount code, use a gift card and pick gift options such as wrapping paper and leave a note.
What's more? An accessibility menu button, powered by userway.org.
Vertical: Home and Garden | Homeware | Furniture | Flatware
3. Groms
Agency: Bemeir based in Brooklyn
Groms is a high-end furniture company based in New York City founded in 2017. It offers decor items, lighting as well as bigger items to create the most stylish living rooms and bedrooms.
Groms homepage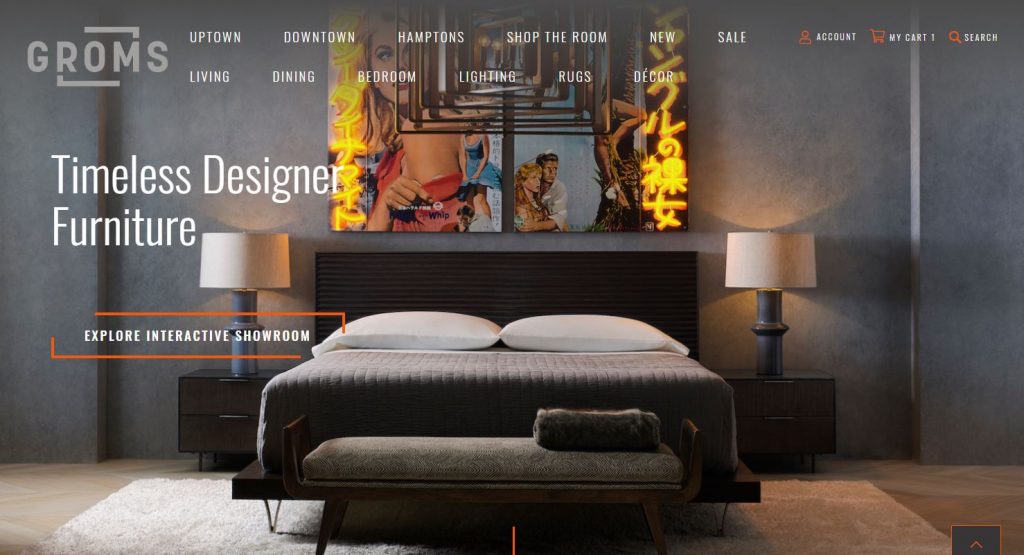 Groms Interactive Showroom
Once you click on "Explore Interactive Showroom" button on the homepage, you can choose from three styles: Uptown, Downtown and the Hamptons. Then for each style, you can choose from a dozen rooms mainly living rooms or bedrooms. Once you're in a room, you are shown an appealing high-quality picture complemented by the list of products that make that particular look including picture, description and price.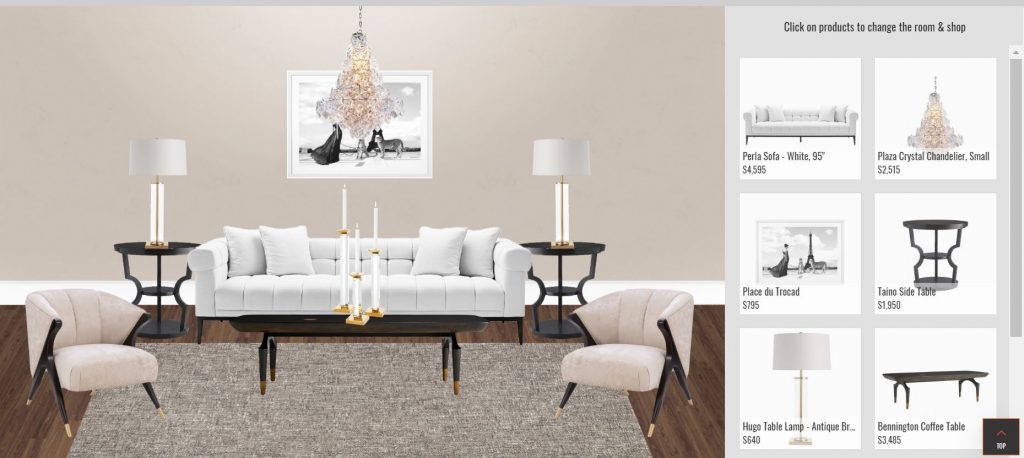 Groms Checkout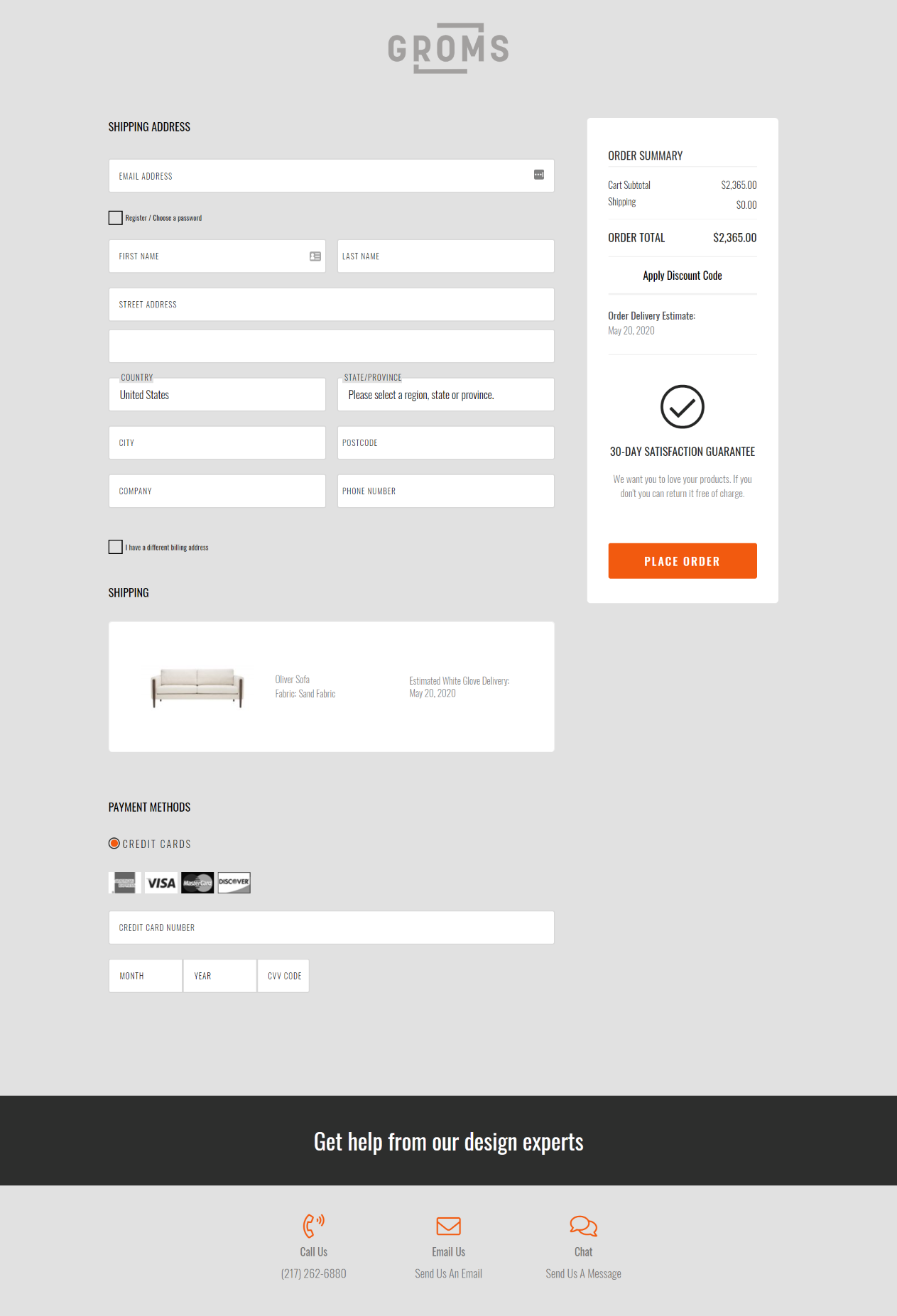 Here, OneStepCheckout has been customized to a one-column layout. The payment method options are displayed below the address section. A trust factor badge, the "30-day satisfaction guarantee" icon is placed right above the "order" button to further improve checkout conversion.
Watch Groms agency's feedback below.
4. Noritake
Agency: Plumtree Group based in Chicago
Noritake is a tableware and technology company headquartered in Nagoya, Japan. Their china products are distributed through various retail chains such as Bed Bath and Beyond, Macy's, Bloomingdales, or Wayfair. Their eCommerce website was developed by their US entity based in New Jersey and covers key markets such as Japan, China, Germany and Australia.
Noritake homepage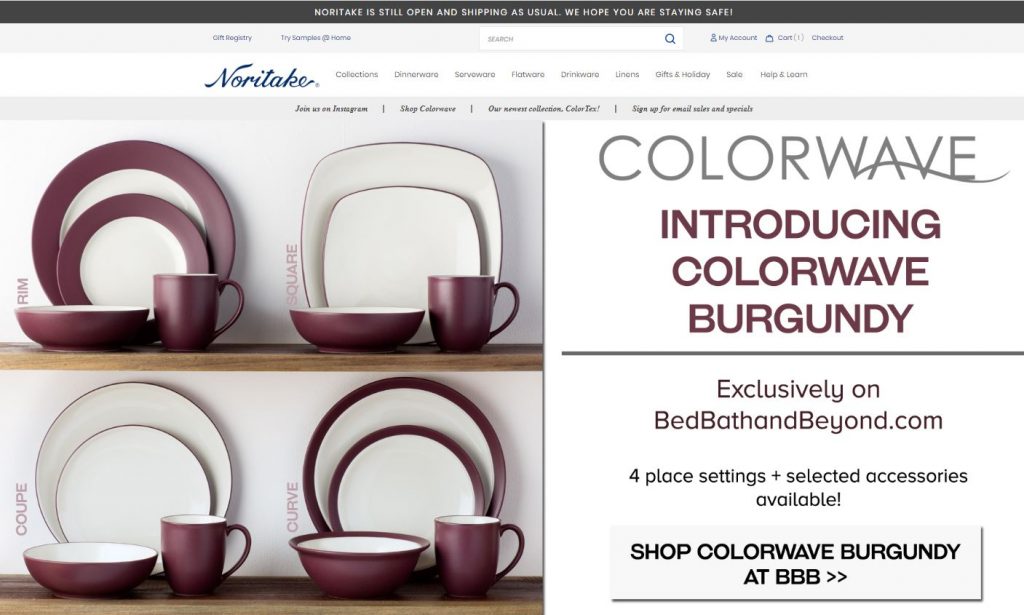 Interesting to notice how their homepage is driving visitors directly to BedBathandBeyond.com online store to purchase their exclusive collection. This is typical of manufacturer vs. retailer relationships as manufacturers were not used to selling direct to consumers and had to go through retailers, until eCommerce allowed them to do so.
Noritake Gift Registry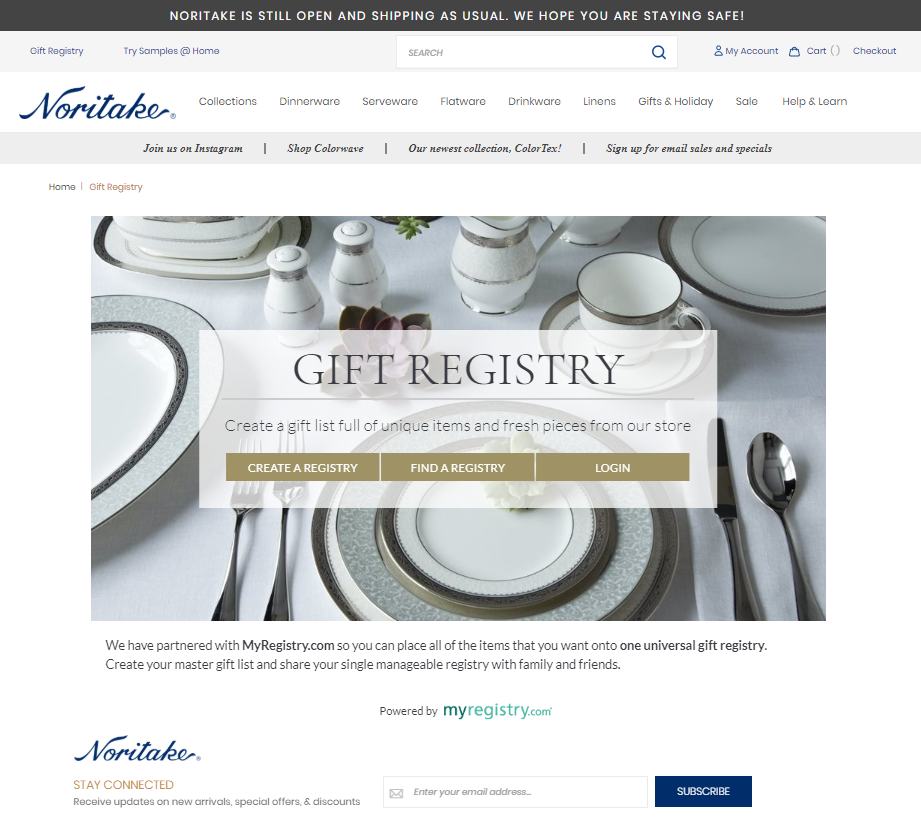 Noritake integrated myregistry.com to their Magento 2 store to allow visitors to create a gift registry or donate to one.
Noritake Checkout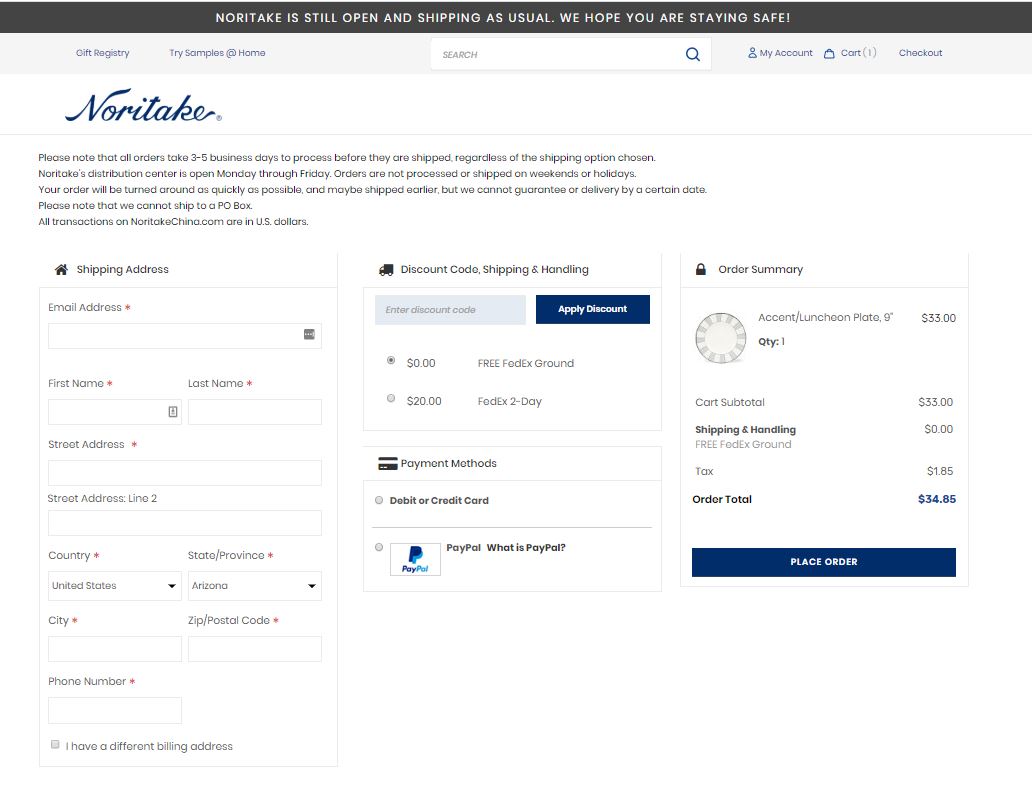 Vertical: Food and Beverage
5. Bear Creek Smokehouse
Agency: Dryden Labs based in San Antonio
Bear Creek Smokehouse is an award-winning business selling premium quality smoked pork, beef and poultry since 1943. They are based in Marshall, Texas.
Bear Creek homepage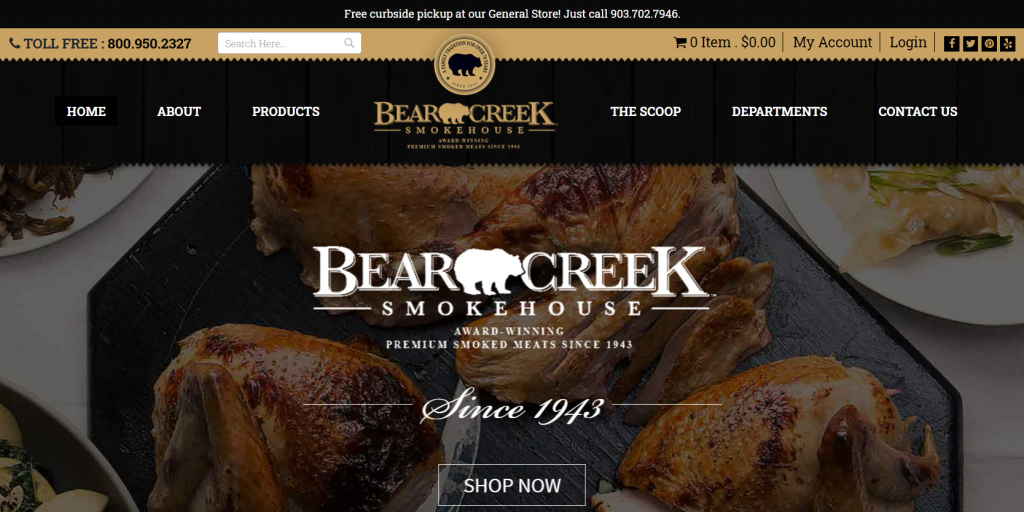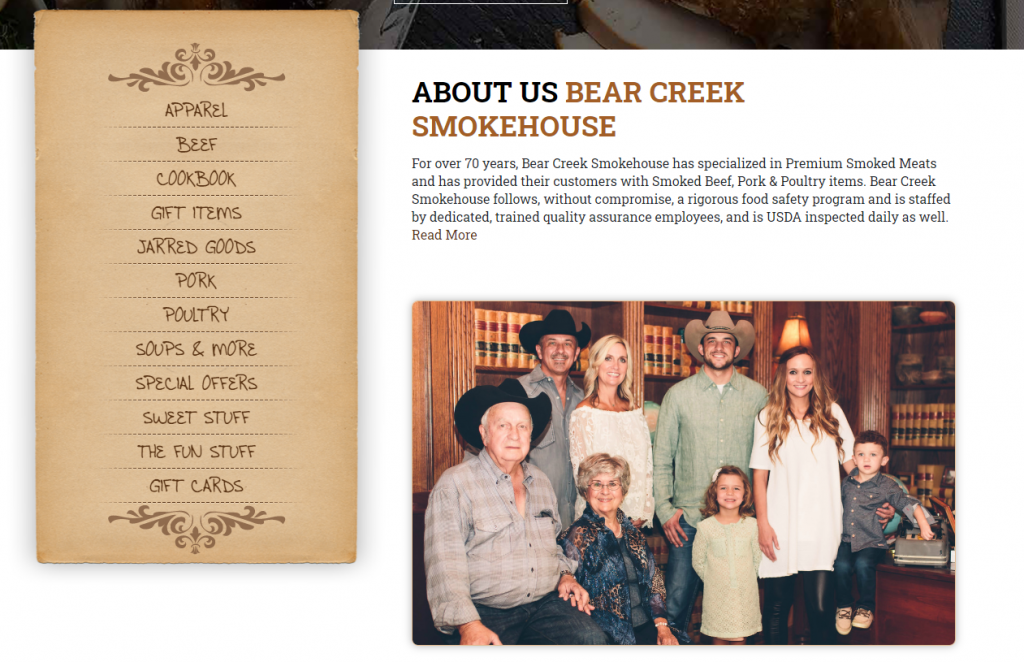 Right on the homepage, we can feel the family and Texan spirit with a beautiful shot featuring three generations. In addition to the top navigation menu, a secondary menu allows shopping by categories. Not just food but also apparel, mugs and kitchen accessories, cookbooks and gift cards.
Bear Creek's Checkout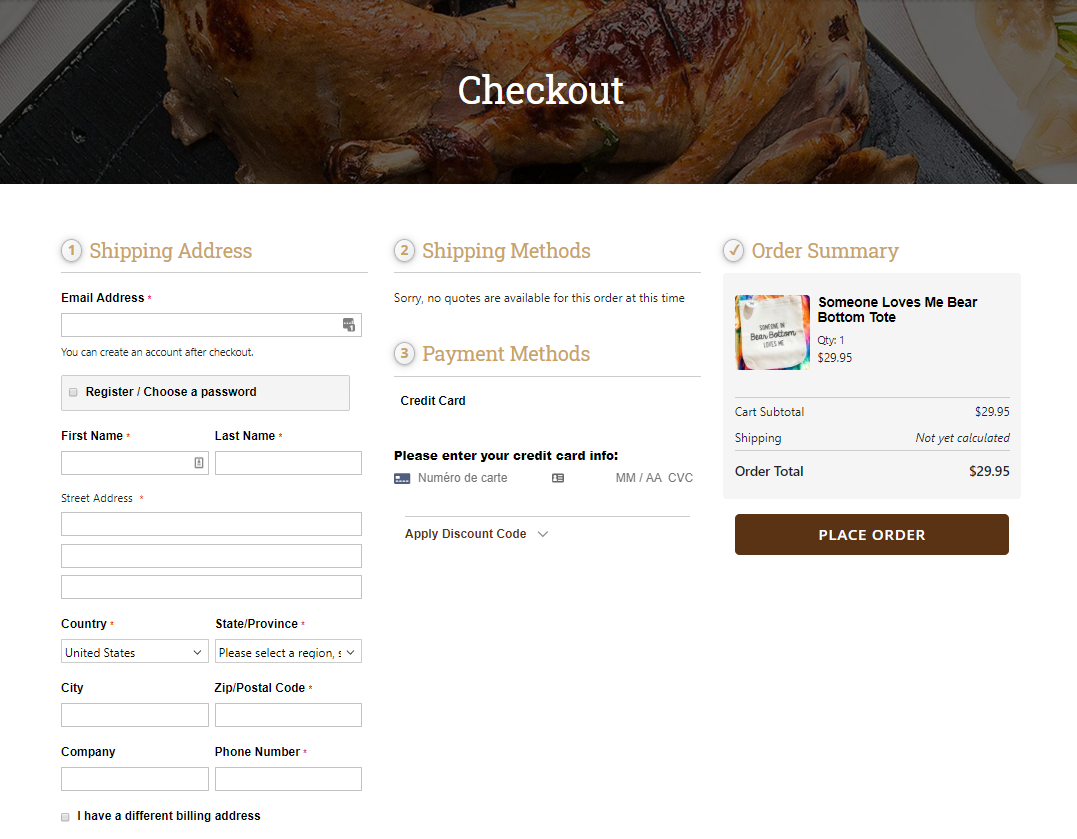 Vertical: Health |Hair | Beauty
6. Hottools
Helen of Troy (HOT) was founded in Texas in 1968. Since then it has evolved, trading on the NASDAQ in 1974 and now making over USD 1.5Bn in sales and employing over 1,500 people. The company grows through acquisitions and its portfolio of brands includes Braun, Vicks, Hydro flask and Revlon hair tools.
The Hottools Magento 2 store is aiming at selling professional styling tools to both consumers and hairstylists.
Hottools home page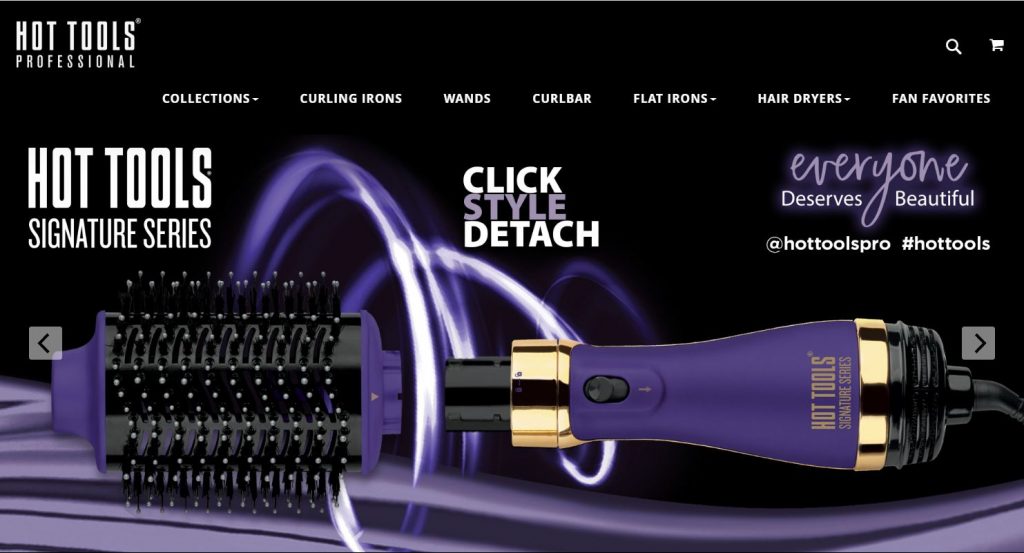 Social media is today a force to reckon with in the Fashion and Beauty sector. As such, Hottools features their social media account and hashtag on their homepage carousel as well as a feed of their Instagram pictures further down the front page.
Hottools Checkout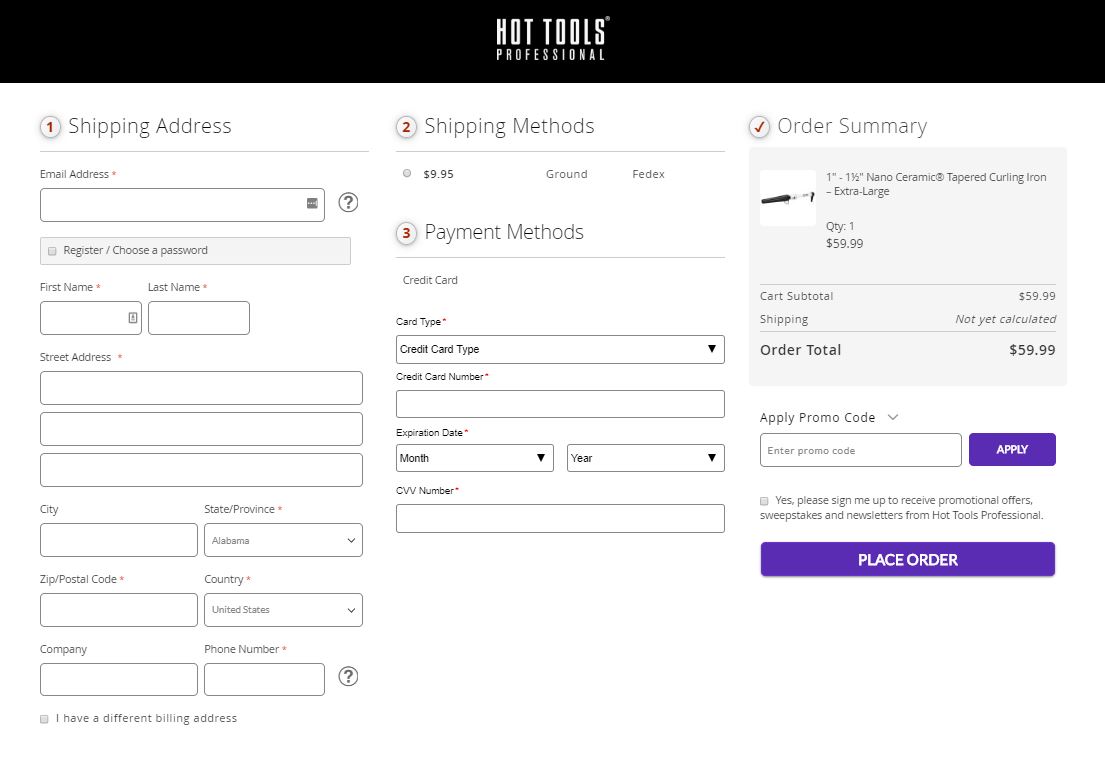 7. Planet Beauty
Planet Beauty was founded in 1992 in Newport, California to sell premium cosmetics i.e. make-up, skincare, haircare. Today they stock over 20,000 SKUs including well-known brands such as Redken, Paul Mitchell, Moroccan Oil, L'Occitane, Goldwell, Bare Mineral, Essie, Dermalogica, American Crew and so many more! Their footprint spans across 40 physical stores in California, where the emphasis is put on customer service and more specifically education with beauty consultants and make-up artists.
Planet Beauty homepage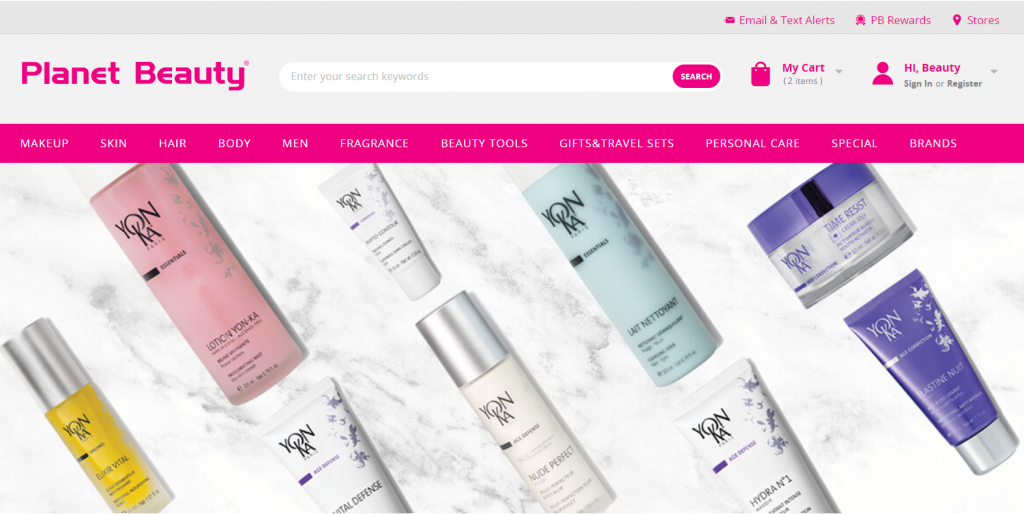 What caught our eye is PB Rewards, their loyalty program.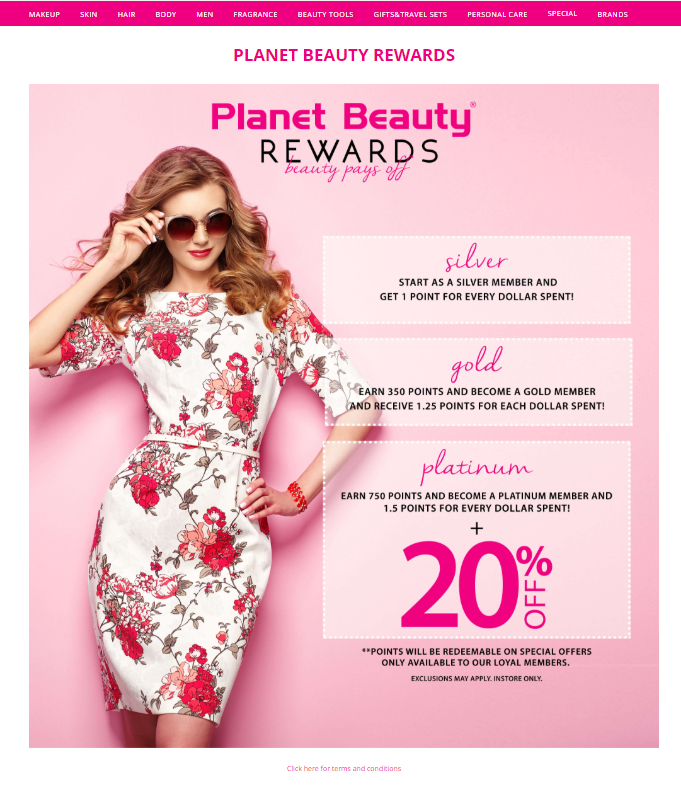 Planet Beauty Checkout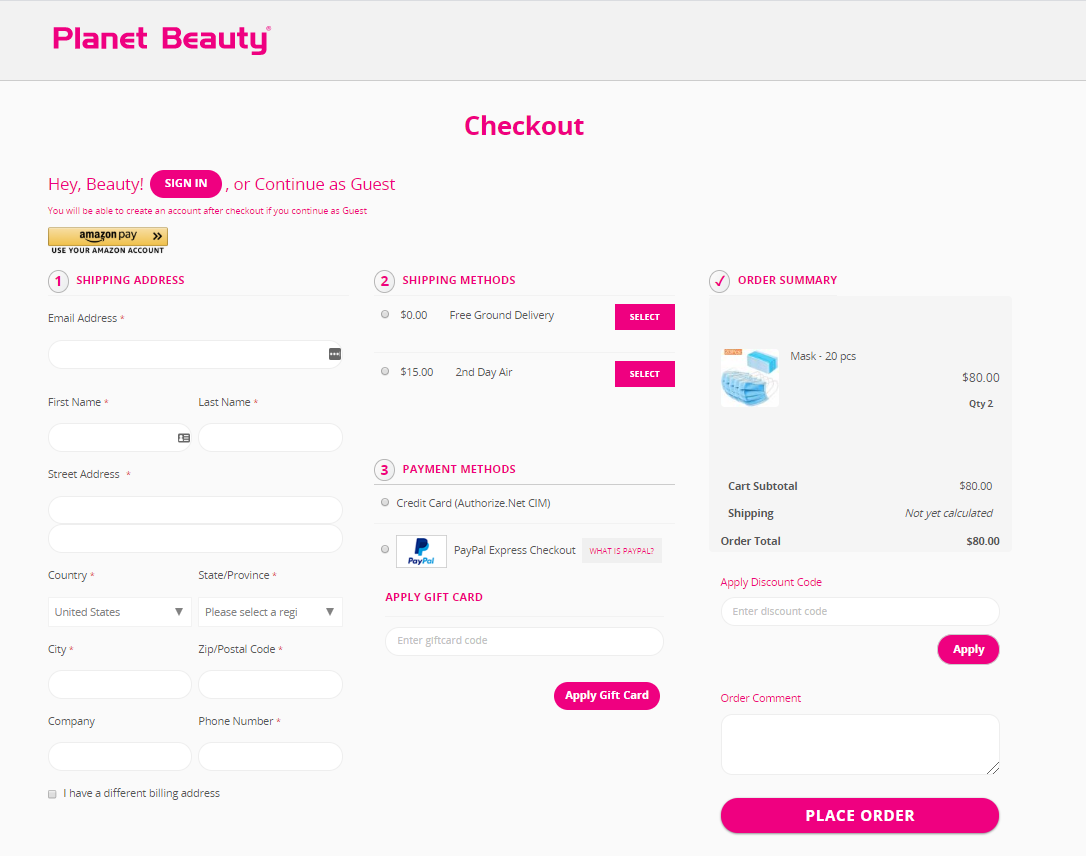 On this checkout page, you can pay with Amazon Pay, PayPal, Credit Card or Gift Card.
Vertical: Electronics and accessories
8. Zagg
Zagg is a Utah-based company publicly traded on the NASDAQ. They mainly sell protective covers for mobile phones, tablets, keyboards and other consumer electronic products. Their most popular brand is Invisible Shield.
Zagg homepage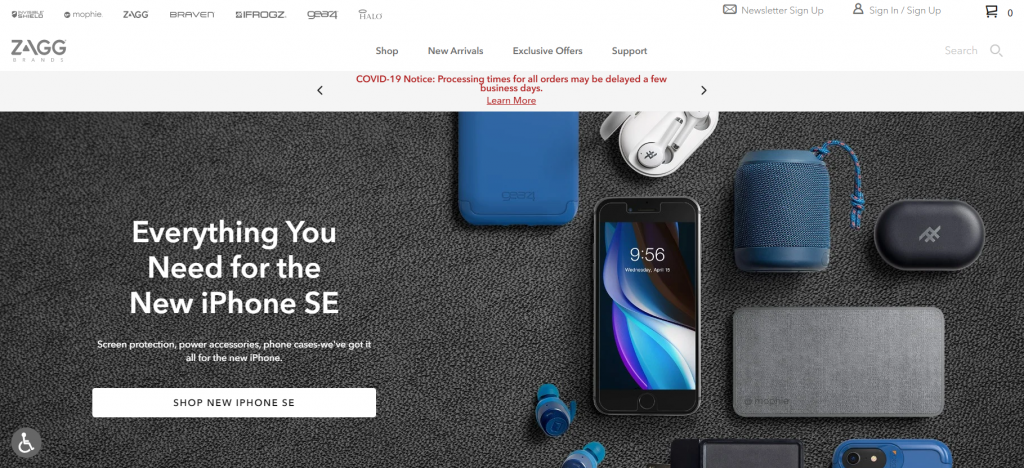 Zagg Checkout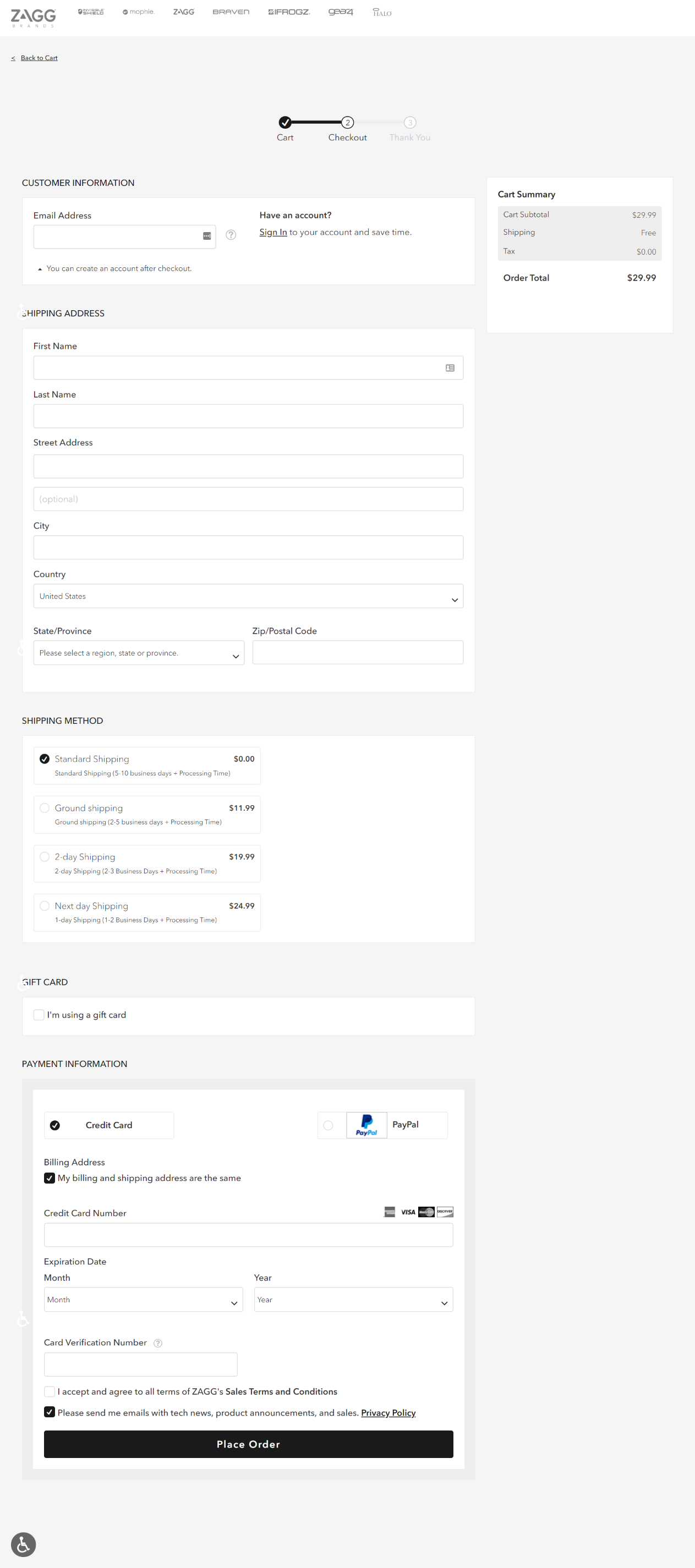 This checkout interface is interesting as it looks like Magento 2 native checkout with a progress bar at the top.
While Magento 2 default checkout progress bar shows: Shipping ->Review & Payment, Zagg chooses to show Cart -> Checkout -> Thank you. Their middle step, Checkout, includes both the shipping and payment steps and is powered by OneStepCheckout.
The other point to notice is how Zagg is displaying all the steps on one single page but on two columns, just like Groms above. One column for all the details and one with the order total, visible and dynamically updated at all times.
Vertical: Stationary | Party supplies
9. Big Dot of Happiness
Big Dot of Happiness was created in 1999 by a stay-at-home mom who found that her specific talent was to create very special things for people around her. Their aim has always been to create " goosebumps" moments by combining quality and fun.
Today the company is based in Wisconsin and their products are sold on Amazon, Walmart and Etsy to name a few. Sherri, their co-founder is a regular speaker at Entrepreneur events, and her branded products have been appearing in many TV shows (Fuller House, Discovery Channel) and celebrity events (J. Lo's baby shower, Hilary Duff's bridal shower).
Big Dot of Happiness homepage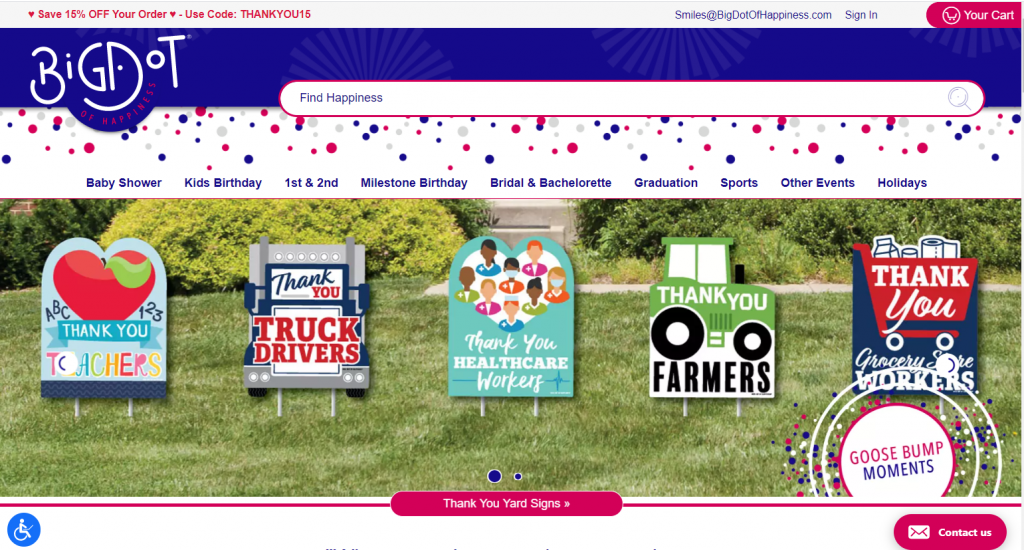 Big Dot of Happiness Checkout
In line with their branding, they added a nice tagline: "Happiness is on its way!" as well as an order comment box, as customer service and personalized responses are at the core of everything they do.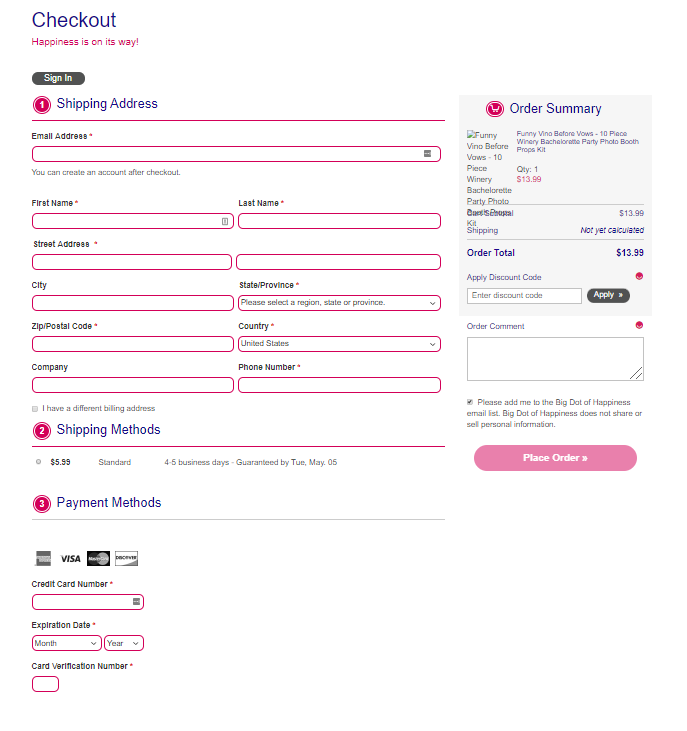 Vertical: Hobbies and Toys
10. Ellusionist
Ellusionist was founded on January 1st, 2001.
Brad Christian, the founder and CEO, set the objective to teach magic tricks in the most effective way, through online training. And it worked! Today, his community is 60,000 members strong with people from around the world participating on the Ellusionist's forums, making it the largest online magic forum on the net.
Today the company has 12 staff with clever and edgy profiles and also do wholesale.
Ellusionist homepage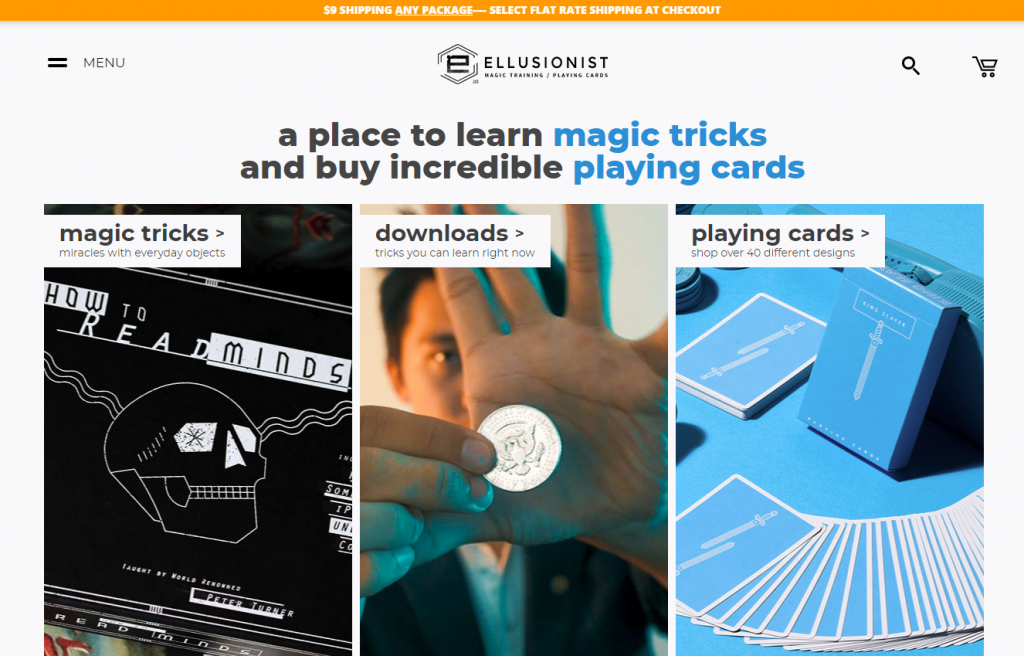 First thing on the homepage you can see that this store sells physical goods such as card decks or magic kits but also digital downloads.
Ellusionist Product Page

What's noticeable in this store is the length and richness of their product pages. They are not just describing the content of the product. In fact, that comes at the very bottom of the page. Here is the magic recipe of what the team added to their product pages to maximize conversion:
Large high-resolution product image
90 money-back guarantee
Number of reviews and Facebook likes
Customer insight i.e. what you might think and prevent you from buying
Number of customers who bought the product
Testimonials
Product emotional benefits: what Ellusionist wants you to think, feel and do i.e. "You'll never be called boring again"
Product functional benefit: what you will learn with the kit i.e. learn how to unlock code to any phone
Who it is for i.e. beginners, no previous experience needed
Videos of the reaction you will drive with your trick
Product description although leaving some mystery
Monetary benefits i.e. get free drinks with your tricks
But wait there's more!
Info about your teacher
Video of your teacher
Detailed customer reviews
And when your product page is so long, you need to make your "Buy now" button/ banner sticky so it's accessible at any time.
Ellusionist Checkout
All these efforts would go to waste if visitors abandoned their carts after finally being convinced to purchase a product. So on the cart page, the store offers to checkout with PayPal Express or Amazon Pay. Then if visitors want to pay with a credit card, they land on our OneStepCheckout page.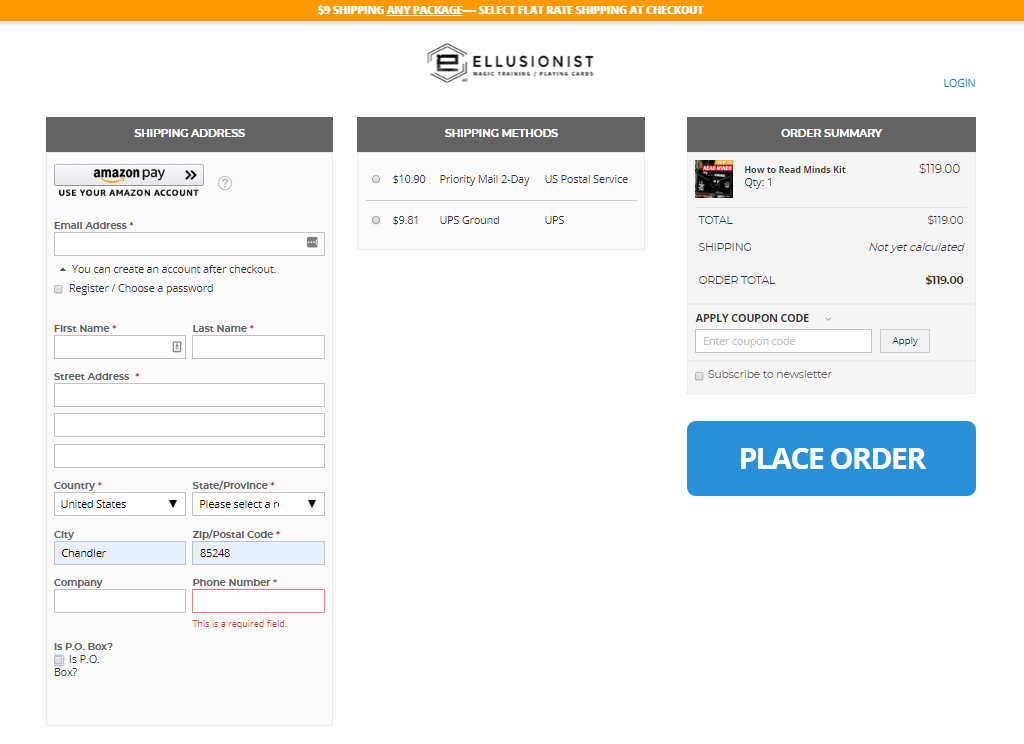 11. Arcade Classics
Want some cool retro arcade machine at home for your office? Arcade Classics offers just that. In business for almost 40 years, the company is a leader in the industry with 12 locations across the US and 4 in Canada.
Arcade Classics homepage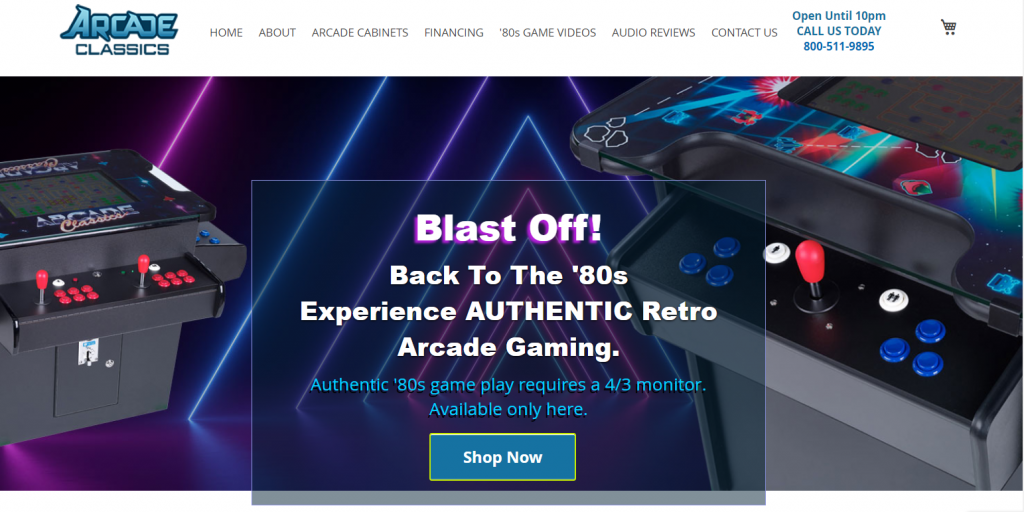 Their product page features monthly installments powered by Klarna, that is offered again at checkout
Arcane Classics Checkout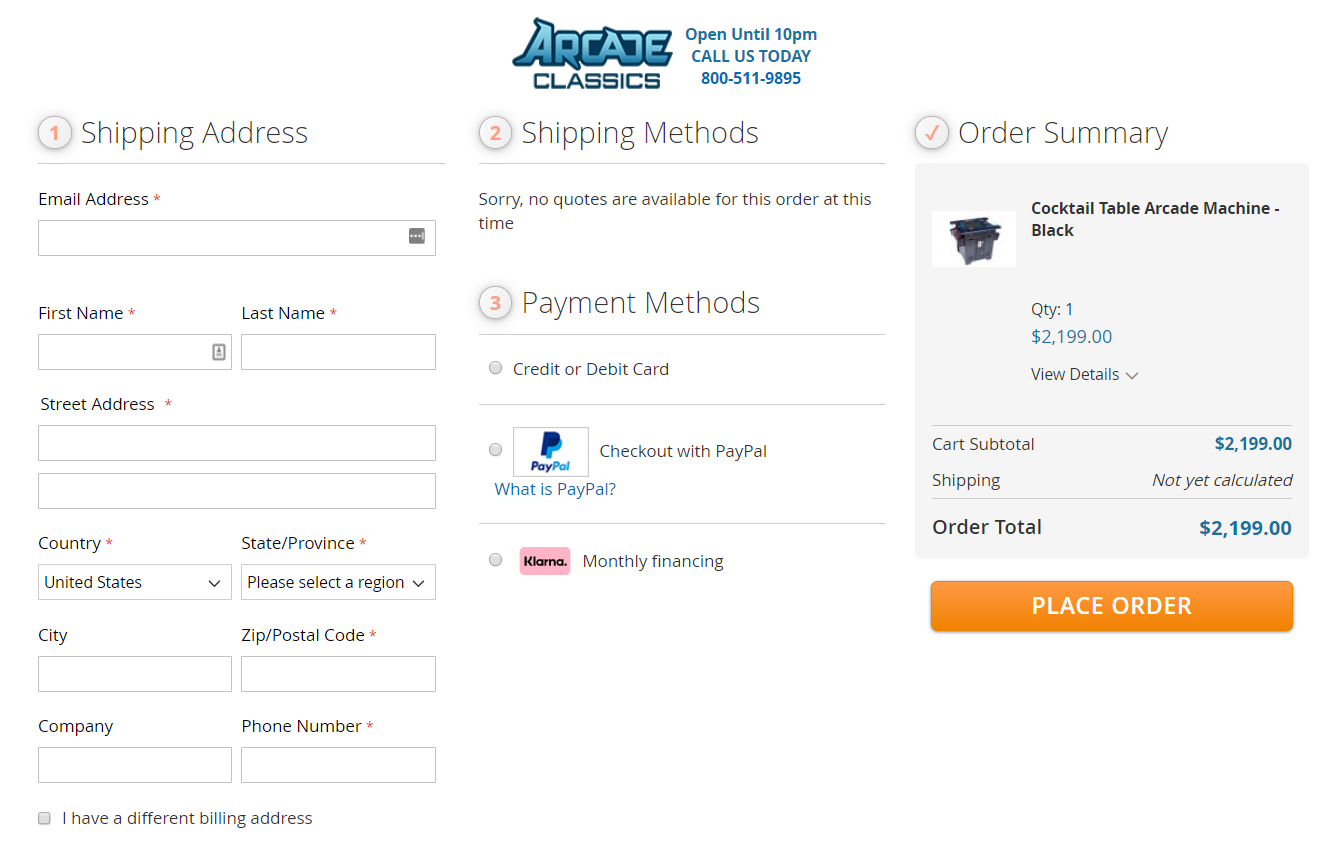 Like what you see? Read more about OneStepCheckout for Magento 2
US Based Magento 2 BtoB stores
B2B eCommerce is forecast to become bigger than B2C by 2020 and to be the largest area of growth between 2020 and 2025 according to Forbes. In that field, Magento has been a leader and keeps developing and improving products to meet the needs of their B2B customers and prospects. Here are a few examples for you:
12. McDonald Paper
McDonald Paper has been a reliable supplier in the hospitality industry for over 20 years. They service the greater New York area with a showroom in Brooklyn. They offer a wide range of products with over 20,000 SKUs and their brand positioning is to guarantee the lowest price coupled with the best service.
McDonald Paper homepage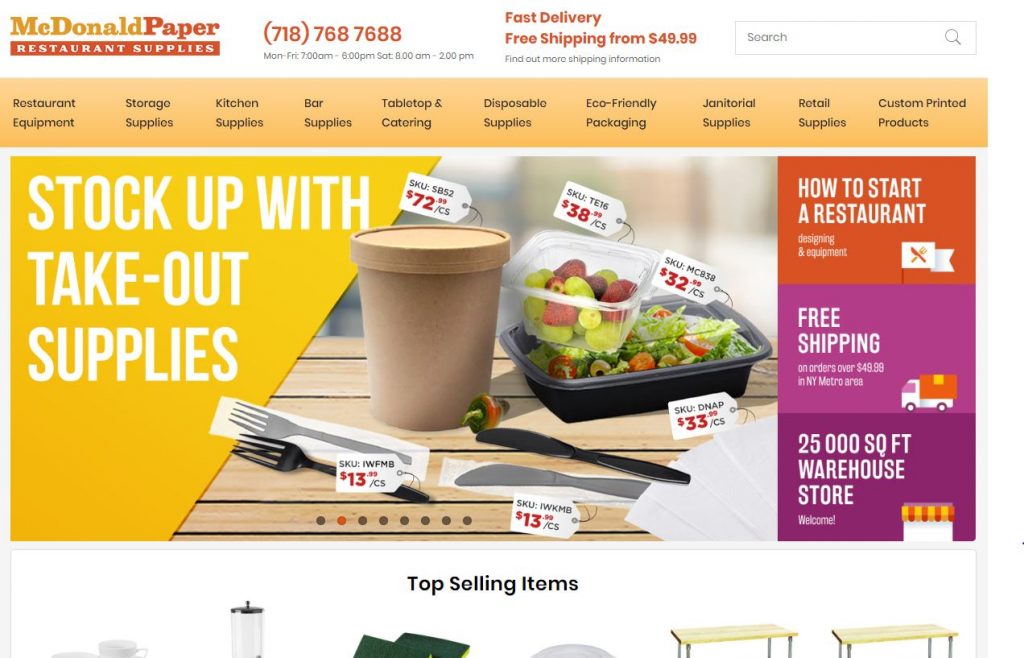 Their homepage adapts rapidly to situations. Indeed their carousel is now promoting sanitizing products as well as take away supplies, as a response to the COVID-19 crisis and health recommendations.
McDonald Paper Checkout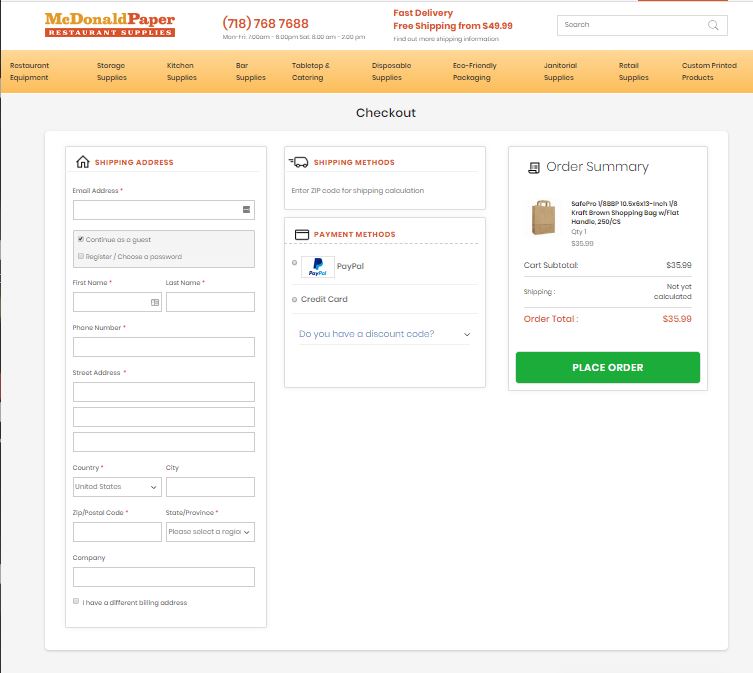 Their checkout page easily lets customers continue as guest or create an account inflow.
13. Industrial Safety
Industrial Safety is a company based in Connecticut with warehouses across the country. They are a leading distributor of safety supplies and other solutions to businesses, government and education. They are a full-service government contractor and a preferred fulfillment partner to Fortune 500 clients.
Industrial Safety homepage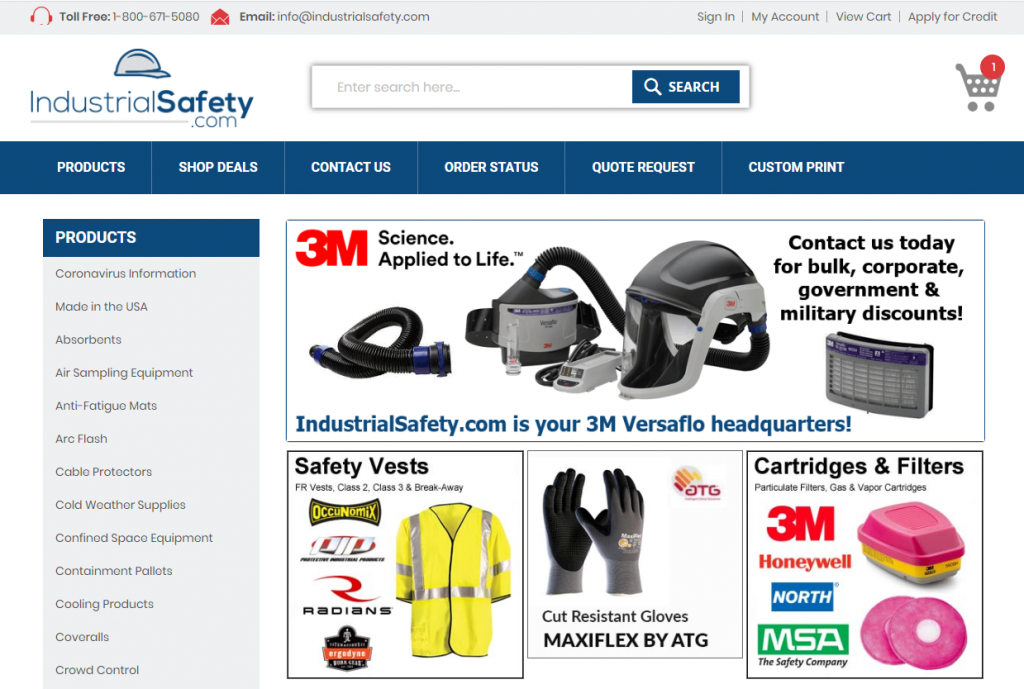 The online store showcases the recognizable brands they offer such as 3M, Honeywell and others.
Industrial Safety Checkout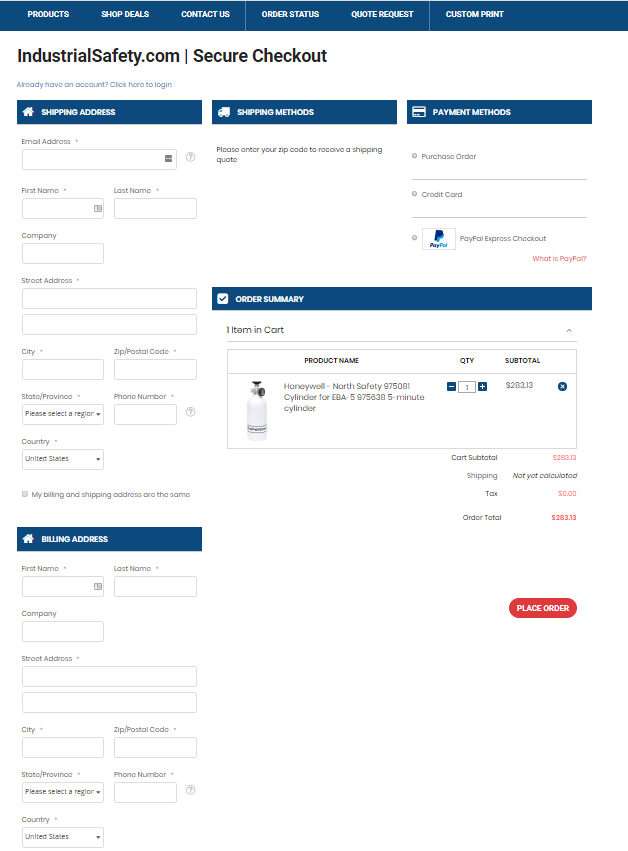 Because it's B2B, the checkout by default unticks the "same as shipping address" box and displays all the billing address fields.
Note that "Purchase Order" is added as one of the payment methods, to align with their clients' procurement processes.