Part of our migration series, we invited our partner Cloudways to share their tips for merchants who are still on Magento 1 while end-of-life support for that platform is soon approaching.
Hear all that noise about Magento 1 End-of-Life?
As we entered June 2020, the buzz got more audible, and it's only to increase by the end of the month.
Why? Well, most M1 merchants still haven't migrated their store from M1 to M2. So it's no surprise that queries about migration are the trending topics at social platforms and community forums.
To cut things short, this article is for all the merchants out there who haven't yet migrated their M1 store, and want to find a reliable solution without breaking anything.
What If Merchants Don't Migrate M1 Stores to M2?
As a merchant, you want to keep your store operational without any breaks in regular activity. But if you continue business as usual with Magento 1, you can no longer be sure of the security of the store. You could get in trouble with PCI compliance, and you'll have no support from the official Magento team.
No one would recommend you to continue your business with outdated technologies, right?
If you haven't already started your M1 to M2 migration plan, it's high time to do so. Make sure you have dedicated internal resources or a trusted partner to help you with the migration processes. With a proactive approach and your business needs and goals identified, you can forge a clear path forward for success.
If you don't have a trusted partner or in-house resources, choose the M1 to M2 migration plan with Cloudways without any hesitation. If you still haven't decided to migrate, Cloudways can also help you extend your M1 store life, with extra security features and managed Magento hosting support.
Cloudways is helping all Magento 1 store owners in collaboration with trusted partners like Sucuri, StackPath, and many more. Read on for more information on their newly introduced Magento 1 EOL services.
Migration: Upgrade from M1 to M2
Those considering transitioning from M1 to M2 should view the move as more than just a simple "version upgrade" or "migration". The truth is, Magento 2 is an entirely new platform, with a robust framework and an architecture that is very different from Magento 1.
If you're migrating your store on your own, treat the transition effort as a new build or a rebuilding effort. All extensions and custom code will need to be reviewed and rewritten.
The most recent versions of PHP will have to be checked for compatibility with Magento 2. This level of effort requires in-depth technical knowledge, so begin the process under the supervision of experts, or get assistance from an expert third party.
Partnership with Trusted Agencies
As mentioned above, Cloudways has partnered with trusted Magento agencies to best help you with the needs of your store. All you have to do is ddrop a request for Magento EOL services and get your store migrated under the supervision of top-notch Magento agencies.
Request for Migration Tool
If you're migrating your store to M2 with in-house developers, or have sufficient technical expertise for the purpose, you can request Cloudways for the M1 to the M2 migration tool from a well-recognized partner.
Dedicated Staging Environment

Glitches are a common experience when migrating your store from M1 to M2, and it can be quite frustrating to handle these glitches on your own. Cloudways helps you out by providing a dedicated staging environment where developers can test changes. Once you're satisfied, the changes can be pushed to the live servers.
Regular OS Patches
Cloudways applies regular OS patches on all managed Magento 2 servers to ensure a secure managed hosting environment for your Magento stores.
If you're planning on keeping your Magento 1 store operational, our trusted partners provide on-demand Magento patches.
Extend Magento 1 Store Life with Cloudways
For whatever reason, some of you may not want to migrate from M1 to M2. In that case, it becomes important to extend the life of your Magento 1 store. Here's how Cloudways helps with that.
Freedom to Choose From Top Cloud Providers
The Cloudways platform offers access to five top-notch cloud providers, including DigitaOcean, Linode, Vultr, AWS, and GCP.

Launching your Magento store on Cloudways Platform is simple! You have to create an account by providing general information. Once you are done, just follow the quick steps outlined in the GIF below to launch your Magento server.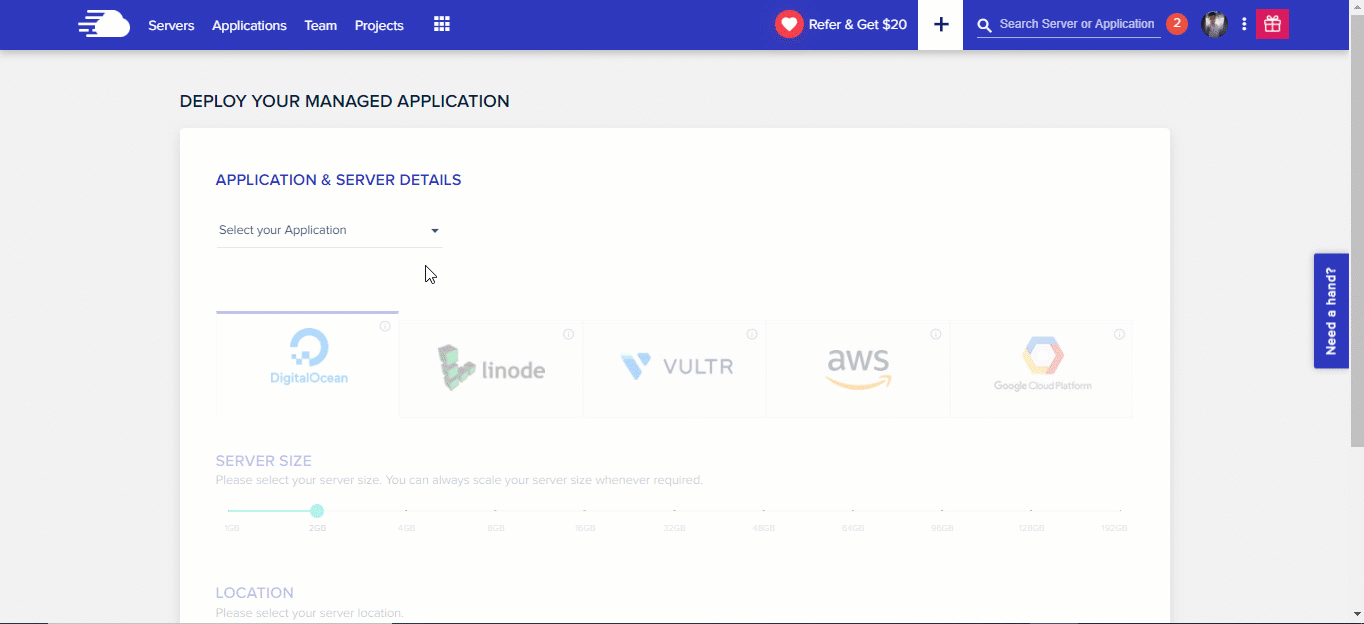 Secure Environment
Security is a top priority for Cloudways, and it takes the safety of Magento 1 stores very seriously. Cloudways offers multiple security layers to minimize security risks for M1 stores.

Dedicated Firewalls: Cloudways has an OS-level firewall for all the Magento servers hosted on the Cloudways Platform. This ensures that your M1 store stays protected from malicious traffic, and you can keep delivering a great shopping experience to your customers.

Free SSL Certificates: Cloudways provides free Let's Encrypt SSL certificates. This adds an extra layer of security to your Magento 1 application. Google already marks stores without SSL/HTTPS as suspicious, with a huge impact on the brand's reputation.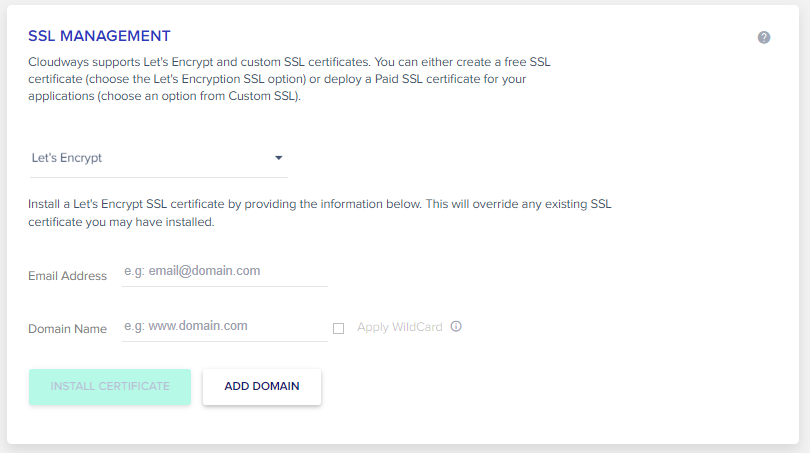 IP Whitelisting: Cloudways allows you to create a whitelist of IPs, making it easy to collaborate with networks or regions with unrestricted SSH and SFTP access. Whitelisted IP users have access to whitelisted IP subnets.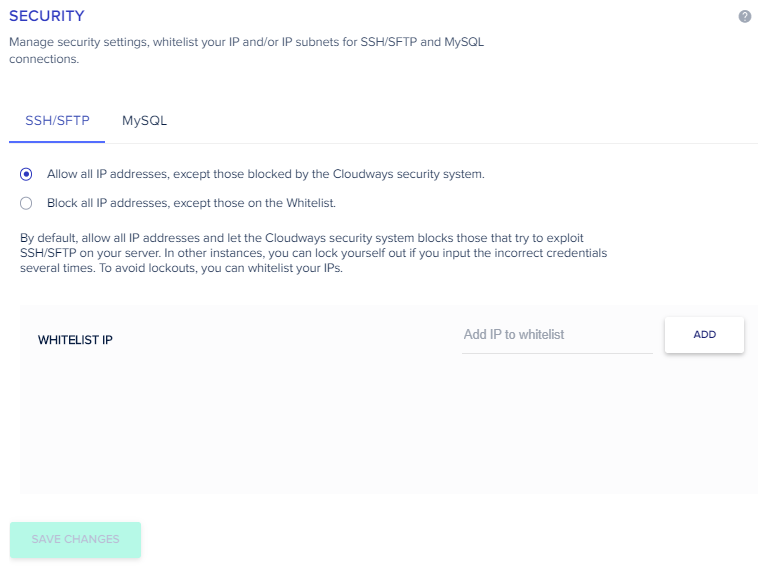 You can also specify IP or IP subnets from which your developer can set up a remote connection to the store's database.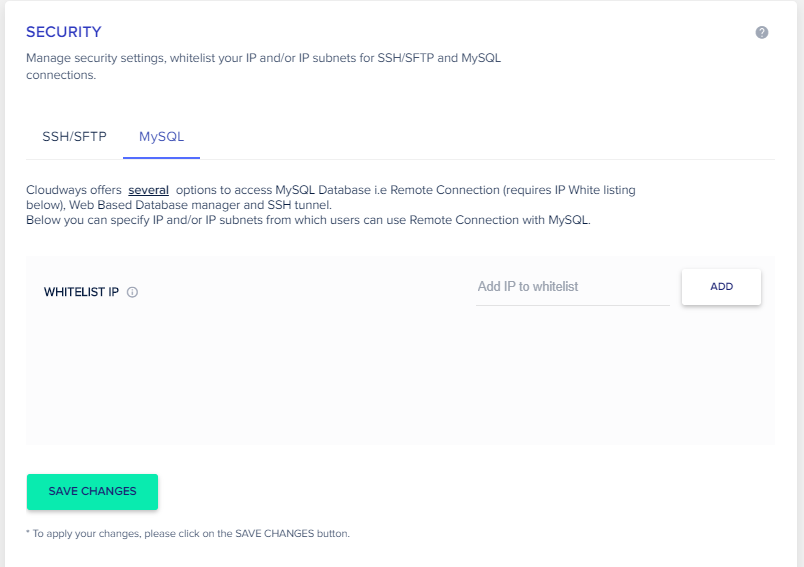 Regular Security Patching: Cloudways applies regular OS patches to your Magento 1 server to ensure a secure managed cloud server at all times.

Two-Factor Authentication: To enhance security, all Cloudways accounts have TFA enabled by default. This ensures that only authorized users have login access to Cloudways accounts.
Magento Server Scalability
Cloudways helps you scale the resources of your Magento 1 store, including the processing capacity, RAM, disk space, and bandwidth. When you scale your server resources, you don't need any kind of approval from the Support Team.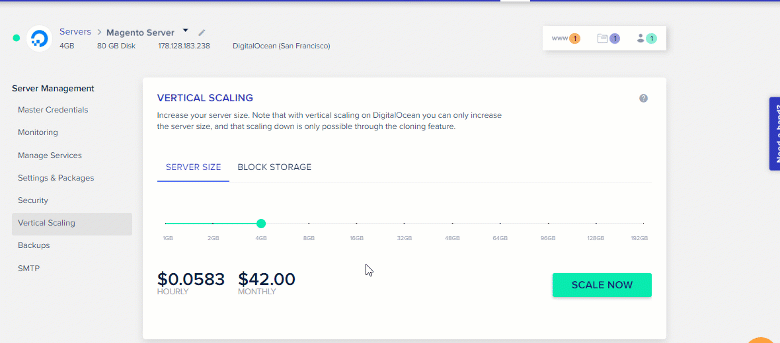 Cloudways Hosting Stack
Cloudways hosting stack helps Magento stores stay competitive, with up-to-date server, cache, and database technologies including Varnish, Redis, PHP-FPM, Memcached, Apache, MariaDB, and NGINX.
Your Magento 1 store is further optimized by the built-in Full-Page Cache to ensure blazing fast load speeds that customers expect from top-of-the-line Magento stores.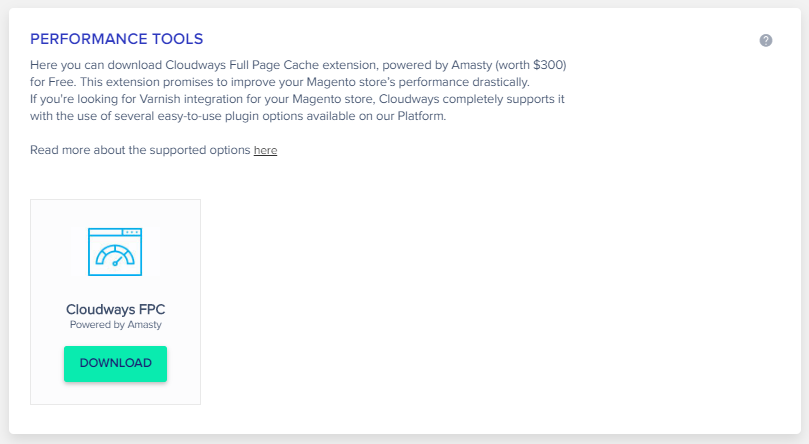 FREE Magento Migration
Cloudways is offering M1 store owners FIVE FREE Magento 1 migration from any hosting platform. Cloudways will take care of the entire migration process so that your store is transferred without breaking anything.
Final Words
There's no time like the present to secure your ecommerce journey. If you plan correctly and give yourself enough time in advance, this can be an exciting opportunity for innovation and positive digital transformation within your organization. Explore a comprehensive set of new features, performance improvements, and security enhancements enabled by the Magento 2 platform.
Alternatively, you can stay on Magento 1 using Cloudways' extended security features. The choice is yours, but the sooner you work on either solution, the sooner you can continue to provide quality services to your customers without any hitches.
——————- End of Magento 1 tips from Cloudways ————————–