Magento 2 checkout vs. Magento 1 checkout
As you know, with Magento 2, native checkout is an improvement on that of Magento 1. The 6 pages process was reduced down to two steps / pages:
Step 1: shipping address and shipping method
Step 2: review and payment details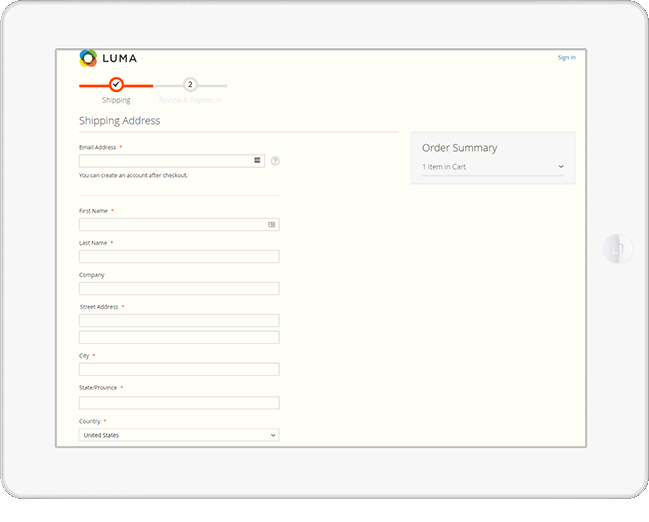 If you look closer and match it to the top reasons for cart abandonment, you will see that the pain points are NOT addressed. That means that there is room to improve your checkout experience to increase your checkout conversion.
Research shows that you can increase your checkout conversion rate by 35,26% simply with better design.
Here are the barriers that prevents shoppers from completing checkout.
3 reasons for cart abandonment that are not addressed by Magento 2 default checkout
The Baymard Institute surveyed over 4,500 US based online shoppers to ask what made them leave at checkout.
If we ignore the first one which can not be addressed by design but by pricing strategies, here are the top reasons for cart/ basket abandonment:
Account creating forced on the customer (28% of respondents)
Long and complicated checkout process (21%)
Orders totals not showing upfront (18%)
Let's delve into those three in more details.
1. How to drive customer account creation on your Magento 2 store without forcing it?
Since new account acquisition is part of their KPIs, marketers want to be able to capture new emails at any cost. Can't blame them. But what if that means blocking shoppers from placing an order and therefore not converting them as customers?
Magento 2 built-in Guest Checkout configuration allows users to make a purchase without going through registration at first, but with the option of creating an account at the end of the checkout process, once the order has been placed.
What our Magento merchants have been asking for is inflow registration i.e. to make account creation so seamless that it will only take shoppers a few seconds to add a password to their shipping details.
Nowadays shoppers know all the benefits associated with creating an accounts, in particular the ability to track their orders. Although they don't like to be forced to create an account they are more likely to do it if we make it easy for them.
As a solution, you can add a simple box below the email address field, that will expand if shoppers tick it to create an account.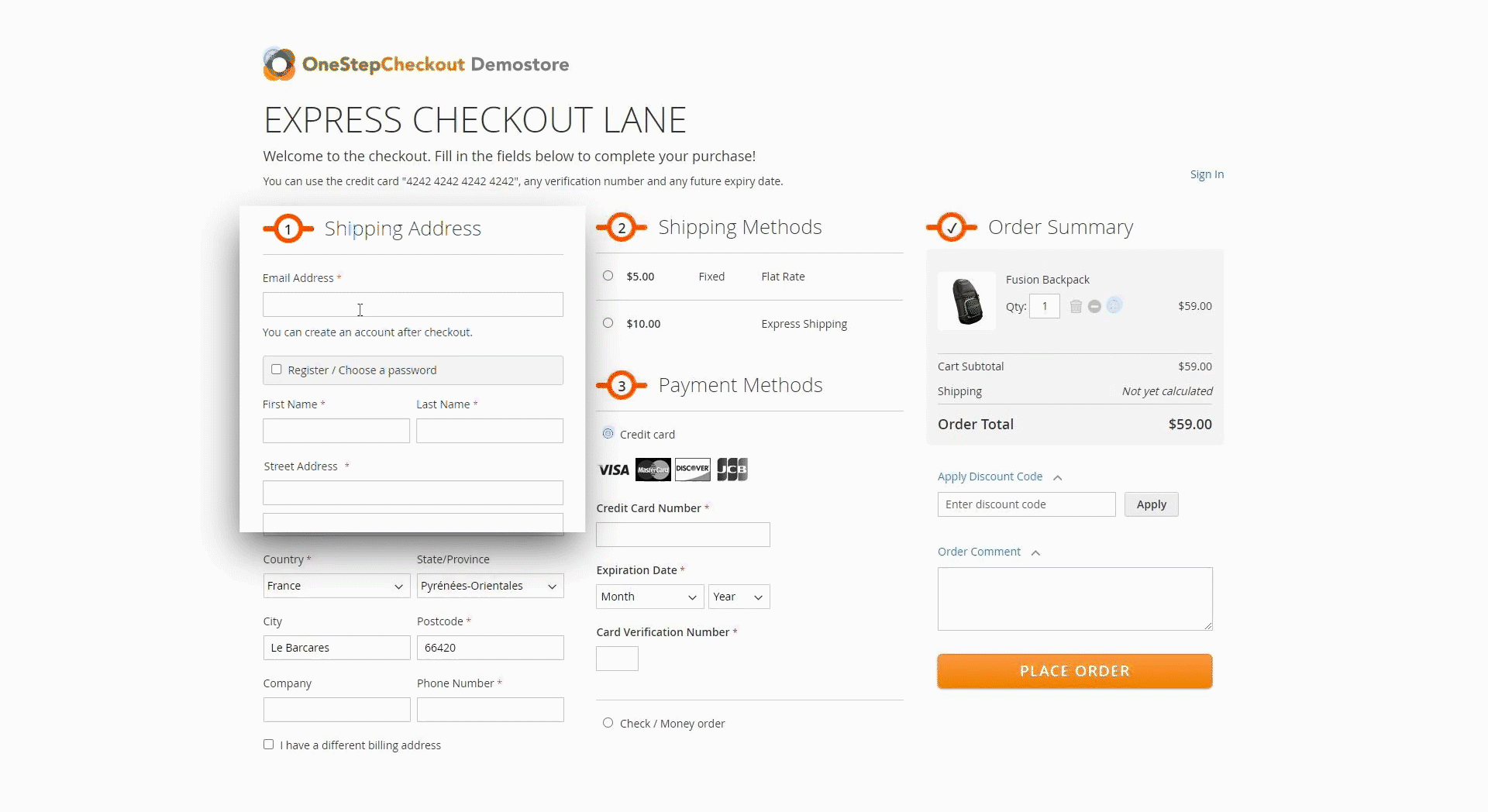 2. How to simplify the checkout process of your Magento 2 store?
21% of online shoppers are leaving checkout because it's too long or complicated. That's 1 in 5 customers that you're losing!
You can simplify your Magento 2 checkout process by removing fields and requiring less clicks. Studies show that the less form fields, the better the UX performance.
Here's what OneStepCheckout for Magento 2 looks like: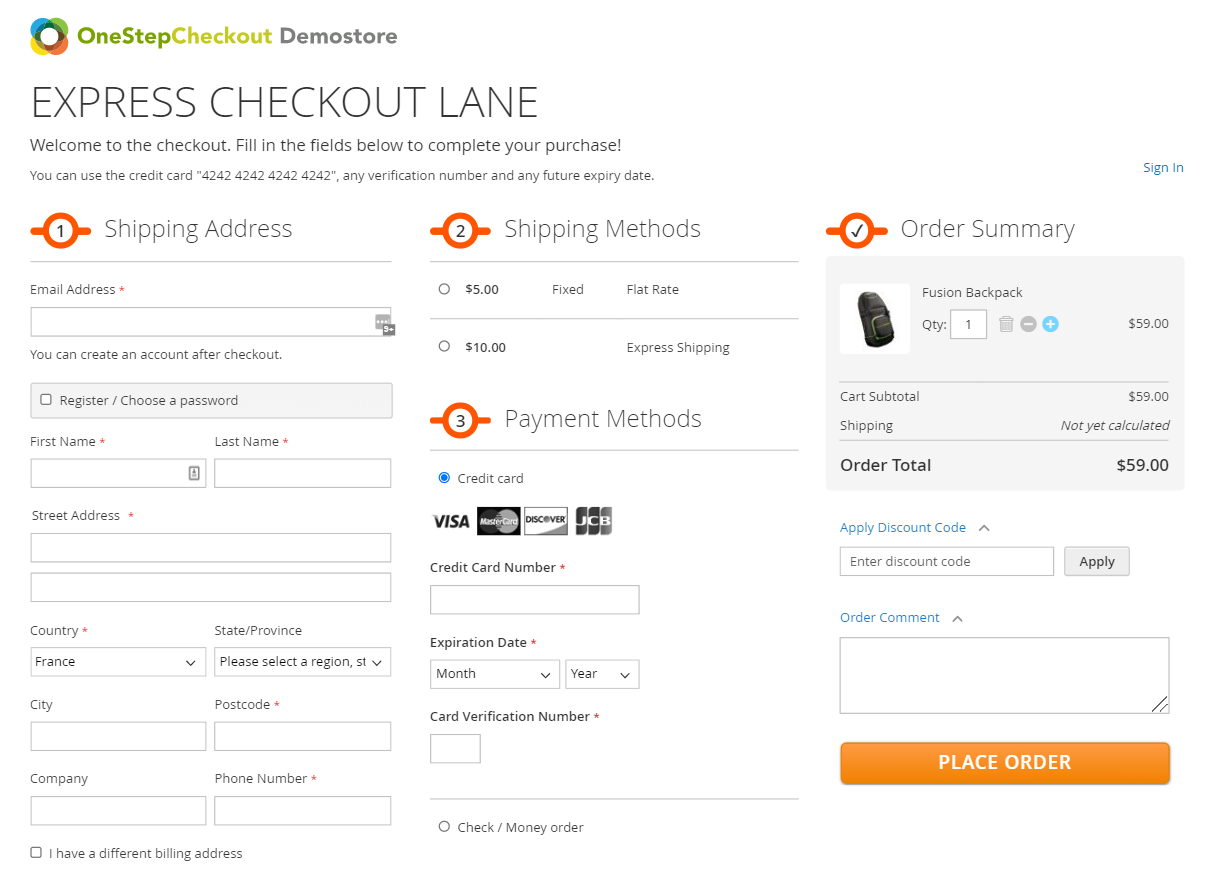 Second address line and company name can be removed. The address fields can also be customized based on regional requirements.
3. How to show order totals at all times at checkout on your Magento 2 store ?
Shoppers don't like surprises and want to see how the various addresses or shipping methods will affect the final price.
That is why one page checkouts are useful. The review step, also called order summary, is always visible. One can add quantities, remove items, pick a faster delivery option and see the total updating automatically, without browsing back to the previous page.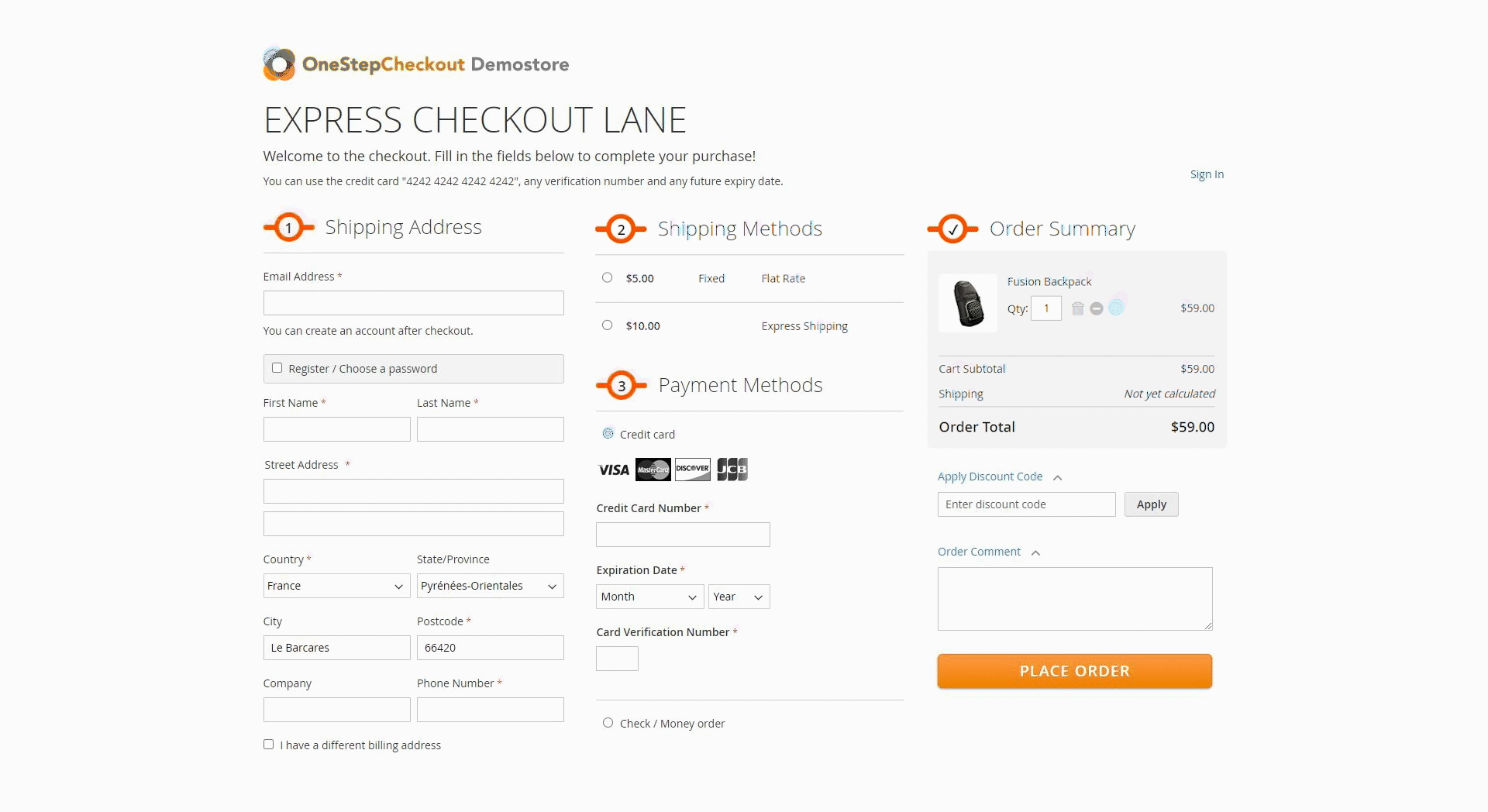 Click here to play with our demo
We've seen agencies quoting 22 man days to come up with such an optimized checkout. Why reinvent the wheel when you can get a product off the shelf, built by Magento checkout experts and that is constantly improved based on customers feedback?
As of today over 1,000 Magento 2 stores are trusting OneStepCheckout including Nestlé, Everlast, Maxi Cosi, Cadbury as well as a long tail of SMBs and very small businesses.
Discover examples of our Magento 2 customers
It's a no brainer, optimize your Magento 2 checkout with OneStepCheckout.
We've been dealing with checkout for Magento since 2010 servicing over 20,000 Magento merchants, so we know a thing or two. Our business model is to focus on that one product to always come up with the best solution to boost conversion.
Here are a couple of reviews we recently got for our Magento 2 extension on Magento Marketplace