With eCommerce growing exponentially since the beginning of the COVID-19 pandemic, more merchants are going online and consumers have more choice. That's why it's more important than ever to keep visitors on your website and make sure those who find products they like in your store complete checkout. Research shows that 7 out of 10 shoppers drop off before placing their orders, you can do better.
If you read this, chances are you are already optimising your Magento checkout with OneStepCheckout. Did you know you could go one step further and drive even better conversion, higher average transaction value (ATV) and repeat purchases with Buy Now Pay Later (BNPL) solutions?
The BNPL market is absolutely booming so we've partnered up with Openpay, an Australian listed company, with a growing presence in the US and UK, to help you benefit from this hot trend, which is here and to stay.
What is BNPL?
In short, Buy Now Pay Later (BNPL) plans allow consumers to split the cost of their purchase over an agreed period of time. At Openpay, for example, with responsibility as their driving principle, an upfront payment at the point of purchase is required, both to encourage consumers to spend within their means and to make a considered purchase. The remainder of the purchase price is then paid off in equal monthly instalments. Plan lengths vary depending on the merchant, but they typically run between 2-6 months.
Each BNPL provider and product has different T&Cs, however, Openpay prides itself on transparency and has no hidden fees and charges no interest, ever.
How fast is the BNPL segment growing?
BNPL adoption is growing at an incredible rate amongst consumers, especially those in the 18-24-year-old range. Research from Arrow Global, Neyber shows credit card usage for 18-24yr olds being half of that amongst 25-34yr olds. In the UK, over 60% of millennials use BNPL and for many, it can be the deciding factor when choosing which retailer to buy from.
In Australia, where BNPL has been an established payment option for many years, adoption has gone from strength to strength. Consumers use it for a whole range of everyday costs – from fashion and home improvement to automotive, health, and vet bills. From current trends, it is evident that the US and European markets, especially the UK, are expanding in a similar way at a rapid pace.
Why have BNPL plans gained popularity in the last couple of years?
The industry has worked hard to address the needs of consumers over the last two years and has offered long overdue innovations. Even before the pandemic, there was a huge spotlight on the finances of consumers and especially high-interest credit cards that were trapping people in spirals of debt. BNPL offered an alternative solution to all consumers, helping them in a way no other credit provider had.
Today's consumers are looking for financial control, payment flexibility, and sustainable financing as well as trust and transparency, which has resulted in the increased use of BNPL services such as Openpay.
How does BNPL improve checkout conversion?
Openpay can significantly improve basket size by allowing consumers to overcome cash flow blocks. Even medium and high-income earners may prefer to spread payments to manage their cash flow and avoid running out of funds before payday.
It also drives much sought-after loyalty. Consumers value being able to spread payments and shop with brands that offer them the services they want, while businesses get paid in full right away (minus any fees), unlike other finance products which slowly return cash over time. Openpay also requires consumers to make their initial payment deposit upfront, demonstrating purchase intent. With Openpay, retailers have seen reduced returns by up to 20%. A game-changer for many businesses.
At Openpay, the focus is on making the consumer journey as seamless as possible. It's a hassle-free alternative to credit cards and overdrafts. The model is clean, simple, and straightforward. There's no interest and no fees if customers pay on schedule. Openpay's only fee is a late fee that is capped at £15 per plan, however, to avoid this, customers can change the date of their payments and the company has a Hardship Programme in place and encourages customers to reach out if they are struggling with repayments.
Consumers are time-poor, and even basic tasks like finding the correct card number to purchase goods can cause friction. Openpay's sign-up process is simple and once registered, consumers can make purchases with ease. Plan management is low-effort and their interest-free payment plans offer choice and flexibility. A must for any savvy consumer. Customers are also able to review all plans in one place using the Openpay app.

What differentiates Openpay from other BNPL players?

Openpay's model is unique. As a merchant-centric company, the company understands pain points for merchants and aims to combat them.
Flexibility and adaptability are key for Openpay offering longer payment plan lengths compared to other providers. For instance, larger ticket items such as white goods and furniture don't really become affordable on fortnightly payments spread over two months. But with Openpay, consumers can spread the cost over monthly plans of up to six months in length. This, of course, encourages higher ATV but within parameters that mean consumers have made a considered purchase, they aren't likely to return. A win-win.
As customers are required to pay their first instalment at checkout, unlike deferred payment solutions which favour 'try before you buy' behaviour, this again encourages considered purchases and can help reduce returns by up to 20%.

As a business, you will get the financial security of being paid upfront, in full (minus any fees), the very next business day. And, as the cherry on top, Openpay handles customer checks and payments, reducing the merchant's exposure to fraud and payment risk. And if a customer does return something, Openpay will return almost all merchant fees.
Supporting their merchants is core to their approach, Openpay wholly aligns to each of their merchant's success and works closely with each merchant to achieve outstanding results.
Already working with leading brands like JD Sports, Watch Shop, LookFantastic, and many more across a number of verticals, Openpay is for all sizes and sectors. Their unique demographic and responsible approach to lending drives their philosophy for outstanding customer service. With a Trustpilot rating of 4.8 out of 5, one of the highest in the space, the proof is in the (metaphorical) pudding.
Integration with Magento 2 and OneStepCheckout
Traditional checkout systems can be confusing, lengthy, and time-consuming processes for customers. That is why our partnership with Openpay is an essential step in driving the adoption of BNPL and helping brands to drive sales.

With Openpay's integration with OneStepCheckout and Magento 2, merchants can easily add BNPL as a payment option for their customers offering them all the benefits of spreading the cost of their purchase over several months.
Here is what the integration looks like on your Magento store for your shoppers: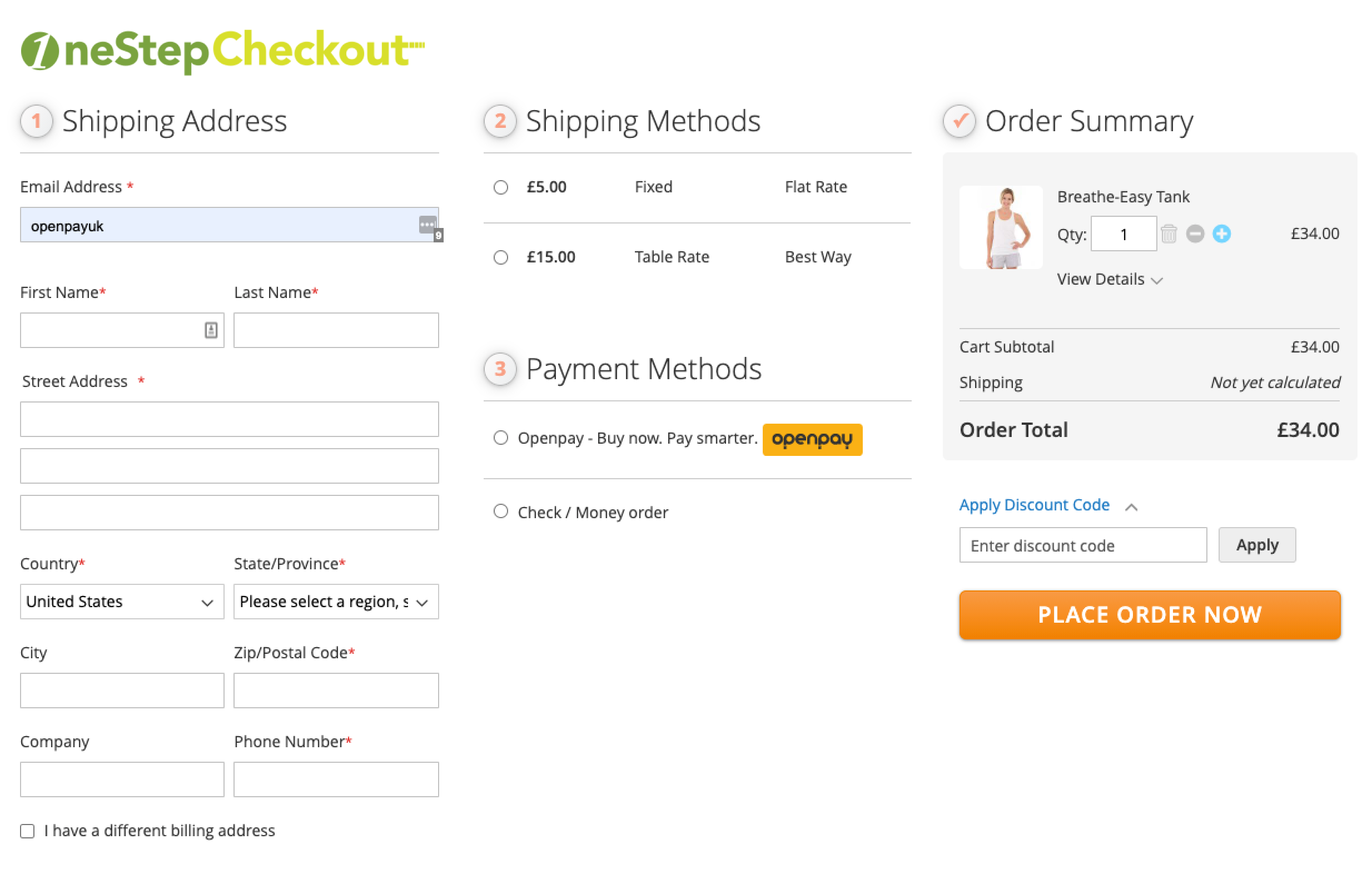 Add BNPL to your payment options
Ready to convert more customers and grow your ATV with Openpay? Looking for a BNPL option that represents responsibility, flexibility, and world-class servicing with this growing trend? Then add Openpay to your payment options now.
For more information visit openpay.co.uk