Groms is an online store selling affordable high quality and stylish furniture and interior design elements on the US market.
Groms is a typical family business like the majority of our customers, and we were lucky enough to have Polina Kutaeva, accept our invitation to share her personal and eCommerce story at the Magento Association Connect event end of 2021.
In this 20-minute interactive fireside chat, we made a point to mix things up and cut through the boredom of online events. We gathered a total of four speakers that each represent a key pillar of the Magento ecosystem:
Merchants: Polina Kutaeva, the COO of Groms, a 100% online furniture retailer, talks about the business idea, positioning, operations from design, manufacturing to marketing.
Magento agencies:

Maier Bianchi from Bemeir Commerce Solutions based in New York is the solution partner that helped Groms get off the ground
Ignacio Riesco from Spanish Interactiv4 agency, an active and long-time member of the Magento community is the host for our session and he adds a lot of value at the end of the interview with the Q and A moment.

Magento Extension Developers/ Vendors: Thien-Lan Weber from OneStepCheckout brought the topic together as she looked among the thousands of merchants using her company's Magento 2 extension and discovered one that had an impressive social media following, a unique story and a charismatic spokesperson, a woman in tech, who can inspire eCommerce merchants.
Behind the scenes, we put a lot of work to rehearse and make sure our show is entertaining, informative and worth your time. Read more about our tips for an engaging online talk.
When you click on the video below, you will see we've created chapters so you can skip around and watch short bits and pieces at your own pace because we know how boring it is to sit there for more than two minutes, in front of a screen.
Here are the top sections we've selected for you:
1. Polina's personal story 👀
The most interesting business stories come from meaningful life experiences. Like many of us, Polina used to work in the corporate world and more precisely in talent acquisition in the lucrative oil and gas industry. She had come from Russia to the US and all of a sudden she got a divorce, was soon running out of a working visa and became a single mum.
With resilience and help from her friend she got her life back together and started this business with her new partner.
2. Groms' business idea, strategy and execution 💡
The clear vision for the Groms brand is to offer luxury furniture for less.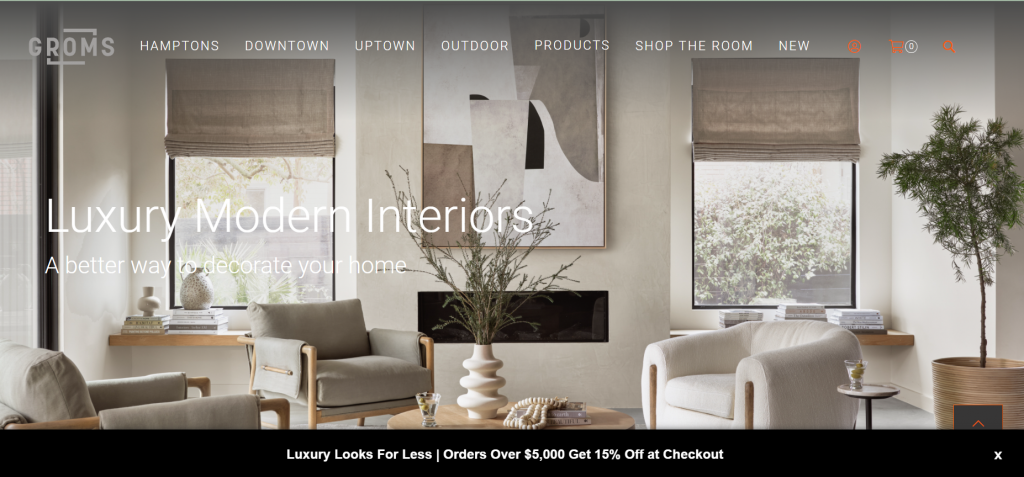 In this chapter, Polina shares how she and her partner came up with this particular business idea and how they made come to life.
What pain points is Groms solving?
What customer insights did Polina and Joakim pick up when they decided to move to their new house in the Hamptons?
What market segment presented opportunities and how did they design their product, distribution and pricing to find the right positioning in the furniture and home decor industry?
How can one translate sensorial interactions that are at the core of luxury products into a 100% digital experience?
3. What can go wrong with Magento 2 projects and who can come to the rescue? ⛑️
Polina is very upfront about what can go wrong with eCommerce projects, not just with Magento. Most of the times brands have a strong vision of what they want to do and what experience they want to create, but then they enter a technology black box and never know what is going to come out.
Watch how the team ended up finding a business partner likeBemeir Commerce Solutions agency to help rescue the project.
4. Magento 2 Innovation: Home Decor Mix and Match Demo 🎮

This is my favorite part of the talk. I was really excited to discover all the possibilities that Magento 2 could offer. What Bemeir built based on Groms' vision is very similar to the Home Design game on Facebook, where you can pick your room background and select the various pieces of furniture and decoration that are available from the store. And I bet homemakers like me who play those types of games are the perfect target audience for Groms.
I didn't know such an engaging feature could be built on Magento 2 and encourage you to have a look. It might very well apply to your industry and offer great benefits such as:
Differentiation as no other furniture retail can allow you to create your own room with all the pieces that match both in terms of style but most importantly in terms of dimensions
Lead generation: after you've designed your look, you want to save it and are keen to enter your email address
Brand awareness: consumers can share their looks with friends and family
Conversion and upsell: you know the whole look is going to work together, it removes a big element of risk that is often the barrier to purchase
Play with the Groms live Mix and Match feature here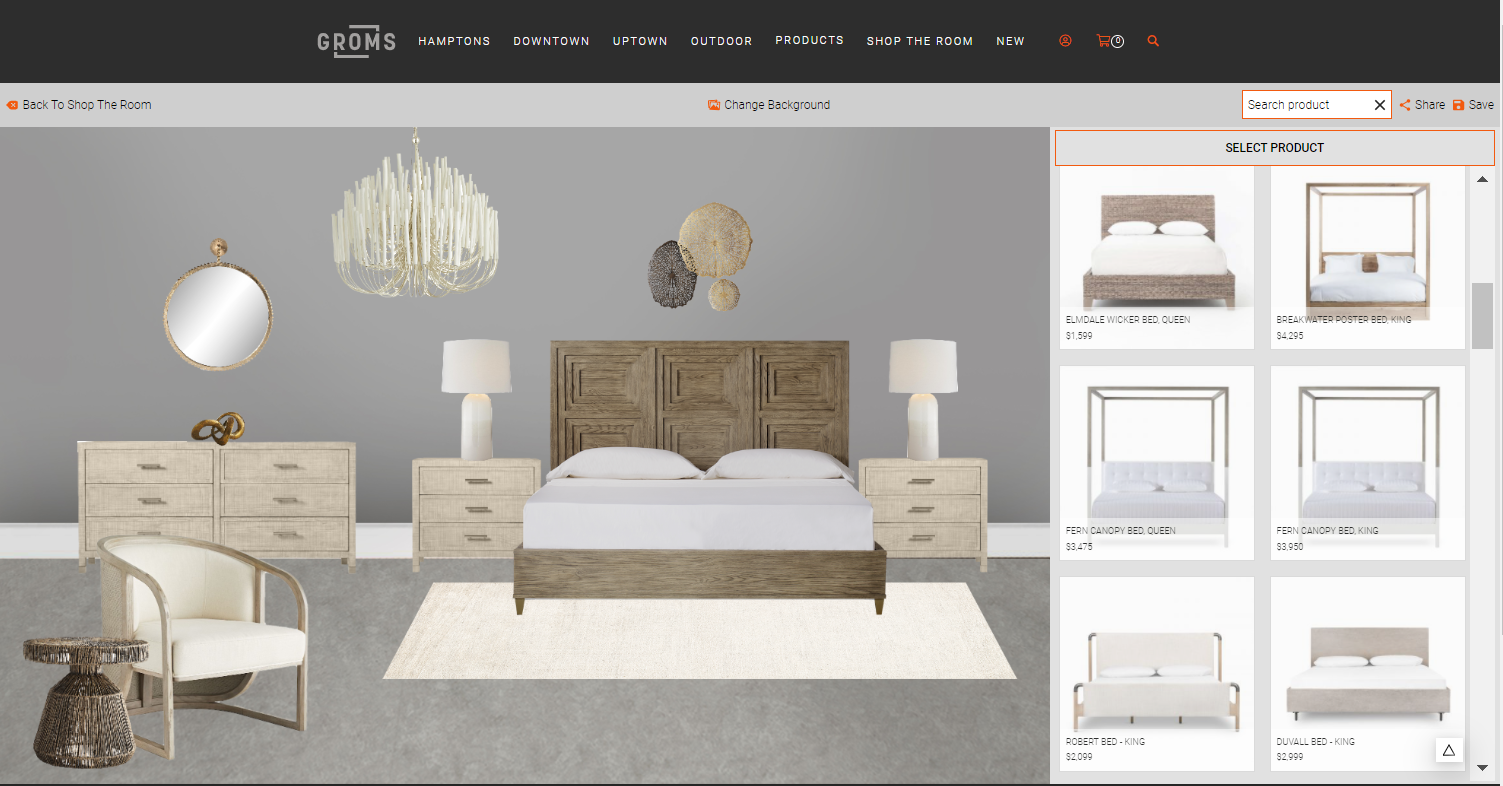 What's more, you can build your business case by putting numbers against the benefits provided above and your quote might be very reasonable as Bemeir Commerce Solutions can reuse the technology.
Enquire at info@bemeir.com
5. Marketing strategy revealed 🌟
Groms acquired over 30,000 followers on Instagram and Polina's design academy is gathering over 10,000 fans. The brand is now at a tipping point where influencers and TV shows are proactively reaching out!
What's her secret? Polina is kindly sharing what worked and what didn't to boost the brand's awareness, consideration and adoption.
6. Customized Magento 2 checkout 💰
When you manage to get that many eyeballs on your website that are inspired to add items to their cart through your fun and unique experiences, you don't want these potential customers to leave at checkout.
In this section, Maier Bianchi, who's been working with OneStepCheckout for almost 10 years now, runs a demo of how he customized Groms' checkout so as to remove pain points from Magento 2 default checkout and meet both the luxury look and feel of the brand and make it easy and natural for shoppers to complete this critical part of the online sales process.
Oh and if you've read this far, you totally deserve a coupon code giving you 10% off everything on groms.com.
Coupon code is: MACONNECT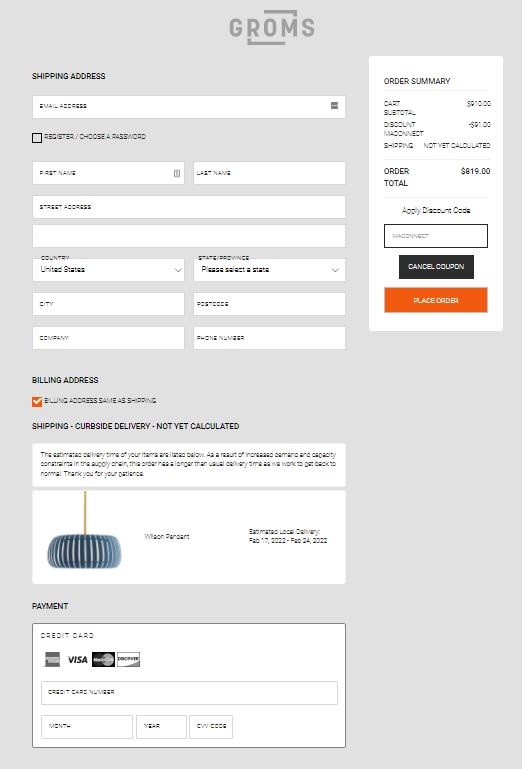 7. Fun Q&A session 🎙️
The most interesting part of live talks is questions from the audience. Even the questions brought up by our moderator, Ignacio, were not staged and added a lot of fun and spontaneity to the talk.
We covered topics around:
how to make the website fast and not impact performance while displaying very high-resolution pictures
what is the highest order value experienced by Groms website
to coupon code or not to coupon code
seasonality etc…
We hope you enjoyed the talk and as mentioned, Polina is kind enough to make herself available should you have business questions or need guidance from her. You can PM her through Instagram.
In true Magento style, she is very approachable, happy to help and we all truly hope we can get together in real life at an upcoming event to share our knowledge and good vides.