Version 3.1 of OneStepCheckout comes packed with a bunch of new features, many of which has been requested by our customers. Here comes a quick list of the new features, some of them are explained in more detail below:
Field ordering – choose the order the fields should appear, perfect for customizing to a specific country/region
"How did you hear about us" feature that allows your customers to tell you where they found your site
Possibility to add extra products that customer can add to cart while in checkout. Perfect for seasonal items like "Rush fee" or "Gift wrap"
New setting to hide shipping method if there is only one available
A much easier installation process, without need to modify any templates
Fully compatible with Magento Enterprise 1.7, 1.8, 1.9 as well as Magento Professional (and of course all community versions)
Support for logged in users with multiple addresses – can now choose from a saved address
New setting for whether the newsletter checkbox should be checked by default
A loading screen after clicking "Place order" to avoid multiple clicks from impatient users
New setting for whether prices in the review area should be including or excluding tax
Full support for the new Centinel 3D Secure introduced in Magento 1.4
Better support for order comments in Magento 1.4.1.1 – as well as no template changes needed to use this feature
Improved serial mechanism so you will only need one serial per domain – valid for all subdomains
Bugs regarding discount codes and empty order totals have been completely resolved
Field ordering
A lot of customers have requested the possibility to change the order the fields appear in the checkout. We have implemented this and it is available in the 3.1 release. It is now easy to go to the backend administration and specify exactly what order the fields should appear.
This makes it a lot easier to customize OneStepCheckout to fit your country without making template changes.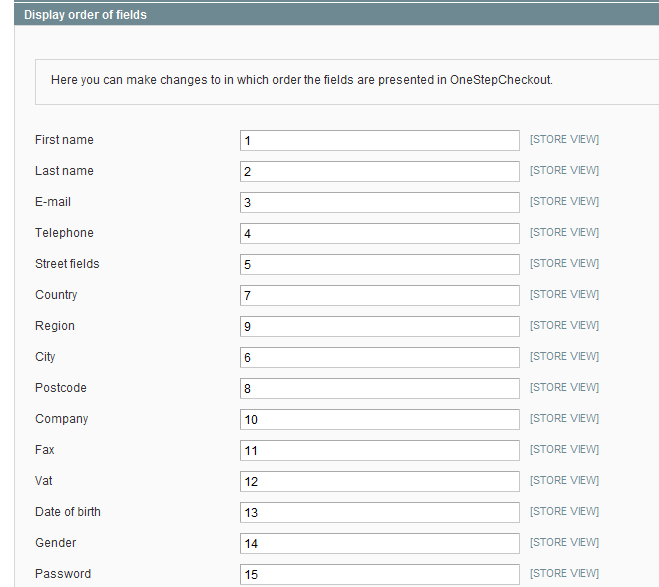 How did you hear about us?
Also requested by several customers, we have now implemented a "How did you hear about us?" field. The field can be enabled from the backend administration, and you can add several options

Extra products in checkout
A feature we have wanted to add for a while, is the possibility to add products that the customer will be introduced to before clicking the "Place order" button. It will enable the customer to add upsell/accessories to the cart without leaving the checkout page. This feature is perfect for features like "Rush fee" and "Gift wrap" for the holidays. See the screenshot below to see how it looks in the checkout:

Centinel 3D secure
The Centinel 3D secure feature introduced in Magento 1.4, allows payment methods to use an <IFRAME> to allow the customer to verify their creditcard directly in the webshop – without ever leaving the store. This greatly helps for conversion, and we are delighted to announce that version 3 of OneStepCheckout will support this feature 100%. Paypal already uses this type of creditcard verification and it is very likely that many more payment methods will introduce this in the nearest future.
Improved distribution
When version 3 is released, we will also release a new way to distribute our software. From now on our customers will always have access to the latest version from a download area on our website, so the customers can then themselves make sure they are using the latest version and download it. It will also contain an overview over the different serials attached to the customers domains, so there is no need to look through emails to find the serial.
Improved Magento Enterprise/Professional support
Since Magento released Enterprise version 1.7, we have had several requests from our customers that want full support for the new features introduces in this version, mainly features like "Store credit" and "Reward points". These features are also part of the Magento Professional edition, and we are now happy to announce that OneStepCheckout is 100% compatible with these versions. We have done thorough testing and already have 10+ customers that are using this feature with our product.
We are very excited about launching this next version of OneStepCheckout, and hope you are too! If you have any thoughts about new features that you would like to see in a future version, we are more than happy to hear about it. As said the next version will be released within a couple of weeks and we will inform you by email once its ready.