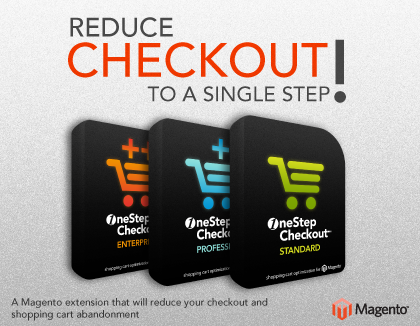 OneStepCheckout is a checkout extension for the Magento ecommerce platform that has taken the community with storm. We launched the first version in fall 2009, and currently have over 5000 installations of OneStepCheckout in all possible Magento versions, everything from old Magento Community versions to brand fresh Magento Professional and Magento Enterprise 1.11 installs. OneStepCheckout has become the checkout module in the Magento ecosystem.
In the latest version we have gone through a major refactoring of all the code to improve compability with third party modules like shipping and payment modules, and also a lot more. We are proud to announce the most compatible checkout module for Magento!

Make it simple
OneStepCheckout simplifies the checkout process of your Magento store. Checking out is often the most complicated part of placing an order online, and many users end up abandoning their order. Some customers will be motivated enough to purchase regardless of how difficult it is – but others will be lost due to checkout complexity. OneStepCheckout greatly simplifies this process, leading to an increase in sales.
Key features in OneStepCheckout
OneStepCheckout is all about reducing customer abandonment and increasing conversions. Our module comes packed with a ton of features. You reduce checkout steps from six to one, simplify the process completely, avoid confusing customer with questions about registration. Simply provide a better checkout experience.
Here are the key features in OneStepCheckout
Disable unwanted fields like zip, city, state, country, zipcode and more
Show popup window to let customers confirm their details
Set default values for fields like zip, city, state, country and zipcode
Redirect customers to checkout automatically after adding product to cart
Separate housenumber from street address
Rearrange the order of the fields to match your country/region
Super easy installation process – just upload files and you are done
Set a default shipping and payment method
Enable checkbox for subscribing newsletter and approving terms
Change title and description from backend interface
Auto-update prices, totals, taxes and more when customer changes country / shipping / payment
Possibility to hide shipping and payment method options
Supports many different registration setups – read more
Fully compatible with Magento Professional and Magento Enterprise features
Auto-detect users country with GeoIP technology
Allow customer to enter gift message for the order
Allow customer to enter coupon codes directly in the checkout
Allow customer to enter a comment for the order
"How did you hear about us" feature to allow customer to choose referrer
Allow customer to add further products to cart while in checkout – eg: Rush fee, Gift wrap
Our Magento module is very easy to install, and follows the module development guidelines set out by Magento. The software is delivered as a ZIP file (you can download it from our download area) and it can be uploaded directly to your Magento installation. Also, the source code is not encrypted in any way, so you are free to make changes as you desire.
General product information
OneStepCheckout is developed like any regular Magento extension and follows the Magento module guidelines. It does not override any core classes or templates, which makes it unlikely to come into conflict with other modules. Installation is as easy as uploading the contents of the ZIP file to your Magento installation, and the rest will be done from the administration interface. Also, the module will not overwrite any files, just add new ones.
OneStepCheckout is thoroughly tested on all Magento editions and versions. Our module is also tested in all modern browsers. The source code is not encrypted in any way, so it is fully possible to make customizations as you desire.