Exactly a week ago I was in Paris for the biggest eCommerce and Retail event in Europe and it was really HOT! it was 32 degrees in Paris in the middle of September and the air con in the exhibition center was broken. With 1000+ exhibitors and 50,000 visitors it was boiling… but also boiling with ideas, trends, best practices and human connections.
Before attending the event I prepared a comprehensive guide, in French. Now here's the look back, hot off the press (pun intended) of what happened at E-Commerce Paris for our English readers..
Top stats and figures about the Chinese market by Alibaba
The most impressive keynote session I attended was that of Sebastien Badault, Managing Director of Alibaba France. Alibaba has recently opened offices in Paris and London with the view to help French and British brands to export to China. It's no longer about selling Made in China items to western countries but to sell Made in France or Made in UK products to a 434 million Chinese online shoppers.
The presentation was very engaging with two videos:
one showing an American employee's life on the Chinese campus of Alibaba. See below.
one showing the amazing logistics network that Alibaba has developed to service even the most remote villages in China. No wonder they've been partnering up with Unilever since 2010 to allow rural areas to have access to their everyday grocery supplies.
Top stats that blew my mind:
Alibaba is bigger than Walmart
Today there are over 100M household earning over $50K a year and this middle class is called "Last generation"
The number of Chinese people born after 2000 are growing at a rate of 15% year-on-year and are spending double vs last generation
15% of retail is spent online, that's double the share of eCommerce in western countries
75% of Alibaba payments is made on mobile phones thanks to a seamless experience. People don't use cash anymore, they pay with their phone thanks to a QR code at the supermarket, to payback a friend or even a stranger (P2P)
Chinese tourists account for 30% of French department store Galeries Lafayette's turn over (the other third is made by locals and the last third by other tourists). That means they are open to international brands and more sophisticated than expected.
L'Occitane or a less known French fashion brand like Cache Cache are already taking advantage of this huge market with their presence on TMall. There might be a first mover advantage here for your brand there…
Top tips to expand your business in Europe
An impressive panel was gathered to talk about exporting outside of France, mainly to the rest of Europe. What I enjoyed the most were practical tips about when and how to expand your activities in new countries. The Panel of speakers included Marc Menesé, CEO and Founder of Menlook, the French ASOS dedicated to menswear, Olivier Marcheteau, General Manager of Vestiaire Collective selling authentic designer fashion items. Here are their top tips:
Focus on one country at a time. Each country has its own cultural and language specificity, its key opinion influencers (KOL), its preferred payment and shipping methods.
eTrust badges are essential if you have a retail presence in Germany or in Spain
Return rate in Germany is 42% for one of the panelists. He was able to cut costs by 30% by providing a local return address and grouping the parcels back to France vs shipping returns every parcel returned parcel from Germany directly to France.
Hire local teams. From €1M turnover you can think about translating your website, adapting your currency etc…From €5M turnover in a new country you can start building local teams
Hot quotes
We offer guest checkouts to make the experience smoother. We no longer ask so much data from our consumers.
Cyril Olivier, Chief Marketing & Digital Officer at Kiabi (Fashion €1.55 billion turnover in 2014 incl €110 million online)
Your customer is always just one click away from the competition. So keep your process fluid and engaging.
Boulanger (White goods and electronics, €2 billion turnover incl approx €250 million online)
Who made the buzz?
Adyen, the Dutch payment processor quietly used by AirBnB, Facebook and Spotify and described as a unicorn came out with a big bang. The took over all the outdoor advertising around the event plus floor decals inside the exhibition hall. They bought all the available space in the corridors and platform of metro station Porte de Versailles. They painted the whole place green. That's fine, we like that color!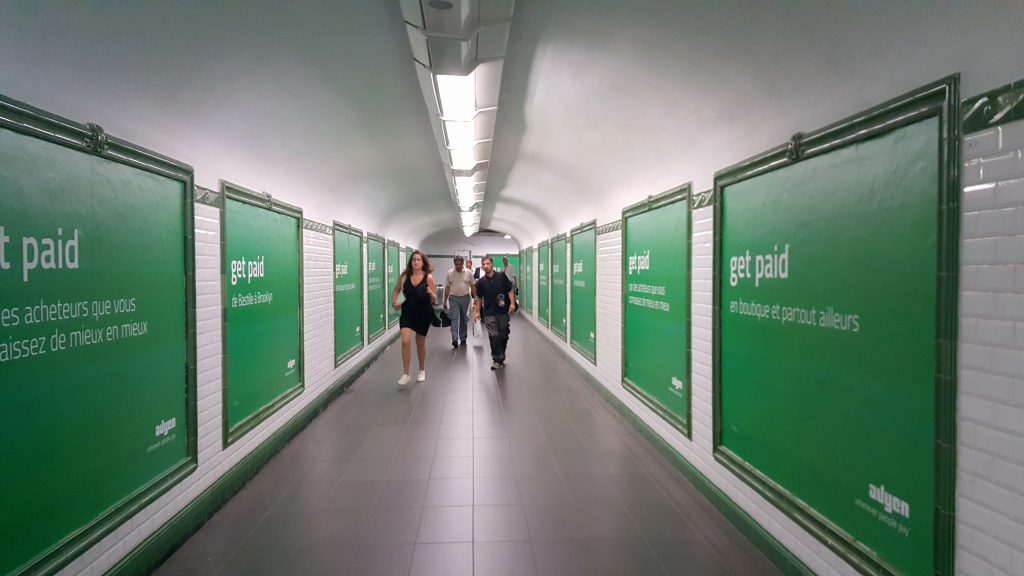 Hot booth, hot people and fun pictures of the Magento Community in Paris
What a great occasion to catch up with #RealMagento friends I made at Magento Imagine 2016 conference! It was fun to be on a booth this time and share the space with Cogeco Peer 1 (Canadian hosting company listed on the stock exchange)
SCOOP!
Bargento 2016, will take place on 24th November at a fancy hotel on the world famous Champs Elysées! Oh la la, save the date! It's the main Magento Community event in France and one of the oldest in the world, celebrating their 11th edition this year!
For more pictures of E-Commerce Paris fun, checkout our Twitter feed
Massive thank you to the E-Commerce Paris team for granting me with a VIP pass and retweeting all our adventures as well as E-Commerce Nation for the hot quotes and their social media support!