Hi everyone,
I'm very excited to attend Magento Live France on 6 and 7 February 2017 in Paris. Based on my experience attending Imagine in Las Vegas, Magento Live UK and eCommerce Expo in Paris, here are the top 5 reasons why you should come too.
Parlez-vous français? Here's all the info about OneStepCheckout in French.
1) France is a vibrant top eCommerce market in Europe.
France is the 2nd largest market in Europe in terms of B2C online sales behind the UK with 14.3% share.

France is also the 3rd most attractive online market based on this study by AT Kearney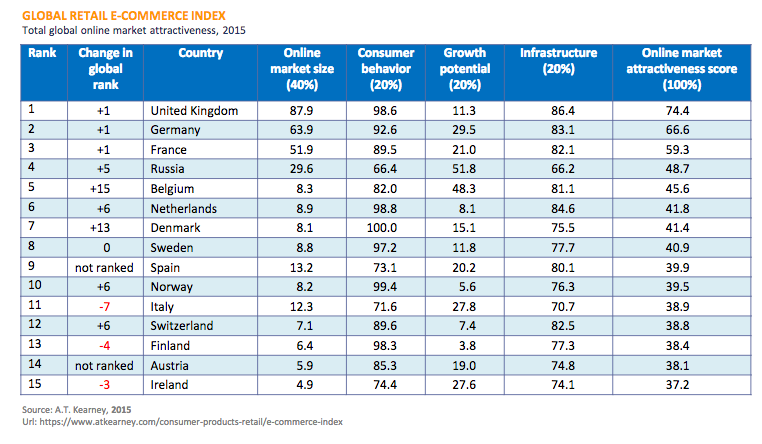 Ecommerce in France grew 13% to €35 billion in first half 2016 according to eCommerce News vs. 10.5% expected for 2016 in the UK .
During my visit at eCommerce Paris Expo last September, hosting over 50,000 visitors and 1,000 exhibitors, I felt the vibe and noticed the caliber and quality of the speakers. Read my look back here.
2) France is an important market for Magento
France is the 5th largest Magento market
Between 4,100 and 4,600 Magento customers are based in France (based on Datanyze and Builtwith stats). Surprisingly for a Parisian, far less than half are based in the Paris area, more looking like 1 out of 3.
Here are where Magento merchants are located in France.
Many French Enterprise Businesses chose Magento
Opticien Atol: the 4th largest optical/ glasses retailer in France founded in 1970 with €390M turnover and close to 800 physical stores in France.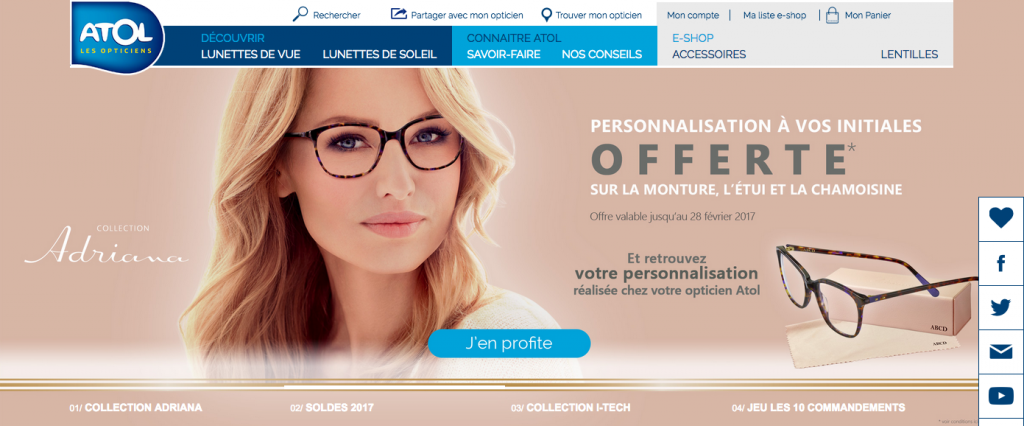 Decathlon: a €9.1Bn sporting goods retailer, with presence in 28 countries. Their corporate gift card site runs on Magento.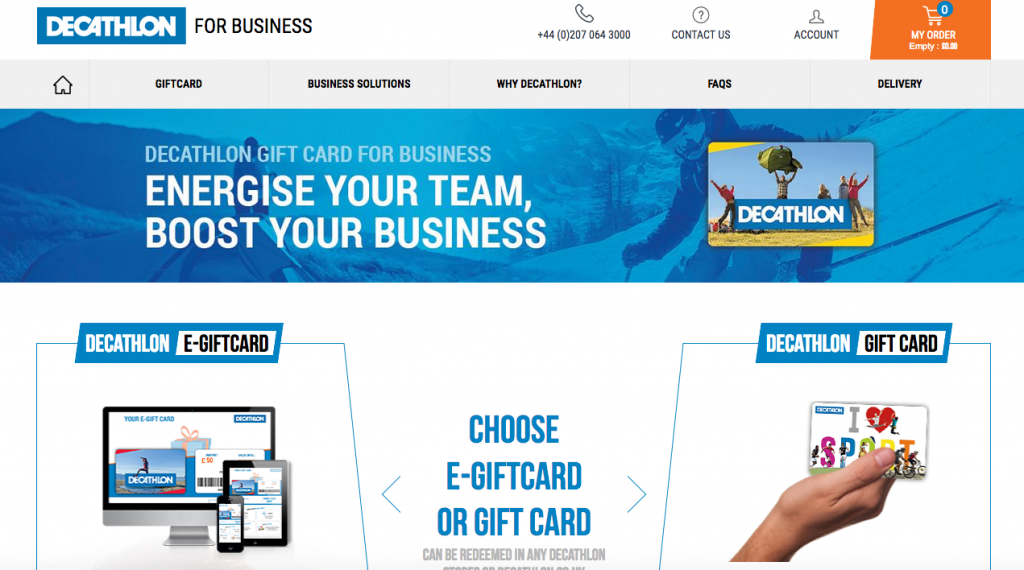 Salomon:  €400M sporting goods brands famous for its winter gears, distributed in 160 countries and based in the Alps. The brands now belongs to Finnish group Amer sport that also owns other recognizable brands like Atomic, Dynamic, Suunto (Magento webshop), Arc'teryx.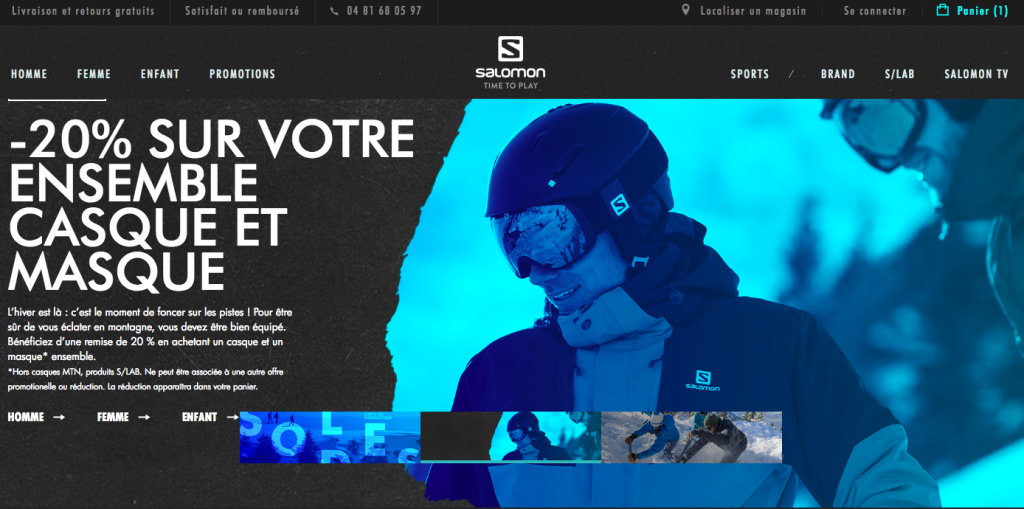 Veolia : a €30 Bn revenue service and utilities company listed on the stock exchange. You wouldn't think of them for eCommerce and retail solution but they do sell water treatment equipment online.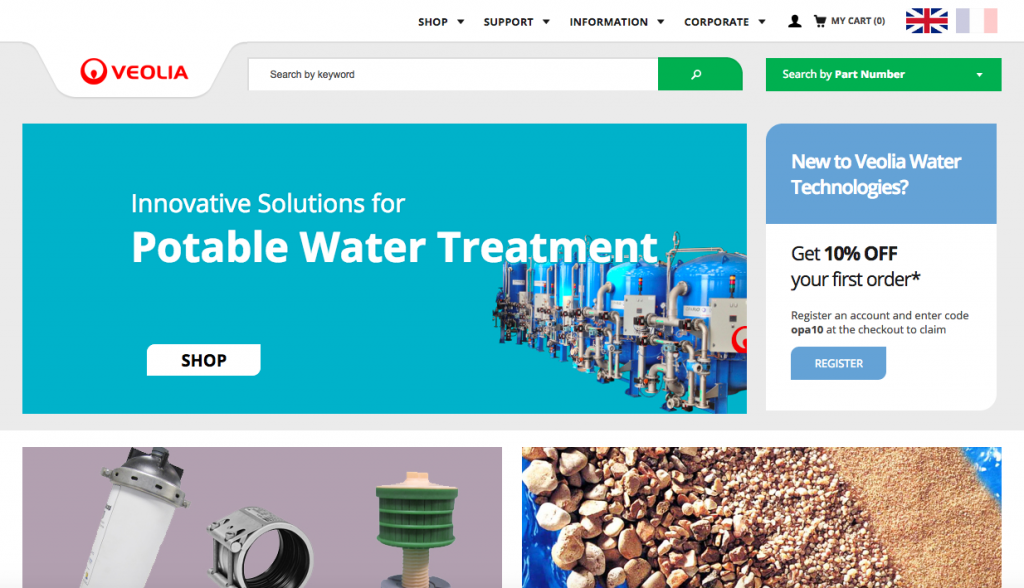 Bourjois: founded in 1863 in Paris, the make-up brand has been part of the prestigious Chanel portfolio until it got purchased by US cosmetic giant Coty (CK perfumes, Rimmel London, OPI nails and all the celebrity perfumes like JLo, Beyonce, Lady Gaga, Beckham etc…) for approx $240M.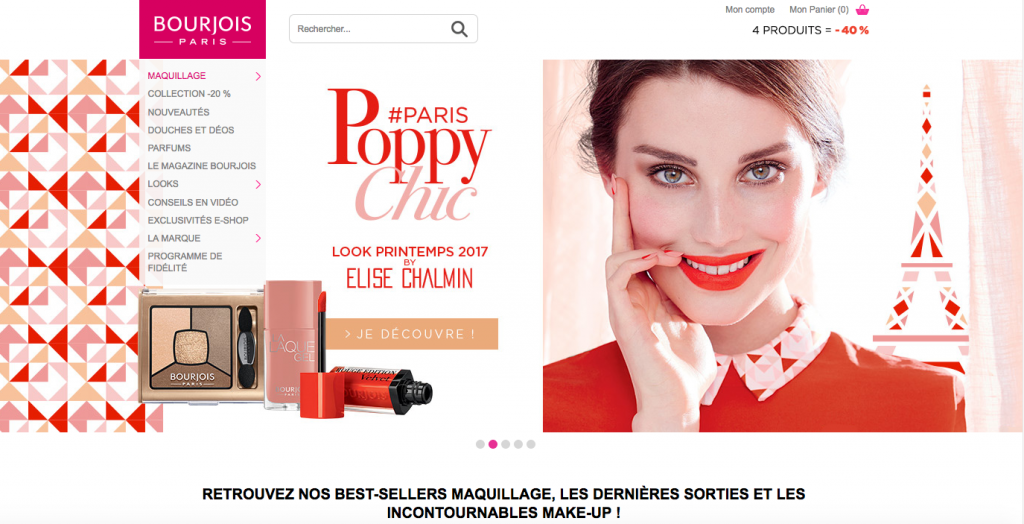 3) To hear the latest news and updates from Magento
What happened since Magento Live Australia?
The $250M funding from Hillhouse Capital
Can't wait to hear more details about Magento's strategy, where they are going to invest and what it could mean for us in the ecosystem. Are they going to comment on the drama and heated discussions that this announcement stirred in the community? Probably. I expect the line up of speakers to provide reassurance about Magento 2 and emphasise on its superior capabilities. And I wouldn't miss any talks by Paul Boisvert (VP of Product Development), he's such a natural comedian. You never get bored listening to him.
At NRF17 (National Retail Federation Annual Convention in New York), Magento released IDC research estimating that merchants on the Magento platform sold $101 billion in merchandise to nearly 51 million shoppers in 2016. Developers, merchants and partners on the Magento platform represent more than 280,000 Magento-specific jobs.
Magento is growing faster than benchmark, forecast reveals accelerated demand for innovation. It will be interesting to understand how members of the ecosystem like you and us at OneStepCheckout can help drive that innovation and benefit from the overall trend.

Why am I excited?
1) Because the Magento brand has a massive untapped potential. Magento built an extremely very strong brand within the Community. I've worked for many brands and it's quite unique to feel as much passion. Do you think Shopify has an ecosystem who bleeds green like we bleed orange? And this passion, energy and army of advocates provides a competitive edge to raise awareness, consideration and engagement among prospects business who don't know the platform well. I'm excited that now Magento has a Marketing Leader who can take the brand to the next level. I'm curious to find out how much Customer Experience she covers and by Customer I would mean everyone in the ecosystem: not just merchants, but also service providers, agencies and perhaps end-users à la "Intel Inside".
2) Because she is a woman.
We are a minority in the Magento ecosystem. In tech in general. As per Gwen K Young "the evidence shows that female leaders typically have more compassion and empathy, and a more open and inclusive negotiation style. This is not, of course, necessarily true of all women — there are many different leadership styles. That said, modern ideas of transformative leadership are more in line with qualities women generally share: empathy, inclusiveness and an open negotiation style."
3) Because she is a mum.
It's great to have a role model. How do woman manage to have a career and have a happy family? Everyone is different and every situation is different but we can always learn from each other. I'd love to hear how she does it: what are her main challenges, what are her top tips etc… don't you?
4) To visit the Hotel du Collectionneur
L'hotel du Collectionneur is a 5 star hotel in Paris near the Champs Elysées. What's so special about it is it's history and architecture. A master piece of Art Deco, with influences from Atlantic Transliners of the early XX's century (think Titanic). It also boasts patios and outdoors areas which is an absolute treat in the heart of Paris. Interior design is signed by famous Jacques Garcia, so don't expect just luxury but style and cosiness too.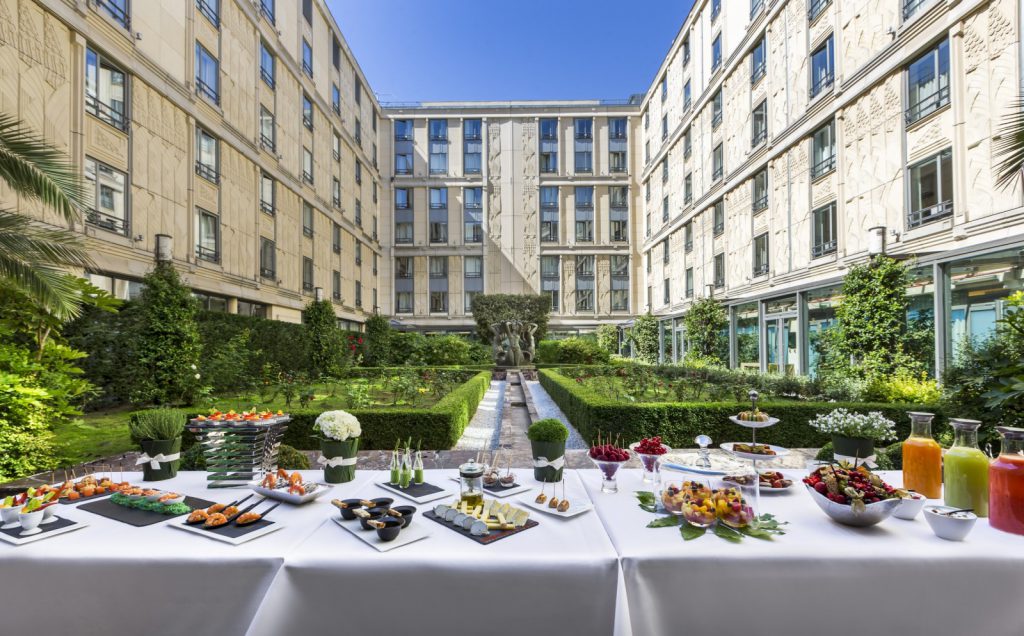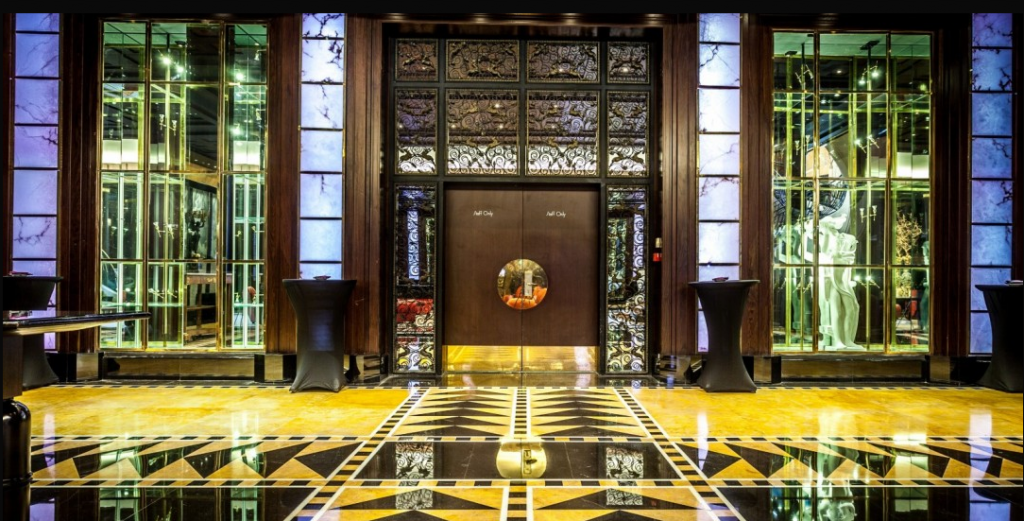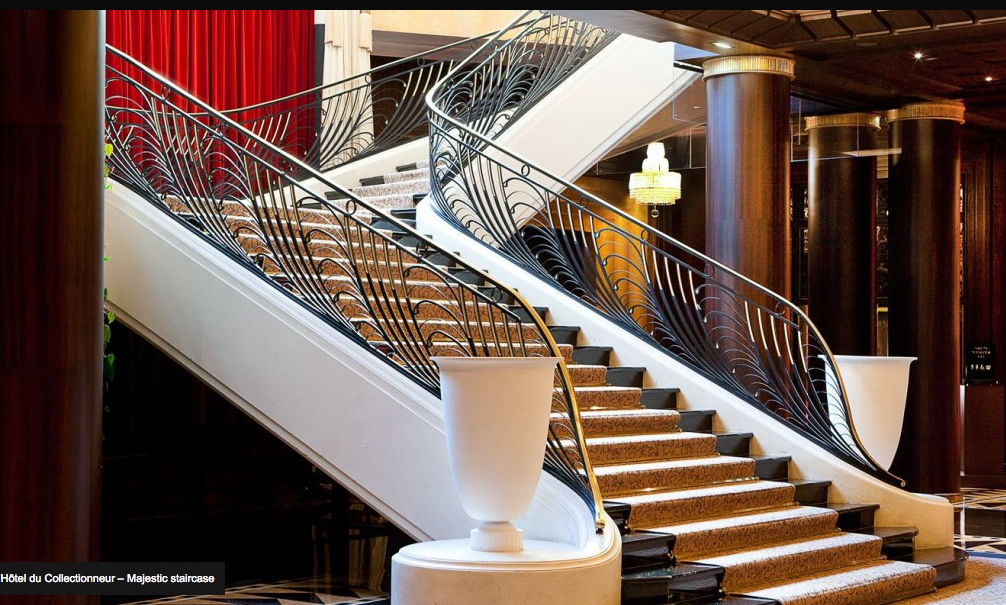 5) To catch up with the Magento Community
After a year in the ecosystem, I can say I made very good friends already. That's the beauty of attending events like Imagine in Las Vegas. It's always good to share experience, catch up on our personal lives and continue and care for each other. It's also a good way to follow up with French partners I've met over previous events and also meet new members of the Magento community.
I'm particularly excited about meeting IRL for the first time some members who are very active on Twitter like Raphael Petrini, Kuba from Snowdog or Fabian Schmengler (who will also be a speaker). Another speaker I won't miss is Christophe Le Bot from X2i.
Here is the full Magento Live France Event Schedule.
Look out for the green button and come and say hi!
Oh and if you have children, plan to bring a bigger suitcase so you can bring back some unique soft toys (like the omnichannel 3 head hydra from Akeneo or the security ward cerber from NBS Systems).