Last update: April 2021 showing the evolution of the store with time and the integration of new payment options.
Our article was first published on 14th November 2017 on E-Commerce Nation, the #1 eCommerce Global Community. We are adding it to our blog to provide a comprehensive case study for our customers and readers.
For your eyes only
If you are a Spy movies fan, technology lover or an eCommerce business owners, you will enjoy this interview of Steve Roberts, Founder and Owner of OnlineSpyShop.
OnlineSpyShop is a leading UK business manufacturing surveillance equipment for companies, governments and individuals. It just shows how ecommerce covers all sorts of verticals, market segments and niches like surveillance equipment within the electronics category and caters to all sorts of customers i.e. B2B, B2C, Public Sector.
Don't you want to know who is purchasing spying devices and why? The big secret will be revealed alongside market size, customer insights, choice of ecommerce platform and best practices to selling online in this sensitive industry.
The surveillance equipment segment of the electronics eCommerce market is worth $30Bn
According to Global Industry Analyst Inc, the CCTV and Surveillance Equipment market worldwide is expected to reach $30 billion in 2020 driven by an increasing demand from governments as well as technology innovations. With growing insecurity issues hitting the news lately we, as individuals can easily understand the surge in this field.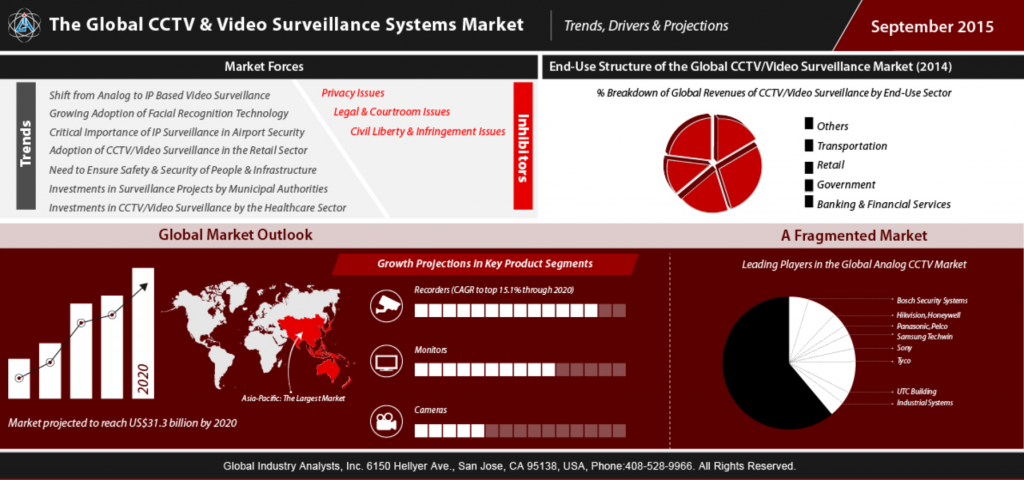 Today we have the opportunity to sit with Steve who will reveal insights that no public report can give you.
Customers insights: who purchases Surveillance equipment?
Hi Steve,
Thank you for having us today. Let's go straight into how your business came about.
What's your background and how did you get the idea of selling spy equipment?
For many years I had worked for several surveillance companies whose clients were preliminary insurance firms employing the services of surveillance operatives in order to gain evidence of illegitimate insurance injury claims. After working with various surveillance companies throughout the years I picked up many skillful methods of obtaining information and using various covert equipment to produce sufficient evidence to counter the claims. I became clear the industry was a huge potential and I decided to move away from working in the field and towards providing surveillance equipment to various professional bodies.
Who are those people who are looking for your products and how do you target them?
Surveillance equipment is used by most people these days, whether that be a non-technical individual using home CCTV to businesses, large corporations, private sectors, public sectors and law enforcement. In short, surveillance equipment can be used as a positive aid to gather important video / audio evidence towards sometimes difficult and sensitive situations. We, ourselves do not specifically target any client industry because such clients looking for a good level of customer service and high quality products are filtered to us by word of mouth. We have possibly the very best engineers in the industry capable of matching any client requirement.
How big is your business today (turnover, number of customer, position on the market etc…) and what are the key things that helped achieve this?
Our USP was simple – transparency. You cannot be transparent without being honest and genuine with clients. Give a good service and products, treat all clients the same regardless of status and always uphold integrity. Personally, I chose not to scale the business too large because I was always concerned the personal touch which grew the company in the first place will subside. We have always remained grounded and modest. Of course one should expand, and we chose to do this by learning new skills through enthusiasm including TSCM (tactical surveillance counter measures) and growing another arm of the business which we now serve large corporate clients in London and the EU.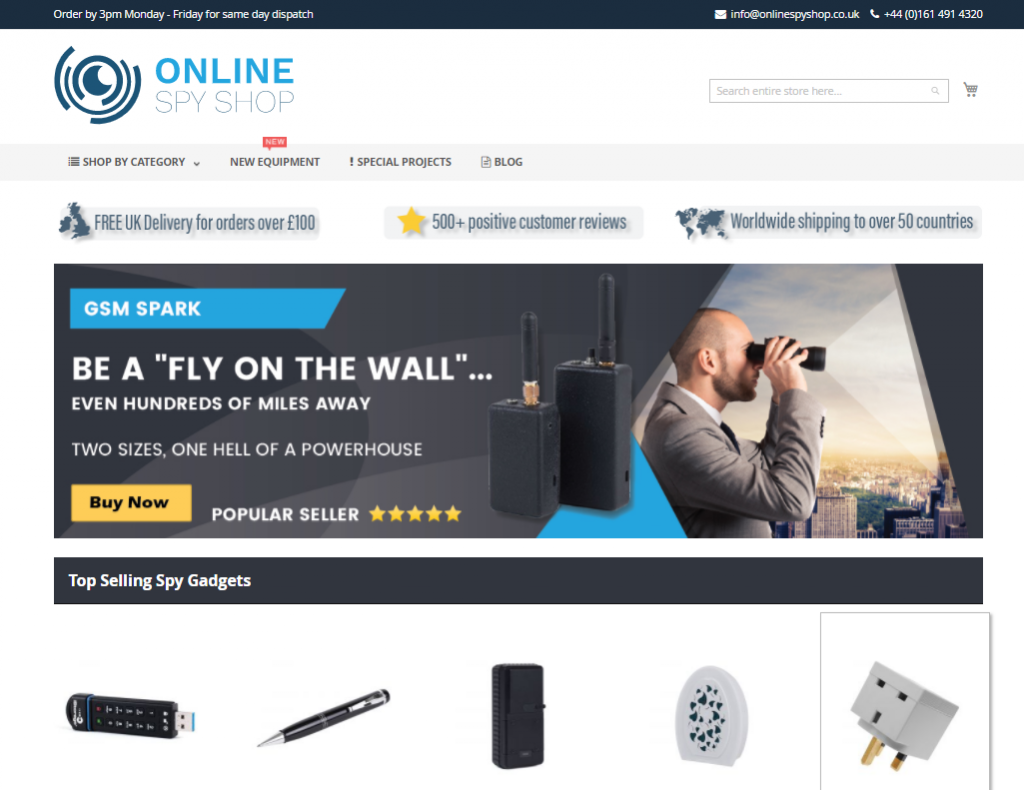 OnlineSpyShop: choosing Magento 2 and making the most of it
What made you choose Magento 2 for your webshop?
We were looking for 4 elements in a new platform. We wanted a platform that was future proof, we wanted security and we wanted ease of use and finally a platform that would allow us to grow. After much sourcing and comparison it was clear there was only 1 choice for us – Magento. Specifically, Magento 2. We were aware that whilst Magento 2 is still in infancy, we do believe it is a strong and solid platform for any webshop small and large to really make exceptional gains in growth. it really was a great choice we made.
Tell us more about how you managed your migration to Magento 2
My silver bullet is Iztok, my web guy. He deals with all things technical, deals with vendors so I can focus on my core business and strength which is not eCommerce. The key here is to find vendors who can set things up for you easily so again you play on their strength and their domain of expertise. All I need to know is how I get visitors on my site to add a product to cart and place an order with minimum friction.
What are the top 5 functionalities in your Magento 2 store that are adding the most value to your business
Customers review

is a key one for us. In such a sensitive industry the key thing that your potential customer need is to be able to trust you. Trust that you will deliver good quality products and services but also discretion. Reviews is the best way to differentiate and show real examples of customers satisfaction. As I said, word of mouth is how we drive awareness of our brand and reviews by Ekomi allows us to do that. Featuring our " 500+ positive customers review" at the top of our homepage linking to our

Gold Seal of Approval

reassures new visitors a lot.
Site Search

is also a powerful tool. We know that 80% of visitors are here because they are looking for something in particular so we need to help them find it fast. When they start typing, we show results along with the number of matches to show depth and relevance of our inventory.
Content

is the third focus on our website. We post articles two to three times a month covering situations, devices, news as well as tips and guides to perform the tasks that you need. Some are quite entertaining! Can you guess in which ordinary objects you could find high performance listening devices? Here are a few: air freshener, iPhone chargers…

Find out about the other 6 here!

We also offer quality and up-to-date content about UK and EU regulations as it is an important force you need to reckon with in our industry.
Live Chat:

this allows us to offer superior customer service by answering in real time. As I said, our personal touch is one key of our success so they better way to translate it online is to add a live chat where experts and myself can respond to our best knowledge.
Address Validation:

the parcel delivery is a key component of the online shopping experience. We want to ensure that our customers receive their parcel fast and to the right place. That's why we use address verification services like

PCA Predict

, that plugs into our checkout and suggest validates addresses. The other benefit is that it dramatically reduces the chances of parcels being lost or sent to the wrong person. We save on returns and shipping a second time. Most importantly our equipment is not cheap so losing one has a bigger impact on our bottom line.
Tell us more about why you were not happy with your previous checkout and what you did about it
I did some research on best practice checkout as this is the cornerstone of any online business. If people can't order and pay for what they want, you lose a sale. It's not like in a physical store.
So using my skills, I found about OneStepCheckout, a market leader like ourselves, read carefully all the information on their website, checked their reputation and here is the email I sent via their contact form:

They answered straight away although it was a couple of months before they officially released their checkout extension for Magento 2. So they kept me in the loop, offered me to start with their early beta version and thanks to their hardwork and persistence to go through bugs and issues, it is working like a charm today.
What difference do you see now with your new checkout and how do you measure it?
The checkout I now have on my Magento 2 store is exactly what I wanted it to be: streamlined and user friendly yet comprehensive as well as accepting all the payment methods that I need including SagePay, PayPal and Bank Transfer and compatible with PCA Predict.
It's loading much faster than my previous checkout which allows customers to complete their order faster.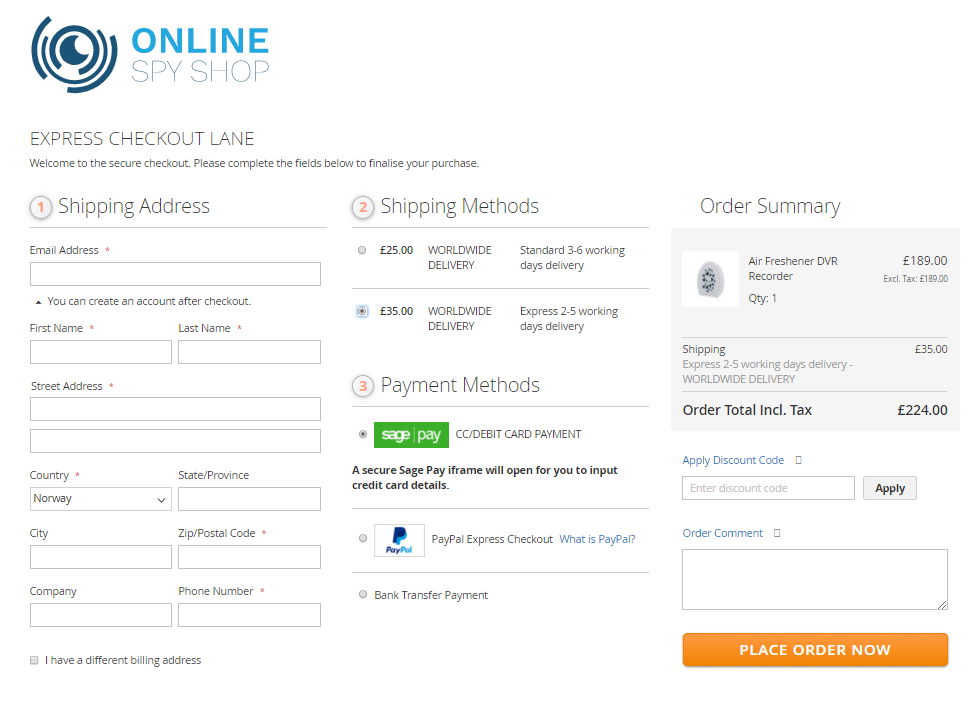 Last word of advice for Magento store owners out there?
Stick to what you know and what you are passionate about. I'm all about surveillance equipment, the products side and the retail side. I'm not a Magento expert so I leave it to professionals who know about how the store works and how to make the most of it so as to increase sales conversion and streamline operations so your client gets what they want and fast.
Your real value comes from understanding the market, the needs and offer superior products and services so that happy customers refer you.
If you are in a sensitive industry, industrial espionage is a reality, not just in movies. That's why we expanded beyond devices to also offer services such as Bug Detection Sweeps and Mobile and Computer Forensic. If ever you need to contact us, no-one will ever know…
2021 updates to OnlineSpyShop Magento 2 store
Four years later, the business has improved and optimized its Magento 2 store. It is now meeting consumers' demand for local products, for faster delivery, and for more options to whizz through checkout and pay.
Here's a breakdown of new features that helps boost conversion throughout the online sales funnel.
Homepage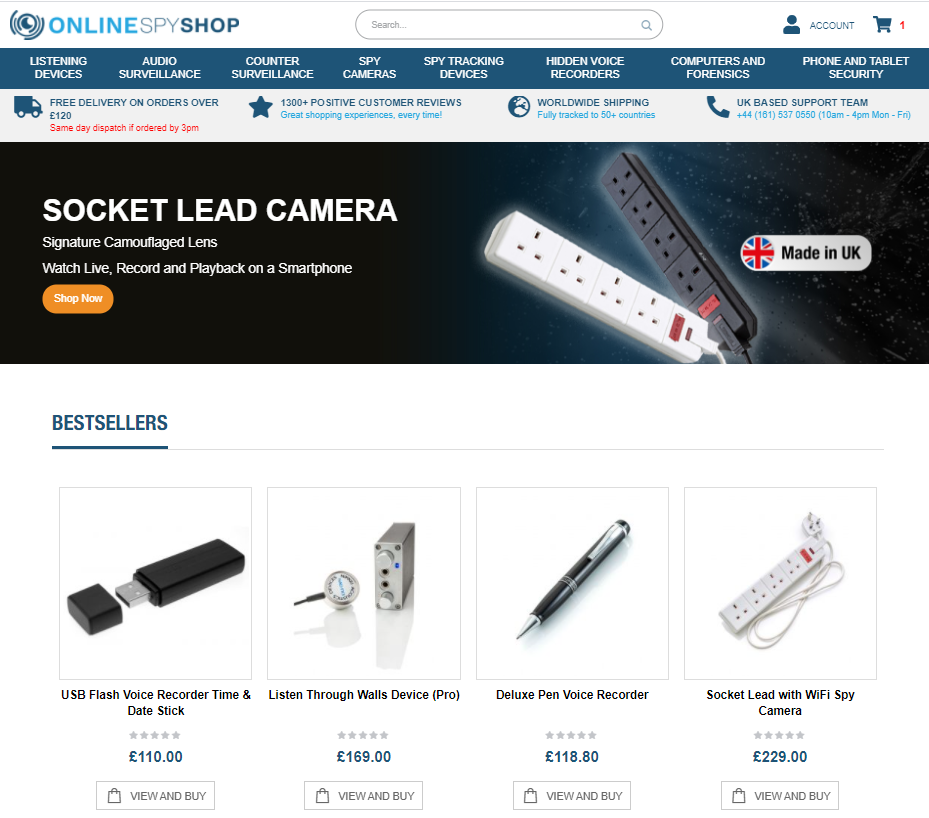 If you compare the current homepage to that 2017 on above, you will notice
An enriched top navigation bar featuring all the product categories that visually stands out
Trust elements are improved:

Delivery time is emphasized with "same day dispatch if ordered by 3pm", which is a direct response to consumers' expectation for fast delivery. In fact, slow delivery is now becoming a top reason for cart abandonment for 19% of US online shoppers, according to the Baymard Institute.
Positive Reviews: increased from 500+ to 1300+ in 4 years
Phone Support: this service has been added, in addition to the live chat to help convert sales on the spot and strengthen the human touch
UK based support and Made in the UK products are highlighted as 90% of British consumer find it important to try and buy British made products and 66% are more likely to buy more British goods post-Covid-19 to support the economy, according to Made In Britain.org

Bestsellers products are now featured including a picture, rating, price and "view and buy" button so as to reduce the number of steps to add items to cart
Mega menu: that's when you hover on the top navigation bar and instead of a simple drop-down, you see a big menu with subcategories but also a category description and an image. See below: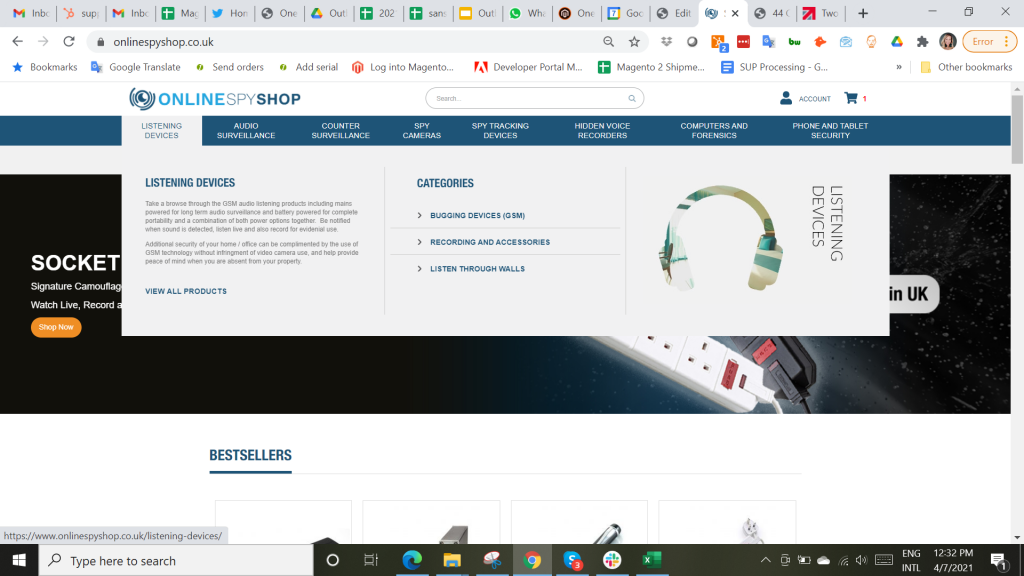 Product Page
Delivery date: this reinforce how fast the item can be shipped
Social media sharing: social proof can be reinforced on top of the products and website's review
Express payment options: shoppers can now choose from three options straight from the product page:

Add to cart, and go through guest checkout
Google Pay
PayPal express
The last two options are great if shoppers only need one item. By clicking on those icons, they can log in directly to their Google Pay or PayPal account which prepopulates their preferred delivery addresses.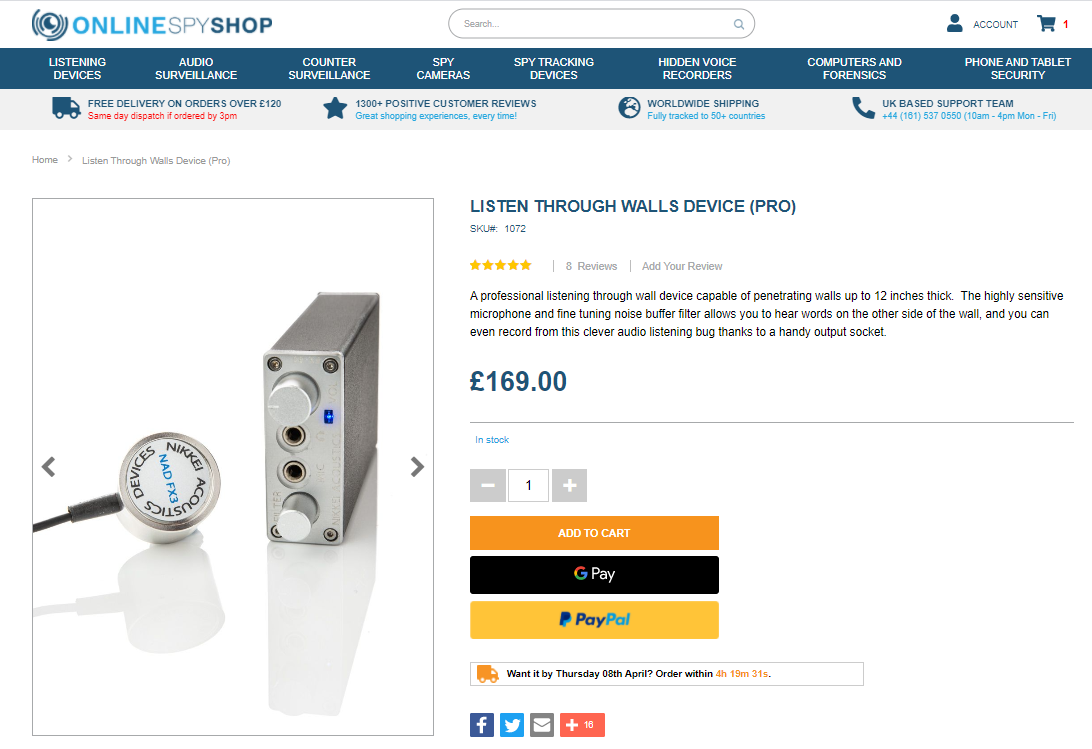 Checkout page
Checkout styling and layout
The checkout page has now been styled to match the website's visual identity
The Coupon Code field has been removed as studies shows that it often takes shoppers away from the website and drives cart abandonment
Shoppers can now remove items or change items quantities directly in the order summary section of the checkout page. No need to go back to the cart page to make changes and order totals update dynamically along with shipping costs
Addition of a PCI compliance message in the credit card section
Payment methods
Online Spy Shop now offers a wider range of payment methods at checkout to cater to its customer's needs:
Google Pay
PayPal Express Checkout
Credit card powered by Stripe
Bank Transfer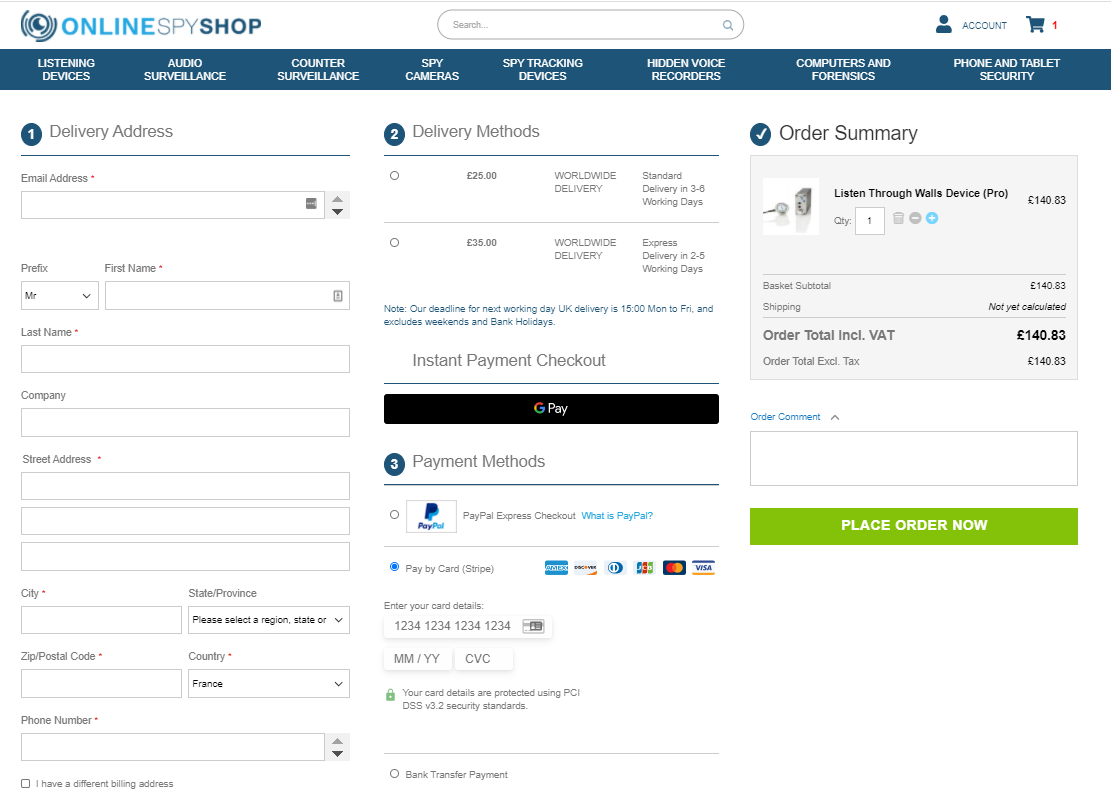 This checkout is made possible via OneStepCheckout for Magento 2 extension that works continuously with the most popular payment providers to offer compatibility with the latest versions as well as adding features that eCommerce merchants need.