Fashion and the luxury end of it is a passion. I grew up in the 90's with the advent of Super Models and designer brands. There was no Fashion Club at HEC Paris, my business school so I created one. Then over the first 10 years of my professional life I was lucky enough to have been exposed to many brands and corporations such as L'Oreal, Céline (LVMH group), Christofle, Bernardaud, Clarins etc… either as an in house Marketer, a Banker lending them money or a Consultant advising Marketing strategies. As you know, the following 10 years of my career were deep into eCommerce, so I'm happy to put the two together. Here is a snapshot of what you need to know about Luxury Goods and eCommerce. Snapshot because despite a pretty slow start, it is now bound to evolve very quickly!
The Luxury Goods market is expected to reach €300 Billion by 2020.
According to Bain &Co's recent report (winter 2017), the Luxury Goods market is expected to grow at a steady 4%-5% a year until 2020 to reach approx €300 Billion. Here are the key drivers for growth:
Top performing Regions for Luxury Goods in 2017:
China is growing 3x time faster with consumption of luxury goods growing at 15% and totaling a market size of €20 billion
Europe is #1 in value with €87 billion total market and growing at 6%
US+LATAM are second with a total market of €80 billion an growing at a slower pace of 2%
Top Performing Luxury Goods Categories:
Streetwear is fueling growth. T-shirts, down jackets and sneakers were among the standout categories in 2017, growing by 25%, 15% and 10%, respectively. This is due to a generational shift. 85% of luxury growth in 2017 now comes from Generations Y and Z.
Accessories i.e.: shoes, jewelry and handbags ranked as the three fastest-growing product categories this year
Apparel, beauty and handbags still account for the bulk of the market.
Online sales of Luxury Goods is growing rapidly at 24% in 2017, reaching an overall market share of 9%.
Key stats about eCommerce for Luxury Goods:
The major shift, as we know is around distribution channels. Although physical stores still account for two third of the market, two smaller segments stand out by growing much faster:
Off-price stores and airport stores: up 8% and 12%, respectively
Online sales increasing by 24% in 2017 at €23 billion
And within the online distribution channels here are the key highlights:
REGION: Americas (NA+LATAM) account for almost half of global online sales of luxury personal goods
CATEGORY: Accessories (including handbags and shoes) remained the top category sold online, ahead of apparel. Which makes sense as it's harder to find the right fit for clothing
WEB PRESENCE: Own Stores 31% of sales and growing vs Marketplace/ Multibrand e-tailers accounting for 2/3 of the market
Key recent events among Luxury Goods eCommerce players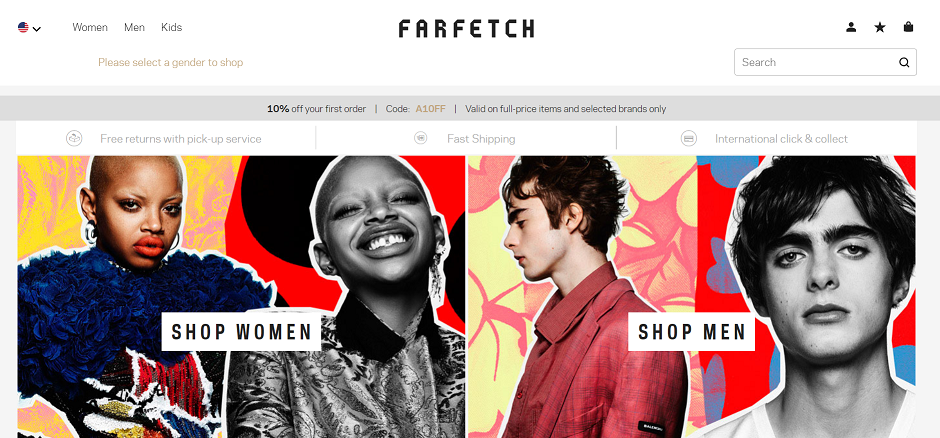 Farfetch is a marketplace place that connect buyers and sellers of luxury goods. They don't own stock and take a commission on sales. The site has around 280,000 items for sale at any one time from over 500 brands and stores.
In March 2017, Farfetch announced they appointed bankers to lead an IPO where the valuation of the company is around €5 billion.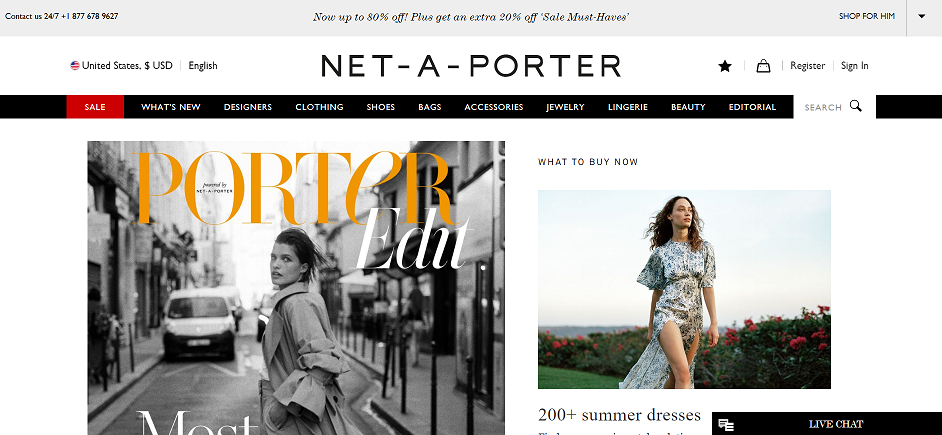 Net a Porter, big rival of Farfetch was founded in 2000 with a more traditional retailer model: although the first look ad feel was more to look like a luxury magazine online, the site buys and own stock until online shoppers purchase them.
In January 2018, Swiss Richmond Group, who owns Cartier, Chloé, Van Cleef & Arpels and many prestigious watch brands, launched a bid to take full control of Net a Porter. The luxury goods e-tailers now records €2 Billion sales in annual turnover and is valued at €5 Billion too.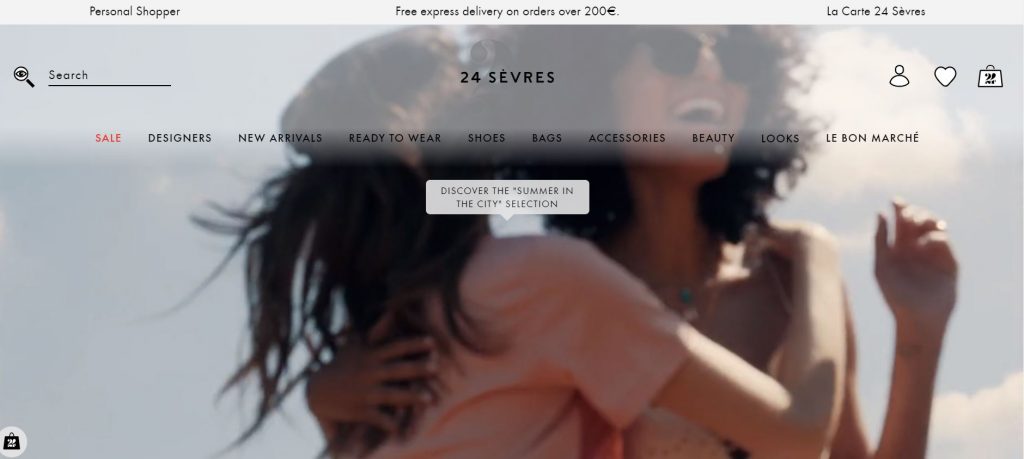 In June 2017, LVMH, the French Luxury Conglomerate (Louis Vuitton, Dior, Givenchy, Moet, Hennessy…) launched their first eCommerce venture, called 24 Sèvres. This name comes from they physical address of their iconic and historical department store in Paris: Le Bon Marché.
The strategy is not to provide endless aisle. It's quite the opposite with curated and limited inventory and a focus on online exclusive like collabs and special editions. That helps grow consumer spend instead of cannibalizing from stores. Ian Rogers, ex-Apple and Chief Digital Officer at LVMH since 2015 warns: "The first stage of e-commerce was technical, but the first stage is over. We are entering the second phase, which isn't about technology, it's about customer experience."
Strategies for Luxury brands to win in eCommerce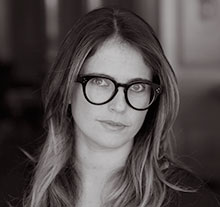 "Brands need to be customer obsessed and millennial minded," said Bain partner and report co-author Federica Levato. "Buying a luxury good now is not just walking into a store. It has become a journey of engagement through multiple touch points well before the point of sale."
To stay ahead and unlock the potential, American Consulting Firm Bain & Co advises luxury brands to:
Develop 1:1 relationships to nurture local customers
Upgrade personalization of product, service and message
Develop a holistic distribution approach and re-design the customer journey
Build story-living through inspirational conversations and experiences
Master all the touch points with the customer along their journey and create an ongoing 360° engagement plan.
If we look at the examples above, here is my own analysis of the best practices to succeed selling Luxury Goods online.
Geoexpansion, Shipping and Return for Luxury Goods online

Shipping model
As we saw in the first paragraph, selling in Asia allows to drive growth while selling to Europeans and Americans brings you volume.
24 Sèvres now ships to 75 countries worldwide, from Paris
Net a Porter has half a dozen distribution centres to serve over 190 countries with same of next day delivery service.
Farfetch just outsources it to its individual sellers
Shipping cost
24 Sèvres offers Free shipping when you reach 1500 points (€1,500 spend) through their loyalty program
Net a Porter offers same-day delivery service within London, for £12 or $20 to Arizona, free for delivery within 3 days
Farfetch would charge me $5 to ship to Arizona. They also have click and collect pick up points across Europe (45 in London)
Free Returns is the norm
24 Sèvres: Simple and free returns for all purchases within 30 days
Net a porter: Free return, being picked up from your home or office within 28 days
Farfetch: Free return when the goods arrive at the Farfetch partner boutique or brand it was ordered from no later than 14 days after the delivery date. That means that the site has to be contacted 7 days after purchase to make sure it's collected and arrives on time
Personal shopper
Nothing creates a deeper and more personal experience than having someone, a real person advise you on the products that will suit your style, body shape and skin complexion. White glove customer service is part of the whole luxury experience and is expected. How does it translate online, when there is a screen between the consumer and the product?
24 Sèvres offers 5 ways to call your Personal Shopper based in Paris (8am to 8pm Monday to Saturday, bad luck Sydneysiders!)
Video chat via Iphone
Messenger powered by Facebook
Live chat through the website
Phone
Email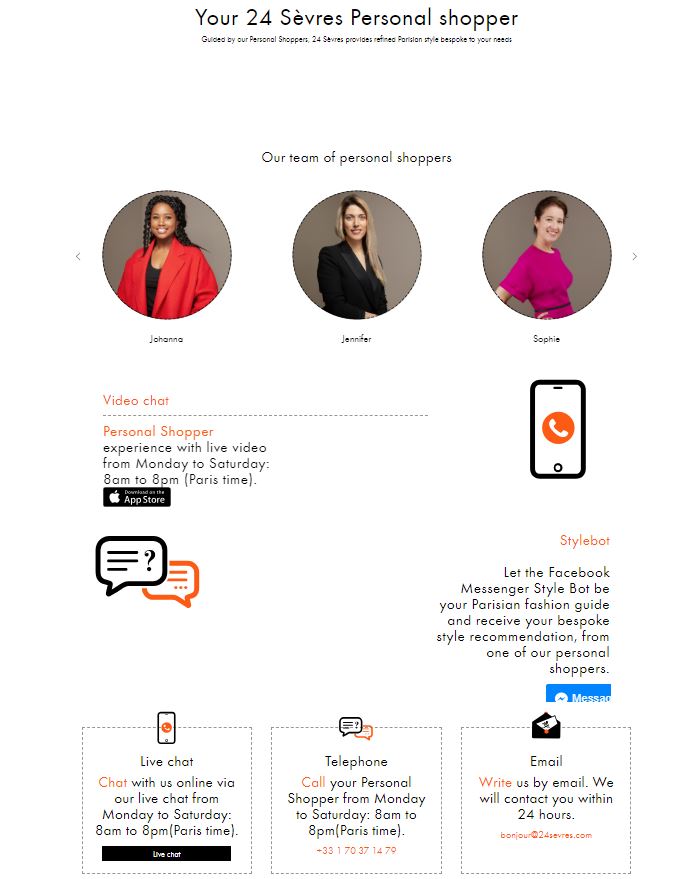 Net a Porter offers 24/7 personal styling advise by phone and email. It also went one step further in April 2017 when they launched "You try, we wait" service. It's targeting EIPs: Extremely Important People and it allows them to be shipped their items within 2 hours (London, New York and Hong Kong) and a personal stylist is on stand by until the consumer tries on the item. Returns can be collected straight away.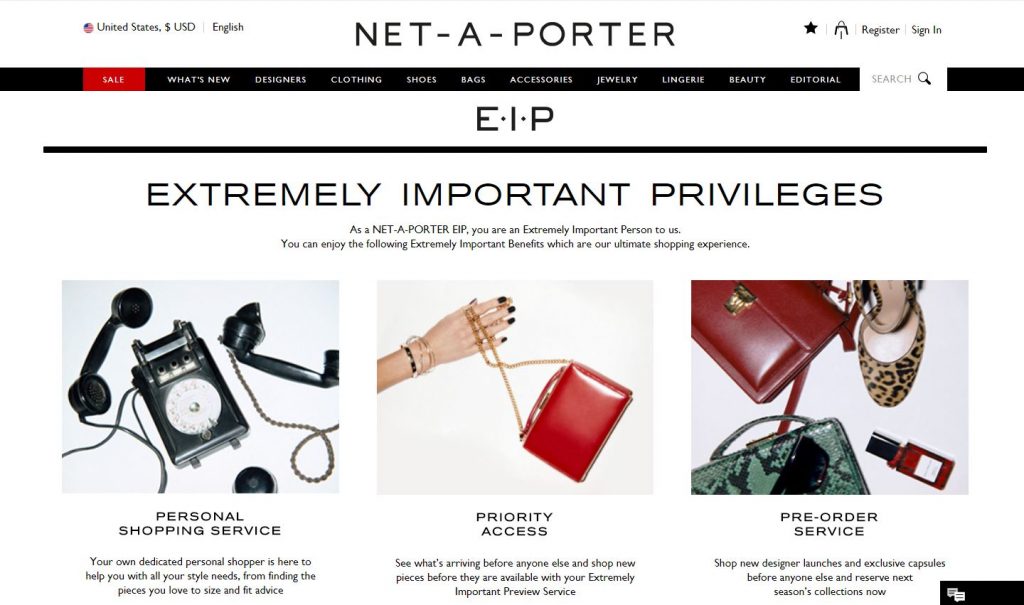 Loyalty program
Luxury is a lot about maximising lifetime value of your existing customers and loyalty programs is the main lever to do that. Let's have a look at what is being done by our Luxury eCommerce players:
Eligibility criteria: 3 tiers based on annual spend: €500, €1,500 and €4,000
Very much targeting the Parisian customers who also shop offline at Le Bon Marché and L'Epicerie de Paris as it includes free parking and valet parking services
Also provides alterations services and Free Express Delivery service and exclusive previews and private sales.
Eligibility criteria: not disclosed on the website. According to the New York Post, there are only 15,000 EIPs and the minimum spend is approx $70,000 to make it
Provides priority premium shipping, priority access to new products and sales, pre-order ability
Packaging
Any fashionista would know about the Tiffany blue box effect. Packaging is an essential part of the purchase. Customers indulge themselves and every step of unwrapping your prize is important: ribbons on each side of the handles of the paper bag, ribbon around the box, silk paper inside the paper… I've done it many times as a store consultant and as a lucky shopper!
Net a Porter does this very well: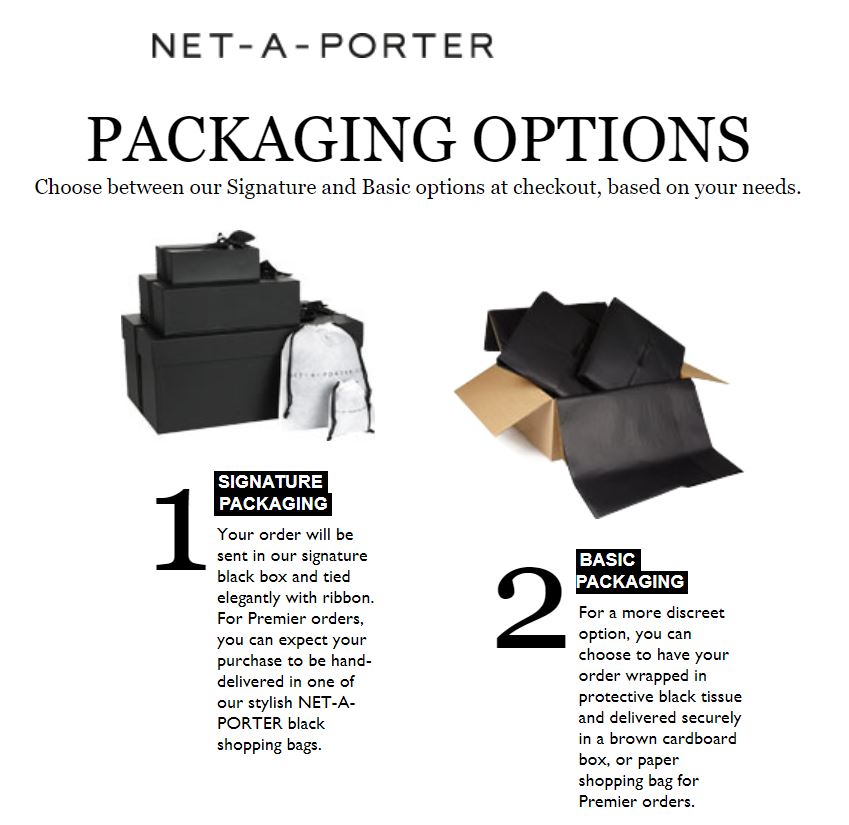 Example of Magento stores selling luxury brands
Looking into the rich portfolio of customers of OneStepCheckout (i.e. Magento only), Fashion is no doubt the biggest vertical and I picked a few designer and luxury brands worth mentioning.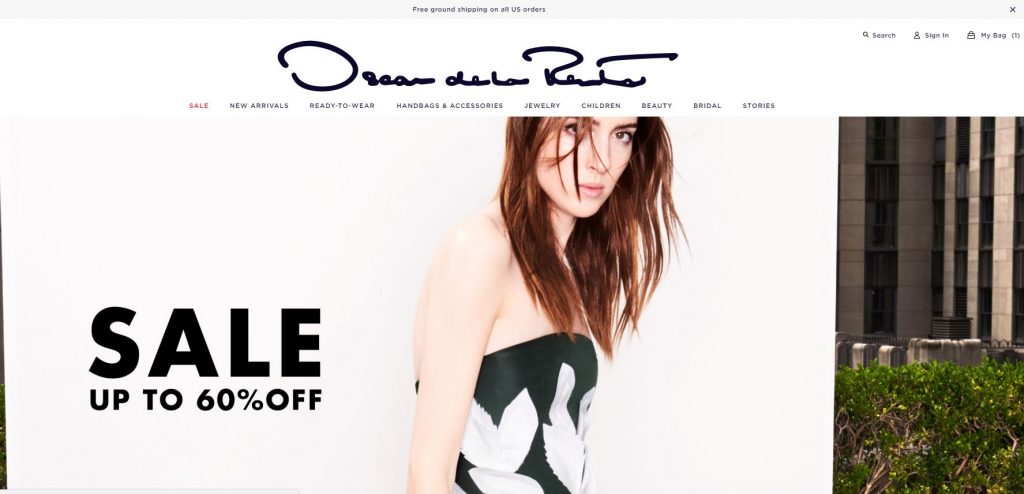 According to Vogue, Oscar de la Renta is one of the most important figure of history of American Fashion. Born in 1932 in Dominican Republic he trained with Balenciaga, founded his own brand in 1965 and is famous for having dressed Jacqueline Kennedy. Although the designer passed in 2014, the business still lives on. It's one of the few luxury brands left that is still privately owned, now lead by Alex Bolen, his son in law.
The online stores is running on Magento Enterprise and is shipping to 110 countries in 62 currencies thanks to Borderfree. On the US site you can see how they customized OneStepCheckout in a very simple way.
Adding a gift and a message is for sure a must have feature when you sell luxury goods.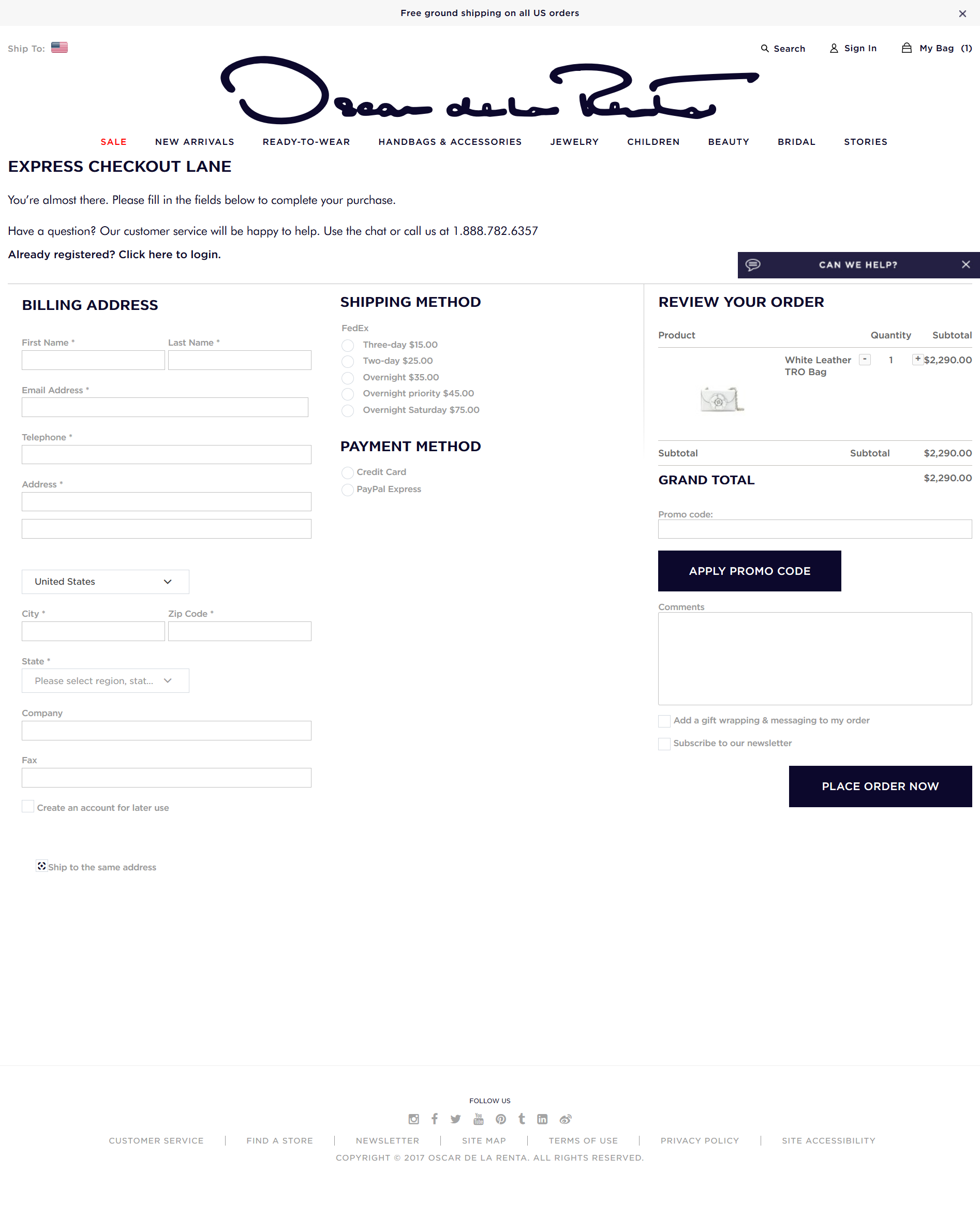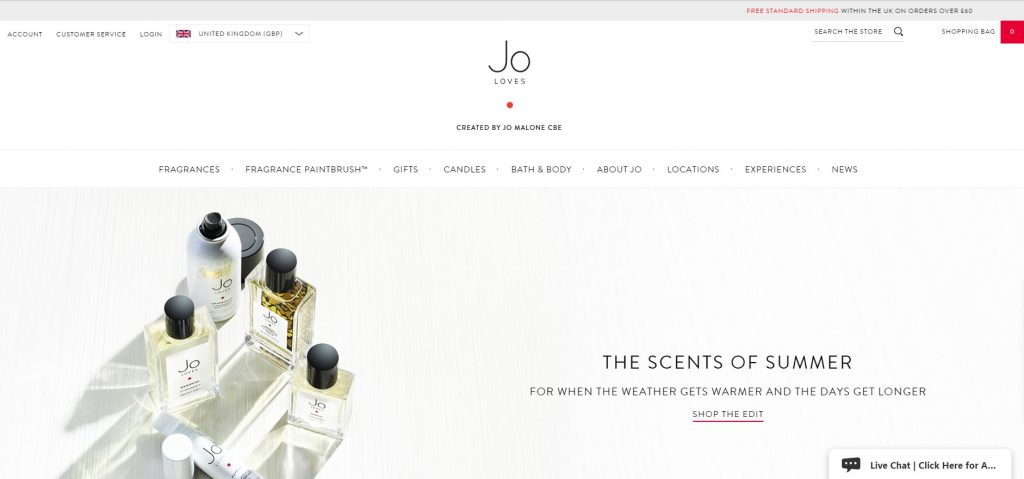 Jo, is Jo Malone, the very lady who created the Jo Malone perfume empire. After she sold it to Estee Lauder and fought cancer, she came back with a new brand, new concept for expressing her creativity. She opened a store on 42 Elizabeth St in London as well as a Magento store, selling new fragrances, candles, bath and body products and innovated with the first ever Fragrance Paintbrushes and Graffiti Body Sprays.
More innovation is found in the experiences that she is creating in store, turning the beauty experience into a culinary one, with her Brasserie bar serving Fragance Tapas and offering customers to mix their own Candle Shots.
Her Magento Store's checkout experience is also very smooth and is considered best practice among brands selling "pretty" products. Her checkout page is optimized for sales conversion as it is addressing the top 3 drivers for cart abandonment: speed, form filling complexity, unexpected extra costs:
all the shipping, payment details even gift option and message are on one single page which is broken down into easy to follow sections
all loads at once, fast, no need to navigate pages back and forth, just scroll up and down if you need to update a field
the order summary follows you when you scroll up and down so you always see your order total. No more surprises!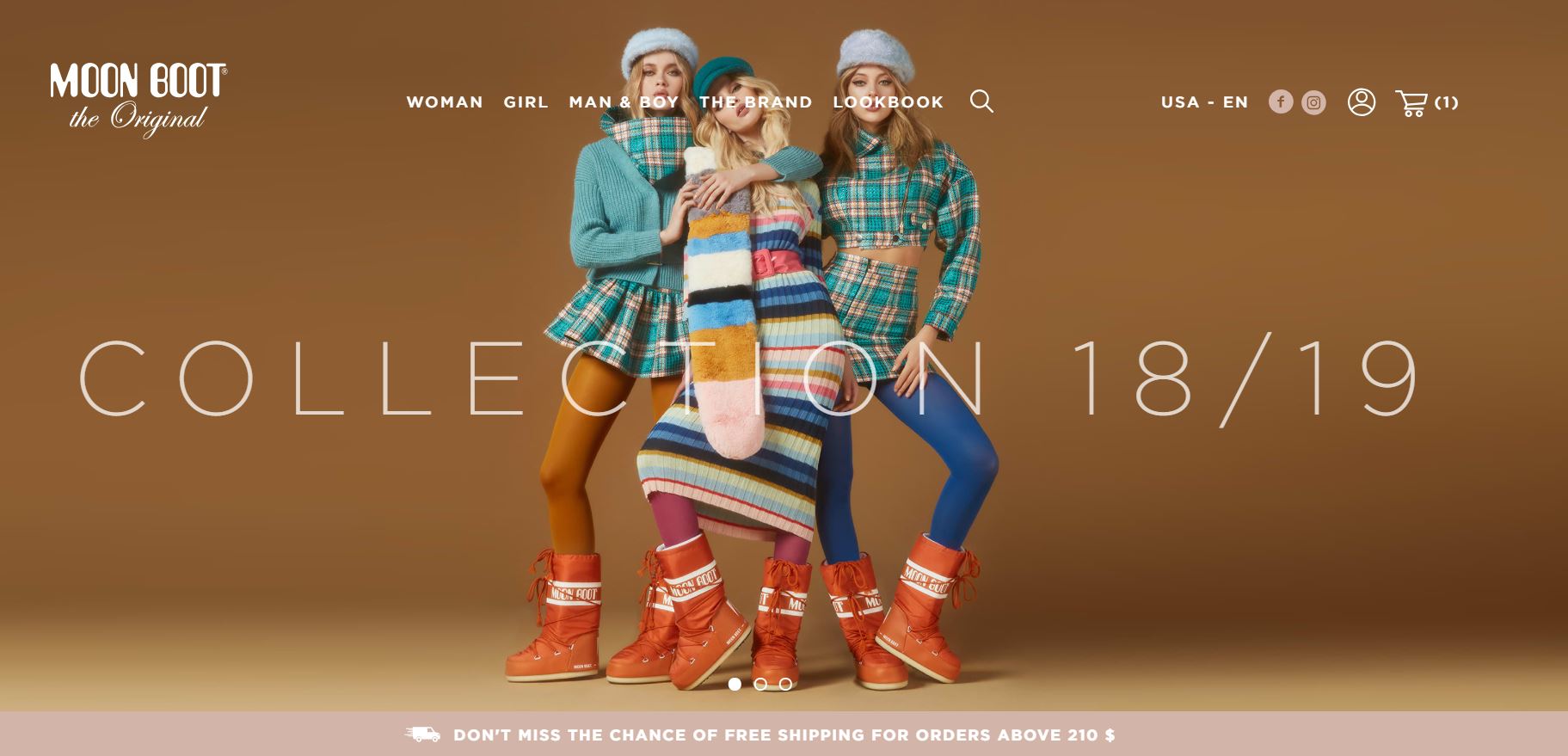 Did you know that the Original Moon Boot, was inspired by 20th July 1969 when young Italian boot maker visited New York and saw TVs broadcasting the first man stepping on the moon? The brand is now owned by the Tecnica group that focuses on active footwear that integrates a high level of technology in their products with more brands such as Nordica or Rollerblade.
On their website, you see how the brands expresses itself using the codes of luxury designer fashion with an emphasis on their heritage.
The imagery is striking with aesthetics photos and they offer a convenience navigation experience on the right hand side with filters by size, colors, category and price.
Here is what their checkout looks like with the traditional one page layout over three columns. Hello GDPR!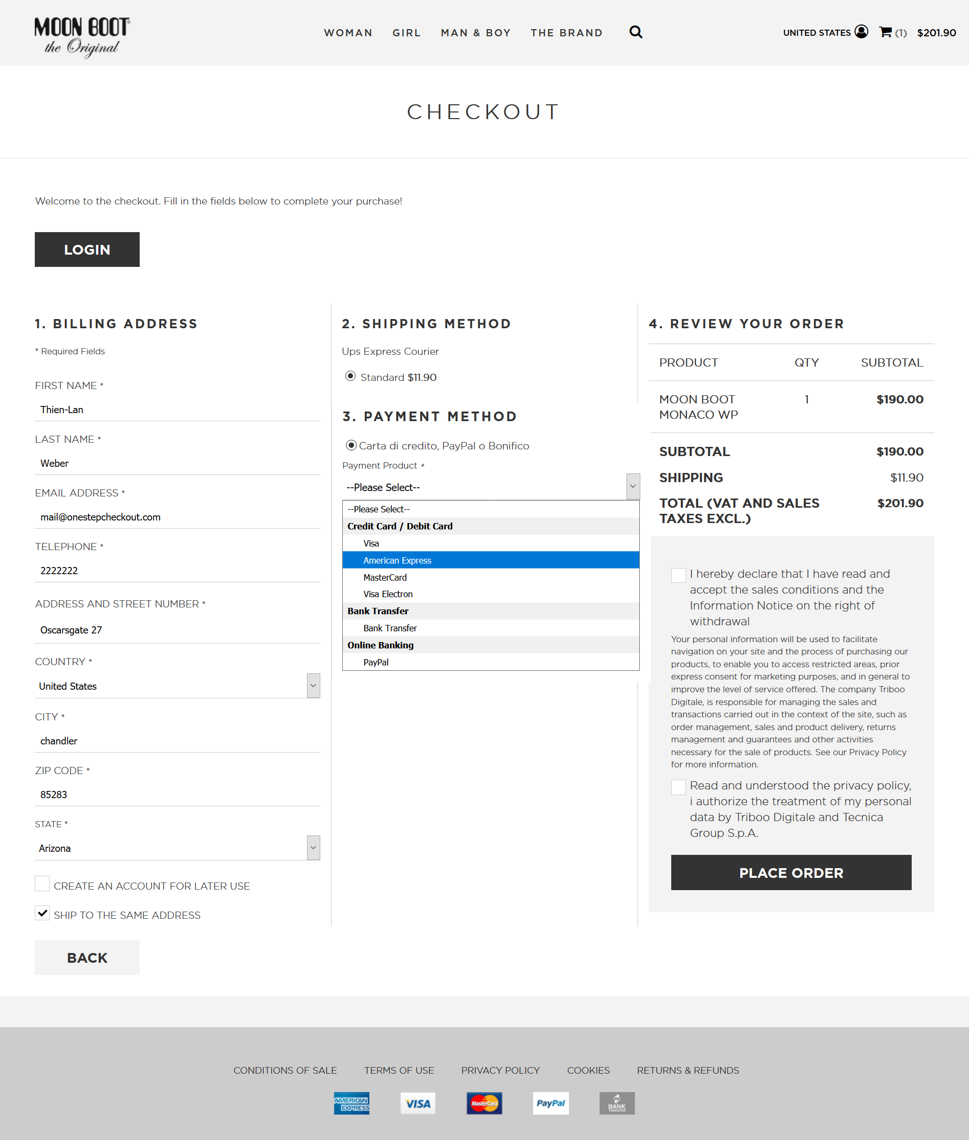 Last but not least, I'll touch on Foeger who was an early adopter of OneStepCheckout for Magento 2 and whose story I shared as a speaker at Meet Magento Germany in Leipzig.
Foeger is an Austrian 65 year old retailer of luxury goods that started seeing a worrying slowdown of its sales growth at the start of the 2010's. As such, after contemplating the option to go with Farfetch, they decided to keep more of their margins and build a Magento store that would serve both as a sales channel and a marketing channel.
Read the full Case Study here.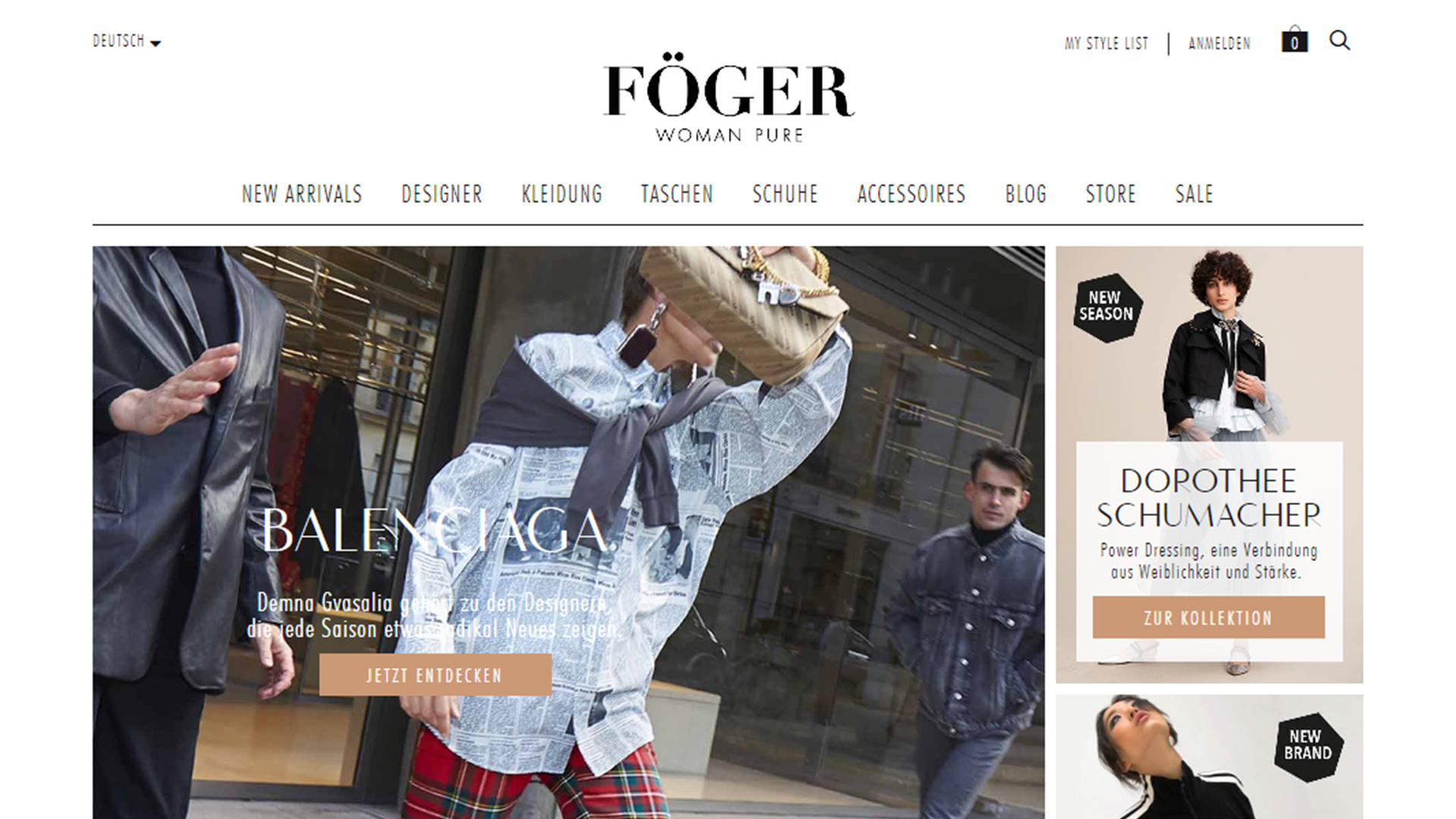 Magento 2 checkout: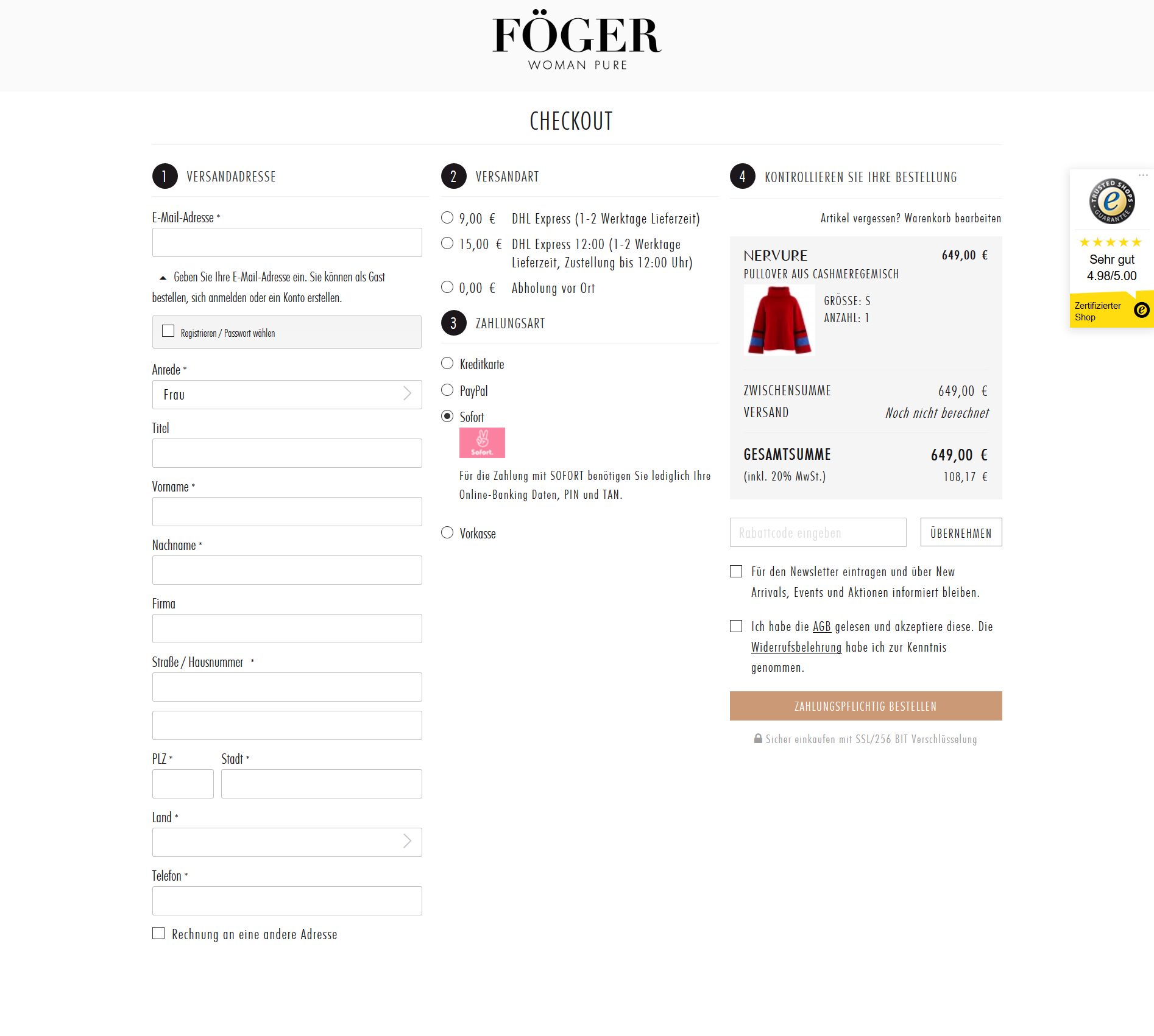 Want to see more examples?
References: