1. BOPIS is growing faster than eCommerce
Globally, the Buy Online Pickup In-Store (BOPIS) market is expected to reach US$ 703.18 Billion by 2027, growing at an approx 20% CAGR til then, based on a study by Research and Markets.
In the United Kingdom, sales where the BOPIS shipping method is chosen will account for 11% of eCommerce sales by 2025 with a growth of 50% between 2021 and 2025.
In the United States, Click and Collect Sales (or Curbside pickup) are forecasted to reach $95 Bn in 2022, 20% up on 2021, and will account for almost 10% of eCommerce sales. The trend started with the COVID-19 pandemic and is predicted to continue and grow faster than online retail sales by 2025, according to Insider Intelligence.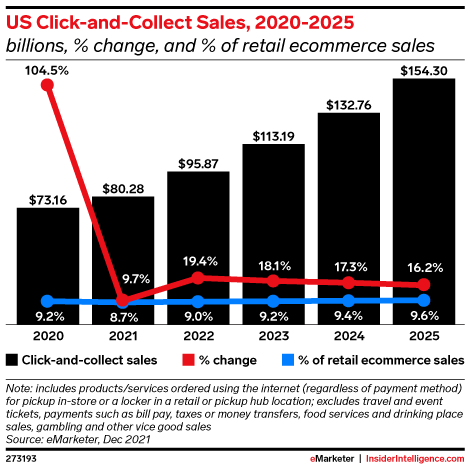 2. Adobe Commerce launched new Multi-Source inventory Management initiatives in 2022
Magento 2.4 included Inventory Management features (formerly known as MSI) allowing merchants to manage their product stock level from one store or multiple sources such as warehouses, dropshipping etc… Read more about Adobe Commerce Inventory Management.
One year after Adobe and Walmart announced their partnership to integrate Walmart's omnichannel fulfillment technologies and Marketplace with Adobe Commerce, Walmart Commerce Technologies releases their Store Fulfillment extension on Magento Marketplace, exclusive to Adobe Commerce (on-premise or on Cloud) merchants.
3. Why is BOPIS driving checkout conversion improvement?
Key reasons are driven by consumer preference and convenience:
Less waiting time than traditional delivery
Less queue and in-store shopping
More cost-effective
Less shipping issues (wrong address, physically waiting for delivery etc…)
When you know that 50% of shoppers who abandon their cart do so because of unexpected shipping costs, you know that you can save a few carts if you offer free BOPIS. Learn more about the top reasons for cart abandonment.
4. Who is Wyomind, how did they specialize in extending built-in MSI features?
Wyomind is a French technology vendor that provides smart, efficient, and user-friendly modules for Magento, and now expanding to other eCommerce platforms such as WooCommerce, and Shopify.
For more than 11 years in the eCommerce market, they have been on the front line to receive online merchants' requests and identify common problems that they may have.
The variety of customers gives them the chance to have a comprehensive idea of the demand and, therefore, offer extensions that meet the real needs of e-merchants, including household names such as Chanel, Decathlon, Christian Louboutin, Nestlé or Peugeot.
5. What's the difference between the Adobe Commerce Store Pickup and Wyomind BOPIS extensions?
A fully configurable store locator: business days, opening hours, days off, address, location on the map, description, images, store owner email, store locator custom description, custom attributes, link to the stores' pages…
an adaptable checkout: translation, map, geolocation, get direction feature, days and hours display, date and hour format configuration, store description and information, time required to handle the orders, price…
Specific store pages for each store that you can configure as you want.
Orders calendar in the back-office that displays all Click&Collect orders.
Preferred store feature so that customers can choose a store where they often shop.
You can use Pickup@Store on any version of Magento 2. If using the Magento MSI module, you must use the Click & Collect extension.
6. What's the difference between Walmart Store Fulfillment and Wyomind's extensions?
Wyomind supports Magento Open Source merchants as well as Adobe Commerce/ Enterprise clients while Walmart only supports the latter
Wyomind extensions are cost-effective, starting from €310 (one-time fee including integration with OneStepCheckout services)
Thoroughly tested with over 3,300 Magento stores adopting BOPIS or Click and Collect extensions including merchants such as:
7. What does integration with OneStepCheckout look like?
The Click&Collect module integrates perfectly with OneStepCheckout: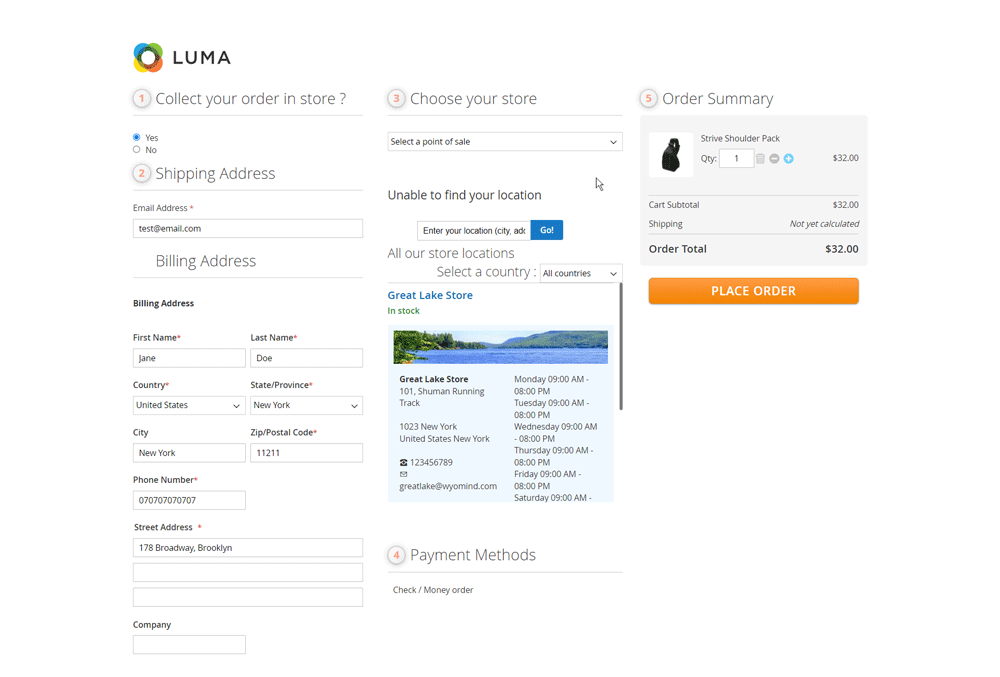 Simple manual tweaks are needed to make those extensions fully compatible with OneStepCheckout. You can do it yourself or get Wyomind's team to help for a fee.
8. How do I get Wyomind's extensions?
As an exclusive offer to celebrate our partnership with Wyomind and help you go one step further in addressing the #1 reason for cart abandonment, we are offering you, until 31st December 2022:
10% discount with Promo code: OSCDEAL
NB: when you choose your extension, remember to click on the "add to cart" button on the left (not express checkout on the right) so you can enter the promo code.