As the best alternative to Magento 2 default checkout, we, at OneStepCheckout have seen growing demand from Magento 2 store owners to integrate with Buy Now Pay Later payment options.
In parallel, we know that you too, as seasoned online shoppers, you've seen those offers pop up in your favorite stores. So we've compiled a comprehensive review so you get the full picture of this hot eCommerce trend.

Table of content
Buy Now Pay Later Definition
Consumer insights: who is adopting BNPL the most and why?
2.2. Attitude towards BNPL
2.1. Demographics of BNPL adopters
2.3 Late Payment concern
2.4 Barriers against usage of BNPL
Merchants insights: what drives adoption of BNPL among eCommerce businesses?
3.1. How BNPL solutions improve merchants' eCommerce KPIs
3.2 Additional benefits provided by BNPL solutions
3.3. BNPL push in the Magento ecosystem
BNPL Market overview: Australia
4.1 Growth of BNPL in Australia
4.2 Top Australian solutions players

4.3 Example of Australian Magento stores offering BNPL

5. BNPL Market overview: United States
5.1 Growth of BNPL in the United States
5.2 Top domestic BNPL solutions in the United States

5.3 Top foreign BNPL solutions in the US
5.4 Example of American Magento stores offering BNPL
6. BNPL Market overview: United Kingdom
6.1 Growth of BNPL in the UK
6.2 Top BNPL solutions in the UK

6.3 Example of British Magento stores offering BNPL
7. BNPL Market overview: Netherlands
7.1 Why is the Netherlands a top Magento market
7.2 Pay after Delivery vs. Buy Now Pay Later
7.3 Top BNPL solutions in the Netherlands
7.4 Example of Dutch Magento stores offering BNPL
1. Buy Now Pay Later Definition
Buy Now Pay Later (BNPL) is a solution that allows consumers to purchase an item today but only pay at a later date:
Either in full after a set period of time (14 or 30 days)
Or in installments i.e. equal repayment set over a period of time spanning from 30 days to 60 months
most often without charging interest fees, especially with online retailers. In-store BNPL is more likely to involve interest.
This is also called store finance, retail finance, or point of sale credit, and the key difference with short-term financing is that the agreement takes place between the consumer and the retailers, without the involvement of a third party managing the loan.

BNPL can be offered in physical stores or online. New technology allows the credit application process to be quick and easy online but can also be used through a Mobile App in offline stores.
2. Consumers attributes and behaviors towards Buy Now Pay Later
We combined two 2021 studies surveying a couple of thousands of US-based adults, as well as a UK study to understand more about Buy Now Pay Later adopters behaviors and drivers around BNPL, and here are the key findings (1).
2.1 Demographics of BNPL adopters
Typically younger, in the 18-24 age bracket, because they are more reluctant to use credit cards
Tech savvy
Middle income and skews toward those with sufficient credit
Equally distributed across the US
2.2 Behaviour of BNPL adopters
A BNPL loan is likely to be a last-minute decision at checkout
In the US, an equal number of BNPL loans are taken up in physical stores vs. online
The COVID-19 pandemic has boosted the usage of BNPL solution with key drivers being (especially in the US):

The need to conserve cash in case of an emergency: 41.31%
Increased shopping spend: 30.04%
Lost income and needed a way to make purchases: 24.62%

BNPL UK consumers key reasons for using BNPL are:

no interest fee
additional security when buying from unfamiliar sellers
2.3 BNPL late payment is a growing concern in all markets
Over a third of US Buy Now Pay Later users say they've made a late payment or incurred a late fee.
Consumers aged 18 to 24 are the most touched with almost 50% of them not paying on time.
10% of BNPL users in the UK have already been late in their repayment.
As a result, local regulators raised concerns about consumer default issues due to overspending and lack of transparency of BNPL service conditions. For example, in Europe, the European Commission announced the update of current consumer credit agreements to include BNPL service providers; the UK's Financial Conduct Authority is to introduce new regulations in 2021 and the Reserve Bank of Australia is also contemplating new rules (2).

2.4 Barriers against the usage of BNPL
Among the US consumers who said they will not use Buy Now Pay Later solutions, the top reasons are:
Habit: 44.68% say they can use cash or a debit card instead, 27.15% say they can fall back on credit cards
Comprehension: 10.86% are hesitant to use buy now, pay later because they don't understand how it works
Awareness: 10.29% have never heard of buy now, pay later
3. Merchants BNPL adoption: what's driving such growth?
3.1 BNPL solutions improve merchants' eCommerce KPIs
As consumers seem to value the convenience and cost-effectiveness of BNPL, merchants are ready to offer this innovative payment option. In fact, although the fees might be higher than when offering credit and debit card payment, the benefits are numerous as merchants can:
Attract new customers (more traffic, more visitors)
Improve conversion at checkout +20% to 30% on average
Increase the average order value or basket size +40% up to +85%
Increase repurchase rate, up to 80%
3.2 BNPL players throw in additional benefits for merchants
On top of improving their eCommerce conversion rates across the full online sales funnel, merchants get additional services to sweeten the deal as BNPL solutions also:

Pay the merchant straight away and bear the consumer credit risk
Promote the merchant among its member network (i.e 13 M global consumers for AfterPay, 73% are Gen Z and Millenials, 90M global active consumers for Klarna)
Offer additional services such as marketing, customer referrals, analytics etc…
3.3 Buy Now Pay Later push in the Magento ecosystem
Magento/Adobe is a leader in the Gartner Digital Commerce Magic Quadrant. That means that it is a popular platform used by a large number of merchants as well as big reputable brands and fortune 500 companies.

As such, BNPL solutions are eager to gain visibility in the Magento world and make sure their product work integrates perfectly with the latest version of Magento.

Here are the activities we noticed in the ecosystem:

PayPal "Pay in 4" made its appearance on the top banner of Magento Marketplace
Zip Co announced they became an Adobe Accelerate Partner in April 2021
Klarna payment has been bundled with the core product since the release of Magento 2.2.4
Buy Now Pay Later review in four top Magento markets: growth rates and key players
Globally, the usage of Buy Now Pay Later solutions soared and accelerated in 2020 as the COVID-19 pandemic drove more sales online, and impacted millions of households' budgets, triggering needs for flexible payment options.

Here is a review of the top market where BNPL is booming with mass consumer and merchant adoption as well as a list of the most popular BNPL players in each region.

Please note that most figures and stats describing listed BNPL companies come from the investors' relations documentation publicly available on their websites. Yes, I went through half a dozen quarter earnings calls and reports for you. You can refer to sources at the bottom of this article (4).
4. Australia
4.1 Australia: Buy Now Pay Later grew 300% in the last 3 years
The Australian market is the pioneer with Buy Now Pay Later solutions. Two key factors can explain this phenomenon:
The Australian market has always been ahead in terms of Internet penetration and online shopping
For decades, traditional retailers had been offering "Lay by" solutions, that allow customers to purchase items in installments, interest-free. The main difference with BNPL is that with lay-by, the items "lay there", and can only be collected when the payment is completed in full.
The value of BNPL transactions reported by companies listed on the Australian Stock Exchange grew by around 55 percent between 2019 and 2020 and tripled since 2017 to reach over AUD 9Bn (~USD7Bn) 2020, see graph below from a recent report by the Reserve Bank of Australia.
Such a booming market doesn't come with its share of competition. It is estimated that there are almost 20 BNPL services in the Australian market today, offered by more than a dozen providers.
4.2 Top BNPL players in Australia
Afterpay (ASX: APT) was founded in Sydney in 2015, went IPO in 2016, and is valued at AUD 33Bn (USD 25Bn) in May 2021. It operates in 3 continents: APAC with Australia & New Zealand, North America with the US and Canada, and Europe with the UK, under the Clearpay brand. Further market expansion is underway especially in Europe with the acquisition of Spanish firm Pagantis.

They offer one simple product to be used in physical stores or online: payment in 4 installments over 6 weeks, interest-free.

The number of their active customers globally total 14.5M (+75% YoY) with North America and the UK reaching 9.3M and 1.8M active customers respectively.

One of Afterpay's key selling points to business is the use of their channels to drive traffic and new visitors, boasting 27M referrals to their merchants in 2020. Well-known stores, whether in-store or online offering Afterpay include: JB Hifi, KitchenAid, ASOS, Target, Sephora.
August 2021 update: Square announced it will acquire Afterpay for $29 billion in stock.
Openpay (ASX: OPY) is a Melbourne- based company listed on the Australian Stock exchange since December 2019.

Consumers go through a 90 sec ID check and credit check and then they can choose their installment duration from 3 to 7 months based on the size of their purchase.

One of their key differences to other BNPL products is that Openpay's target audience is older and has more disposable income. As an example, as opposed to targeting Gen Z buying fast fashion, they would rather look at Millennials or Gen Y with home and furniture or automotive categories that carry higher price points. In these cases, installment payments are usually made over longer terms.

In 2020, they reported high growth in top categories such as their auto business +100%, healthcare up 127% and retail +260%. The number of active Openpay customers grew +141% from 2019.

Last April, they announced key agreements were signed with leading brands, Officeworks and Ford, and Openpay is the first BNPL solution to enter into the hospital sector with St John of God Health Care.

Openpay's well-known Australian customers include Bunning Warehouse, Bupa Dental, Kogan.

Learn more about how Openpay further boosts your checkout conversion
ZipCo (ASX: Z1P) was founded in 2013 in Sydney. It went IPO in 2015 and expanded internationally through acquisitions such as PartPay in New Zealand and the UK, and QuadPay in the US. They are also minority shareholders in Payflex in South Africa, Twisto in the Czech Republic, Spotii in the UAE and recently announced their debut on the South East Asian market with investment in TendoPay in the Philippines.

For their first half of 2021 (ending March 2021) the company recorded transaction volume (TTV) growth of 141% YoY , annualizing at AUD 7.5Bn.
They offer two products that are displayed differently from other BNPL solutions.
Zip Pay makes $250 to $1000 available within minutes to the consumer's account. Repayment can be made weekly, fortnightly or monthly and is built into a calendar in the App
Zip Money offers AUD 30,000 upfront with 6 months interest-free.
Category-wise, ZipCo stands out with the bill payment and grocery gift card verticals.

Interestingly (pun intended), Zip also offers loans to businesses from $1,000 to $150,000.

Here's their 1-minute advertising vibrant and colorful video featuring Australian celebrities across categories such as fashion, food, surfing including Nick Kyrgios – internationally known for his bad temper on tennis courts.

Laybuy is a New Zealand company founded in 2017 that went IPO on the Australia Stock Exchange in 2020 (ASX: LBY). Their merchant partners include JD Sports, Briscoes, Cotton ON, EB Games, Bed Bath & Beyond or Rebel Sports in the APAC region.

Laybuy product offers six weekly installments, interest-free.

Annualized Gross Merchandise Value (GMV) increased to NZ$645M (USD 440M), up 129% in 2021 vs 2020.

LayBuy expanded to the UK in 2019 and is currently launching a Beta in the US.
Splitit. (ASX SPT) is the only solution that lets consumers use their existing credit cards to pay in monthly installments. That means no application, credit check or registration is required to start a plan. Splitit won't charge interest or late fees but the credit card issuer might.

The claimed benefit is a +78% improvement in conversion rate as shoppers use their existing credit and don't have to go through the process of applying for a new one.

In Q1 2021, the company recorded Merchant Sales Value up 247% YoY to US$82 millions, and added ~70,000 new shoppers reaching 500,000 Total Shoppers.

Customers of Splitit include Emma, Simba (mattresses), Vestiaire Collective.
4.3 Example of Australian Magento stores offering BNPL options
4.3.1 Magento 2, Consumer electronics
JW.com au is an omnichannel retailer specialized in computers, hardware and gaming for over 20 years.
They offer Afterpay, Zip among the wide range of other payment options.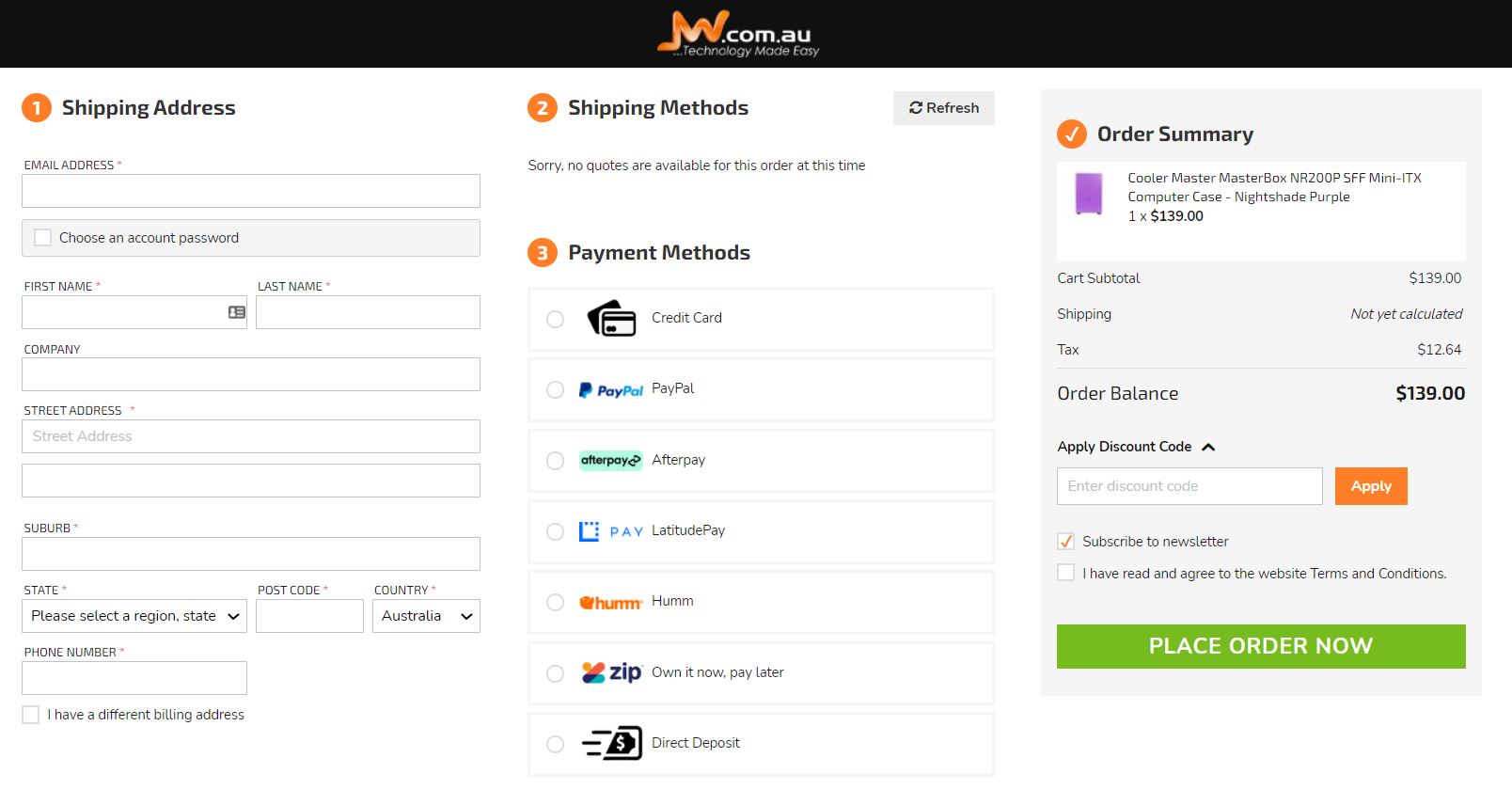 4.3.2 Magento 2, Apparel, Gifts, Health
Blossom Costumes is a Magento 2 store built by agency Krish Technolabs, that offers Zip and AfterPay Buy Now Pay Later options on their product page:
And at checkout:

Read the full Blossom Costumes Case Study by Krish.
OneStepCheckout for Magento 2
FREE LIVE DEMO
5. United States
5.1 More than half of Americans have used BNPL, a 50% increase in just 8 months
A survey was run twice on 2000 Americans: once in July 2020 and then in March 2021 highlighting how the COVID-19 pandemic drove a sharp increase in the adoption of Buy Now Pay Later solutions over just 8 months.

Here are the key stats to note are:

55.8% of consumers have used a buy now, pay later service, vs. 37.65% in July of 2020
The youngest and oldest age bracket grew the fastest:

+62% increase on the 18 to 24 to reach an adoption of 61% (the highest adoption of all age groups)
almost double for the 55+ age bracket, reaching 41% adoption in March 2021
Out of those who haven't used BNPL yet, half say they would do so in the next 12 months, so there is still room for rapid growth
48% of respondents said they used PayPal, while 35.6% said they use Afterpay and 25% reported using Affirm
5.2 Top BNPL Domestic solutions in the United States
Affirm (NASDAQ: AFRM) was founded in 2012 and is headquartered in San Francisco. One of his co-founders is Max Levchin who also founded PayPal back in the days and became CEO of Affirm in 2014.

Affirm product doesn't charge fees, especially no late payment fees. On the other hand, based on the customer profile and the basket size, they might charge interest that is set and agreed by the consumer on day one.

Gross merchandise volume ("GMV") for the second quarter of fiscal 2021 was $2.1 Bn, i.e. +55% when compared to the second quarter of fiscal 2020 • The Company had 4.5 million active consumers as of December 31, 2020, an increase of 52% when compared to the same quarter last year.


Consumers can even use Affirm in stores who don't offer it thanks to the Affirm App.
Merchants that accept Affirm include Walmart.com, Expedia, Adidas, Neiman Marcus, Casper, Pottery Barn.

Affirm recently acquired Returnly, a solution that smoothen the return process, and expanded to Canada through the acquisition of PayBright Inc in January 2021.
PayPal (NASDAQ: PYPL), headquartered in San Jose is the dinosaur here. The company was founded last century as X.com, was bought by eBay Inc in 2004 and spun off and went IPO on its own in 2014. PayPal has nearly 380M active accounts globally and is present in almost every country in the world with TPV (total payment volume generated through PayPal) reaching 938Bn in 2020.

PayPal's relationship with the Magento ecosystem is long standing for Magento and PayPal were both part of eBay Inc for a few years. Since the split PayPal remained a platinum partner for all Magento initiatives, including the Magento Association, and now Premier partner of Adobe.

As far as Buy Now Pay Later solutions are concerned, PayPal launched "Pay in 4" product in 2020 in the US, UK and France and by Q4 2020 the product was used by 3M unique consumers generating $750M payment volume through 250K unique merchants.

This success comes from the fact that PayPal does not charge extra fees to merchants for offering Pay in 4. It is absorbed in the existing merchant's PayPal fees. On the consumer side, the product is simple and consists of 4 installments, one every two weeks, interest-free.

Magento 2.4.3 now supports PayPal's Pay Later capability.

Well-known merchants presenting PayPal Pay in 4 upstream at checkout include Uniqlo, Fossil, Best Buy and Samsonite.

Here's a video of how it works for shoppers:
If you're a Magento merchants, you might like the replay of PayPal's talk at the Magento Association's Connect event. Within 20 minute you get a good grasp of the benefits of PayPal's "Pay in 4" product as well as a couple of useful Demos.

Sezzle was founded in 2016 in Minnesota and is traded on the Australian Stock Market (ASX: SZL). They are the first "Public Benefit Corporation" in the BNPL space.
Sezzle has operated in the US, Canada since 2019 and is planning expansion in India and Europe.

Sezzle offers 4 interest-free installments over 6 weeks.

Sezzle's 2020 annual report states that Underlying Merchant Sales grew 251% to reach $856M. Active consumers grew 144% to reach 2.2M.

The key differentiator is around their activism with new merchants categories such as Black-owned, sustainable or location-specific, emphasis on diversity and inclusivity as well as carbon offset efforts. They are now certified B Corporation.

Merchants offering Sezzle include Target, GameStop as well as Pure Hockey, the largest hockey retailer in the US.
Quadpay is the New York-based BNPL solution acquired by Zip Co Ltd.
As of 31st Dec 2020, ZipCo has 5.7M active consumers, 3.2M of which in the US, a 191% increase YoY, with total app downloads as of 31 December of 4.1m, a 310% increase YoY.

Quadpay is available at most US department stores and features a list of exclusive merchants such as Fanatics, Newegg, and Gamestop.
5.3 Top international BNPL players on the US market
Although Klarna was not founded in the US, it is one of the key BNPL players in that market.

Klarna was founded in 2005 in Sweden. In the Magento world, Klarna is well known for having acquired Sofort, the preferred payment method in Germany, in 2014 to become the Klarna Group.

Today Klarna operates in 17 countries across North America( US, Canada), APAC (Australia, New Zealand), UK, DEACH (Austria, Germany Switzerland), Benelux ( Belgium, Netherlands), Scandinavia (Denmark, Finland, Sweden, Norway), Southern Europe (France, Italy, Spain).

In September 2020, Klarna raised a total of $2.1 billion in funding to date to become Europe's biggest fintech unicorn at over $10 billion valuations but also the fourth-highest valued private fintech company worldwide. Six months later it raised another Billion and tripled its valuation to $31Bn (5).

As of January 2021, 15 million US consumers choose to shop with Klarna, who is the partner of choice for 20 of the US top 100 retailers including Macy's, Etsy, Sephora, Saks OFF 5TH, Lululemon and Gamestop.

Klarna's products for the US market:
4 interest-free payments with integrated brands, or anywhere Visa is accepted, paid every 2 weeks
Pay in 30 days, interest-free
6 to 36 months financing, incurring interest
They also actively promote their Vibe Reward Clubs so as to grow and nurture an engaged pool of shoppers that will shop at their merchant partners.

Their key difference lies in their Brand and Communications strategy. What other Financial Services brands can boast to have Lady Gaga and Snoop Dogg as ambassadors?
The Australian BNPL company has a strong presence in the United States. Q3 2021 underlying sales in the United States were up 211% vs. the same quarter the previous year. Based on Q3 21 performance, North America is now the largest contributor to underlying sales and outperformed the seasonally strong Q2 FY21.

US stores offering Afterpay include Old Navy, Dillard's, Steve Madden, Fenty Beauty (you know, Rihanna's brand).
Opypay is Openpay's solution in the US. The company also started its expansion in the US through partnerships with WorldPay from FIS and EzyVet to access the veterinary vertical, estimated at US$55.8bn. It really aims at differentiating through high AOV categories such as Healthcare, Home and Garden and Automotive.
5.4 Example of US-based Magento stores offering BNPL options
5.4.1 Magento 2, Automotive
Element UTV is based out of Chandler, AZ and sells high price point items such as car parts.

At checkout they offer credit card, PayPal, PayPal credit (Bill Me Later), Affirm and Snap! finance

5.4.2 Magento 2, Health and Beauty
Makari is a cosmetic brand selling luxury beauty products for women of color with distribution across 3 continents.

On their Magento 2 US website, Makari offers Afterpay as a payment method at checkout.
Click here to play with our free live demo. No registration required.
6. United Kingdom
6.1 BNPL is forecast to account for 10% of e-commerce sales by 2024 to reach £26 billion
The UK's e-commerce market is the third-largest in the world, predicted to be worth £264 billion by 2024, (+ 37% vs 2020) according to a 2021 report by Worldpay, and the second-largest Magento market behind the US.

BNPL transactions will double their market share to reach 10% of all UK e-Commerce by 2024 with a 29% YoY growth in the next four years. That represents a rise from £9.6 billion in 2020 to £26.4 billion in 2024 for Buy Now Pay Later payment in the UK.

A recent study commissioned by Klarna found that 10M Brits i.e. one in 5 adults used a BNPL option to purchase goods online in 2020.

The UK is the European country with the highest adoption of BNPL solutions as consumers see it as a convenient way to split the cost of expensive purchases.

6.2 Top BNPL solutions in the UK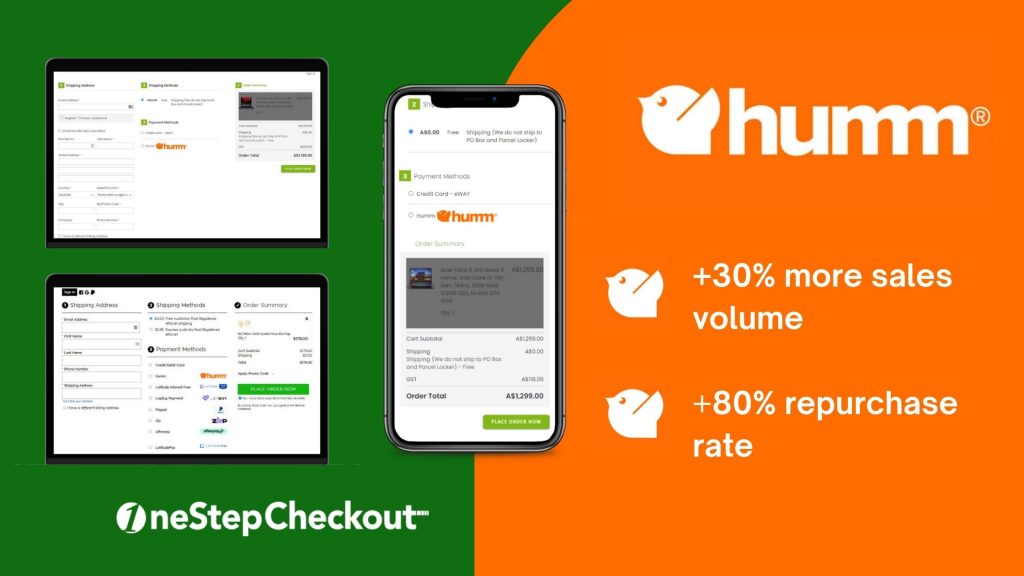 humm Group Ltd is an Australian company listed on the Securities Market
(ASX: HUM) founded in 1988 under the Flexigroup name way before BNPL was a thing. It offers financial services to a network of 16,000 retailers and business partners including multi-billion-dollar giants such as Harvey Norman.

UK merchants offering humm sell more responsible higher value items in categories such as health, veterinary, automotive, home improvement, renewable energy. In Australia, merchants offering humm saw an uplift of up to 30% in sales volume and up to 80% in repeat purchases.

humm has recently made it possible for Magento merchants to integrate their products for the UK and Irish market. Find out more here.
Klarna
Klarna totally owns the fashion vertical through partnerships with ASOS, H&M, Boohoo, Missguided, Superdry, even High Street TV!

With new offices in London and Manchester, Klarna is offered by 13,000 UK merchants and used by 14M consumers in the UK

They offer these three products to British shoppers:
Pay in 3: interest-free installments every 30 days
Pay in 30 days: only pay for what you keep
Slice It: Financing over 6 to 36 months
Klarna outdoor's advertising in London in May 2021
The consumer product is the same as Afterpay with interest 4 installments over 6 weeks.
Growth: Q3 FY21 underlying sales in the UK were up 277% on Q3 FY20

UK Merchants that accept Clearpay include ASOS, Marks & Spencer, Boohoo, Wayfair, Urban Outfitters.
ZipCo Launched in the UK in December 2020 with a number of marquee brands including Boohoo, JD Sports, Fanatics, Cotton-On.

They offer their "Pay in 4" product that allows British shoppers to split their purchase into 4 installments over 6 weeks, interest-free, with instant approval for up to GBP 1,000 to spend.
The UK contributed significantly to Laybuy's global growth with annualized UK GMV increasing from NZ$108 million in Q4 FY20 to NZ$358 million in Q4 FY21 (up 230%) and becoming the largest market for Laybuy.

Laybuy's active consumer base of 463,000 in the UK is over 1.5x that in Australia and New Zealand. UK merchants accepting Laybuy include Boohoo and The Hut Group, Football Club Arsenal, WH Smith.
6.3 Examples of British Magento stores offering BNPL options
6.3.1 Magento 2, Furniture
TVbed.co.uk, based in Haydock, Lancashire, offers the largest range of TV beds (yes, it's a thing).
They offer Klarna monthly installments on their Magento 2 checkout page.
6.3.2 Magento 2, Children equipment
Tutti Bambini is a Magento 2 selling everything babies need from furniture to pushchairs, toys
6.3.3 Magento 2, Men's fashion
Norton Barrie is an iconic 50-year-old retailer stocking high-end Menswear from brands such as Hugo Boss, Valentino or Ted Baker. Their clients include Cristiano Ronaldo and David Beckham.

Their Magento 2 store, built by London agency Limesharp, offers Klarna right from the product page
On the checkout page, in the payment method section, consumers can choose from two Klarna products: Pay in 30 days and 3 interest-free installments.

Like what you see? Learn more about OneStepCheckout for Magento 2
7. The Netherlands: the Buy Now Pay Later Dutch Market
7.1 Why is The Netherlands a top Magento market?
Despite being small with 16M inhabitants, The Netherlands is among the top Magento markets because:
Internet penetration and online shopping adoption have always been high
The number of Magento developers per capita is the highest
The number of Magento stores per capita is the highest
The Magento Community is among the oldest and one of the most active in the world
Read more about The Netherlands' strength in the Magento community

7.2 Pay Delivery vs. Buy Now Pay Later in the Netherlands
As such, we delved into the Dutch specific market and found out that the most popular BNPL service offered is not installments but Pay after Delivery i.e. consumers pay for the goods in full 14 days after receiving their item.

The value for Dutch customers is as follows:
They can wait until they get their next paycheck
It eliminates any risk of not receiving items from online stores consumers have never heard of before. By paying after delivery, they know that the company won't just take the money and run, especially with high ticket items
Consumers can try and return a product before paying for it
Why is Pay After Delivery (PAD) more popular than installments in the Netherlands?
The Dutch have historically preferred using debit cards rather than credit cards. Plus, from a UX perspective, the process to approve installments takes more time as it requires more thorough credit checks and photo ID upload.
7.3 Key BNPL solutions in the Netherlands
Multisafepay is a Payment Service Provider founded in Amsterdam in 1999.
They offer their own Pay After Delivery Service (Betaal na Ontvangs) as well as other payment provider's Pay After Delivery options such as AfterPay NL and Klarna.

In 2021 they were named top payment provider by Emerce, the leading multi-channel media platform for online business and marketing in the Netherlands.

Magento is their biggest eCommerce platform and they have their own Slack channel within the Magento Community Engineering workspace.
AfterPay NL is a totally different company and service from AfterPay Australia.
AfterPay NL was founded in 2010 and acquired in 2014 by Arvato, Bertelsmann, the Financial Solutions arms of German media giant Bertelsmann group (100,000+ employees worldwide).

AfterPay NL is more post-payment rather than Buy Now Pay Later as consumers don't even need to pay the first installment to receive the goods. On the other hand, once the order is received, AfterPay issues an invoice which has to be paid in full within 14 days.

Their business customers in the Netherlands include Ikea and Decathlon.
In the Netherlands, Klarna only offers Pay Later which is a Pay after Delivery solution just like the above with payment due in full 14 days after reception of the order.
Stores in the Netherlands offering Klarna BNPL include Pandora, Samsung and Scotch & Soda.
7.4 Example of Dutch Magento stores offering BNPL options
7.4.1 Magento 1, Children toys and clothing
Petite Amelie is a Dutch store on Magento 1 offering Pay After Delivery by MultiSafePay, that saw increased conversion after offering this payment method.

7.4.2 Magento 2, Fashion, Home
Khasto sells cashmere and high-quality cotton bed linen and clothing.
In addition to the social media login option, they offer Klarna Pay Later as a payment option alongside all the Dutch favorites such as Ideal and PayPal.

8. Sources:
(1) 2021 Consumer studies:
(2) Review from Christopher Woolard of the Financial Conduct Authority in the UK Feb 2021
(3) Reserve Bank of Australia – Developments in the Buy Now, Pay Later Market – March 2021
(4) Financial and operating reports come from quarterly earning calls publicly available on the website of listed companies:
(5) Press articles: