Given the popularity of our examples of Magento 2 websites published in 2019 and our showcase of US-based Magento 2 stores published in 2020, here is the 2021 edition for you.
We handpicked stores to represent a wide range of product categories, countries, and recent trends.
2021 Top Trends: Payment and PPE
In the last few months, based on our new customer mix and integration requests we can confirm two key trends that you might have noticed in the news:
the boom of Buy Now Pay Later adoption, both by shoppers and merchants, as well as friction-reducing payment solutions such as Amazon Pay.
exponential growth in the Personal Protective Equipment (PPE) category due to the COVID-19 pandemic which drove both the mass consumption of masks, gels, and detergent and a major shift from offline to online distribution channels.
Market: Magento 2 installations in 2021
The number of installations grew in 2021 boosted by end-of-life support for Magento 1. Today, there are over 42,500 Magento 2 live installations according to Sansec Magento usage data as of June 2021.
Table of content: list of Magento 2 stores examples across countries and industry verticals
Cadbury – Australia – Food and Beverage/ CPG
Maxi Cosi – Europe – Children car seats, push-chairs
Fortessa– USA – Homeware
Norton Barrie – United Kingdom – Fashion
Tip de Bruin – Netherlands – Fashion
Hofstein (Lampe.de, lampe.fr, swiatlampy.pl, etc…) – Europe – Lighting
Stackers – United Kingdom – Luggage, Accessories
Nandu Software – Netherlands – Software/ Downloadable goods
Rene Caovilla – Italy – Luxury designer shoes
Manhattan Wardrobe Supplies – USA – Fashion, Costume, Makeup, Performance industry
Christian Fischbacher – Switzerland – Luxury homeware
Phishop – Worldwide – Professional Beauty
Hygienepapier – Netherlands – Masks, cleaning products
Ripclear – USA – Optical Lens Protection, Personal Protective Equipment
IMask – Italy – Wearable: Innovative masks
1. Cadbury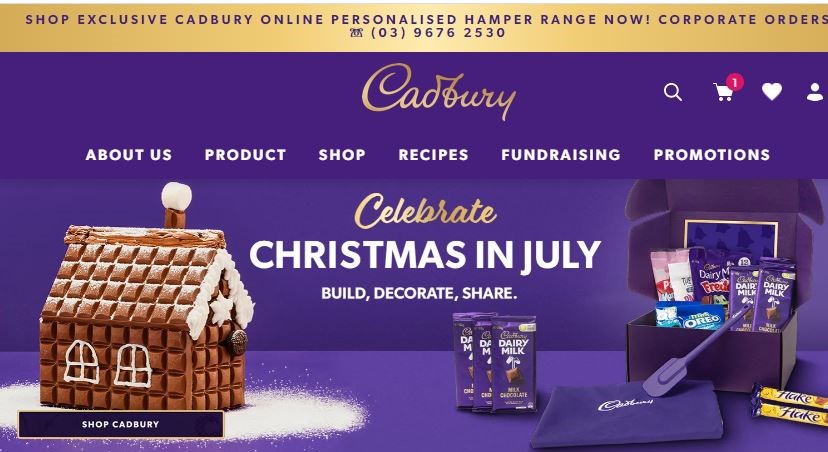 Payment: PayPal, Visa, Amex, Gift Card
Buy Now Pay Later: Zip
Checkout layout: 3-column
Cadbury is a franchise that belongs to the Mondelez Group, the American multinational company making USD 26Bn annually that originates from the snack food business of Kraft Foods. Other well-known brands managed by Mondelez include Oreo, Ritz, Belvita, Tuc, Milka, Toblerone, and Trident.
As Consumer Packaged Goods manufacturers usually do, distribution is B2C, i.e. managed through retail partners, however, this eCommerce website is selling higher value SKUs directly to both consumers and businesses (DTC). Those products available online include corporate gifts, special occasion gifts, personalized items and hampers, and fundraising packs.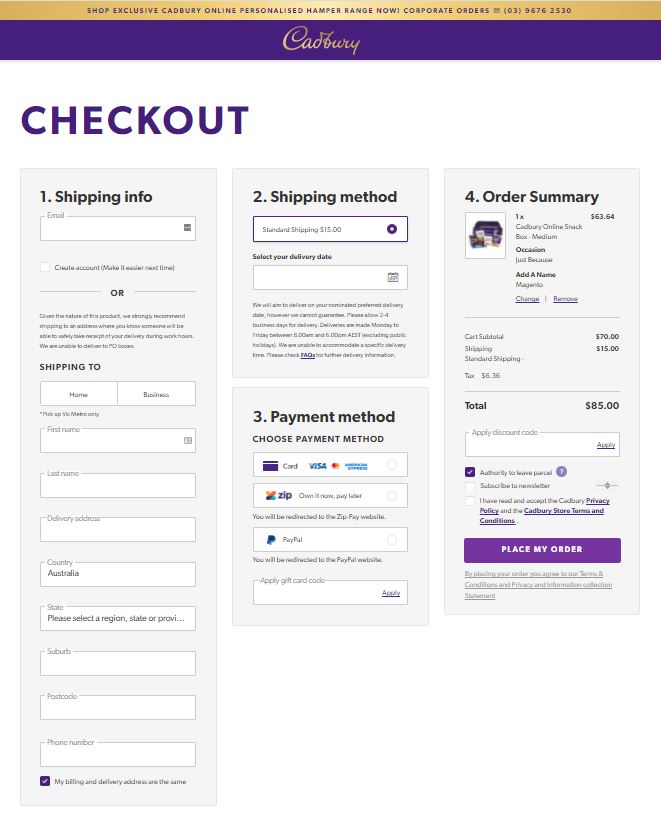 2. Maxi Cosi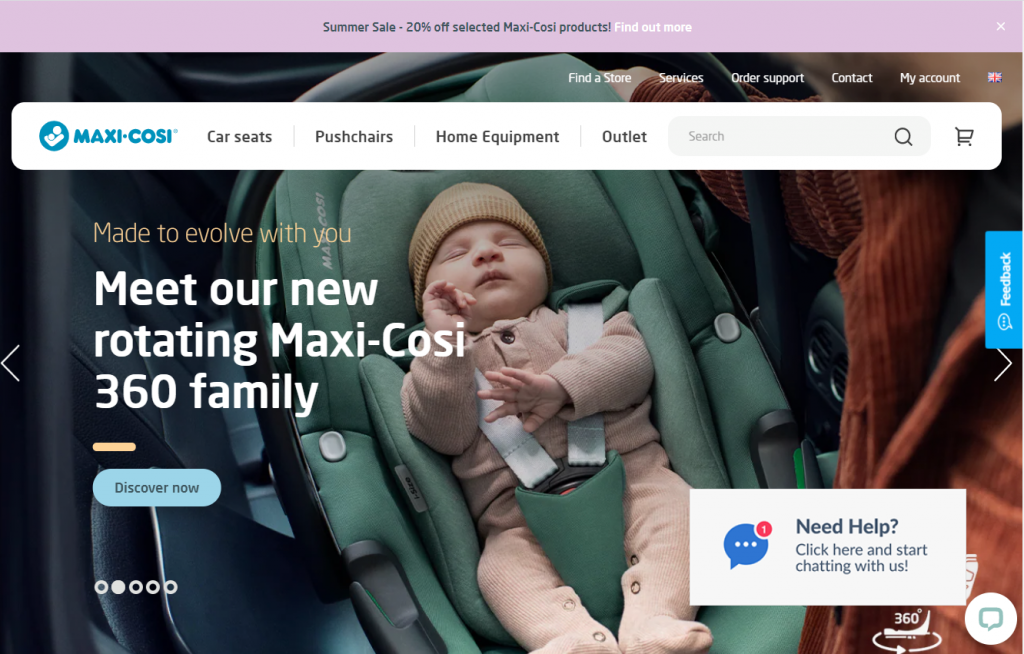 Markets: 28 different storefronts with different languages/ countries
Vertical: Baby and Children Goods
Magento 2 stores: United Kingdom, Germany, France, Netherlands, Belgium
Payment: PayPal, Credit Card
Buy Now Pay Later: Klarna, AfterPay NL
Checkout layout: 3-column
If you are a parent, you know Maxi Cosi for they created the first infant car seat with comprehensive safety features on the European market back in 1984 in the Netherlands, and have carried over 50 million babies back from hospital since!
The parent company behind the Maxi Cosi franchise is an American company called Dorel Juvenile, which operates in over 25 countries and carries other strong juvenile product brands such as Quinny or Tiny Love.
Based on their markets, they offer various payment options at checkout to meet consumer preferences.
2.1 Maxi Cosi Magento 2 store: United Kingdom
The British storefront offers PayPal and Credit Card payment and allows shoppers to quickly create an account by entering a password at the bottom of the shipping details column.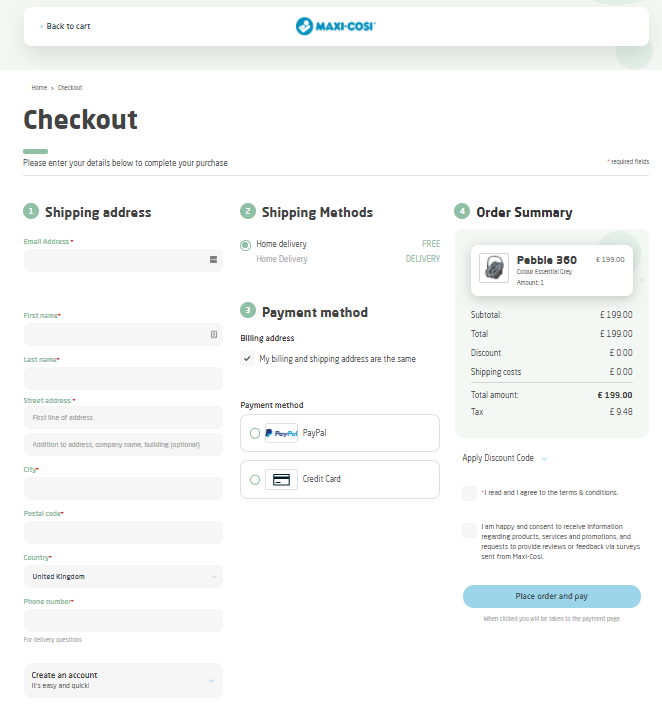 2.2. Maxi Cosi Magento 2 store: Germany
Unlike the UK, US and Australia where credit card is the most preferred payment method, German consumers prefer bank transfer and payment upon invoice.
Giropay
With 51% of all online purchases in Germany paid by bank transfer, Giropay, which integrates with over 1,500 German banks, is a very popular payment method
Klarna Pay Now / Sofort
Klarna is not just a Buy Now Pay Later solution. the Swedish fintech company also acquired German market leader Sofort in 2013. Sofort
Direct Banking is a service that allows shoppers to make a fast and easy payment for their online purchases using their online banking details. The online merchant immediately receives a real-time confirmation of the transfer order and can dispatch the goods promptly.
Klarna Ratenkauf / Installments
Ratenkauf mit Klarna is the Buy Now Pay Later free-interest installment plans that are core to Klarna's offering.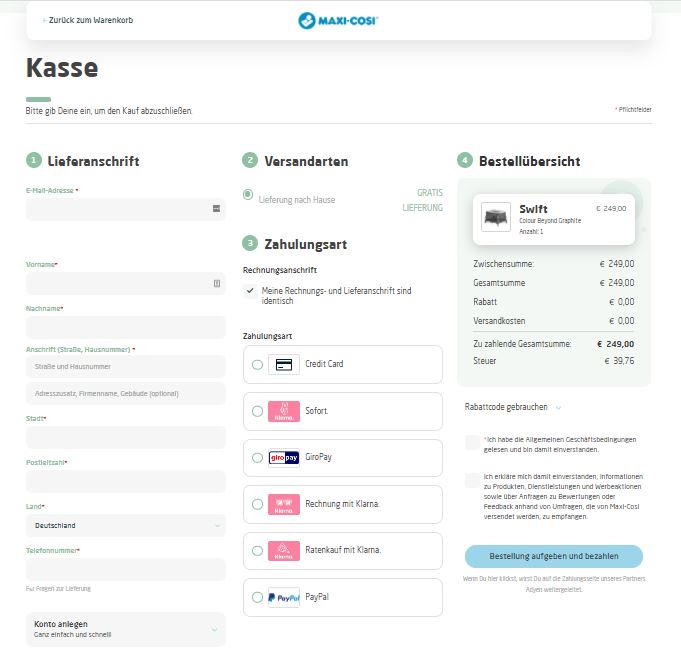 2.3. Maxi Cosi Magento 2 store: Netherlands
The Dutch storefront offers Klana Pay Now (Giropay bank transfer), Afterpay NL and Klarna Post Pay product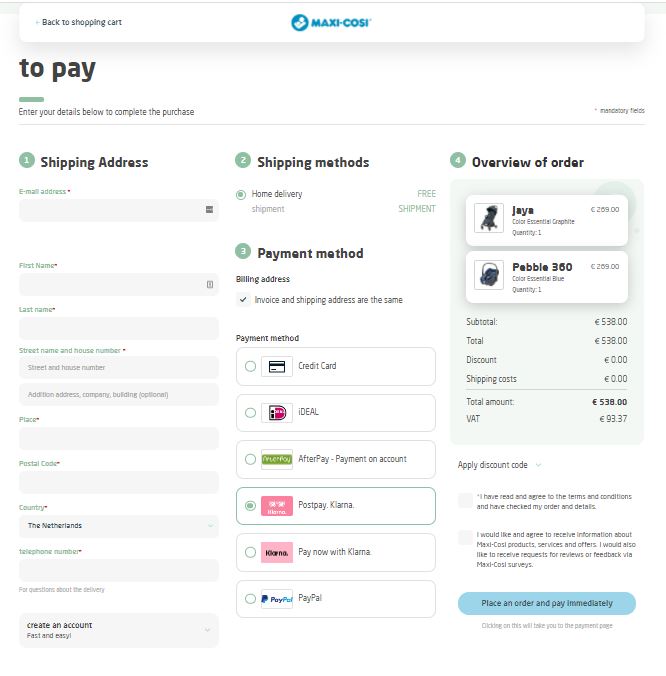 3. Fortessa
Payment: Credit Card, Payment on Accounts via Paytrace
Checkout layout: 3-column
Fortessa Tableware Solutions is a Virginia-based company designing and commercializing Flatware, Dinnerware and Glassware brands such as Fortessa, D&V, Zwiesel and Janaer Glas.
Their Magento 2 store's checkout allows in-flow account registration that creates less friction than a whole forced registration page.
In the order summary, shoppers can update quantities or remove items, which is a specific feature we released in May 2020.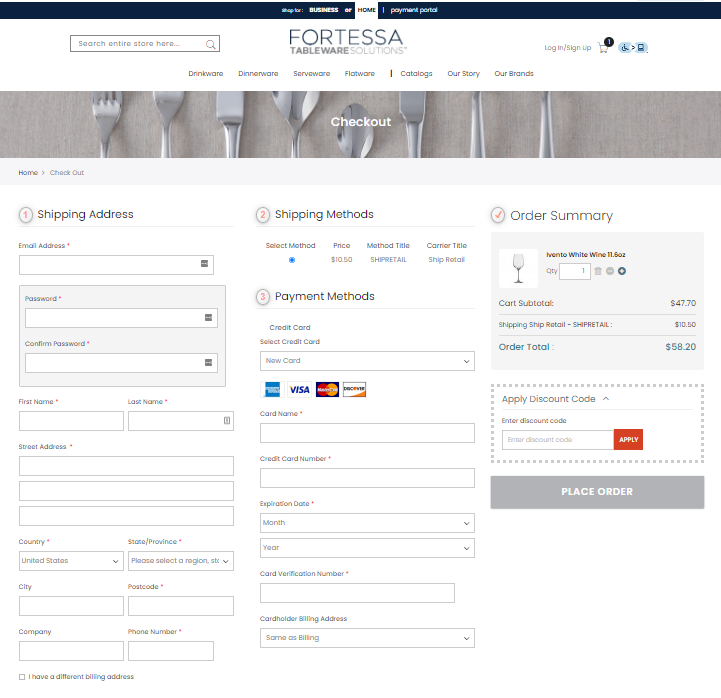 Another popular dinnerware brand that uses OneStepCheckout to improve its US Magento 2 checkout experience is Noritake. See more examples of American Magento 2 stores
4. Norton Barrie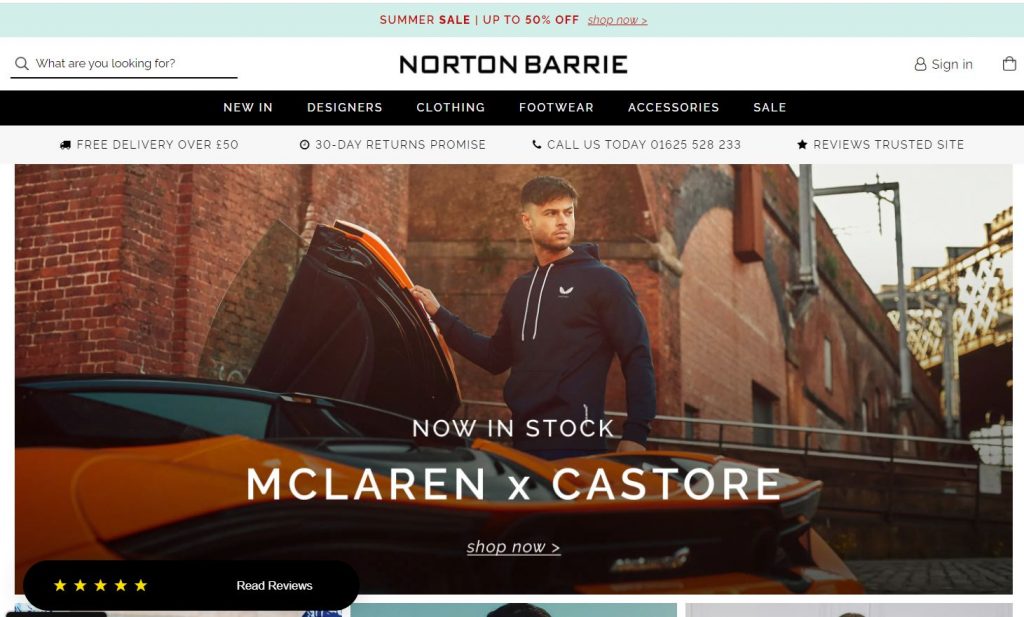 Payment: Credit Card (Braintree), PayPal Express
Buy Now Pay Later: Klarna
Shipping: Collect in store, Next day delivery, Saturday delivery
Checkout layout: 2-column
Norton Barrie is a 50-year-old institution in London that dresses TV and sports celebrities. They stock designers brands such as Ted Baker, Balmain, Givenchy across all men's wear product categories in Fashion, Footwear and Accessories.
They launched their eCommerce business in 2010 and ship internationally. Their key success factor comes from their customer service experience, which they have carefully reproduced through:
online with phone support
free shipping for orders above 50 GBP
a 30-day return promise combined with Buy Now Pay Later payment options.
Read Foeger Case Study about a 65-year-old luxury retailer who also took VIP customer care service online.
4.1. Norton Barrie Magento 2 Product page
Upstream payment options:
Klarna Pay After Delivery i.e. Pay in full after 30 days with no extra fees. Combined with the store's 30-day return policy, this feature allows shoppers to order various sizes and styles and try before they actually buy and get charged and replaces the physical fitting rooms experience.
PayPal Express leads directly to the PayPal website without going through the cart page and the store's checkout page.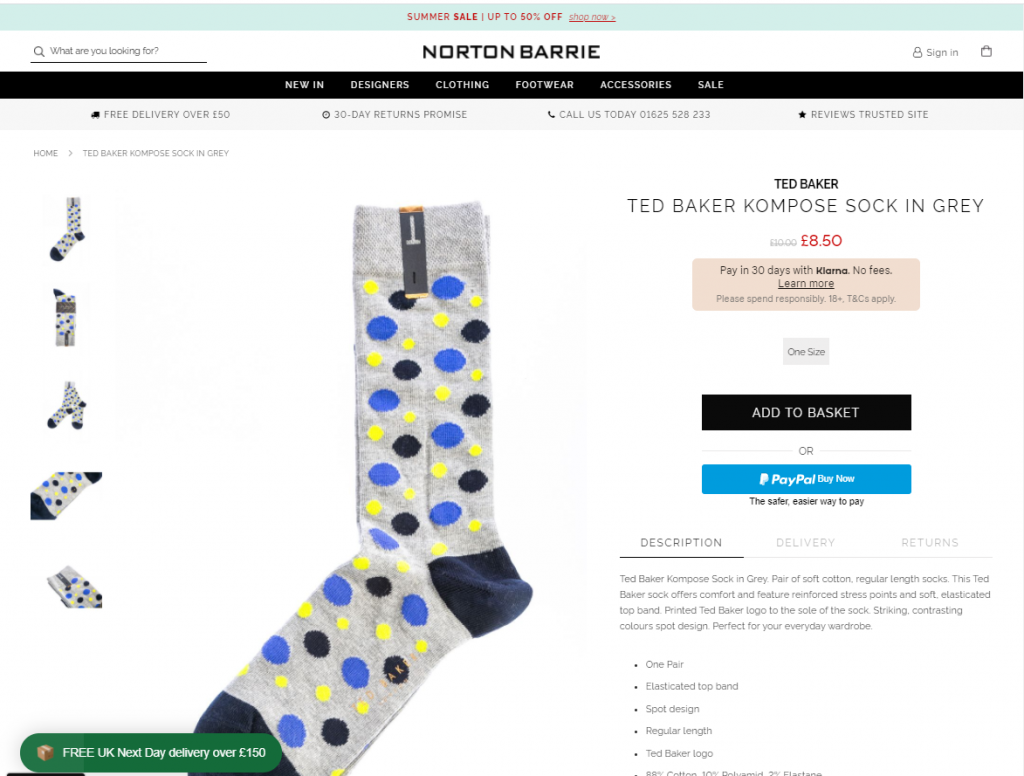 4.2. Norton Barrie Magento 2 Checkout page
Additional payment methods appear when customers choose to "Add to basket" and then checkout:
Credit Card (Braintree) hosted fields that expand when you click on the "Credit Card " Radio button
Klarna 3 interest-free installments. This particular payment method allows Norton Barrie to convert more impulse purchases and increase consumers' loyalty. Read more about the benefits of Buy Now Pay Later solutions.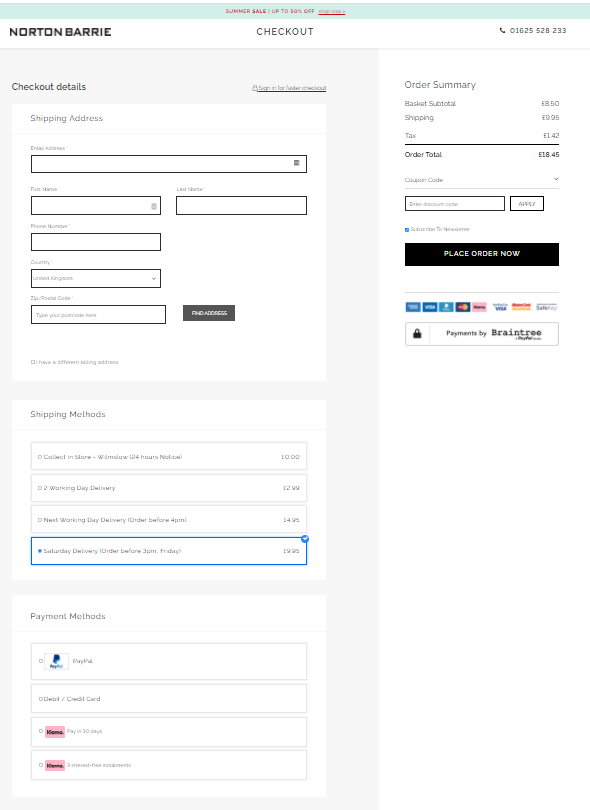 5. Tip de Bruin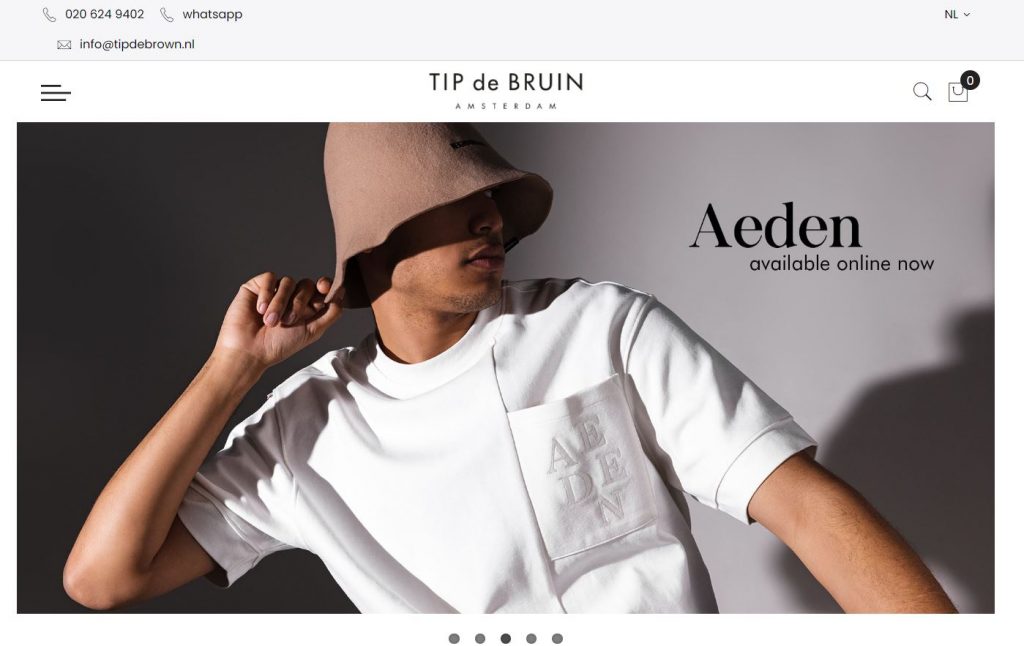 Market: European Union
Vertical: Fashion
Payment: Ideal, Bancontact, PayPal, Visa, Mastercard, Giropay, Gift Card
Shipping: BOPIS (buy online pickup in-store), PostNL collection points, Evening Delivery
Checkout layout: 3-column
Tip de Bruin is originally a menswear shop opening in Amsterdam in 1953 which became an institution with now 4 stores next to each other and a popular eCommerce channel.
The retailer stocks sought-after international lifestyle brands such as Lacoste, Hugo Boss, Emporio Armani, Moncler, or Bally.
Their checkout page offers all the payment options one would expect from a Dutch webshop:
Ideal that expands on radio button click and offers a choice of 12 banks
PayPal, with surcharge, clearly mentioned avoiding any surprises upon payment completion
Credit Card (Visa or Mastercard)
Giropay, a bank transfer method that is popular in Germany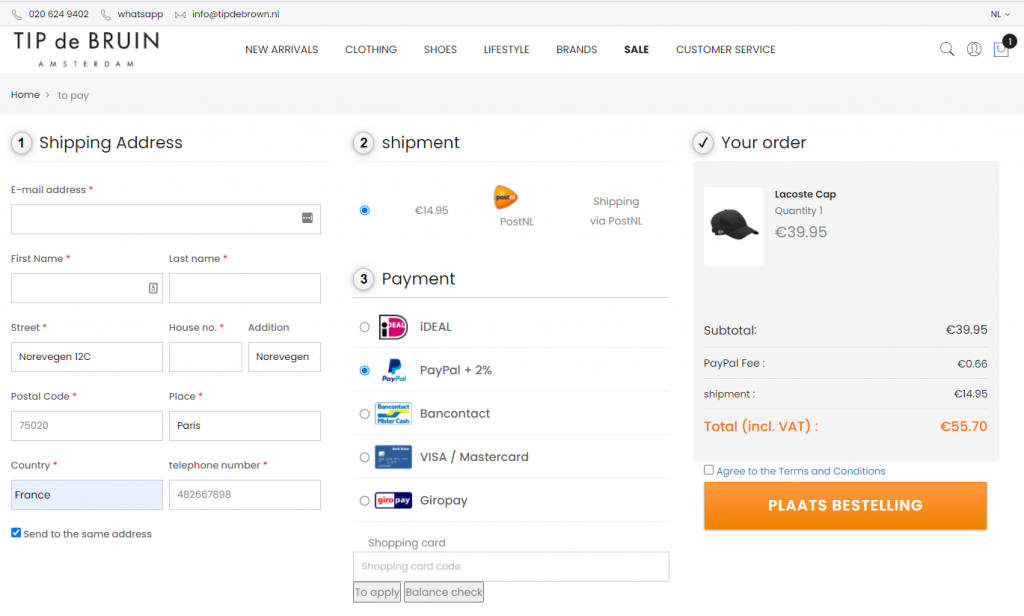 See more examples of Magento 2 Dutch stores
6. Hofstein GmbH (Lampe.de, lampe.fr, illumination.co.uk, tulampara.es, lampada.it…)
Markets: European Union through 15 websites
Vertical: Lighting, Home Decor
Payment: Amazon Pay, Sofort, PayPal, Credit card (Visa, Mastercard, Amex)
Hofstein GmbH is a German lighting store based in Cologne, Germany. They market through 15 different storefronts and domains across Spain, Italy, France, Germany, the United Kingdom, Poland, Switzerland and Austria.
Their strategy is to own one single category and offer the deepest assortment such as interior, exterior lighting, bulbs, smart homes, ceiling fans and accessories. You can browse by style, by brand or sales promotions.
Similar to Maxi Cosi, they offer different payment and shipping options based on the storefront's country. For Germany, they would offer many more payment options such as Sofort, Klarna, Invoice on top of Credit Card, PayPal ad Bank transfer that they offer to all their other markets.
Although they don't have dedicated websites for every single country in Europe, they ship to the 27 countries of the European Union.
6.1. Lampe.de checkout – Germany
Germany is the second-largest market for Amazon behind the US, which means that many Germans can skip checkout form filling and use their Amazon credentials to complete checkout in just a few clicks.
Hence the " Amazon Pay" Express Checkout button at the top of the page.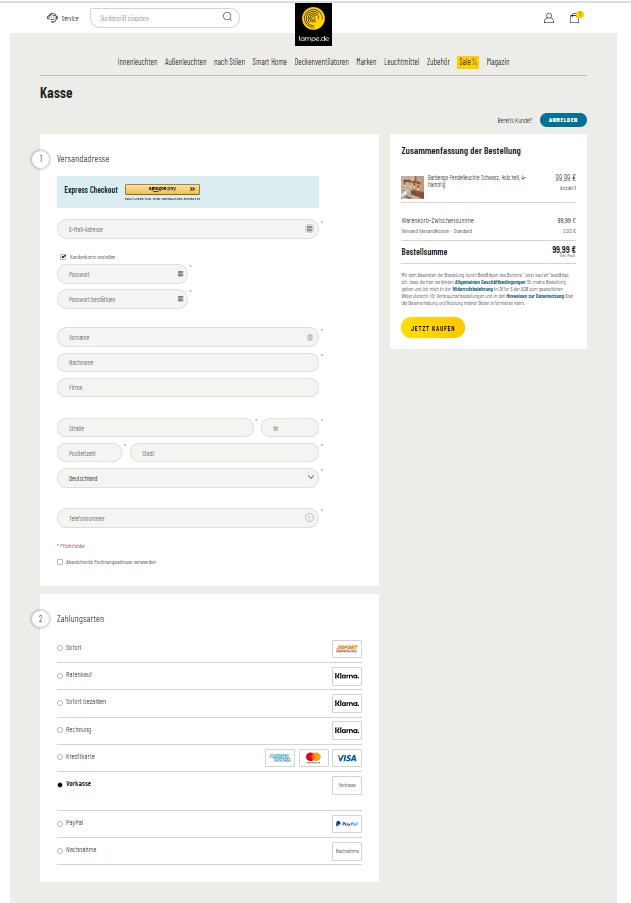 6.2 Lampe.fr checkout – France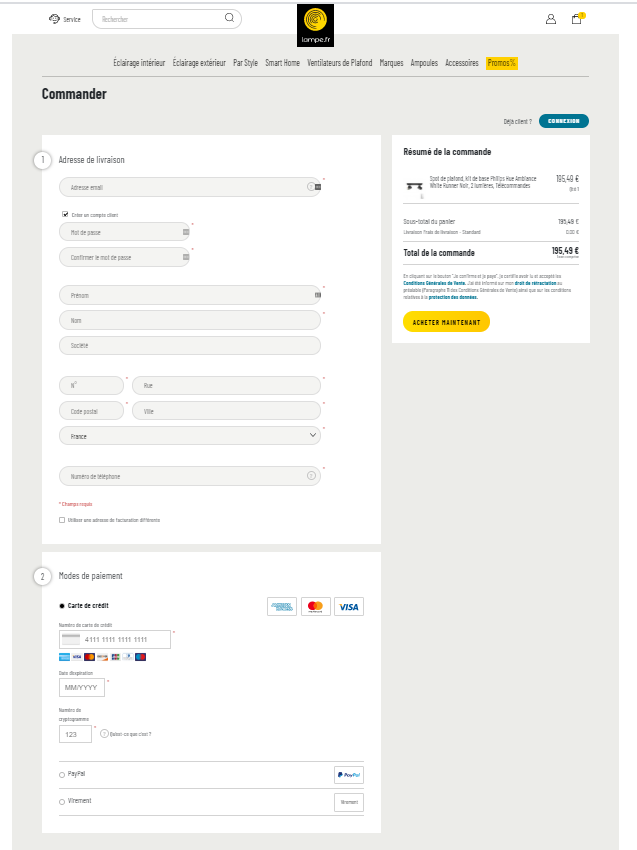 7. Stackers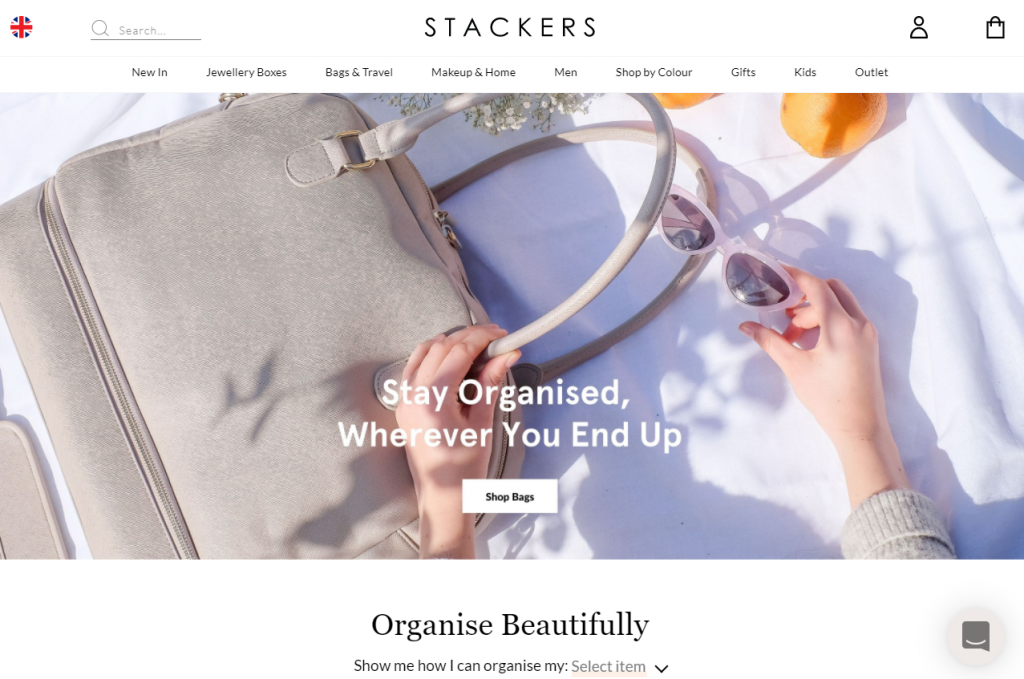 Markets: United Kingdom, Japan, Australia, Hungary, Poland
Vertical: Accessories, Jewelry, Homeware, Luggage
Payment: Credit cards/ Debit Card by SagePay (now rebranded to Opayo), PayPal
Checkout layout: two-column
Stackers is a customizable jewelry box concept designed by a 100-year-old English watch and jewelry company. Their idea is also applied to make-up and cable bags to store and organize all your electronics cables!
One Page Checkout column displayed in a two-column layout with all the form to be filled on the left and order summary to the right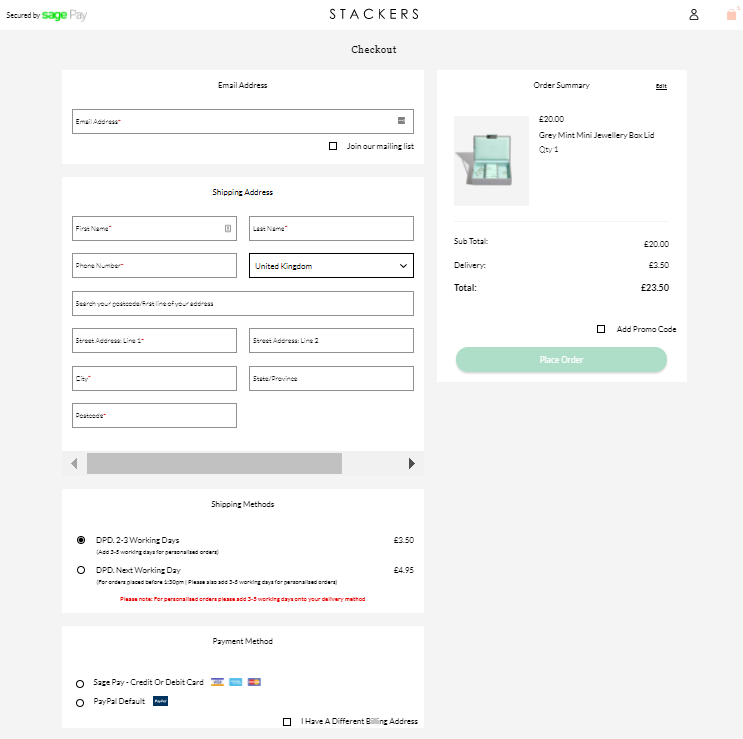 Interesting feature: Basket reminder notification can be sent to shoppers' PayPal email addresses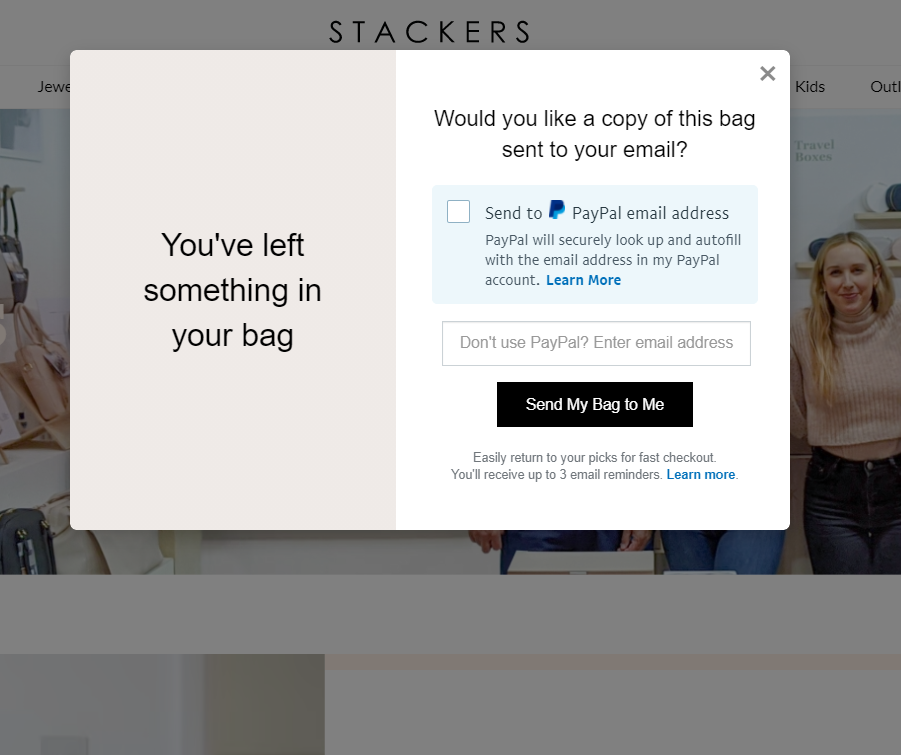 8. Nandu Software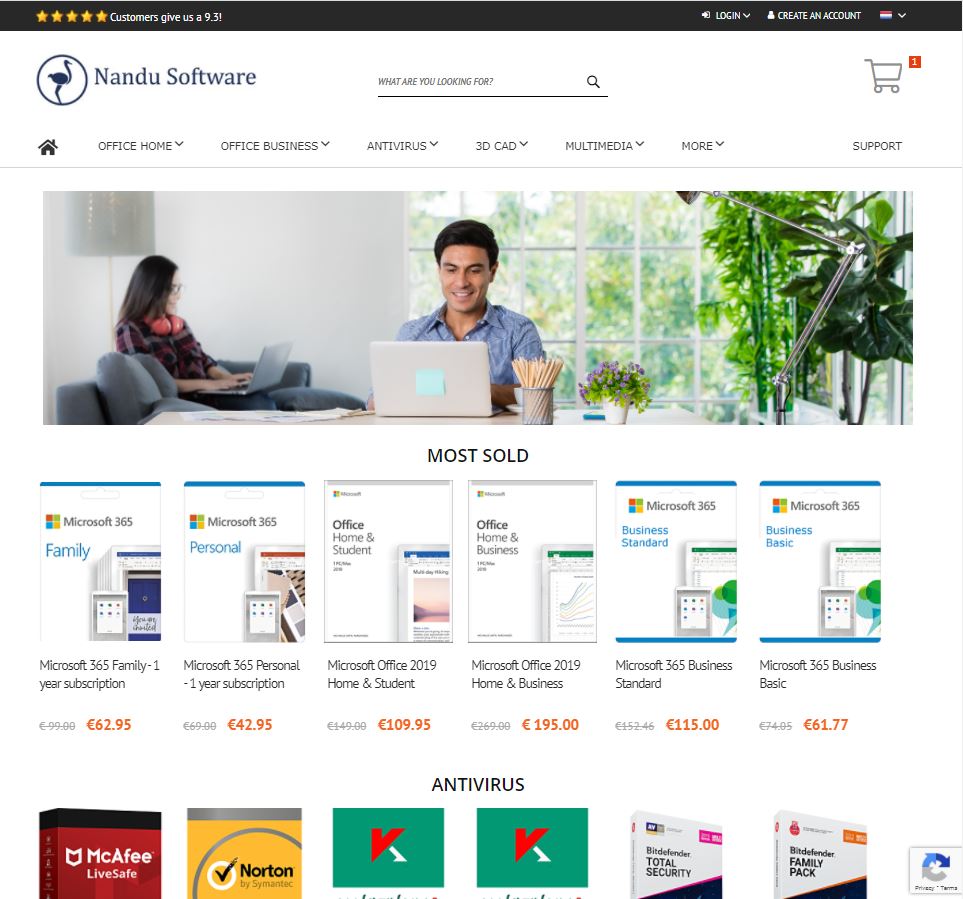 Languages: Dutch, English
Vertical

: Software, Downloadable goods
Payment

: Credit cards, PayPal, Bank transfer, Sofort, Ideal
Checkout layout: two-column
Nandu Software is a Dutch company selling products such as Microsoft Office Packs and Antiviruses both for personal consumers and businesses. They allow those products to be digitally downloaded ad installed in less than 15 minutes.
What we particularly love is the "ANONYMOUS CHECKOUT" feature, where only an email is required. Since the website is selling digital goods, it's a good idea to ask for as little information as possible to dramatically reduce checkout abandonment.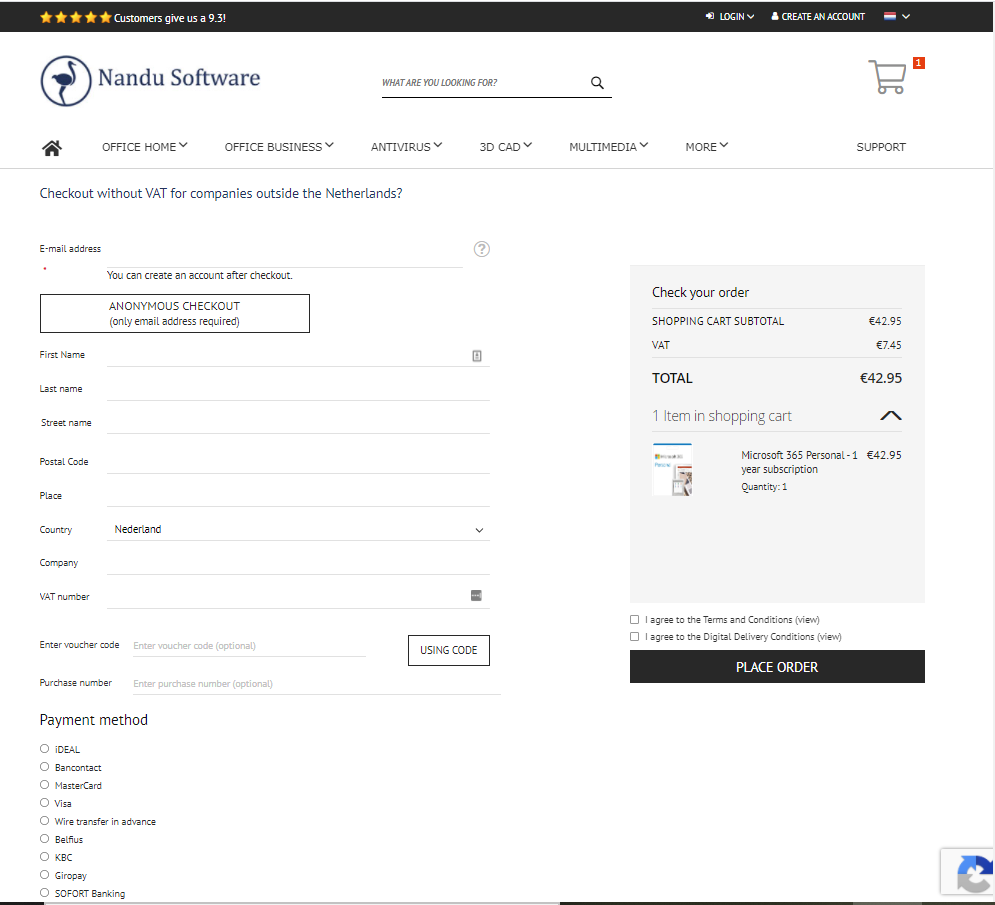 9. Rene Caovilla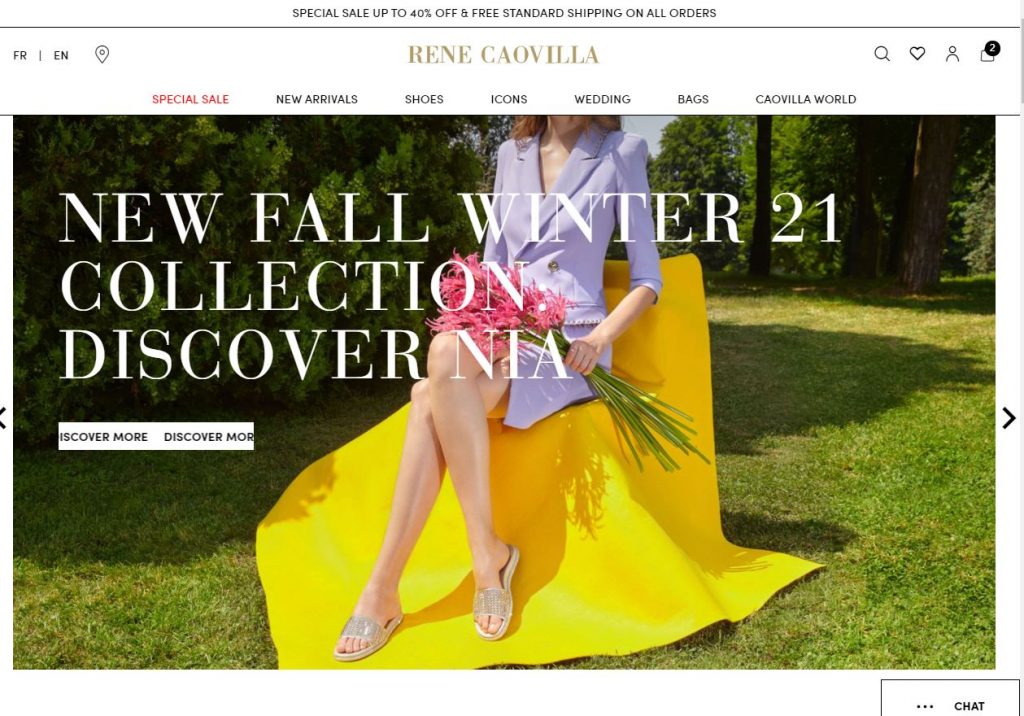 Payment: Credit Card, Bank Transfer
Checkout layout: three-column
Rene Caovilla is an Italian shoe designer who took over from his family business Maison Caovilla founded in 1932 near Venice. The company went on greater international expansion from 1999 with the opening of its own single branded stores in key cities across all continents such as Milan, Paris, Dubai, Doha, Taipei, Beijing or Sao Paulo.
His eCommerce store ships worldwide with different subdomains based on top key language, currencies and shipping regions.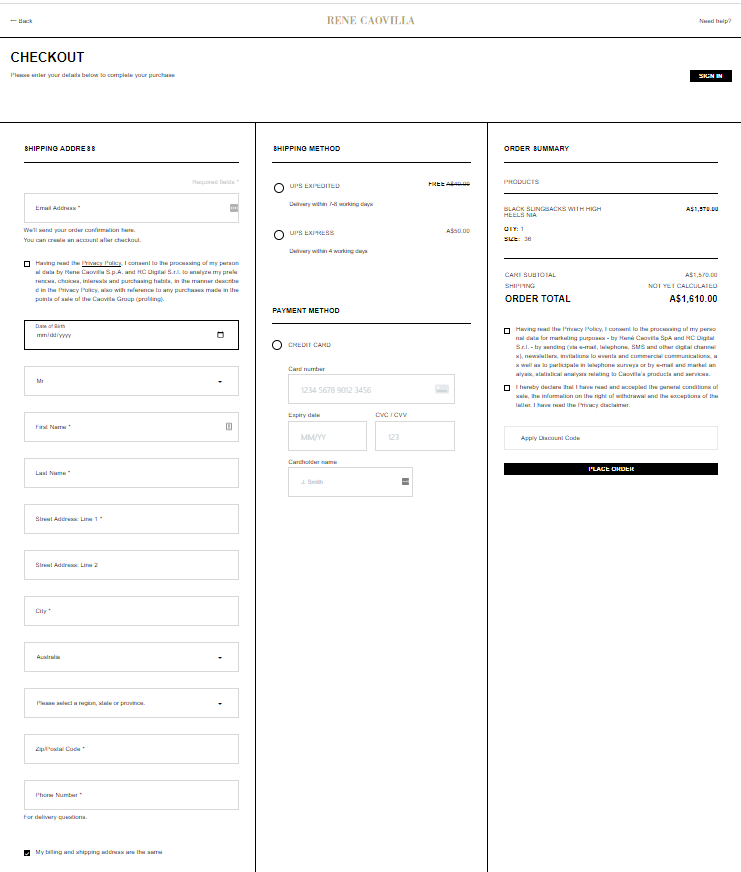 Read more about best practices to sell Luxury Goods online
10. Manhattan Wardrobe Supplies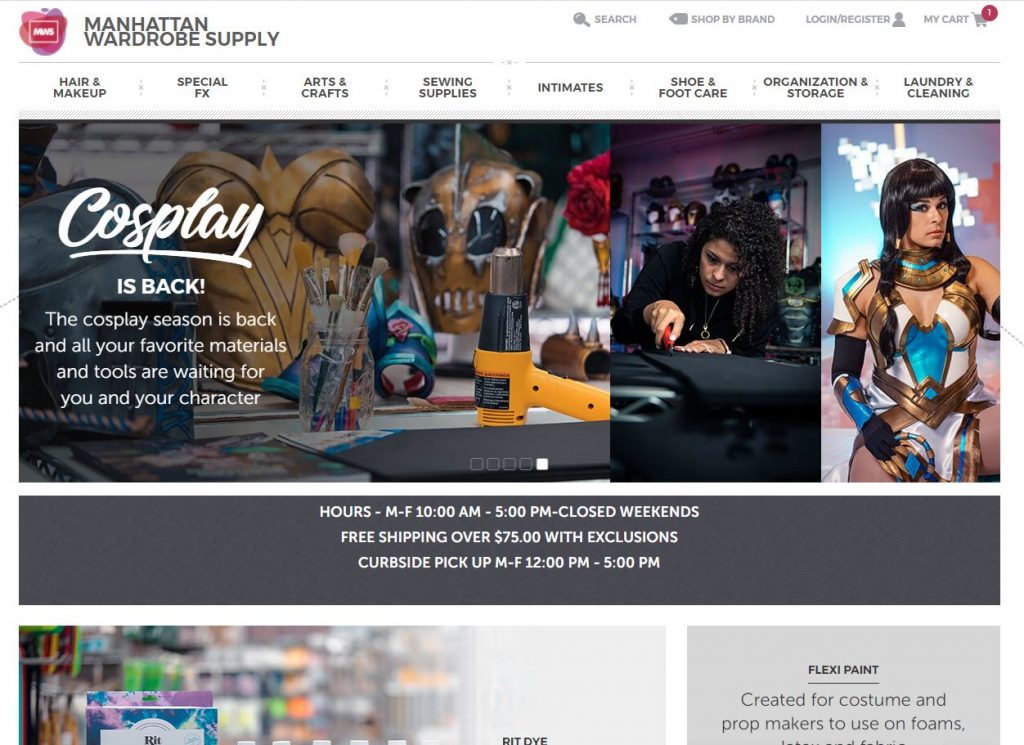 Vertical: Health and Beauty, Art & Craft, Party and Costumes, Household and Cleaning products
Payment: Credit cards, Purchase Order (B2B)
Shipping: UPS, FedEx, Curbside Pick up.
Manhattan Wardrobe Supplies is a cross-category one-stop shop selling all the equipment that costume professionals and fashion designers need for movies, TV sets, circuses, shows and live performances. The founders got the idea on the set of "You've got mail" and started their company at the end of the '90s. Thirty years later, their store totaled 9000 square feet on 29th street in Manhattan, New York.
On their checkout page, we can notice the breadth of shipping options for the United States as well as B2B shipping and payment options (FedEx and UPS account number, Purchase Order).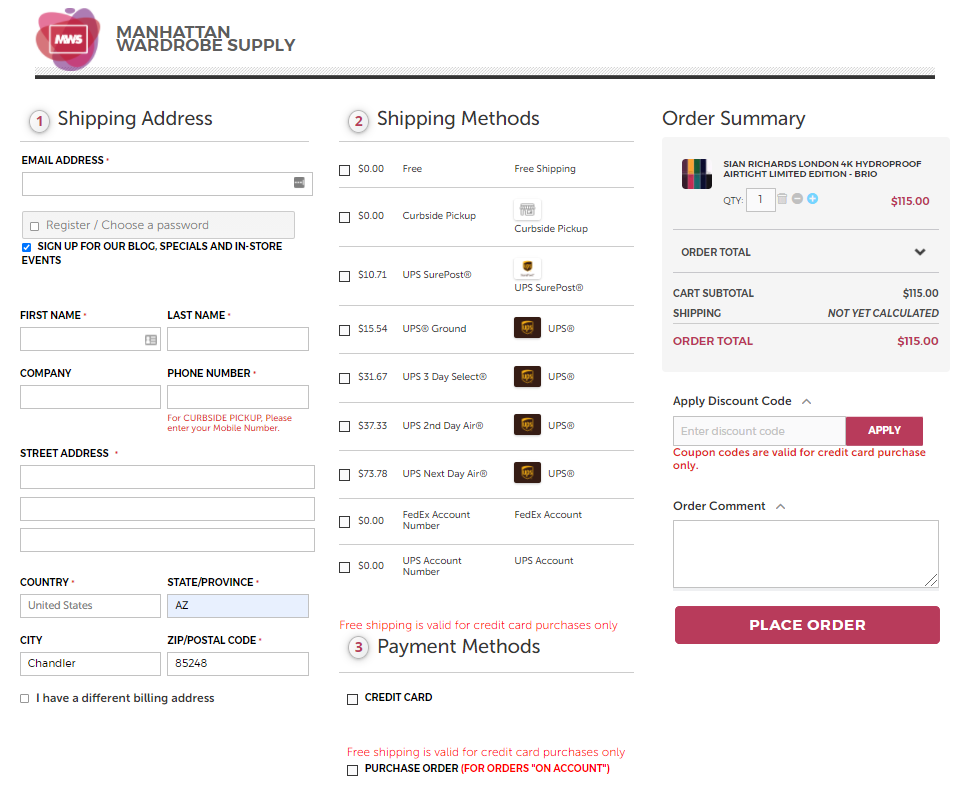 Read the full case study written by their Magento agency Tekglide.
11. Phishop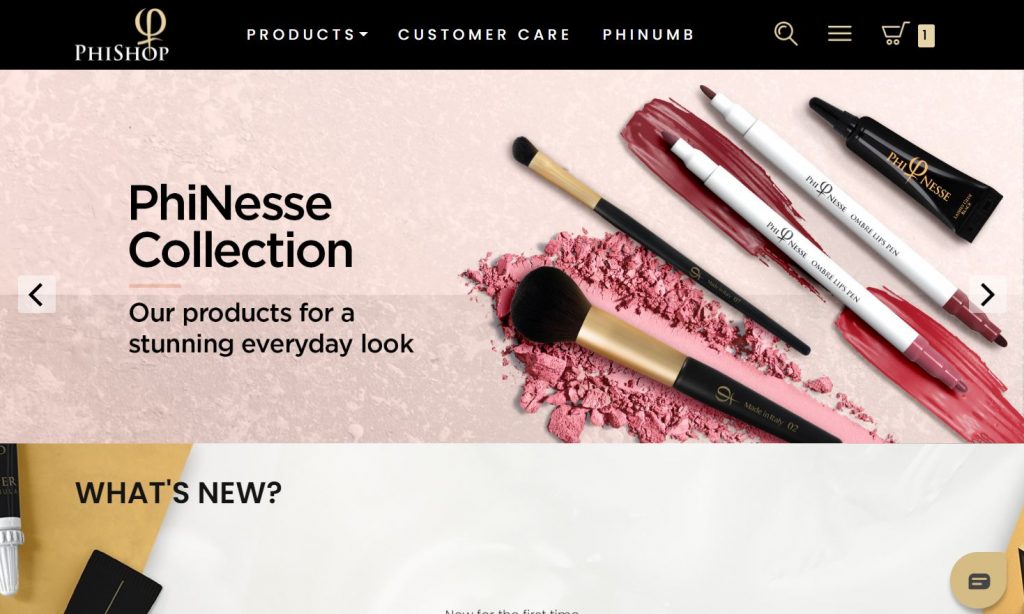 Market: Worldwide: 6 languages, 5 currencies
Payment: Credit cards by Stripe, PayPal
Phishop is an Austria-based company specializing in professional eyebrow shaping, that offers products and training worldwide. By extension, they also cater to eyelashes and scalp treatments.
They have training academies in London, Fresno California, Moscow, Wien, and Frankfort and also offer online training.
Their Magento 2 shop comes in 6 languages: English, French, Spanish, German, Italiana and Portuguese and you can purchase products in 5 different currencies: Euro, USD, AUD, GBP and CAD.
Their checkout page is displayed over two columns: one for filling our information and one with the order summary. Phishop ships worldwide to every single country in the world for a maximum of 24.90 euro via DHL Express.
12. Christian Fischbacher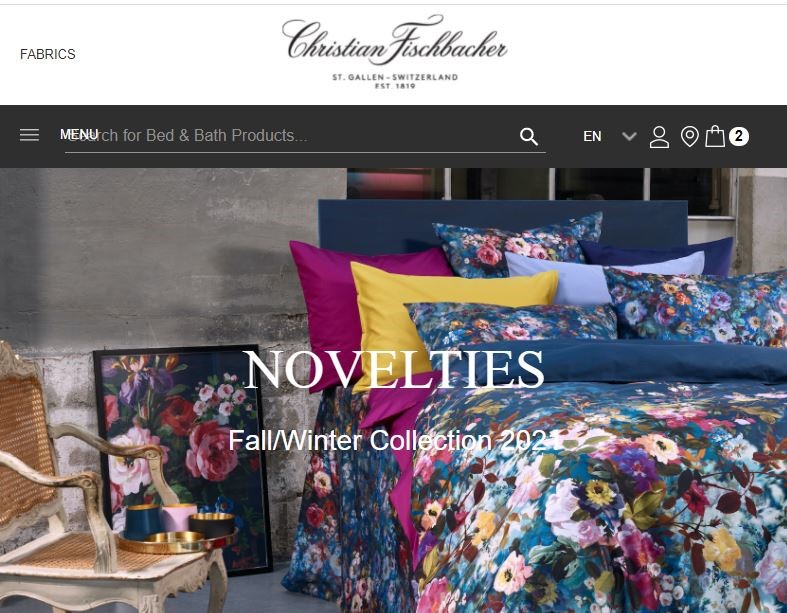 Vertical: Luxury Linen, Interior Design, Fabric
Shipping: UPS, FedEx, Curbside Pick up
Checkout layout: one-column
Christian Fischbacher is a company with tradition and heritage in St Gallen, a Swiss town specialized in textile since the 13th century. The family business has been selling the highest quality linen for almost a century and has won several design awards and interior innovation awards.
Their Magento 2 store's checkout page is using OneStepCheckout and has been customized to display all fields in just one column.

Before we tackle the PPE industry vertical, if you're curious what a fast loading and highly converting Magento 2 checkout looks like, play with our demo below. It's free, instant and you don't even need to leave your details to access it.
New vertical: Protective Personal Equipment (PPE)
With the COVID-19 pandemic, the demand for health safety products skyrocketed. According to Research and Markets ' recent study, the global Face Mask market size is expected to reach USD 31.83 billion by 2027. Protective Personal Equipment (PPE) includes hygiene, gel, masks, as well as cleaning products.
We could see the rise of PPE merchants purchasing our OneStepCheckout extension for Magento 2. Here are a few examples:
13. Hygienepapier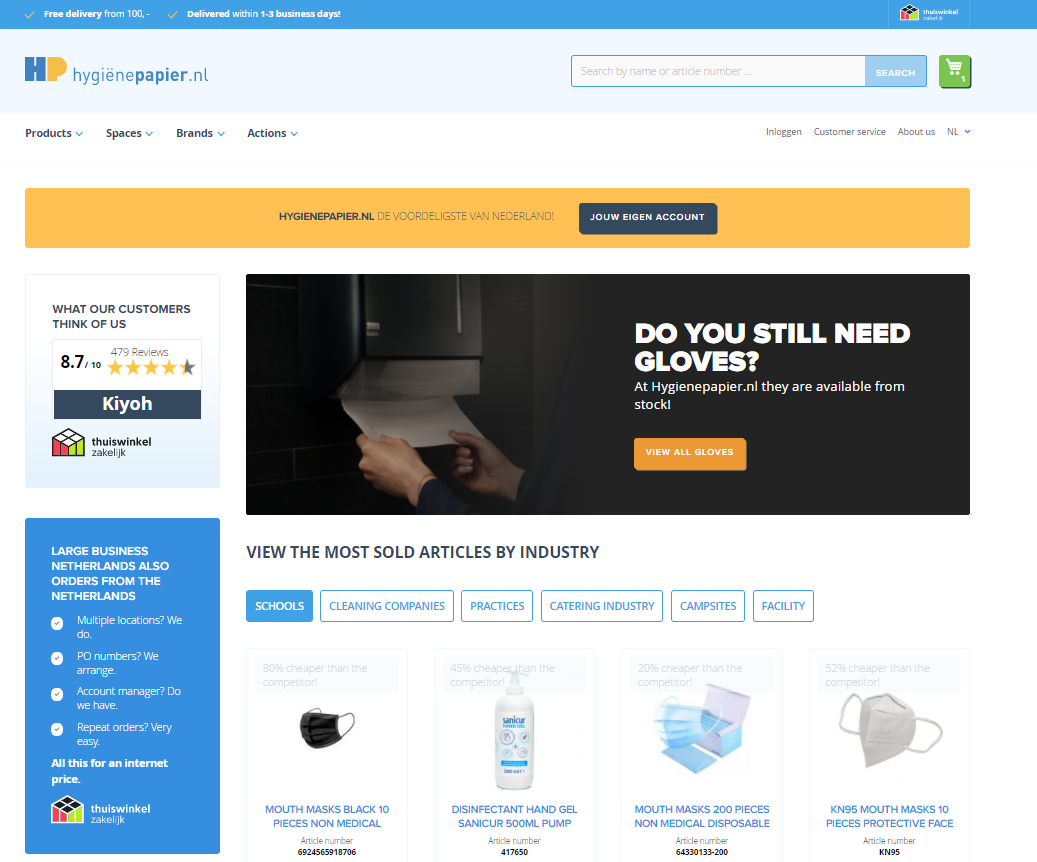 Markets: Netherlands, Belgium
Payment: Ideal, Sofort, PayPal
Buy Now Pay Later: Klarna
Hygienepapier is a B2B supplier of sanitary products including hydroalcoholic gel and masks, catering to schools, cleaning companies, practices, hospitality, and more.
On the top navigation bar, you can browse by product i.e. soap dispenser, eat/ drink, electronics etc… by space i.e warehouse, canteen, by brand i.e. Tork, Satino and the last tab is dedicated to special sales.
Their checkout is optimized with minimal steps and offering a wide range of payment methods to suit their B2B customers ie. Ideal (Dutch standard), Sofort (popular in Germany), Buy Now Pay Later (BNPL) such as Klarna, and PayPal of course.
They also offer the option to change quantities right in the order summary section of their checkout. One can never purchase enough masks nowadays!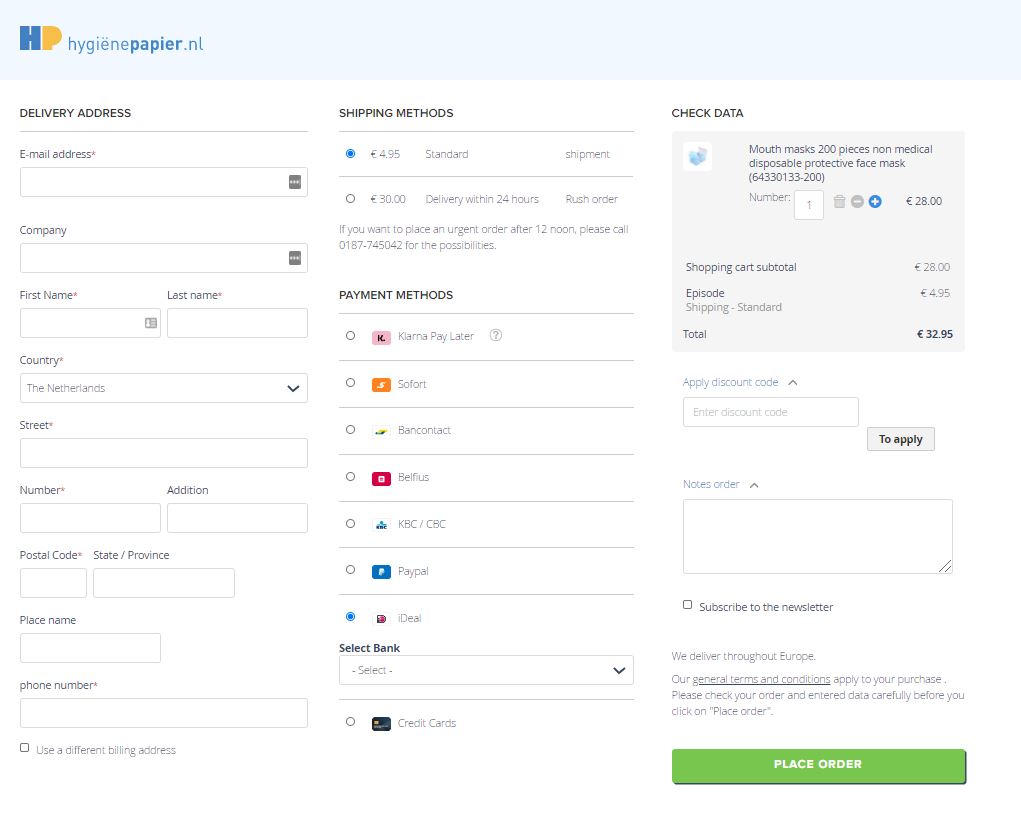 14. Ripclear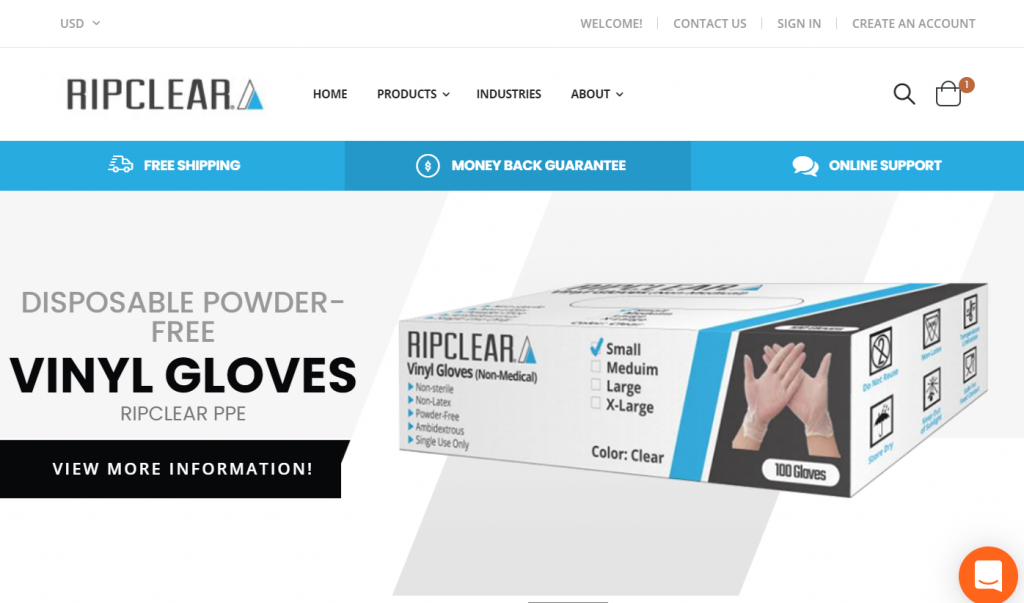 Markets: One storefront that ships internationally
Vertical: optical lens protection, PPE
Payment

: Amazon Pay, Google Pay, Stripe (credit cards)
Ripclear is a New York-based company with a patented self-adhesive clear film that protects optical lenses and electronic device surfaces from breakage, scratching, damage and dirt. With over 10 million Personal Protective Equipment (PPE) sold globally, they can build on their brand and reputation for high-quality products to expand their assortment to gloves and masks. Their distribution channels include businesses (B2B) as well as direct-to-consumer (DTC) through their high converting Magento 2 store.
Ripclear offers to pay with Google Pay directly from the product page, and Amazon Pay and Google Pay on their checkout page. That allows shortening the whole checkout process as shoppers can use their stored details and not fetch their card to enter all the details.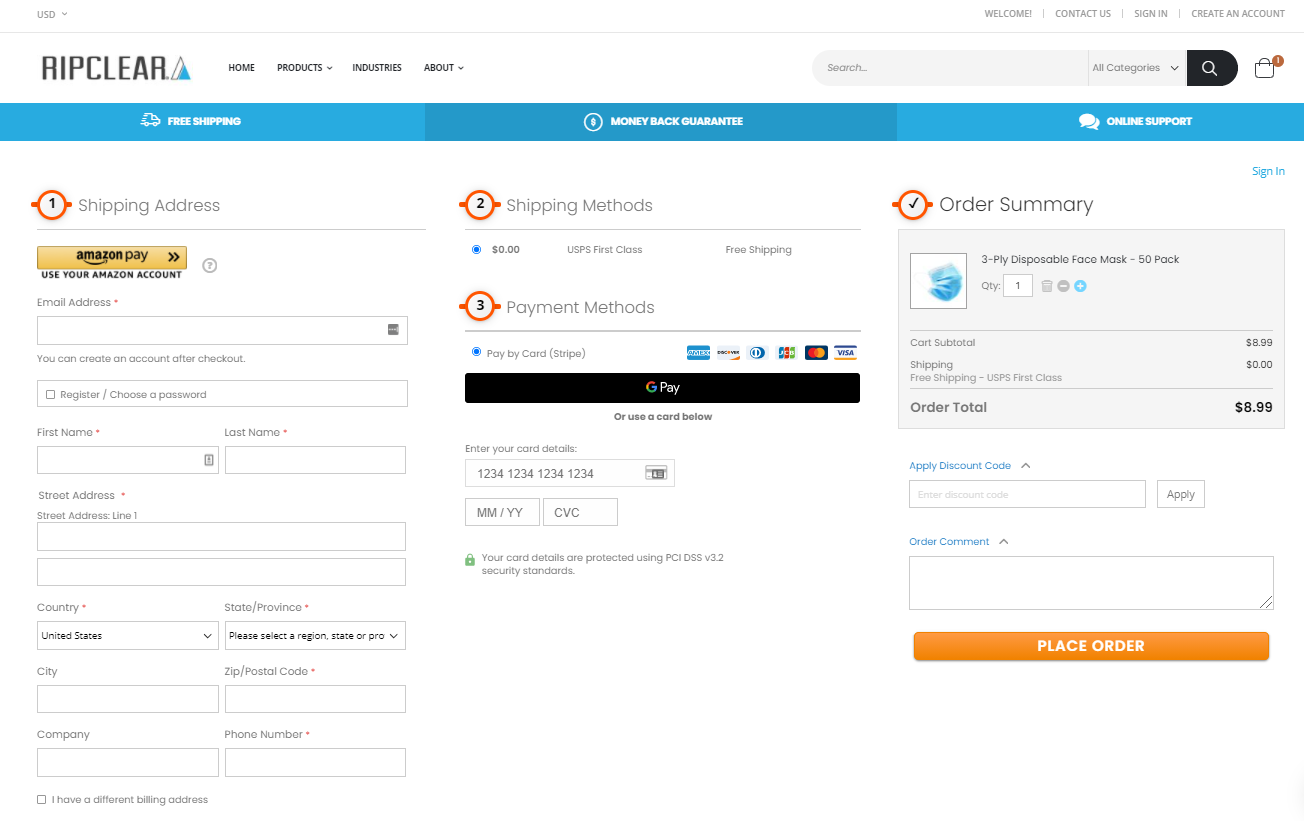 Learn more about Amazon Pay for Magento 2 latest version (5.x)
15. IMask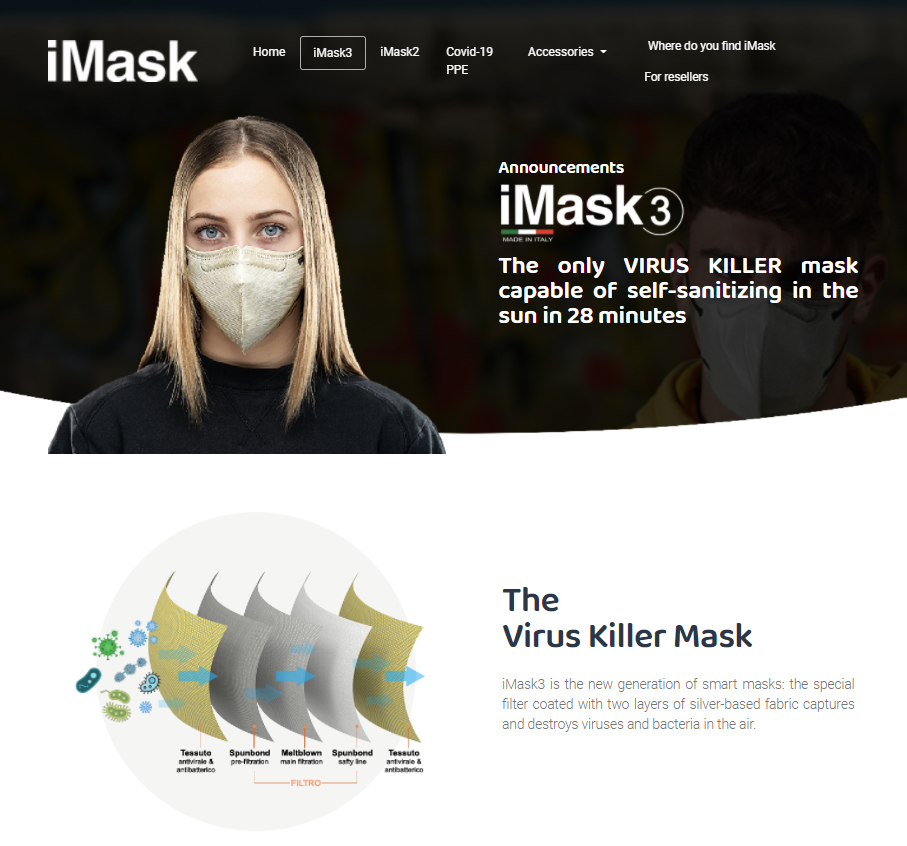 Markets: Ships across Europe
Payment: Credit cards, PayPal, Satispay
Buy Now Pay Later: Scalapay
iMask Srl is an innovative Italian startup founded in April 2020, by entrepreneurs specialized in the innovation and design sector and willing to develop functional, eco-sustainable products with refined and distinctive design. One of their 5 co-founders and CEO, Salvatore Cobuzio brought rich eCommerce experience to the project, having won several industry awards with Martha's Cottage, one of the leading Bridal online stores in Europe (and also a customer of OneStepCheckout).
At checkout, iMask offers noteworthy features such as:
the ability to request an invoice and get 15% discount
Payment through Satispay, an Italian fintech company that removes the middlemen between shoppers and merchants
Pay in 3 interest-free installments with Scalapay, an Italian Buy Now Pay Later solution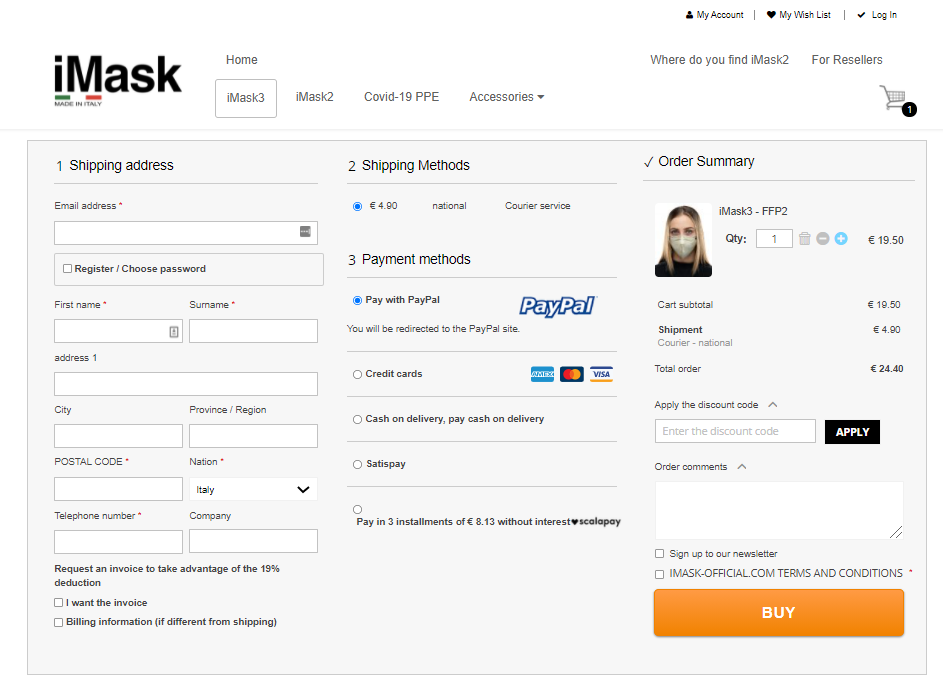 Key takeaways: Checkout UX best practices
What can you take away from all these examples?
There is no one size fits all checkout recipe. The most important is to know your shoppers and understand what their preferences are in terms of:
how they want to pay
when they want to pay
how they want to collect the item or be delivered
what checkout form will be the easiest for them to follow and complete.
Here are the key top 2021 trends
1. Offer the most popular payment methods options for each region
If you plan on selling to the Germans, the largest population in Europe, offer Giropay and Sofort. In the example above, we believe Rene Caovilla should not only accept bank transfers from their Italian customers but also across the DACH region.
If you plan on selling to the Dutch, then Ideal is a must-have. Other features that have been requested are compatibility with Post NL and a separate house number field.
In countries where Amazon is strong i.e. the US, UK and Germany, or if you feel that there is a big overlap between your target audience and Amazon customers, allowing shortcuts through Amazon Pay Express Checkout makes sense.
Presenting PayPal, Google Pay or Buy Now Pay Later solutions upstream, i.e. as early as the product page has also proven to increase conversion for many merchants.
2. Offer Buy Now Pay Later
The reasons why Klarna tripled its valuation in 6 months to reach 45 billion Euro and that the whole Buy Now Pay Later market is booming are both demand and supply led:
Consumers like the flexibility and convenience of the interest-free installment plans
Merchants see improved checkout conversion, higher average order value, and more repeat purchases
Here are more details about how Buy Now Pay Later is the new way to further boost your online sales
3. Shipping options
Shipping cost and delivery time is the number 1 reason for cart abandonment.
What we see in the examples above is that merchants really make effort to offer flexibility and cost-effectiveness with:
Shipping cost: either Free with a fairly low threshold or one-off fee when shipping internationally
Delivery time: for a fee, shoppers can choose to receive items faster (next day delivery) or on Evenings or Saturdays
Click & Collect: buy online, pickup in-store (BOPIS) dramatically when physical shops had to close down during the COVID-19 pandemic. Shoppers were still allowed to drive to the store, park on the curbside and get their parcel directly into their cars with minimal contact.
Third-party collection points. If a convenient time for shoppers is outside of your business hours, some services also allow you to drop parcels at collections points or 24/7 lockers like Inpost who offers a great out-of-home experience in the UK. In fact, the Polish company that went IPO in Amsterdam in January 2021 with a valuation of 9,5 Billion euros and recently expanded by acquiring Mondial Relay, the B2C and C2C logistics leader with over 10,000 collection and drop off stations across France.
4. Test your checkout form layout
At OneStepCheckout, we believe that a three-column checkout form is best in most cases because:
The whole checkout process appears above the fold on desktops and shoppers see at a glance what needs to be filled out
No need to scroll to see order total adjusting as shoppers choose various shipping options
On mobile, the responsive checkout will automatically shift to a one-column experience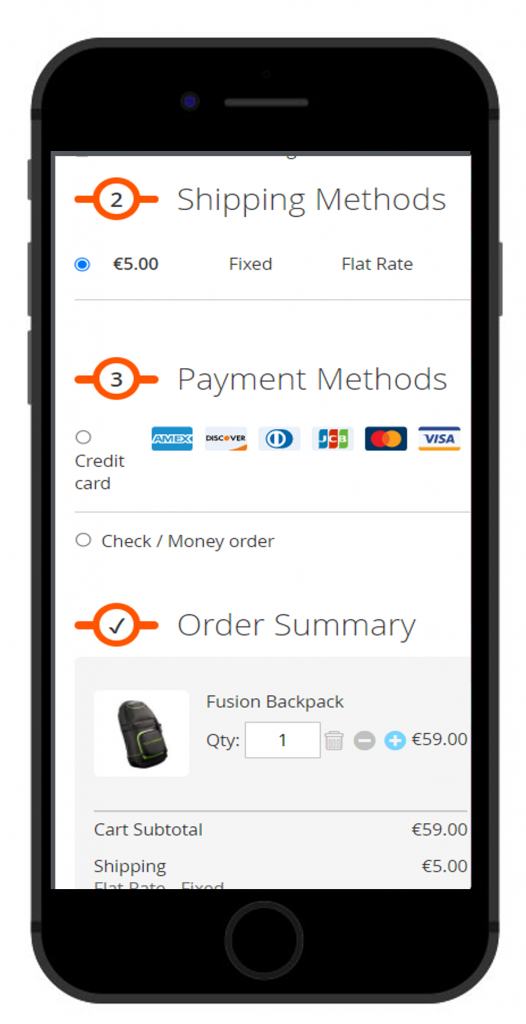 Want to see how OneStepCheckout for Magento 2 renders on mobile?
Click on the "Show Responsive Resizer" blue button at the very top
Choose your screen size in the black bar that appears above it
Click "Add Product to Cart" if you want to go straight to the checkout page
That being said, some merchants and agencies implement a two or one-column checkout layout, based on usability research, surveys, industry standards, or A/B testing. As you can see in the examples above, everything is possible and we allow you to shape your Magento 2 checkout the way you want it while removing all friction related to loading speed and number of clicks required.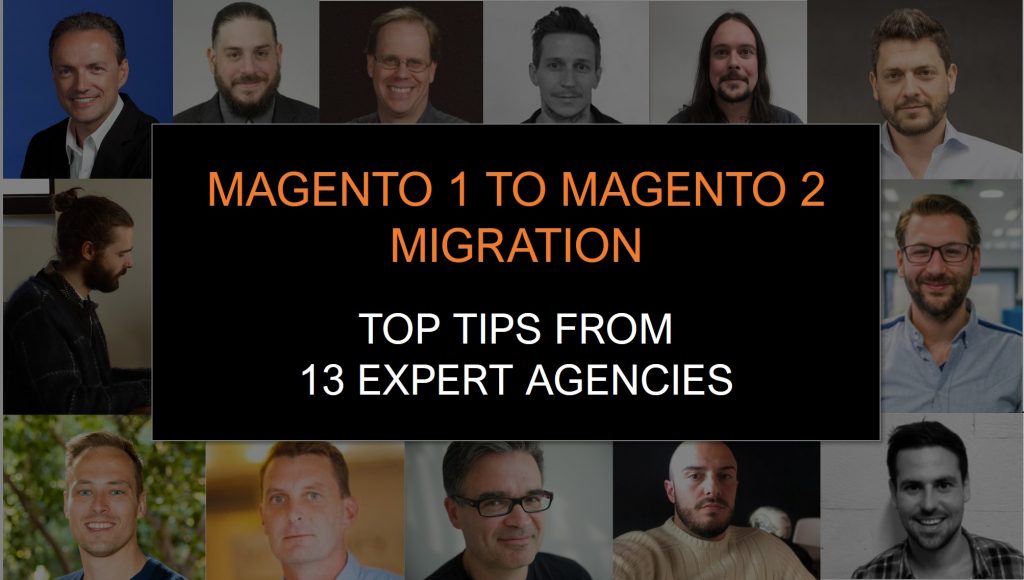 Here are the top tips we've gathered for you.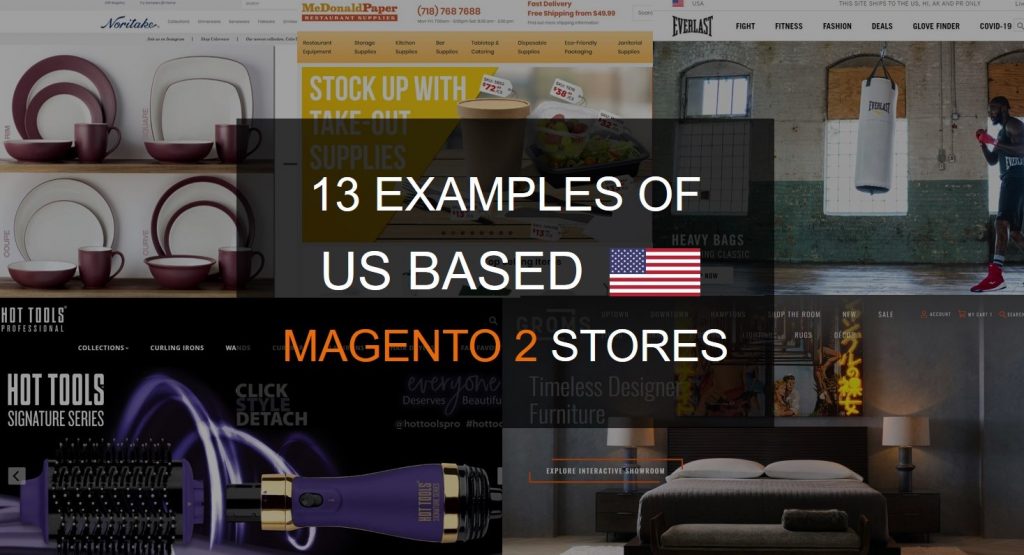 including Planet Beauty, Babycottons, Noritake, Groms, Everlast and more.